General Information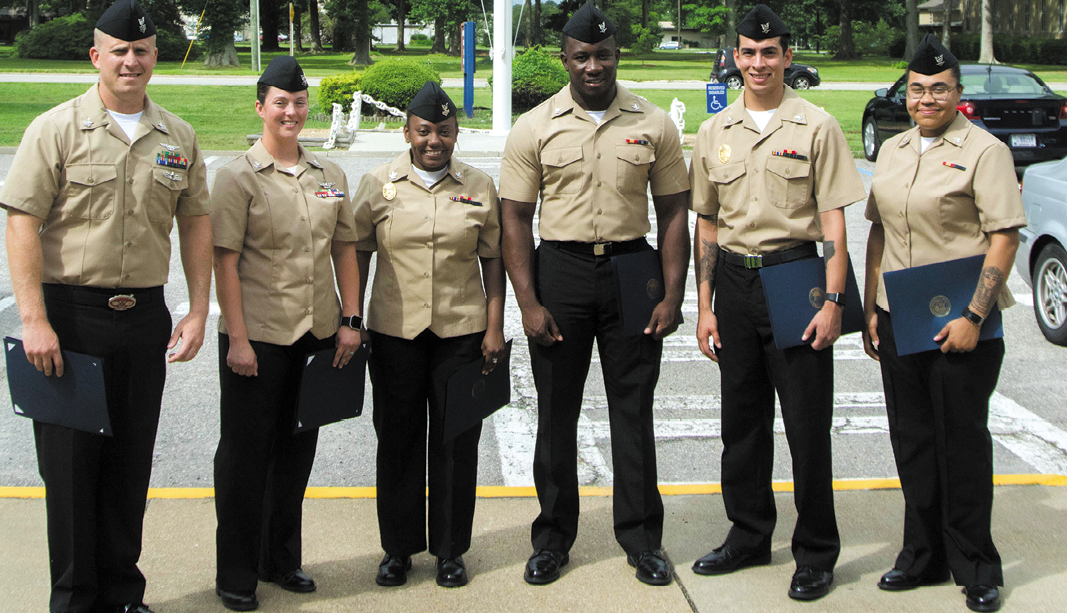 Preplanning is essential for newcomers moving to NAS Oceana or Dam Neck Annex, whether for a permanent change of station, a temporary duty assignment or a school tour.
There are a number of actions military members should take as soon as they receive permanent change of station (PCS) orders: actions such as arranging movement of household goods, requesting military family housing (if desired), arranging temporary quarters for house hunting and enrolling children in the on-base Child Development Center program (if appropriate).
Newcomers are encouraged to contact their local personal property office as soon as possible after receiving orders to arrange shipment of household goods. Most of this process can now be done online using the Defense Personal Property System (DPS) at www.move.mil (See the Housing chapter's "Personal Property Shipping Office" section for details.)
All single Sailors and Marines E-4 and below with less than four years' service will likely be required to reside in Unaccompanied Military Quarters on base. Others are eligible to live in the local commuting area, if desired. Military families can apply to live in on-base housing or reside in the local community.
In most cases, military commands and military schools at Oceana and Dam Neck will make room assignments in advance for full-time, single military personnel and students living on base. Assignment of rooms will maintain unit integrity. Unaccompanied personnel assigned to these dormitories should report directly to the Unaccompanied Housing Office upon arrival. Normally, there will be no need for temporary quarters. However, Dam Neck students on per diem orders are sent to Navy Gateway Inns & Suites in Building 566A, Stethem Hall.
Information about military family housing and off-base homes and rental property is available from the Navy Housing Service Center in Norfolk, which supports all military installations in the Hampton Roads area. Newcomers can inquire about housing availability as soon as PCS orders are received by calling 757-445-5039 or toll free at 800-628-7510. See the Housing chapter for details.
Temporary lodging can be arranged at Navy Gateway Inns & Suites at either NAS Oceana or Dam Neck Annex or at the Navy Lodge at Dam Neck, as appropriate.
Military families requiring child care can get on the Child Development Center waiting list for either NAS Oceana or Dam Neck Annex by calling 757-444-3670 any time after PCS orders are received.
New personnel should hear from a gaining command sponsor shortly after receiving orders. If not, contact your gaining unit and ask for your sponsor's name and phone number. Your gaining command sponsor should provide a mailing address where letters can be forwarded until a permanent address can be established.
Before departing home, remember to hand carry important paperwork such as military service record, PCS orders, marriage certificates, immunization records of children, household goods inventory lists, military ID cards, vehicle information, a copy of the "Page 2" or proof of dependents, and copies of family medical records. While traveling, be sure to document all travel expenses for reimbursement.
Arrival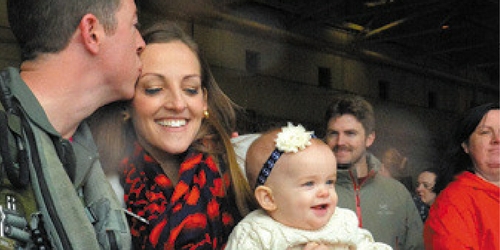 NAS Oceana and Dam Neck Annex are within the city limits of Virginia Beach, one of the most famous vacation destinations on the East Coast, noted for its 6 miles of sandy beach along a resort boardwalk visited by millions of tourists each year.
Yet, within sight are nearly 3.2 miles of pristine coastal beaches and sand dunes on some of the most beautiful and unpopulated beachfront property in Virginia — all part of Dam Neck Annex, available to military members, families, students and DOD employees stationed here.
Virginia Beach is just south of the entrance to Chesapeake Bay and is bordered on the east by the Atlantic Ocean. Both NAS Oceana and Dam Neck Annex lie just south of its major highway, Interstate 264, which ends at the Atlantic Ocean.
If driving to NAS Oceana, follow Interstate 264 east to Exit 21A at First Colonial Road. Turn right on First Colonial Road, which becomes Oceana Boulevard. Follow Oceana Boulevard until you reach NAS Oceana. Turn right on Tomcat Boulevard to the main gate. Dam Neck Annex is about 3.5 miles further. Turn right off Oceana Boulevard onto General Booth Boulevard and then left at Dam Neck Road.
If driving directly to Dam Neck Annex, you can follow Interstate 264 east to Exit 19C at London Bridge Road. Turn right on London Bridge Road. Turn left at Dam Neck Road, which ends at Dam Neck Annex main gate.
If flying, Norfolk International Airport is the closest destination — about 20 miles from NAS Oceana. The airport has a USO lounge on the second level of the arrivals terminal, which provides food services, computers, a lounge, library, movies and information. If you are an incoming student, the staff can also contact your schoolhouse to determine if bus transportation is available. Airport limousine service is also available to the base. Discount rates are available for two or more passengers going to the same location.
Pass and ID
The main gates at both NAS Oceana and Dam Neck Annex are open 24 hours daily. All military members and DOD employees can enter either base as long as they have a current DOD ID card.
Visitors without DOD IDs need to visit the Pass and ID Office outside the NAS Oceana main gate (Building 252 on Tomcat Boulevard). It is open 6:30 a.m. to 5 p.m. Monday through Thursday and 6:30 a.m. to 4 p.m. Friday. During those hours it can issue visitor passes and contractor badges, process agent/assist access letters and take fingerprints.
On Sunday, the Pass and ID Office is open noon to 3 p.m. to issue visitor passes only. With proper authorization, temporary passes can be issued at the Oceana main gate when the Pass and ID Office is closed.
Visitors to Dam Neck Annex must obtain valid authorization from the NAS Oceana Pass and ID Office since this service is not available at the Dam Neck gate.
All motorcycle riders must have completed at least a basic safety course to be authorized to ride on either base. The NAS Oceana Safety Office offers the Motorcycle Safety Foundation (MSF) Basic Rider Course (BRC) and more advanced motorcycle safety training. More information can be found at https://esams.cnic.navy.mil/ESAMS_GEN_2/LoginESAMS.aspx.
Reporting Procedures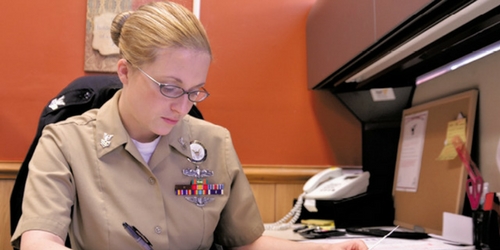 If arriving after normal hours, or unsure where to report, newly assigned military members from both NAS Oceana and Dam Neck Annex should check in at the NAS Oceana Quarterdeck in Building 230 on Tomcat Boulevard. Newly reporting military members will have their orders endorsed here by the junior officer of the deck (JOOD). The quarterdeck is staffed 24 hours a day and can be reached at 757-433-2366/2367. After endorsing the orders, the JOOD will contact the member's parent command and advise its staff of the new member's arrival.
Personnel Support Detachment (PSD) NAS Oceana, the servicing PSD for both NAS Oceana and Dam Neck Annex staff members, is in Building 326 on D Avenue at NAS Oceana. All incoming military personnel must report to PSD within four days of arrival for in-processing. The PSD is open 8 a.m. to 3 p.m. Monday through Friday or may be reached in case of emergencies through the PSD CDO at 757-613-3377.
Students assigned to a school at Dam Neck Annex should report directly to Dam Neck Annex and have their orders stamped upon arriving at Training Support Command (TSC) quarterdeck, Building 195, 5 a.m. to 4 p.m. Monday through Friday. Those arriving on weekends or after duty hours can have their orders stamped at the quarterdeck in Taylor Hall, Building 127. The TSC quarterdeck phone number is 757-492-6205. Students report in for the start of classes at 6:30 a.m. Monday in Building 502.
Customer Service Desk (CSD) Dam Neck is the servicing personnel center for students attending classes at Dam Neck and is in Building 502 on Tartar Road. CSD is open 8 a.m. to 3 p.m. and may be reached via the PSD CDO at 757-613-3377.
The key to a smooth check-in process is your command's sponsorship program. Don't forget to ask your sponsor about your new command's specific check-in policies. This is especially important if the command is deployed when you are scheduled to arrive at NAS Oceana.
Navy Gateway Inns & Suites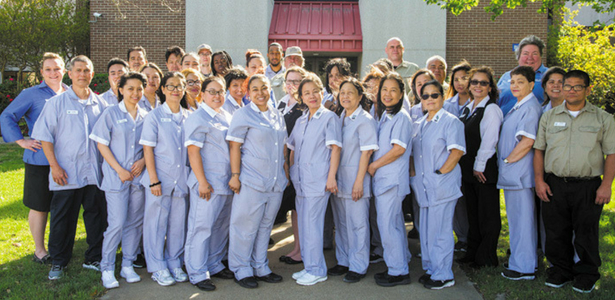 Navy Gateway Inns & Suites is your No. 1, award-winning choice for temporary lodging. We create comfortable guest services for those we serve: today and tomorrow. Call 877­-NAVY-BED (628-9233) or visit www.dodlodging.net to make reservations worldwide.
We are the Navy's official lodging operation, providing quality lodging and hospitality services at the lowest possible cost to active-duty and retired military, reservists and government employees on official travel. NGIS is also available to the same eligible guests on leisure travel, when space permits.
On NAS Oceana and Dam Neck there are six Navy Gateway Inns & Suites facilities with three check-in desks and 699 rooms and suites. All rooms have a small refrigerator, coffee maker with coffee, 32-inch, flat-screen TV, Wi-Fi, iron and ironing board. Navy Gateway Inns & Suites was formerly known as Visitor's Quarter's/BOQ/BEQ.
The check-in desk for NAS Oceana is at 905 G Ave. There are two main check-in desks at Dam Neck, which are in
Building 566C and Building 241. Check-in location at Dam Neck depends on the room where you are assigned and the day of your arrival.
Navy Lodge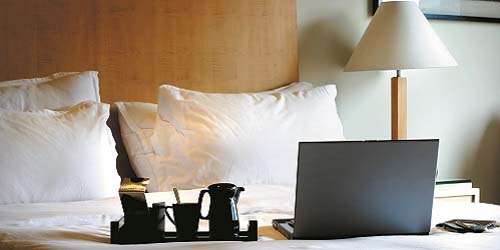 Although there is no Navy Lodge on NAS Oceana, there is a Navy Lodge available 6 miles away at Dam Neck Annex. It's in Building 226 on Regulus Avenue and can be called directly at 757-437-8100.
All Navy Lodges offer military families and other authorized patrons clean, comfortable, convenient, oversized rooms and very affordable accommodations worldwide while on official travel, permanent change of station orders or vacation. Navy Lodge rooms have cable TV, a DVD player, direct-dial telephone service and a kitchenette complete with microwave and utensils, as well as housekeeping service, vending machines and an on-site laundromat. Navy Lodges are handicapped-accessible and nonsmoking and offer free local calls, in-room coffee and newspapers as well as convenient on-base parking and interconnecting rooms. Pet-friendly rooms are also available.
To make a reservation, call 800-628-9466 or go online at www.navy-lodge.com.
Other Navy Lodges in the Hampton Roads area include Navy Lodge, Naval Station Norfolk; and Navy Lodge, Joint Expeditionary Base Little Creek — Fort Story.
Personnel Support Activity Detachment Oceana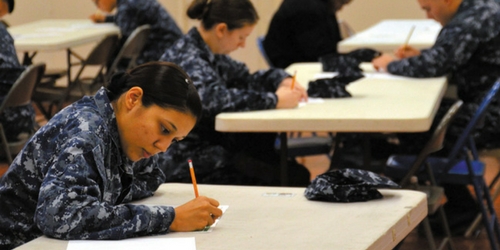 PSD Oceana provides one-stop service to its customer commands. The detachment provides military personnel and transportation support to 50 customer commands comprised of more than 80 UICs at NAS Oceana, Dam Neck Annex and NSA Northwest. Additionally, it provides military pay support to more than 20 deployable aircraft squadrons and air wings aboard NAS Oceana. PSD Oceana provides support to more than 11,000 active-duty personnel.
PSD is in Building 326 at 1161 D Ave. Customer service hours for every section except ID cards are 8 a.m. to 3 p.m. Monday through Friday. ID cards are issued 7:30 a.m. to 4 p.m. Monday through Friday. The phone number for administration is 757-433-3064.
A separate PSD is available at Dam Neck Annex to service students attending classes at that location (see Dam Neck Annex chapter).
Customer Service
PSD provides numerous services associated with pay account and Electronic Service Record maintenance for enlisted staff members attached to NAS Oceana and Dam Neck Annex. The phone number for the Customer Service Office is 757-433-2710/3393/2701/3009. Pay account maintenance includes, but is not limited to, processing starts, stops or changes to BAH, BAS, FSA, SDAP, HFP and HDP. Updates to the Electronic Service Record (ESR) and Official Military Personnel File (OMPF) are verified and submitted for update to individual accounts. Updates to the Record of Emergency Data (NAVPERS 1070/602) are accomplished to include adding and removing dependents, address changes, and updating SGLI and death gratuity beneficiaries. See your command PASS coordinator (CPC) to ensure the proper documents are provided for the required service.
Receipts
The receipts section is responsible for check-in services for all inbound personnel and their families on PCS orders. All personnel must check in with the Personnel Support Detachment within four days of reporting aboard their parent command. Members must check in with an endorsed copy of their PCS orders and all supporting documentation to complete the check-in process. The phone numbers for the receipts section are 757-433-3044/3058/2761/3045/3017.
Family Member ID Cards
ID cards are issued 7:30 a.m. to 4 p.m. Monday through Friday. The phone number for the ID Office is 757-433-2939/3012/2184. Appointments can be scheduled online at https://rapidsappointments.dmdc.osd.mil/appointment.
All family members must have a valid ID card application (DD Form 1172) signed by the sponsor and verified, or the sponsor must be present to have an ID card issued. Military members who have signed an extension of enlistment must not have their Common Access Card (CAC) renewed until the extension becomes operative. If the military member will be deploying or will be on extended TDY involving a contingency operation, the CAC may be issued on the last working day prior to deployment; please present orders.
Two forms of ID are required for anyone over 18. If the sponsor is deployed and a family member loses his/her ID card, PSD/CSD will issue a 90-day temporary card until an application can be obtained from the sponsor's command, if the sponsor's information is updated in DEERS. A power of attorney may also be used for signing authority. Every family member 10 years and older must have an identification card to use the military commissaries and exchanges, medical facilities and other support services. Children of single parents and dual military are required to have ID cards.
Educational Service Office
The Educational Service Office (ESO) provides services relating to the Navy-wide Advancement Examination, advancements and awards for active-duty and reserve military members. All active-duty military personnel must check in and check out with ESO for tracking of their worksheet and good conduct award when reporting aboard or transferring to another command. Commands must have a point of contact (POC) registered on the Navy Enlisted Advancement System (NEAS) website. Time in rate (TIR) eligibility lists for examinations ordering of all ratings and otherpertinent information can be found on Navy Knowledge Online. The Good Conduct Eligibility Report for active-duty members is distributed monthly to command POCs for the issuing of Good Conduct Award certificates. Military members are responsible for verifying their Electronic Service Record (ESR) awards via NSIPS and their Official Military Personnel File (OMPF) for accuracy. The phone numbers are 757-433-4119/4364/3060/2737.
Travel
PSD provides travel claim processing services to all members attached to NAS Oceana and Dam Neck Annex. Travel claim settlements and advances are computed and paid for PCS and TAD active-duty and reserve orders. PSD does not process travel claims associated with DTS orders. See your command PASS coordinator (CPC) for submission of travel claims to PSD. The phone number for the Travel Office is 757-433-2994/2613.
Transfers
The transfer section provides support for all members and families with PCS orders, including but not limited to, obligated service for PCS orders, passports, Family Entry Approvals for OCONUS transfers, passenger reservation requests and advance travel entitlements. Upon receipt of PCS orders, contact your command PASS coordinator (CPC) to receive your transfer package. It is imperative that personnel plan their PCS transfer accordingly and their parent command submits their PCS packages back to PSD within 30 days of receipt in order to comply with the specified requirements and deadlines set forth by the member's orders and naval instructions. Personnel must notify their respective CPC and PSD immediately when in receipt of any order modifications or cancellations, especially if the transfer packet has already been submitted with an approved transfer date. All personnel must check out with PSD on their approved transfer date. The phone numbers are 757-433-2741/2731/3053/3017.
Transients
The transients section is responsible for all receipts, transfers and separations for students, limited duty personnel, FRC SEAOPDET and FTS/reserves personnel assigned to NAS Oceana commands, including the reserve command attached to Dam Neck Annex. Our process is to ensure proper accountability and monitor the movement of transient personnel from and to the fleet. The phone numbers are 757-433-2742/3026/2743.
Separations
The separations section is responsible for the processing of all separations, voluntary and involuntary, fleet reserve processing, re-enlistments and extensions of current service. Members must visit PSD no later than 120 days prior to the start of their terminal/separation leave in order to begin processing. The phone numbers are 757-433-3042/­2753/2756/2757/4365.
Officer Records
The officer records section of PSD processes all paperwork involved in the receipt, transfer, separation and retirement of officer personnel to include those in a transient status on PCS orders. Members must report to officer records to ensure accurate and timely processing and a smooth transition. The phone numbers are 757-433-3042/4122/3046/3048.