Training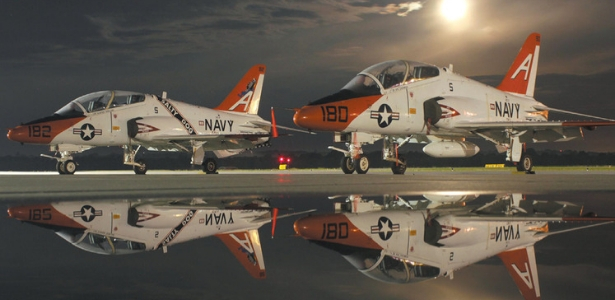 TRAINING AIR WING ONE
Training Air Wing One (TW-1) was commissioned Aug. 2, 1971, as the first Training Air Wing to incorporate the single-site training concept. Until that time, jet aviation students received only the basic flight syllabus at NAS Meridian prior to being transferred to bases in Texas for advanced flight training.
Training Squadron Seven (VT-7) and Training Squadron Nine (VT-9) currently train Student Naval Aviators (SNAs) through the completion of the entire jet-training syllabus while stationed at NAS Meridian.
The mission of TW-1 is to provide newly designated aviators to the fleet for further training in operational combat aircraft and is conveyed in the wing motto, "Readiness for Victory at Sea Through Training." TW-1 embodies the Naval Aviation Enterprise goal of providing the right readiness, at the right time, at the right cost.
The wing commander's specific mission is to administer, coordinate and supervise the strike flight training syllabus at NAS Meridian, as directed by the Chief of Naval Air Training (CNATRA).
The instructor pilot cadre at TW-1 is composed of men and women from almost every Navy and Marine Corps aviation community, as well as several international military exchange pilots, bringing an enormous array of fleet experience to the training command.
TW-1 is also tasked with training international military aviators from countries including France, Italy, Spain and Singapore and the United Kingdom. Subordinate commands under Commander, TW-1 include the Eagles of VT-7 and the Tigers of VT-9.
These squadrons receive SNAs from Training Air Wing Five (TW-5) at Naval Air Station Milton, Florida, and Training Air Wing Four (TW-4) at NAS Corpus Christi, Texas, upon their completion of primary flight training in the T-6B Texan II.
VT-7 and VT-9 conduct their combined multi-service pilot training in the Navy's newest jet trainer, the T-45C Goshawk. Upon completion of the 52-week flight instruction syllabus, the SNAs are designated Naval Aviators and receive their Wings of Gold.
TRAINING SQUADRON SEVEN
The Eagles of VT-7 have the mission of safely and effectively training the world's finest Naval Aviators and preparing them for service and success in the Fleet. Student Naval Aviators train for approximately 52 weeks in the fundamentals of strike aviation.
Initial flights and simulators are devoted to instrument flight conduct culminating in an instrument rating. In the familiarization stage, students learn basic aircraft maneuvering, aerobatics and landing skills foundational to the aircraft carrier environment. Numerous multi-aircraft flights provide requisite skills in two-plane, four-plane and night-formation flying. The second phase of flight training exposes students to manual air-to-ground bombing, Tactical Formation, within visual range Air Combat Maneuvering, and Operational Navigation at low altitude.
Finally, students perform Field Carrier Landing Practice (FCLP) in preparation for their Carrier Qualifications (CQ). In order to become "tail hookers" and earn their Wings of Gold, students must safely complete four "touch-and-goes" and 10 arrested landings aboard a carrier at sea.
VT-7 originated as a Naval Advanced Training Activity at Naval Air Station Millington, Memphis, Tennessee. It was initially composed of two advanced training units. These were consolidated into Basic Training Group Seven (BTG-7), which employed the T-28 Trojan and T-29 Seastar to train student aviators in basic instrument flying.
BTG-7 was designated as VT-7 in July 1960 and relocated to NAS Meridian, Mississippi one year later. VT-7 then split to form a "sister" squadron, Training Squadron Nine (VT-9), in December 1961.
In 1964, VT-7 won its first of 21 Chief of Naval Operations Aviation Safety "S" Awards. A superior safety record and an aggressively professional approach to safeguarding lives and aircraft enabled the command to again receive the CNO Safety Award in 2011.
The T-2 Buckeye was used in VT-7 from 1962 until 1971. The command then transitioned to the Douglas TA-4J Skyhawk to train pilots for advanced strike missions. The first advanced strike student earned his Wings of Gold in the spring of 1972. The last naval aviator trained by VT-7 in the TA-4J graduated in 1999 when VT-7 transitioned to the Boeing T-45C Goshawk. In its first year of Goshawk service, VT-7 flew over 18,000 sorties and made nearly 1,300 carrier landings. In 2015, the squadron flew more than 15,170 hours and winged 44 students trained by a staff of 41 active duty and 21 reserve instructor pilots. To date, the Eagles of VT-7 have winged more than 4,200 Navy and Marine Corps aviators including 365 international students from France, Italy, Kuwait, Spain, Thailand, Singapore, Taiwan and Brazil.
VT-7's Eagles are dedicated to their mission of training Student Naval Aviators and will continue providing the Fleet with the finest Naval Aviators in the world.
TRAINING SQUADRON NINE
Training Squadron Nine was commissioned Dec. 15, 1961, at McCain Field, U.S. Naval Auxiliary Air Station Meridian.
The current squadron is the third Navy squadron to be designated as VT-9. The first VT-9 was commissioned in 1927 as a Torpedo Squadron, flying the Curtis T3-M Convertible Land/Seaplane. On Aug. 2, 1971, the VT-9 Tigers split and formed another "sister" squadron designated Training Squadron 19 (VT-19) Frogs, and both squadrons then assumed the intermediate jet training role at Meridian.
VT-9 was later decommissioned in July 1987 and the personnel and assets were consolidated with VT-19. On Oct. 1, 1998, VT-19 was re-designated as VT-9 and the Tigers were again reborn.
In July 2003, VT-9 completed its last carrier qualifications in the T-2C Buckeye, and the last E2/C2 aviators to be trained in VT-9 received their Wings of Gold. In July 2004, the last VT-9 T-2C flight took place, ending the almost 40-year Buckeye career at NAS Meridian.
VT-9's mission is to safely train Student Naval Aviators in the air strike mission for the United States and other international navies. The squadron has trained international students from Spain, France, Brazil, Italy, Singapore and England. Training Squadron Nine currently operates the Boeing T-45C Goshawk. Civilian maintenance contractors maintain T-45C aircraft and the T-45C flight simulators.
In the fall of 2002, VT-9 began training student strike pilots in the "TS" (Total System) syllabus using the T-45C Goshawk. This instruction combined the basics once taught in the T-2C intermediate syllabus with those taught in Advanced Strike Training to form a complete training syllabus that takes a student naval aviator from primary training to the Wings of Gold.
In 2011, VT-9 upgraded its syllabus to the "MPTS" (Multi-Service Pilot Training System) syllabus in order to meet the demands of the fleet in a more efficient manner. This new MPTS syllabus incorporates training programs for every fixed-wing carrier aviation platform in the United States Navy and the foreign militaries it is assigned to train.
Student Naval Aviators and international military students are on board VT-9 for approximately 52 weeks. They are trained in many fundamental stages of strike and carrier aviation. Initially, T-45C students fly several instrument flights focused on building a solid flight foundation that will ultimately lead to an instrument rating. Thirteen day flights and three night flights are then devoted to the familiarization stage where students learn basic aircraft maneuvering, aerobatics and carrier landing skills. The next stage in T-45C training consists of 22 formation flights with emphasis on two-plane, four-plane and basic tactical formations. The first phase of training concludes with FCLP. It is in this stage that the students gain their first experience working with a Landing Signal Officer (LSO) and begin to build the foundation required to successfully land on an aircraft carrier during the second phase of training.
Phase two of training follows two separate paths depending on platform selection.
Those students selecting the E-2C Hawkeye/C-2 Greyhound pipeline begin an 18-flight syllabus designed to carry them through CQ where they land on an aircraft carrier for the first time in their career. After successfully completing Carrier Qualifications, these students are assigned to Training Air Wing Four where they will fly the T-44A Pegasus. Upon completion, they will receive their Wings of Gold.
Those students selecting the Advanced Strike pipeline follow a different path. These students will then fly five operational navigation flights teaching low-level navigation. The strike stage will follow, allowing the students to learn fundamental air-to-ground weapon delivery procedures. Three night formation flights will then be flown instructing the students on two-plane basic night formation flying. The Advanced Strike students then progress to 12 Basic Fighter Maneuvering and four Section-Engaged Maneuvering flights designed to teach basic air combat maneuvering. Finally, the students will begin the CQ stage with an LSO preparing them for their first arrested landings on an aircraft carrier. After the initial carrier qualification, these students will receive their Wings of Gold.
VT-9's unprecedented safety record has culminated in 12 Chief of Naval Operations Aviation Safety Awards — the most recent was earned in 2012.
In 2002, the squadron was awarded the John H. Towers Flight Safety Award. VT-9's other recent awards include two Secretary of the Navy Meritorious Unit Commendation awards in recognition of exceeding the established goals of safety, quality and projected training rates as well as the 2009 Vice Admiral Goldthwaite Award for Training Excellence.
NAVAL TECHNICAL TRAINING CENTER
Naval Technical Training Center Meridian was officially commissioned April 17, 1974. The center is known locally as the John C. Stennis Center in honor of Mississippi's late Sen. John C. Stennis.
NTTC Meridian is under the operational and administrative control of the Commander, Naval Education and Training Command, headquartered at Pensacola, Florida, via the Commanding Officer, Center for Service Support, headquartered at Newport, Rhode Island.
NTTC Meridian is the Navy's primary training facility for enlisted Administrative and Supply Class "A" schools. Instruction is provided in the following class "A" schools for Navy personnel: Ship's Serviceman, Logistics Specialists, Personnel Specialist and Yeoman (YN). In addition, NTTC also provides advanced training to senior Yeomen, Coast Guardsmen and Marines returning from the Fleet with the Flag Officer Writer (YN "C" School — NEC 2514) course.
Approximately 1,700 Navy personnel graduate from the center's schools annually. The average on-board student population is 250.
All of the class "A" schools have transitioned from self-paced to a fully instructor led group-paced curriculum utilizing the Navy's Integrated Learning Environment (ILE). The average course length is 28 days.
The mission of NTTC Meridian is to support fleet operational readiness through training. Students are taught not only the entry-level skills needed to perform their jobs once they reach the fleet but also the military skills required by naval service. This training is provided by full-time military and contract training instructors.
NTTC Meridian was recognized as the 2009 and 2013 Navy Community Service Program/Project Good Neighbor Community Flagship Award winner for small shore command. Additionally, NTTC Meridian won the overall Navy 2009 Bainbridge Award for volunteer community service.
The highly qualified staff at NTTC Meridian recognizes the responsibility it has for instilling the technical competence, military motivation and appreciation for the traditions and missions of the U.S. Navy needed by the students to become successful Sailors.
NAVAL AIR TECHNICAL TRAINING CENTER LEARNING SITE MERIDIAN
Naval Air Technical Training Center, Learning Site Meridian, formerly known as Chief for Naval Aviation Technical Training Center (CNATT), Meridian since April 1974, became a self-sustained Learning Site reporting to NATTC Pensacola on May 6, 2014. The AZ/6046 "A" School serves as the only inter-service enlisted school on the base, executing an eight week long, fully instructor lead curriculum, with an annual throughput of 524 Sailors and Marines.
Upon completion of the course, Sailors and Marines will have the basic knowledge of the organization and concepts of the three levels of maintenance, the skill to prepare official and unofficial correspondence, prepare Monthly Maintenance Plans, proper maintenance and flight documentation procedures; maintain technical publication libraries, maintain aircraft, engine and supported equipment logs, records and historical files; and an understanding of the functions of Naval Aviation Logistics Command Management Information System Optimized Organizational Maintenance Activity. These apprentice-level skills are to be performed under all operating conditions in the fleet afloat and ashore, with appropriate supervision in Maintenance Administration, Maintenance/Production Control, Quality Assurance and Operations work centers.
MARINE AVIATION TRAINING SUPPORT SQUADRON ONE
On May 1, 1974, Marine Aviation Training Support Squadron 903, Marine Aviation Training Support Group 90 was activated onboard Naval Air Station Meridian. On April 20, 1979, it was re-designated as Marine Aviation Training Support Group. On Aug. 18, 2000, it was again re-designated as Marine Aviation Training Support Squadron One (MATSS-1).
The mission of MATSS-1 is to provide Marine students with well-prepared, innovative instructors, opportunities for leadership, solid role models and the highest level of quality education in a safe training environment.
MATSS-1 provides "A" School training for Marines in one of four military occupational specialties (MOS) following Marine Corps recruit training (boot camp) and Marine combat training. Marine Corps students will attend classes six to eight weeks in duration.
The entry-level courses and the MOS earned are Marine Aviation Operations Specialist Course (AOS 7041), Marine Aviation Supply Specialist Course (MASS 6672), Aviation Maintenance Administration Specialist Course (AZ 6046) and IMRL Asset Managers System (IAMS 6042).
Marine students are also guided toward discovering and capitalizing on their strengths of self-discipline, physical fitness, attention to detail, personal responsibility and personal accountability. This helps to ensure MATSS-1's goal of sending to the operating forces a Marine who is both technically proficient at an entry level for his/her MOS, as well as a Marine who can be depended upon to maintain the moral and professional standards that are expected of a United States Marine.
MATSS-1 also provides administrative support for instructor pilots and Marine Corps Student Naval Aviators assigned to attend school at Training Air Wing One.
MATSS-1 is the recipient of the National Defense Service Streamer with two Bronze Stars as well as the Global War on Terrorism Service Streamer.
In November 2013, MATSS-1 dedicated the Marine Obstacle Course to Cpl. Sylvester Hood Sr., a Montford Point Marine and Meridian native.
Navy Operational Support Center Meridian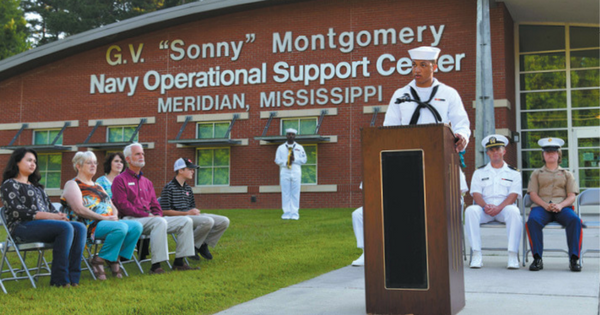 NAVY OPERATIONAL SUPPORT CENTER MERIDIAN
In 1999, ground was broken for the new G.V. "Sonny" Montgomery Navy Operational Support Center Meridian. Located next to the schoolhouses of Naval Technical Training Center, this project was funded by a joint venture between the Navy, the state of Mississippi and Lauderdale County. The facilities are the prototype for naval reserve centers of the future, being designed and constructed from inception to train and support reservists. NOSC Meridian was officially dedicated and opened in August 2000.
The facility itself is a modern design and provides an ideal training environment. Classrooms are expandable to facilitate classes of any size. The 100-seat auditorium is well equipped with all of the latest audio/visual aids to enhance a variety of instruction techniques. The drill hall can accommodate large formations, including quarters, changes of command or retirements. A conference room supports meetings and other training.
Each Reserve Unit has its own classroom, cubicle and office space. Besides supporting Navy Reserve training, the NOSC is a tremendous asset to NAS Meridian as a training or meeting site, hosting more than 15 functions per month for other commands.
Staffed by one Full-Time Support Officer (the Commanding Officer) and 11 Enlisted Full-Time Support Active Duty personnel, NOSC Meridian is home for four selected Reserve Units. Approximately 126 reservists have their administrative, medical, training, personnel and supply needs met by the Active Duty personnel. A Naval Reserve Recruiting Office is also at NOSC Meridian and is responsible for all Naval Reserve recruiting in east Mississippi. The staff is integrated into the NAS Meridian working population as leaders and members of various committees, volunteer clubs and charitable organizations.
The reservists of NOSC Meridian, though performing drill weekends in Meridian, support a variety of Active Duty Navy and Marine Corps commands such as Naval Hospital Pensacola, Operational Support Unit 0835, NAS Navy Security Force and Training Air Wing One. Training these reserve Sailors is accomplished by classroom instruction at the NOSC, working on site with NAS Meridian personnel, and performance of two weeks Annual Training (AT) or Active Duty Training (ADT) at their respective gaining commands.
The citizen Sailors of NOSC Meridian are leading the way in efforts to "send the right reservist to the right place at the right time" and are ready to answer the nation's call when needed.
Regional Counterdrug Training Academy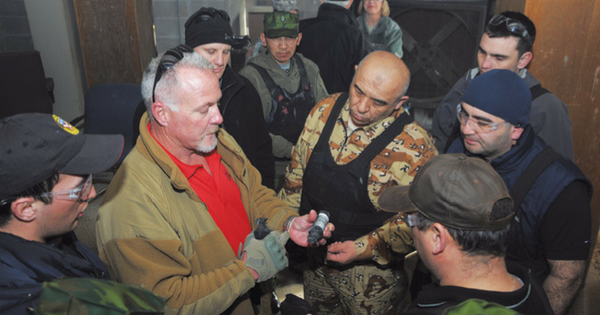 REGIONAL COUNTERDRUG TRAINING ACADEMY
The Regional Counterdrug Training Academy (RCTA) was established in 1992 at Naval Air Station Meridian with the mission to provide no-cost, "street-level," case-making, counterdrug skills to civilian law enforcement officers.
The RCTA is the epitome of the "Whole of Government" approach; it is federally funded by the Department of Defense via the Mississippi National Guard, to train federal, state and local law enforcement. The unique partnership between the National Guard and law enforcement has allowed the RCTA to train 112,000 officers and Counterdrug Soldiers/Airmen since its inception in 1992 from all 54 states and territories. The U.S. military has developed into not only the best fighting force on earth but the best training force in the world. The RCTA leverages this training capability in delivering high- quality facilities, equipment and professional training to all levels of entities that support our nation in the fight against illicit narcotics.
Law enforcement officers attend in a tuition-free status with room and board paid for by the RCTA. The only expense to law enforcement is the transportation cost to NAS Meridian and the officer's salary while in school. The premise is that the purveyors of illegal drugs have almost unlimited financial resources and law enforcement agencies are on the opposite end of this spectrum. Tragically, expensive training is often out of reach for most law enforcement agencies and cops have to train while on the streets. Obviously, the "battlefield" is a tough place to be trained. The RCTA was established to help ease this training dilemma.
The RCTA offers nearly 40 different subject courses to its students that support National Drug Strategies. Courses range from one-day to intense two-week courses. Some subject topics include: Basic Narcotics Investigations, Undercover Operations, Interview and Interrogation, Gang School, K-9 Drug Dog Recertification, High Risk Warrant Planning & Execution, Drug Trafficking Organizations and everything in between. Courses are designed for the inexperienced "new" narcotics agent to the most seasoned veteran and applicable military personnel.
The Academy emphasizes "hands-on" training using three classrooms (30-50 persons), Distance Learning Center (with 24 computer workstations), a nine-building Military Operation in Urban Terrain (MOUT) facility and two Land Navigation courses. Located on a federal military installation, the RCTA also offers a secure training environment.
The original charter was limited to the states of Alabama, Louisiana and Mississippi, but in 1996 Georgia was included, followed by Tennessee in 2001. The RCTA is also authorized to train officers outside the five-state region, as well as military personnel involved in counterdrug efforts.
The RCTA's motto, "Perseverate in Pugna" or "Press the Fight," summarizes the academy's mission of instilling a sense of fight or perseverance that must be maintained in the war on drugs.
Public Works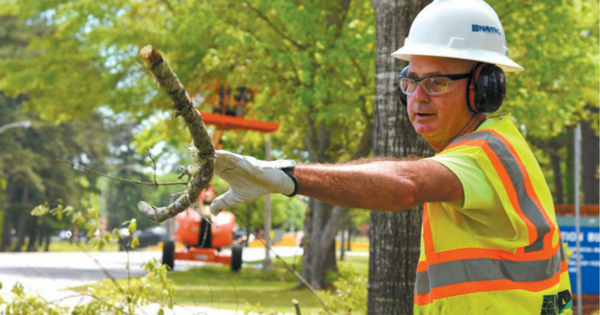 PUBLIC WORKS
Public Works is responsible for a wide variety of utility and facility management, support services and functions including: utility and facility planning and programming, engineering, design and construction, maintenance, alteration, repair and disposal. Public Works functions include: pest control services, maintenance coordination of the base electrical grid, operation and maintenance of the base water plant, management of the vehicular transportation fleet and management of the energy conservation program. Public Works also supports many NAS Meridian facility service contracts such as janitorial services, grounds maintenance, refuse collection and disposal, and various other specialty services (e.g. elevators, biohazard waste, fire suppression, grease collection, oil-water separators, etc.).
The Public Works Transportation Branch manages the vehicular transportation fleet and services including operation and maintenance of both government-owned and GSA-leased vehicles and equipment. Transportation also maintains all weight handling equipment, emergency generators, unpaved roads and the target at the bombing range.
The Public Works Environmental Division manages a number of environmental protection programs to include: soil, water, air, fish and wildlife programs; hazardous/solid waste control; and recycling programs. Environmental ensures that the station is in compliance with all federal, state and local environmental protection laws and regulations by implementing mandated policies and programs. It also provides technical support to Public Works, NAS Meridian and Fire & Emergency Services for environmental emergencies.
Supply

SUPPLY
Naval Supply Systems Command Fleet Logistics Center Jacksonville, NAS Meridian Detachment
NAVSUP FLCJ, NAS Meridian Detachment's director is responsible for the oversight and direction of logistical support to all customers at NAS Meridian. This includes the development of new products and services, as well as maintaining and improving the current services via process improvements. Current services include Warehousing Services, Fuel Operations, HAZMAT/CHRIMP, Household Goods/Personal Property, Official Military Mailroom (Postal) and NAVFAC Purchasing Agents.
Supply Department Contract Surveillance
The Supply Department's mission is to furnish extensive logistic support to the Naval Air Station and tenant commands. Main Supply, in Building 224, is open 7 a.m. to 3:30 p.m. Monday through Friday and is a multi-faceted warehouse providing all transportation movement and shipping services. The Contract Surveillance Specialist provides oversight of contract execution and makes payments to the contractor using Wide Area Workflow. Currently, Warehousing Services and the HAZMAT/CHRIMP program is contracted by South Texas Lighthouse of the Blind and the Official Military Mailroom is contracted by NewView Oklahoma. For more information, call 601-679-2904.
Management Analyst
The Management Analyst of the Supply Department assists the site director and various product and services leads in the oversight of costs, customer agreements, customer-focused metrics, process standardization, coordination of higher authority policy applications, tools, systems and processing performance metrics, including productivity measures such as Continuous Process Improvement projects. Administers and executes the detachment budget; reviews the annual business plan; and monitors, analyzes and reconciles financial transactions. Analyzes, identifies and provides justification for unfunded requirements. Creates purchase requests using Navy ERP, and provides oversight of the One Touch Supply System. For more information, call 601-679-2904.
Transportation
Transportation provides shipping services to the naval air station and tenant activities utilizing air, ground or truck companies for different shipping priorities. ATAC (retrograde) material also is processed to complete the CARCASS cycle. DRMO services provides assistance with material being turned in to the Defense Logistics Agency Disposition Services through Transportation. Paperwork for the DRMO is either processed by Transportation or the tenants, then items are shipped as useable or nonuseable or staged as "Remain in Place." For information, call 601-679-2106.
Warehouse/Shipping & Receiving Services
The warehouse section performs supply technical support dealing with multiple supply disciplines to include: warehousing, shipping, receiving, tracking, packaging and crating, technical research, material expediting, stock management, hazardous material certification and transportation of materials. Warehouse Services, in Building 224, is open 7 a.m. to 3:30 p.m. Monday through Friday and is a multi-faceted warehouse providing all transportation movement and shipping services. Warehouse personnel process material requisitions and receipt documents through One Touch Supply System in accordance with online procedures and reference guides. Initiates, prepares and processes Transportation Discrepancy Reports, Supply Discrepancy Reports, Reports of Discrepancy and Product Quality Deficiency Reports as required. Performs Hazardous Material Certification for shipments, and performs quality control functions over any Hazardous Material Certification performed by contractors on board NAS Meridian, to include ordnance and fuel shipments. The Warehouse Services operation is provided on a contract basis with South Texas Lighthouse of the Blind. In FY15 the Warehouse processed over 5,000 items of DRMS material at a throughput rate of 26 pieces per day. For more information, call 601-679-2380.
Fuel Services
NAS Meridian is a training base with a bulk storage fuel facility that supports two T-45 aircraft training squadrons (VT-7 and VT-9) and transient aircraft. Outlying Field Joe Williams Field falls under NAS Meridian and is 40 miles west. NAS Meridian also acts as a FEMA staging area during disaster relief efforts. The fuel facilities are owned by the Navy, and fuel services are operated by civilian contractor DaeSung/LB&B Associates (DLFMSJV). DLFMSJV has a trained staff of employees and a site manager. It is open 24 hours a day Monday through Friday.
The annual throughput for F-24 fuel is approximately 8,717,129 gallons, GUR 116,532 gallons, and Diesel 24,000 gallons. The three F-24 storage tanks have a total capacity of approximately 3,402,000 USG. Replenishment of these tanks is by underground pipeline. McCain Pipeline is the delivery source and is approximately seven miles from the base. Three 10,000-gallon tanks are at Joe Williams Field, and they are replenished by contracted tanker truck. GUR and Diesel storage tanks are also replenished by tanker truck. NAS Meridian is home to about 84 T-45C aircraft. Flight line refueling services at both NAS Meridian and Joe Williams Field are carried out by the contractor's mobile refueling trucks that are positioned less than a quarter of a mile from the airfield. There is a fuel-testing laboratory that is capable of conducting all required tests to ensure quality fuel is delivered to aircraft and support equipment. Other products managed by Fuels are Cryogenics in the form of Liquid Oxygen and Liquid Nitrogen. Fuel Services is vital to the everyday flight operations at NAS Meridian and Joe Williams Field. For more information, call 601-679-3281.
Hazardous Material Minimization Center
Located close to the airfield in Building 99, the HAZMAT Center is open 6 a.m. to 4:30 p.m. Monday through Friday. The center manages and controls the issue and accountability of all hazardous materials needed to support NAS Meridian, aircraft maintenance activities and tenant activities in addition to resident and nonresident contracts on station. NASMER Instruction 4110.1c outlines the program and specifies basic procedures for proper HAZMAT program execution. The HAZMAT operation is provided by a contract basis with South Texas Lighthouse of the Blind. South Texas Lighthouse of the Blind is an affiliate of the Ability One program, which generates employment and training for people who are blind or have other severe disabilities. For information, call 601-679-3180.
Personal Property and Household Goods Shipments
Located in Building 224, and open 8 a.m. to 4 p.m. Monday through Friday, Personal Property and Household Goods Shipments (PP/HHG) provides oversight and assistance to incoming and outgoing service members to ensure their property is moved in a professional and timely manner. PP/HHG assists customers in using www.move.mil for entering information into the Defense Personal Property System (DPS). PP/HHG provides customer assistance through each step of the DPS process:
Step 1, Access & Login;
Step 2, DPS-Self Counseling;
Step 3, Shipment Management;
Step 4, Customer Satisfaction Survey. PP/HHG also provides assistance for filing a claim for loss or damaged items.
For more information, call 601-679-2622/2004.
Official Military Mailroom Service
The Official Military Mailroom is on the first floor of Administration Building 255. One full-time and one part-time employee provide incoming and outgoing official mail services and local guard mail services for more than 60 departments, tenant commands and contractors on board NAS Meridian. The OMMR provides receipt and consolidated distribution of all official military mail and provides change of address services for all military personnel on station, as well as directory services for mail forwarding. Additionally, the OMMR trains tenant command mail orderlies and issues DD285 Mail cards. In fiscal year 2016, 150,000 pieces of incoming and outgoing mail were processed and over 1,800 pieces of directory mail were successfully forwarded to military personnel who had transferred. During the same year, a savings of $1,500 was achieved by consolidating when possible and using the lowest shipping cost available. For more information, call 601-679-2533.
Purchasing Agent
The purchasing agent provides purchasing facilitation through the use of Government-wide Commercial Purchasing Card (GCPC) for NAVFAC Public Works Department. The purchasing agent creates purchase requests as well as purchase orders within the MAXIMO System, deals and negotiates with a multitude of vendors, and performs monthly reconciliations of all transactions for fiscal soundness. The purchasing agent is in Building 224 of the Main Supply Warehouse during normal business hours from 7 a.m. to 3:30 p.m. Monday through Friday. The purchasing agent supports all aspects of the Public Works Department, to include Base Support Vehicles, Environmental Division, Metals, Utilities & Building Trades, Electrical and HVAC, and the Water Plant. For more information, call 601-679-2010.
ServMart
ServMart is a self-service store that provides customers with a quick method of obtaining small quantities of high-demand, low-cost administrative and consumable items. The store hours are 8 a.m. to 3:30 p.m. Monday through Thursday, and they are in Building 224.
A Government Purchase Card is required to make purchases. ServMart is operated by Ability One and is on a regional contract to provide their services to NAS Meridian. These products are manufactured by organizations that belong to the National Industries for the Blind and National Industries for the Severely Handicapped. The 90 associated nonprofit agencies of NIB employ more than 6,100 hardworking people across America who are blind, who make products and who provide services that make a difference. For information, call 601-679-3147.
DEERS/ID Card Office Meridian
The DEERS/ID Card Office provides ID card services for active-duty service members, dependents, retirees, DOD civilians and government contractors. Location: inside NTTC Administration Building, 740 Fletcher Road, Suite 128, Meridian, MS 39309. Phone: 601-679-2302.
Directions
From Highway 39, turn onto John C. Stennis Drive to the Main Gate. Go through intersection (flashing light) of Rosenbaum Avenue and Fuller Road. Take the first left past the NTTC Building 362, park in the rear of the building; enter at the CSD sign.
Hours of Operation
Open 7:30 a.m. to 3:40 p.m. Monday through Friday (hours are dependent upon number of customers currently awaiting service). Walk-in service hours may change if maximum capacity is reached. Appointments can be made by booking online at https://rapids-appointments.dmdc.osd.mil. We observe all federal holidays.