Newcomers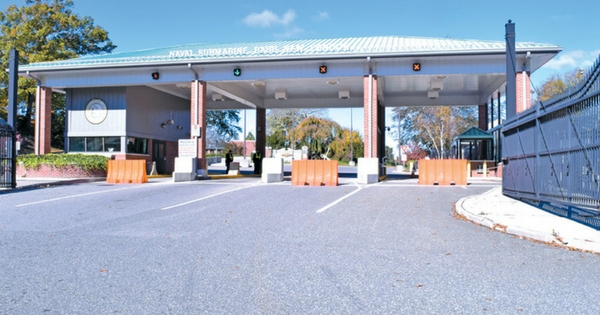 Preplanning is essential for newcomers moving to Naval Submarine Base New London, whether for a permanent change of station or student assignment. An excellent source of information for military moves is the Department of Defense Military OneSource website at www.militaryonesource.mil. This is a Department of Defense website for official Military Community and Family Policy (MC&FP) program information, policy and guidance designed to help troops and their families, leaders and service providers. From the Military OneSource website, service members can select the "Plan My Move" or the "Military Installations" links. Both will provide valuable information on preparing your move, as well as vital information on your next military installation.
Military families are also encouraged to contact the Housing Welcome Center as soon as orders are received at 860-694-3851, DSN 694-3851 or toll free at 877-843-5236. Its staff will help you locate suitable and affordable housing in the local area.
Temporary quarters can be arranged by contacting either the Navy Lodge or the Navy Gateway Inn & Suites (NGIS), both of which arrange permanent on-base quarters for single military personnel. Reservations can be made at the Navy Lodge by calling 800-NAVY-INN (628-9233) or 860-446-3119. On-base visiting quarters can be reserved by calling the NGIS at 860-694-3117 or DSN 694-3416.
Newcomers are also encouraged to contact their local Personal Property Office as soon as possible after receiving orders to arrange shipment of household goods. Once shipment dates are known, you should contact the Personal Property Office at Naval Submarine Base New London by calling 860-694-4650 to arrange storage or delivery of household goods.
All new personnel should hear from a gaining-command sponsor shortly after receiving orders. If you do not, contact your gaining unit and ask for your sponsor's name and phone number. Your gaining command should also provide you a mailing address where letters can be forwarded until a permanent address can be established. If not already received, you can also call the Fleet and Family Support Center at 860-694-3383 or DSN 694-3383 to request a Welcome Aboard Packet.
Arrival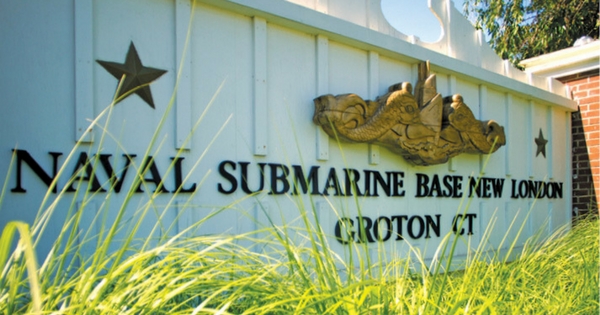 Naval Submarine Base New London lies on the east side of the Thames River in Groton, Connecticut. The main gate is approximately2 miles from Exit 86 off Interstate 95.
By Car — Travel either north or south on Interstate 95 to Exit 86. Turn north at the end of the ramp onto Route 12 and travel approximately 2 miles to the fifth stop light. Turn left at Crystal Lake Road and follow it approximately one-half mile to the end of the road. The main gate is on your right. Traffic signs, beginning on Interstate 95, provide clear directions to the submarine base.
By Plane — The base is within an hour's drive from two major airports: Bradley International Airport in Hartford, Connecticut, and T.F. Green Airport in Providence, Rhode Island. A much smaller airfield — Groton/New London Airport — is approximately 7 miles from the base.
If driving from T.F. Green Airport in Providence, follow airport signs to Interstate 95. Follow Interstate 95 south to Exit 86 in Connecticut. If driving from Bradley International Airport in Hartford, take Interstate 91 south to Route 9 south, to Interstate 95 north. Take Interstate 95 north across the Gold Star Bridge to Exit 86 (a left-lane exit). Follow road signs approximately 2 miles from Exit 86 to arrive at the naval submarine base.
By Rail — An Amtrak train station is in downtown New London, which is regularly served by local cab companies.
By Bus — Greyhound Bus Lines is next to the Amtrak train station in New London.
Auto Registration and Vehicle Information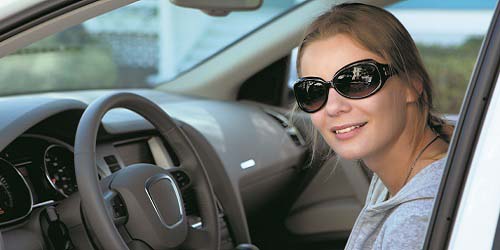 Building 500
Phone: 860-694-4030
All vehicle operators entering SUBASE are required to have a temporary base pass,DD Form 2 retired card, DD Form 1173 or a valid DOD CAC (Common Access Card). Base passes are issued at Building 500, just outside the main gate, during normal working hours and by the gate guard after normal working hours.
The Pass Office hours of operation are 6:30 a.m. to 3 p.m. Monday through Friday.
Parking is very limited on SUBASE. Therefore, it is required all personnel register their vehicles upon arrival. Motor vehicle operators accessing Submarine Base New London can register their vehicles with the Pass and ID office at Building 500, next to Gate 1 outside the perimeter of the fence line.
To register your vehicle on base, you must provide the following documentation:
Proof of Ownership — Your vehicle must be registered in your name or your spouse's name, or you must have notarized written permission from the owner to operate and register the vehicle (bill of sale is unacceptable).
Insurance — Motor vehicle operators must ensure that liability coverage fulfills Connecticut's financial responsibility laws. Check with your insurance company to be sure. You'll also need your current proof of insurance card, which should be maintained in your vehicle at all times in Connecticut.
ID Card — Motor vehicle operators must have a valid military identification with DOD card accompanied with driver's license ID card.
Inspection — All vehicles must have current vehicle inspections when accessing SUBASE New London.
Motorcycles — There are a number of special requirements that must be accomplished before riding a motorcycle on SUBASE, including completion of the DOD Motorcycle Safety Course. Check with the SUBASE Safety Division at 860-694-3739 before bringing a motorcycle on the base.
Vehicle Regulations — The speed limit on most base roads is 20 mph unless otherwise posted. Speed limits in parking lots are 5 mph. As a base driver, you are required to stop for pedestrians. As a base pedestrian, you are required to use crosswalks.
Both Navy regulation and Connecticut law requires that everyone wear a seat belt while in a moving vehicle. Children under age 6 or less than 60 pounds need to be in approved child restraints. Cellphone use is prohibited while operating a motor vehicle on SUBASE New London.
Parking — Because there is a critical shortage of parking on base, parking regulations are strictly enforced. All newcomers should read the parking rules and regulation instruction — SUBASENLON INST 5560.11B (series) — for the most up-to-date requirements.
If it becomes necessary to tow your vehicle, it will be done at your expense and risk. Damages or charges incurred in the towing will rest solely with the owner.
Traffic court is 9 a.m. to noon on Wednesday every other week in Building 462. If you receive a ticket with a court date, you must attend. If you fail to show up for traffic court it will be assumed that you are guilty for the infraction you were cited for and points will be deducted accordingly; you receive an automatic 60-day suspension of driving privileges on SUBASE in addition to whatever penalties you may receive.
Installation Access Procedures — Installation access is granted to those individuals possessing CACs, IDs or badges such as:
Active-duty military.
Reserve or retired military.
Military dependents.
DOD civilians.
General Dynamics/Electric Boat employees who work on base with Rapid Gate credentials.
Visitor Access — Visitors must have a military or DOD civilian sponsor who is affiliated with the SUBASE. Contractors and contract employees are not afforded sponsor privileges and must carry a Rapid Gate credential to access base. To sponsor an individual on base you must be active-duty military or a government employee with CAC credential. Sponsors are required to physically escort visitors at all times. Visitor requests are sent to Building 500, Pass and ID Office, and require the following information: date of visit; reason for visit; full name of visitor; and visitor's place of birth, date of birth, full Social Security number and duration of visit. Requests must be submitted five working days prior to the actual visit. All requests will be reviewed and must be approved in order to gain access onto the installation. A request form can be provided to fill out prior to arrival and can be obtained at Building 500 or 462. Any access requests transmitted electronically must be sent encrypted or hand carried to Building 500.
Contractor Access Requirements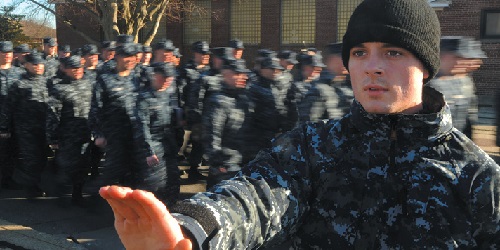 Short-term (One-day) Access — A military or DOD civilian sponsor who is affiliated with the SUBASE must submit a written email request to the Pass and ID Office, Building 500. Contractor requests must include point of contact to include date of visit, location and justification for access. Contractor information that must be accompanied with request:
Full name.
Date of birth.
Place of birth (city, state).
Social Security number (full), sent encrypted via email.
Company.
Proof of Rapid Gate enrollment.
Provide this information five working days in advance of the contractor's or subcontractor's arrival. Last-minute or day-prior arrivals are considered Priority 6 and can anticipate long wait times 30 minutes to three hours to conduct background checks.
Long-term Access — The contractor is required to enroll into Rapid Gates and get on the 90-day tracker database to obtain a 28-day temporary pass until EID Passport clears background investigations for NCACS.
NCACS — In May 2011, SUBASE implemented a new access system for vendors and contractors. The Navy's Commercial Access Control System (NCACS) is a high-tech identification card scanning system for base access. All vendors and contractors are highly encouraged to register for the NCACS credential to expedite their passage through the gates for access to the base. For questions on how to register on Rapid Gates, call 877-727-4342.
Commercial Deliveries and Contractor Vehicles — At the commercial gate, drivers must have in their possession specific written authorization (i.e., work order, bill of lading) or a base badge or pass to show the gate sentry. All drivers are subject to submit to a vehicle inspection. The Commercial Gate 7 hours of operation are 5:30 a.m. to 1:30 p.m. Monday through Friday. After-hour deliveries will be directed to use the main gate entrance.
Frequently asked questions:
Can I bring a rental car on the base?
A vehicle may enter with a rental agreement along with a Common Access Card (CAC); no pass is necessary.
What type of identification card must be shown to the gate sentry in order to access the SUBASE?
Active duty.
Reservist.
Retired military.
Military dependent.
DOD or CAC credential.
SUBASE ID card with temporary pass.
Rapid Gate credential.
What paperwork should one produce to register their vehicle?
Valid vehicle registration.
Valid insurance car.
Valid driver's license.
Valid Rapid Gate enrollment.
I'm active duty and my mom and dad are visiting the SUBASE. What do I need to bring them on board?
Military ID or CAC card. You have the privilege to escort your parents on this installation.
Security Issues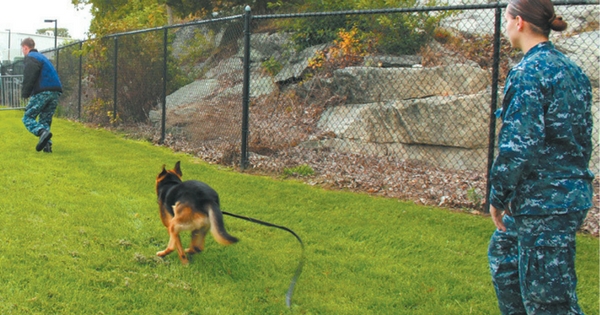 SECURITY ISSUES
Drugs — It should go without saying that the introduction, possession, use, sale or other transfer of marijuana, narcotic substances or other controlled substances aboard SUBASE is strictly prohibited.
Firearms and Dangerous Weapons — Any kind of firearms, explosive devices, metallic or chain knuckles, blackjacks, billy clubs, folding knives with blades more than 3.5 inches in length, all quick-opening knives of switch or spring type regardless of blade length, or any handmade devices that might be used for assault are considered to be dangerous weapons.
You may not conceal or carry upon your person any dangerous weapon, instrument or device, or any highly explosive article or compound aboard any Navy station, ship, craft or aircraft, or any other place under the jurisdiction of the Navy.
Personal weapons can be stored with the Security Department Armory in Building 462 on a space-available basis. Storage of firearms and weapons is prohibited in on-base quarters and barracks. For additional information on firearms and weapons, contact the Security Department at 860-694-4012.
Fireworks — Each year, thousands of people throughout the United States are injured by the improper use of fireworks. The Submarine Base Fire Department reminds you that all types of fireworks are illegal on SUBASE. This includes sparklers, M-80s, cherry bombs, pop rockets, party snappers and others that may be legal in the state you're coming from. For everyone interested in fireworks, the base sponsors one of the most extravagant displays in southeastern Connecticut during SubFest.
Emergencies — You'll soon find out that SUBASE has one of the best security departments in the state. This department is often thought of as two separate departments: the SUBASE Fire Department and SUBASE Security (Police) Department.
These two departments have a very close working relationship with local police and fire departments. By mutual agreement, theSUBASE Fire Department provides assistance to nearby towns. Besides responding to on-base emergencies, it also answers emergency calls in the Public Private Venture housing, including the Navy Lodge.
The SUBASE Security Department is ready to assist you with any trouble you may have on base. The Groton Police Department is responsible for law enforcement off base and in the Public Private Venture housing, while the SUBASE Police Department is available to help you and provide assistance to the Groton Police Department.
If you have any questions or need assistance of any kind, feel free to ask any SUBASE Police Department patrolman. For off-base police, fire or medical emergencies, call 911. For on-base police, fire or medical emergencies, dial 911 or call 860-694-3333.
Checking In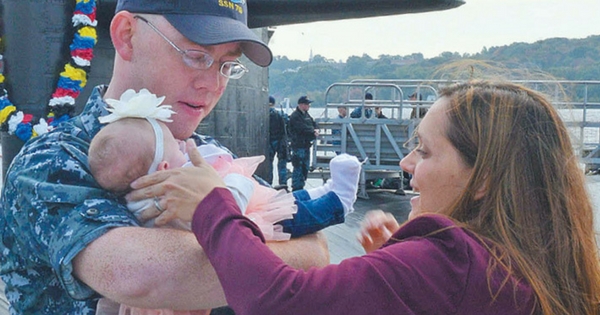 Each command has its own procedures for checking in. Your sponsor should let you know where to go to officially check in to your command.
Submarine School students and staff report in at the quarterdeck in Building 499. SUBASE personnel check in to the Personnel Support Detachment in Building 83. Normal customer service hours are 7:30 a.m. to 4 p.m. Monday through Friday. If you arrive at the base after these hours, contact the command duty officer at 860-625-9644 to have your orders endorsed and then report to the Personnel Support Detachment at 8:30 a.m. the next working day.
Sailors reporting to sea duty units should report to the appropriate squadron duty office, as do personnel assigned to the squadron staffs. Medical personnel check in at the medical clinic.
Personnel Support Activity Detachment (PSD)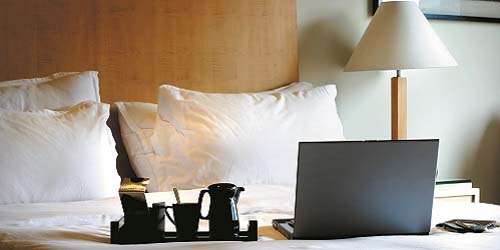 Building 83, Second Floor
Phone: 860-694-3135
Personnel Support Activity Detachment is on the second floor of Building 83 in Dealey Plaza across from the movie theater. The PSD is open for customer service 7:30 a.m. to 4 p.m. Monday through Friday.
Single personnel who require accommodations after working hours should check in with Gateway Inn & Suites, Building 429, O'Kane Hall.
After checking in at their new duty station and upon receipt of an appointment, newcomers should report to PSD with endorsed orders, official records and travel receipts, along with any new information such as local address and phone number, if known. PSD will then assist you with updating your personnel records, filing your travel claim and arranging any special payments.
PSD, in conjunction with the Customer Service Desk, Saratoga Springs, New York, is dedicated to providing quality service to more than 11,500 active-duty personnel and their families throughout Connecticut, New Jersey, New York, Maine and Vermont. It also provides various services to thousands of Reserve, retired personnel and survivor annuitants in the Northeast region.
Services provided by PSD include pay, travel, transportation, re-enlistments and retirements.
The ID/DEERS Office is operated by Serco Inc., a contractor. It is open 7:30 a.m. to 3:30 p.m. Monday through Friday and 9 to 11:30 a.m. the first Saturday of the month. If the first Saturday falls before a Monday federal holiday or other major holiday, the ID Office is open on the second Saturday of that month.
Moving Checklist

BEFORE DEPARTURE
Arrange for shipment and storage of household goods through Personal Property Office.
Obtain name and phone number of sponsor from gaining command.Provide change-of-address to U.S. Postal Service.
Provide landlord at least 30 days advance notice of move.
Arrange to have utilities and services disconnected.
Water Gas
Electricity
Cable
Phone
Arrange temporary lodging at destination.
Contact Bachelor Housing or Family Housing, as appropriate, at destination to begin search for permanent housing at destination.
Contact potential school districts.
Place children on Central Enrollment Waiting List for on-base child care, as appropriate.
Browse helpful relocation websites.
Hand carry important paperwork:
Military (reporting orders, endorsements, official records, etc.).
Civilian (medical records, children's immunizations, passports, birth certificates, etc.).
Document travel expenses.
AFTER ARRIVAL
Sign in with gaining command.
Report to Personnel Support Activity Detachment on first duty day to in-process, establish basic allowance for housing (BAH) at new duty station and complete travel voucher.
Report to Bachelor Housing Office or Family Housing Welcome Center, as appropriate, to apply for or obtain information on permanent housing.
Contact Personal Property Office to arrange delivery and storage of household goods.
Visit Fleet and Family Support Center for "Welcome Aboard" packet and information.
Register vehicle(s) within 30 days of arrival on base.
Contact local department of vehicles for license and registration, as appropriate. Provide U.S. Postal Service with new address.
Enroll children in school.
Enroll children in on-base child care programs.
Arrange utility and service connections, as appropriate. (Bring receipts from previous utility companies to reduce ddeposit costs.)
Water
Gas
Electricity
Cable
Phone
Establish local banking services, if desired.
Make appropriate changes to home and auto insurance.