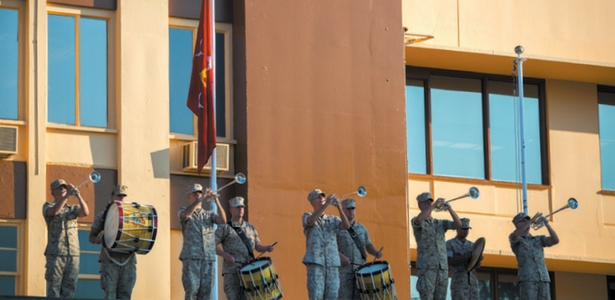 E komo mai — welcome to Naval Health Clinic Hawaii, where your health and readiness are the focus. NHCH is composed of two large clinics: Makalapa at Pearl Harbor Naval Base and Kaneohe Bay at MCB Hawaii. Other smaller clinics are at Camp H.M. Smith, Wahiawa and Barking Sands on the island of Kauai.
The headquarters for NHCH is not co-located with the clinics but is in Building 1750 at 480 Central Ave. adjacent to the Pearl Harbor Naval Shipyard. Preventive Medicine, Industrial Hygiene and Occupational Health Services are provided at this site, also known as the Shipyard Clinic. For additional information, visit www.med.navy.mil/sites/nhch.
Welcoming Center
Medical care at NHCH begins with the Welcoming Center, where active-duty personnel, family members and retired TRICARE Prime beneficiaries begin a one-stop check-in process to enroll in NHCH for care. Staff will assist with TRICARE enrollment, medical record updating, primary care manager assignment and initial appointments. Active-duty members complete the Periodic Health Assessment, part of the Individual Medical Readiness process. TRICARErepresentatives and Health Benefits Advisors are available to answer TRICARE and enrollment questions. During check-in, information about resources, including TRICARE Online, the Exceptional Family Member Program and advance directives, will be provided.
Bring ID cards, Social Security numbers, medical records, dental records (if active duty) and immunization records when you check in. Call the Makalapa Clinic (808-473-2444, ext. 501) or the Kaneohe Bay Clinic (808-257-3365, ext. 250/251), or visit www.himilitary.com/info/s18600/welcoming_center or www.med.navy.mil/sites/nhch.
Camp Smith Branch Health Clinic
The Camp Smith Branch Health Clinic is in Building 3B, East Wing. Hours are 7 a.m. to 3:30 p.m. Monday through Thursday and 7 to 11:30 a.m. Friday, with training from 1 to 3:30 p.m. (limited services may be available). Call 808-477-2600, ext. 9+6350 for additional information.
Appointments and After-Hours Care
For life-threatening conditions, dial 911 or go to the nearest emergency room.
Medical Appointments
There are several ways to make an appointment with your PCM:
Call NHCH Central Appointments at 808-473-0247.
Log on to NHCH Online by signing up for RelayHealth® at www.relayhealth.com.
Go to www.tricareonline.com.
Call your PCM's clinic.
TRICARE Nurse Advice Line: Hawaii TRICARE beneficiaries can get health care advice or same-day appointments for urgent problems by calling the 24/7 toll-free Nurse Advice Line, 800-874-2273, option 1.
Dental Services
Camp Smith Dental Department
The Camp Smith Dental Department(Building 3B, East Wing, First Deck) provides comprehensive dental care for soldiers, Marines, sailors and Airmen assigned to U.S. Pacific Command. Hours are 7 a.m. to 3 p.m. Monday through Thursday and 7 a.m. to 1 p.m. Friday. For information or an appointment, call 808-477-2600, ext. 9+6351.
TRICARE Dental Program
The TRICARE Family Member Dental Plan is a dental insurance plan for family members of active-duty military to receive dental care from civilian dentists. Active-duty military are encouraged to enroll family members in the TRICARE Family Member Dental Plan; otherwise, they should be prepared to pay 100 percent of family members' dental costs in the civilian community.
For more information, see your Health Benefits Advisor Office, contact the MetLife office at www.metlife.com or call 800-638-5433. Military retirees may call 888-838-8737 to enroll in TRICARE Retiree Dental Plan, or go to www.trdp.org.