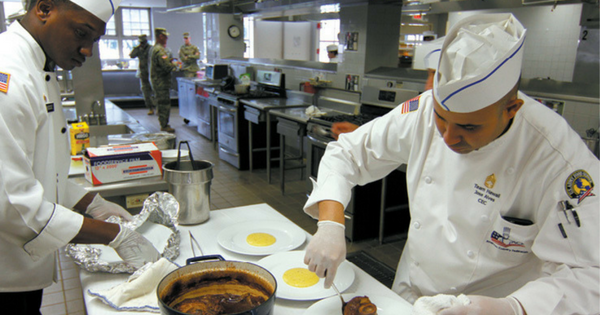 For more information, visit www.mccshawaii.com/food.
Daily Grind: Open for breakfast and lunch, serving bagels, breakfast burritos, sandwiches and wraps. Telephone: 808-254-9500.
Fast Food: Fast food at Kaneohe Bay includes Taco Bell and Pizza Hut Express, Subway, PARMA and Chow Mein Express, Ninja Sushi, McDonald's, Papa John's Pizza, Starbucks and L&L Hawaiian Grill. For more information, visit www.mccshawaii.com/fastfood.
K-Bay Catering: Host your next event on the beautiful Windward side of Oahu with catering provided by The Officers' Club. Visit www.kbaycatering.com for more information.
Kahuna's Sports Bar and Grill: The hub for live entertainment, dancing and shooting pool, Kahuna's Sports Bar and Grill — open to all E-5 and below — has a great snack menu featuring pizzas, poppers, nachos and chicken wings. Telephone: 808-254-7660.
Lava Java Coffee Cart: Conveniently located outside the base theater, the cart offers beverages, soups, breakfast burritos, hot dogs, fresh-baked muffins and brownies.
Officers' Club at Kaneohe Bay: Ranks E-6 and above are invited to enjoy daily lunch buffets or a la carte menu, dinner buffets such as the Mongolian barbecue night and the popular Sunday Champagne brunch. Telephone: 808-254-7650.
Samuel Adams Sports Grill: The grill, at the Kaneohe Klipper Golf Center, offers breakfast, lunch and dinner for both dine-in and take-out. Open to all hands. Telephone: 808-254-5592
Staff Non-commissioned Officers Club: Located behind the Klipper Golf Course, the SNCO Club is exclusively available for E-6 to E-9. The Rocker Room holds several flat-screen TVs, pool tables and a koa wood bar. An outside lanai is accessible from the bar. Telephone: 808-254-5592.
Starbucks: Serving handcrafted coffee and tea beverages as well as pastries and sandwiches in the Mokapu Mall. Telephone: 808-254-7475.
Strikers Grill & Tap: Inside K-Bay Lanes, the snack bar's sandwiches, burgers and plate lunches are made fresh to order. Telephone: 808-254-7663.
Taco Bell & Pizza Hut Express: Inside the Mokapu Mall, serving tacos, burritos, salads, personal pan pizzas and breadsticks. Telephone: 808-254-7090
See Camp H.M. Smith's dining facilities, including Aloha Kitchen, Flying Leatherneck Inn and The Sunset Lanai.