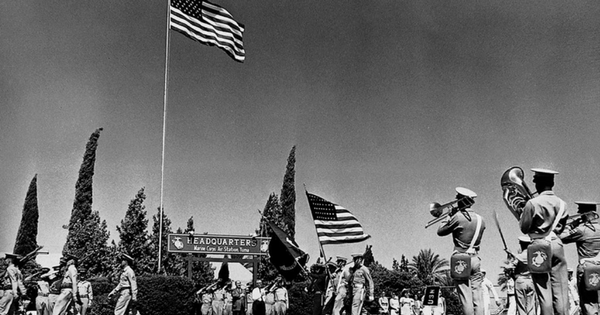 It was 1928 when Col. Benjamin F. Fly fulfilled his namesake and persuaded the federal government to lease 640 acres of cactus, brush and desert wildlife from Yuma County. For the low price of $1 per year, the government leased Fly Field for 20 years with an option for an additional 20 years.
Aviation was in its infancy and Fly Field became the center of attention in Yuma. During the summer of 1928, it was a stopover point for 25 planes in a New York to Los Angeles air race, a popular spectacle of the rapidly advancing world of aviation. It was used sporadically by private aircraft until 1941, when the U.S. government, through the Civil Aeronautics Administration, authorized an expenditure for permanent runways.
When the United States entered World War II, engineers erected an air base with the astounding speed that characterized the war effort. By early 1943, Yuma Army Air Base began graduating classes of pilots. The base became one of the busiest flying schools in the nation, training pilots of AT-6 single-engine trainers, T-17 multiengine trainers and B-17 Flying Fortresses.
At the end of the war, all flight activity here ceased and the area was partially reclaimed by the desert. During the period of inactivity, it was controlled successively by the War Assets Administration, the U.S. Corps of Engineers and the Department of the Interior's Bureau of Land Reclamation, which used it as a headquarters for its irrigation projects.
On July 7, 1951, the Air Force reactivated the base and the 4750th Air Base Squadron resumed training as part of the Western Air Defense Forces. The airfield was renamed Vincent Air Force Base in 1956 in memory of Brig. Gen. Clinton D. Vincent, a pioneer of bombing techniques who died in 1955.
FROM AIR FORCE BASE TO MARINE CORPS AIR STATION
The Department of the Navy signed for control of the base on January 1, 1959, and nine days later, Col. L.K. Davis became the first commanding officer of the newly designated Marine Corps Auxiliary Air Station. On July 20, 1962, the designation was changed to Marine Corps Air Station.
From 1969 until 1987, the air station served primarily as a training base for pilots assigned to Marine Corps Crew Readiness Training Group 10, flying the F-4 Phantom, A-4 Skyhawk and AV-8A Harrier. In 1978, Marine Aviation Weapons and Tactics Squadron 1 was commissioned to assist in increasing combat readiness of fleet aviation units, making Yuma an academic center of excellence for military aviation.
In 1987, Marine Aircraft Group 13, with Marine Attack Squadrons 211, 214, 311 and 513, replaced MCCRTG-10 as the major tenant command on the station. The move also brought Marine Wing Support Squadron 371 to Yuma, joining Marine Air Control Squadron 7 and 2nd Light Anti-Aircraft Missile Battalion.
Throughout the fall of 1990, virtually every Marine Corps fixed-wing squadron that participated in Operations Desert Shield and Desert Storm underwent pre-deployment training on Yuma's ranges.
In November 2012, Marine Fighter Attack Squadron 121 (VMFA-121) became the world's first operational F-35 squadron at MCAS Yuma. The arrival of the F-35B marked the beginning of a new chapter in Marine Corps aviation history, bringing the latest and greatest aircraft in the world to the tip of America's expeditionary spear. VMFA-121 departed MCAS Yuma for their new home aboard MCAS Iwakuni, Japan, as of January 2017.
The summer of 2015 saw the arrival of Marine Operational Test and Evaluation Squadron 22 (VMX-22) to MCAS Yuma for the purpose of providing integrated operational testing. As an operation test and evaluation squadron, VMX-22 is primarily responsible for conducting operational tests in support of newly developed aircraft and programs. On May 13, 2016, VMX-22 officially re-designated as VMX-1, reflecting their completed consolidation in Yuma as the Corps' premier fixed wing, tiltrotor, aviation command and control, and unmanned aerial systems test squadron.
Marine Unmanned Aerial Vehicle Squadron 1 (VMU-1) found a new home at MCAS Yuma in January 2016 and Marine Attack Squadron 211 (VMA-211) transitioned from the AV-8B Harrier to the F-35, officially re-designated as Marine Fighter Attack Squadron (VMFA) 211, continuing Yuma's tradition of leading the way in making aviation technology history every day.
MISSION
MCAS Yuma's mission is to provide aviation ranges, support facilities and services that enable its tenants, other Marine Corps commands, visiting military and interagency forces to enhance their mission capability and combat readiness.
MCAS Yuma is the Marine Corps' premier aviation training base. With access to more than one million acres of bombing and aviation training ranges and superb flying weather, MCAS Yuma supports 80 percent of the Corps' air-to-ground aviation training. Each year, the air station hosts numerous units and aircraft from U.S. and NATO forces.