UNACCOMPANIED AND FAMILY HOUSING
Currently, JBER has 3,262 privatized housing units. Active-duty military members arriving at Joint Base Elmendorf-Richardson on an accompanied tour with command-sponsored dependents are eligible for privatized family housing.
Military members interested in living on base should fill out an advance application, DD Form 1746 and an AF Form 4422 from their losing base along with a copy of their PCS orders. The members may also apply as a walk-in applicant.
Aurora Military Family Housing (AMH), 6350 Arctic Warrior Drive, is the privatized property owner that maintains the housing waiting lists. Call 907-753-1023 or visit their website at www.auroramilitaryhousing.com.
Two Housing Management Offices (HMO), JBER-Elmendorf at 6346 Arctic Warrior Drive (907-552-4439), or JBER-Richardson, Building 600, Room 104 (907-384-3907), will determine eligibility and refer applications over to AMH for placement on the waiting list. For more information about the status of applications, call 907-753-1023.
Tourism is one of the top three Alaska industries, leading to a very seasonal (high summer) demand for lodging and housing. This means lodging books up early for the summer months, and you are unlikely to find any suitable temporary accommodations in Anchorage if you do not plan ahead and reserve early.
Use your unit sponsor for travel planning advice and assistance.
Kennels fill up, and most landlords do not accept pets. Use the links on http://fortrichardsonhousing.com, www.housing.af.mil/Units/Joint-Base-Elmendorf-Richardson or www.housing.af.milto plan and confirm your accommodations (as well as those of family pets).
Family housing and senior enlisted and officer bachelor quarters units are each equipped with a dishwasher, garbage disposal, washing machine, clothes dryer, electric range and refrigerator.
The doors, stairwells and hallways of family housing may not accommodate oversized furniture or large freezers, so plan your move accordingly.
PETS
Aurora Military Housing allows two domestic (not exotic) pets per household, and some breeds or breed mixes of dogs are prohibited. For more information on pets, call 907-753-1023.
Dogs and cats on base must be registered with JBER-Richardson Veterinary Services, 47815 Davis Highway, between Fifth and Sixth streets. The clinic provides privately owned pets with limited preventive care, such as vaccinations and diagnosis of zoonotic diseases, those transmittable from animals to people.
To make an appointment, call 907-384-2865.
Veterinary care for nonzoonotic diseases, injuries, pregnancy, spaying and neutering is referred to clinics off base. Off-base dogs must be licensed through the Anchorage Animal Care and Control Shelter, 4711 Elmore Road, Anchorage, AK 99507. The phone number is 907-343-8118. You can also view the online page at www.muni.org/Departments/health/Admin/animal_control/Pages/license.aspx. Proof of rabies vaccination is required for registration on base and licensing off base.
Animals on base must be restrained at all times while outdoors, either on a leash or chained in the yard. To avoid problems with mail delivery, don't tie your pet near walkways or mailbox areas.
JBER FURNISHINGS MANAGEMENT SERVICES (FMS)
There are two FMS offices on JBER-Elmendorf, 6346 Arctic Warrior Drive, 907-384-1809, or JBER-Richardson, Bldg. 600, Suite 104, 907-384-7887, that can provide loaner furnishings pending arrival of the member's personal household goods. The loaner furnishings include such items as beds, dining tables with chairs, and couches but do not include bed linens, pots and pans or curtains. Contact the FMS Office for distance limitations.

JBER OFF-BASE HOUSING
Housing referral services providing rental assistance are available for all members of the uniformed services (active and reserve), their families and Department of Defense civilian employees. All military members wishing to live off base are encouraged to process through the JBER housing offices, 907-552-4328, 907-384-3088 or 907-384-3907, before entering into any rental lease or sales agreement. In these offices, you may obtain assistance with lease agreements, landlord-tenant law and other helpful information about the area, special programs available locally or mediation for complaints.
In the Housing Management Offices' Rental Partnership Program, landlords and property managers agree to waive security deposits (except pet deposits) and offer slightly below-marketrental rates in return for an agreement to pay the rent by allotment and to sign a one-year lease. In one program, accompanied and unaccompanied personnel can secure off-base rentals with no deposits, and the rent price includes all utilities, all appliances and in most cases, basic cable TV.
Specific program information is available at the two JBER housing offices. For more information, call 907-552-4328, 907-384-3088 or 907-384-3907.
Rental listings and information may be found on the HOMES.mil website at www.HOMES.mil. This service is available for information on rental listings, such as addresses, prices, amenities, sizes and locations of homes. Contact information for landlords and property managers may also be found at this same site.
In 2016, the average monthly rental cost for an unfurnished apartment with one bedroom was $1,100; two bedroom, $1,337; and three bedroom, $1,519, according to the Alaska Department of Labor and Workforce Development and the Alaska Housing Finance Corporation. The average rent for an unfurnished single-family home was $1,077 for a one-bedroom; $1,495 for a two-bedroom; and $2,083 for a three-bedroom. Utilities, including snow removal for single-family homes, often are not part of the package, and the cost to heat older dwellings can be substantial.
Off-base housing allowing pets is limited (95 percent of the rentals don't allow medium or large dogs), and a sizable deposit is often required. Initial move-in costs may include the first month's rent, a $1,000 to $2,000 security deposit, and utility connection fees and deposits. Municipal Light & Power Co. requires a letter of reference from your previous electric company to waive the $50 to $400 deposit, depending on the amount of probable usage. The other electric utility serving the area, Chugach Electric Association, also has meter deposit and connection fees, and Enstar, the natural gas company, requires a similar deposit.
The Volunteer Realtors Program is a program geared for personnel looking to purchase. Realtors come into the office to conduct seminars and provide area information in a nonthreatening environment with no pressure to buy.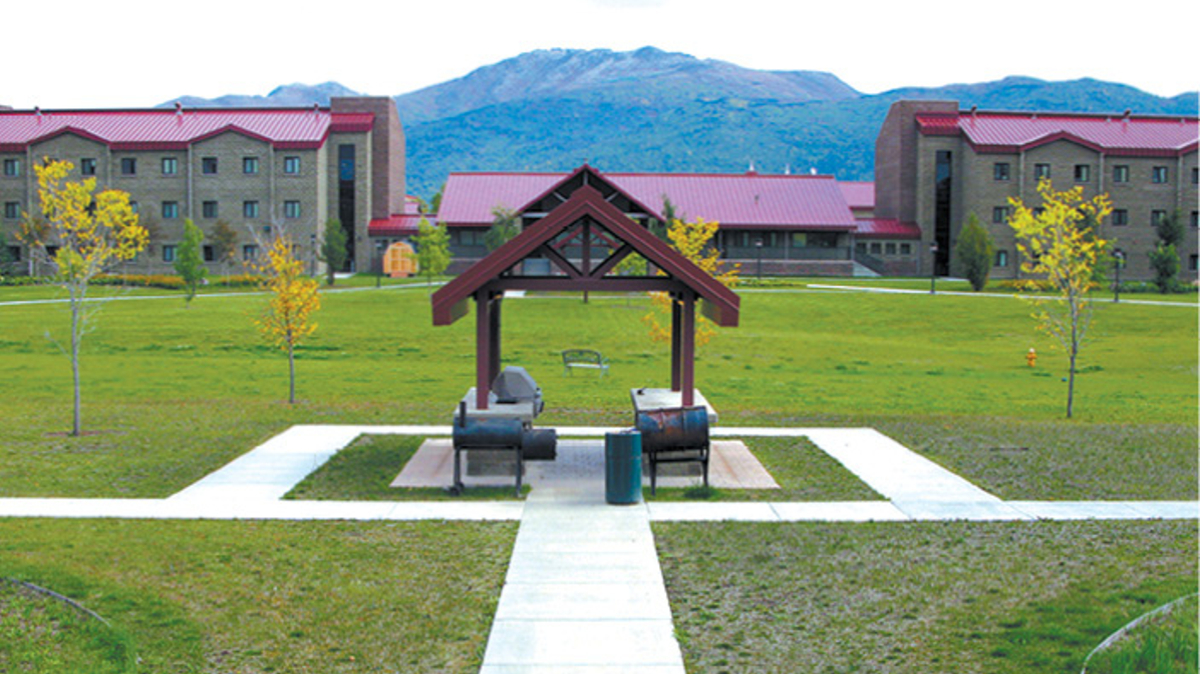 AIR FORCE DORMITORIES
Single, unaccompanied, active-duty enlisted Airmen are assigned to dormitories. Single occupancy rooms have been implemented for E-1 to E-4 (less than three years of service) in the six dorms. For more information, call the dormitory superintendent at 907-552-9949.
ARMY BARRACKS
Single, unaccompanied, active-duty, enlisted Soldiers in the grades of E-1 to E-5 are assigned to the barracks. Room type varies from single rooms to two- to three-person rooms. There are a total of 2,872 sleeping spaces on JBER-Richardson. Single Soldiers in the grade of staff sergeant and above can live in bachelor quarters if available, or off post.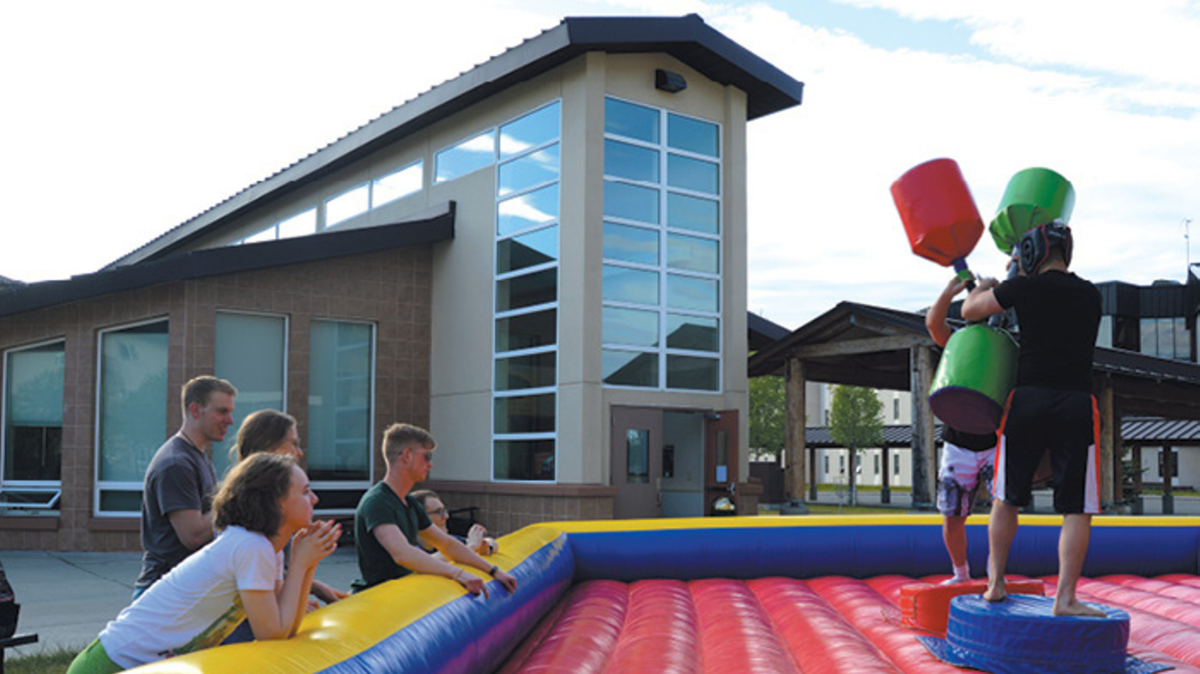 Unaccompanied Soldiers who are voluntarily separated on an "all others" tour, acquire dependents while stationed at JBER-Richardson who are not coming to Alaska, or experience an early return of dependents are authorized to live in the barracks if space is available. Voluntarily separated unaccompanied Soldiers who are not in these categories are not authorized to live in the barracks and must reside off post unless they request an exception to policy to live in bachelor quarters if space is available. Unaccompanied housing units on JBER-Richardson are administered in compliance with AR 420-1, Army Facilities Management, Barracks Management Guide, and local policies. For more information on the barracks, call the lead barracks manager at 907-384-7852.
Unaccompanied members in grades of E-6 and above who are voluntarily separated are not authorized assignment to bachelor quarters and must reside off base. Housing units on the Alaska posts are administered in compliance with Air Force Instruction Family Housing Management and local policies (which can be found on the appropriate AHOS link).