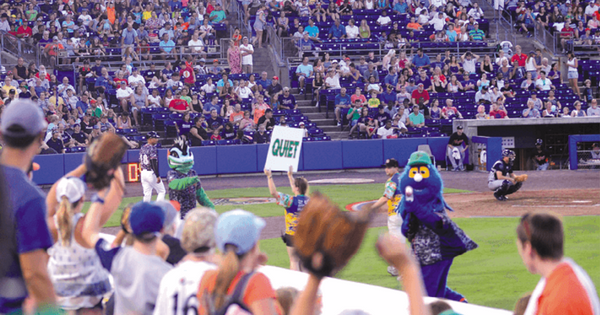 Whether you're looking to take in a game or cool off with a trip down a waterslide, Hampton Roads offers numerous recreational opportunities.
Busch Gardens Williamsburg
1 Busch Gardens Blvd.
Williamsburg, VA 23185
800-343-7946
www.seaworldparks.com/buschgardens-williamsburg
Enjoy this action-packed European adventure theme park with 17th-century charm and 21st century technology. The cultures of England, Scotland, Ireland, France, Germany and Italy serve as settings for Busch Gardens' 150 acres of fun-filled world exploration, including culinary experiences, world-class shopping and exciting live shows. The park is also home to more than 50 rides and attractions, including KIDsiderate areas especially for the park's youngest guests, and has been voted the World's Most Beautiful Theme Park every year since 1990 by the National Amusement Park Historical Association. Call or visit the website for park hours and ticket prices.
Colonial Parkway
P.O. Box 210
Yorktown, VA 23690
757-898-3400
www.nps.gov/colo/planyourvisit/bicyclinginformation.htm
There is no better way to really get to know a new area than from behind the handlebars of a bicycle. The Colonial Parkway, a 23-mile scenic three-lane highway, connects the Historic Triangle of Yorktown Battlefield, Colonial Williamsburg and Historic Jamestowne. Follow along the James River, pausing periodically for points of historical significance and scenic views. Though the ride is beautiful, it's also somewhat bumpy, thanks to cobble aggregate pavement meant to simulate an early colonial roadway. Be sure to obey all traffic laws along the route, as they apply to cyclists as well as the vehicle traffic.
The Hampton Carousel
602 Settlers Landing Road
Hampton, VA 23669
757-727-1610
www.visithampton.com/play/listing/hampton-carousel
Take a ride back in time on this antique wooden carousel built in 1920. The carousel has been lovingly restored to its original beauty and is now housed in a weather-protected pavilion on the city's downtown waterfront. Best of all? Rides are just $1. Call for the operating schedule.
Langley Speedway
11 Dale Lemonds Drive
Hampton, VA 23666
757-865-7223
www.langley-speedway.com
This speedway, the only NASCAR-sanctioned Weekly Racing Series track in Hampton Roads, has been voted one of the top five NASCAR Weekly Racing Series tracks. Enjoy Late Models, Grand Stocks, Modifieds, Legends, Super Trucks, UCARS, Bandoleros, Super Streets, Pro Wing Champ Karts and Pro Six racing. Call or visit the track website for special events and ticket prices.
Peninsula Pilots
War Memorial Stadium
1889 W. Pembroke Ave.
Hampton, VA 23661
757-245-2222
www.peninsulapilots.com
Root, root, root for the Peninsula Pilots, which showcases top collegiate baseball talent as they compete with 11 other teams in the Coastal Plain League from the end of May through the middle of August, a schedule that includes 28 home games. The family-friendly atmosphere is an affordable and fun time for all. Call or visit the website for ticket prices and more information.
Virginia Air & Space Center and Riverside 3D IMAX Theater
600 Settlers Landing Road
Hampton, VA 23669
757-727-0900
Toll free 800-296-0800
www.vasc.org
The sky is no limit to your imagination and learning at this world-class facility, which features the Adventures in Flight and Space Quest galleries and more than 100 "hands-on" exhibits telling the story of air and space exploration. Special attractions include the Apollo 12 Command Module, a Mars meteorite and a 3 billion-year-old moon rock. The 3D IMAX Theater will boggle the mind — in a good way — with its five-story screen and 16,000 watts of digital sound. For theater showings and more information, including admission, call or visit the website.
Virginia Aquarium & Marine Science Center
717 General Booth Blvd.
Virginia Beach, VA 23451
757-385-3474
www.virginiaaquarium.com
Take an underwater journey, learning about habitats and animals from local rivers to the floor of the Atlantic Ocean at this museum complex that uses 800,000 gallons of water in its fresh and saltwater displays. Two major exhibits — the Bay and Ocean Pavilion and the Marsh Pavilion — are connected by an outdoor nature trail running alongside Owls Creek Salt Marsh, along with overhead zip lines and challenge climbing bridges. From cownose rays to loggerhead turtles to sand tiger sharks, an amazing variety of sea creatures will delight the mind and eyes.
Water Country USA
176 Water Country Parkway
Williamsburg, VA 23185
800-343-7946
www.watercountryusa.com/wc
Escape the summer heat when you dip into Water Country USA, the mid-Atlantic's largest water park. With its 1950s and '60s surf theme, resort-style amenities and state-of-the-art water rides and attractions, there's no shortage of ways to splash through the days. Get your cool on and your adrenaline pumping with a 300-foot speed slide that drops straight down. Call or visit the website for specific hours and ticket prices.