EXCEPTIONAL HAS NEVER BEEN SO AFFORDABLELocated just 70 miles from Los Angeles, in the heart of the Antelope Valley in California's high desert, the Oxford Suites Lancaster is well-equipped to handle all of your travel needs, whether you are traveling for business or looking for a relaxing getaway. With 172 non-smoking suites, the Oxford Suites Lancaster is your home away from home. Lancaster offers picturesque views—from the stunning buttes, cliffs and rock formations of Saddleback Butte State Park to the colorful display of the Antelope Valley California Poppy Reserve. Take in local arts, shopping, dining and entertainment at The BLVD in downtown Lancaster, which is also home to the Aerospace Walk of Honor. Lancaster's 300 days of sunshine per year provide the perfect backdrop to your adventures. Let us help make your visit memorable!ApartmentKing with Pool ViewQueen Extended StayDouble QueenAmenitiesFull Hot Breakfast BuffetJoin us daily for our complimentary full hot breakfast buffet. Breakfast is served weekdays from 6:00 am to 9:00 am, with weekends and holidays served 7:00 am to 10:00 am. At check in, you'll receive a breakfast coupon for each guest. Please be sure to bring the coupon with you to breakfast.Evening ReceptionOur complimentary evening reception is offered Monday through Saturday 5:30 pm to 9:30 pm and includes your choice of wine, beer or soft drinks.  A light dinner is  served 5:30 pm to 7:30 pm. Each guest will receive two drink tickets, with additional drinks available for purchase at the lounge.Don't leave your Best Buddy behind! Our welcoming designated pet friendly suite will make both of you comfortable and relaxed during your stay.Our Best Buddy pet fee is $25.00 per pet per stay, for up to seven days, with a two pet limit, in our designated pet friendly suites. The charge is assessed at check out, subject to applicable taxes, and not included in your room rate. Please review and sign the Best Buddy Behavior Guidelines upon arrival.To book a pet friendly suite, call 661.949.3423 today or:BOOK NOWOXFORD SUITES LANCASTER HOTEL661-949-34231651 W Avenue KLancaster, Ca. 93534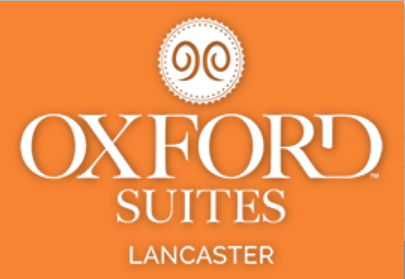 EXCEPTIONAL HAS NEVER BEEN SO AFFORDABLE
Located just 70 miles from Los Angeles, in the heart of the Antelope Valley in California's high desert, the Oxford Suites Lancaster is well-equipped to handle all of your travel needs, whether you are traveling for business or looking for a relaxing getaway. With 172 non-smoking suites, the Oxford Suites Lancaster is your home away from home. Lancaster offers picturesque views—from the stunning buttes, cliffs and rock formations of Saddleback Butte State Park to the colorful display of the Antelope Valley California Poppy Reserve. Take in local arts, shopping, dining and entertainment at The BLVD in downtown Lancaster, which is also home to the Aerospace Walk of Honor. Lancaster's 300 days of sunshine per year provide the perfect backdrop to your adventures. Let us help make your visit memorable!
Apartment
King with Pool View
Queen Extended Stay
Double Queen
Full Hot Breakfast Buffet
Join us daily for our complimentary full hot breakfast buffet. Breakfast is served weekdays from 6:00 am to 9:00 am, with weekends and holidays served 7:00 am to 10:00 am. At check in, you'll receive a breakfast coupon for each guest. Please be sure to bring the coupon with you to breakfast.
Evening Reception
Our complimentary evening reception is offered Monday through Saturday 5:30 pm to 9:30 pm and includes your choice of wine, beer or soft drinks. A light dinner is served 5:30 pm to 7:30 pm. Each guest will receive two drink tickets, with additional drinks available for purchase at the lounge.
Don't leave your Best Buddy behind! Our welcoming designated pet friendly suite will make both of you comfortable and relaxed during your stay.
Our Best Buddy pet fee is $25.00 per pet per stay, for up to seven days, with a two pet limit, in our designated pet friendly suites. The charge is assessed at check out, subject to applicable taxes, and not included in your room rate. Please review and sign the Best Buddy Behavior Guidelines upon arrival.
To book a pet friendly suite, call 661.949.3423 today or:
OXFORD SUITES LANCASTER HOTEL
661-949-3423
1651 W Avenue K
Lancaster, Ca. 93534