Dolphin Academy Swim School specializes in offering year-round, small group swim instruction in a fun, challenging and creative environment. The standardized curriculum enables swimmers to learn the skills that are essential for water safety, recreation and competitive swimming.



Dolphin Baby classes are offered for children six months to three years of age, who are accompanied by an adult in the water. The baby classes have a 6:1 student teacher ratio. Group lessons, starting at the age of three, have a 4:1 student to teacher ratio. The swim school also offers a swim club for advanced swimmers, as well as stroke technique classes for competitive swimmers, high-school swimmers and tri-athletes.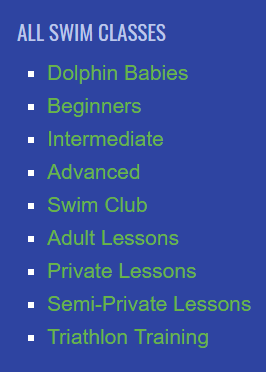 Tuition is $81 a month for a once a week 30 minute lesson. If you want to attend 2 classes per week you will receive a 10% discount on your second class.
There is a $35 annual registration fee per family.
We offer a 10% discount for the third sibling and each additional child in the family.
The Dolphin Academy is housed in a 7,000 square foot custom-designed, indoor facility located at 4216 Washington Road, right beside Academy Sports, in Evans, Georgia. Our aquatic facility features a 75' x 32' heated pool, heated family changing rooms, a climate-controlled viewing area, and is the first indoor pool in the CSRA dedicated entirely to swim instruction. Additionally, the swim school provides a state of the art UV water purification system, as well as a dehumidification system to maintain optimal water and air quality for all participants.
Hours of Operation:
Monday 3-8PM
Tuesday 9AM-12:30PM/3-8PM
Wednesday 3-8PM
Thursday 3-8PM
Friday 9AM-12:30PM
Saturday 8:30AM-2PM