Discovery Zone Kids is a childcare and learning center offering a wide range of services for children of all ages. Our mission is to promote learning through fun and engaging activities. Discovery Zone Kids' idea to bring together all ages for learning purposes under one roof promotes more family time. Daycare services are provided for children 6 weeks to 12 years of age. The curriculum is based on the concept "Learn While You Play". By utilizing these concepts, the center is enabling children to view education as fun and entertaining instead of sterile and institutionalized, thereby instilling in them a life-long love of learning. All materials and course work is hands-on, with the belief that children learn from doing, not watching. Weekly activities develop the childrens skills in a variety of areas including sensory, fine and gross motor, math, language and cognitive, science, social and emotional. The center is equipped with age appropriate toys and books, giving the children options as to what they like to participate in during their stay at the center. Our qualified, dedicated and certified teachers along with teacher-aides will provide foundations for your child in language, literacy, math, science, art, music, physical development and social concepts.
Our facility is located at the entrance of the Crawford Creek Subdivision, on the same road as the Columbia County Board of Education. Our hours of operation are from 6:00 AM-6:00 PM, Monday-Friday. All meals and snacks are provided by
the center and dietary restrictions are observed.
ADDITIONAL SERVICES:


In addition to Discovery Zone Kids' daycare services, it is the only daycare of its kind that offers educational enrichment programs in every subject. Discovery Zone Kids is designed to teach math, art, science, music and health and fitness. Also, based on demand for tutoring and/or enrichment activities, the center operates after hours to serve older students who do not attend the daycare but seek specific tutoring and/or enrichment services. Georgia Early Learning and Development Standards will be addressed using hands-on activities throughout our program for the daycare and pre school children.
ABOUT OUR DIRECTOR:


Jayshri Soni has owned and operated a successful tutoring company, focusing on supplemental education services under the No Child Left Behind Act for the past nine years. By offering her services in not only Georgia, but also in North Carolina, South Carolina and California, Jayshri has been able to help children reach their maximum potential and gain confidence in their education. She has served over 3,000 students through tutoring over the last nine years. Before her tenure in the tutoring business, Mrs. Soni was a certified science teacher in McCormick, South Carolina. She holds a Master of Science degree along with a teaching certificate to teach all sciences. During her career, Jayshri has been nominated for the Presidential Award in Teaching of Math and Sciences, as well as being recognized in the "Who's Who of American Women", which featured her biography in the 2007-2008 edition. As an advocate for her pupils, Jayshri has been successful in obtaining several mini-grants for her students. Her dream is to introduce "learning while you play" to children of all ages at Discovery Zone Kids.


WHAT THEY SAY ABOUT DISCOVERY ZONE KIDS:
"My 4 year old daughter has attended Discovery Zone Kids for over a year. We have never had an issue that wasn't quickly resolved in a professional and caring manner. Melissa gave me our tour and she was sweet, knowledgeable and helpful. I am very pleased with the staff & center. We are confident and comfortable sending our daughter here. She has wonderful teachers that take the time to help her calm down in the mornings when we leave. Jennifer and Marcy are so caring and allow my child to help around the classroom, which she loves! This is a great place for childcare!"
"My 3 month old has been attending Discovery Zone Kids since she was 6 weeks old and she loves it. Ms. Alisha is a great teacher and loves all the babies. They take really good care of them and treat them as their own. All the teachers are really nice and care about the kids."
"My son goes to DZK and loves it! The teachers are super nice and they teach my child everything so he can get ready for PreK. They do a lot of art projects and have taught my son to write his name. This been a great place and he loves coming everyday!"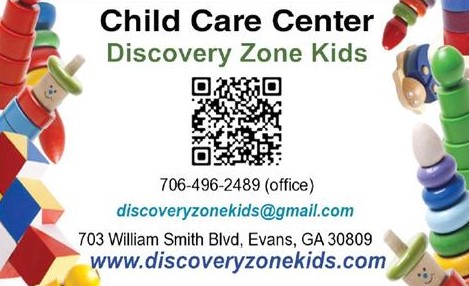 COME VISIT AND SEE WHAT MAKES DZK SO SPECIAL!
Discovery Zone Kids
703 William Smith Boulevard
Evans, GA 30809
(706) 496-2489

www.discoveryzonekids.com

Email:
discoveryzonekids@gmail.com