2207 Bragg Boulevard, Fayetteville, NC 28303  (910) 483-7893  Mon-Fri 8:00AM - 5:00PM Tax Preparation in Fayetteville, NC      If you're in need of a knowledgeable, dependable accountant who can make sure your Fayetteville, NC, tax preparation is completed in the best way possible, look no further than Continental Tax and Accounting Service. Regardless of the scope of what you need accomplished, our punctual and professional staff members will make sure every detail is taken care of with your best interests in mind.Whether you want us to handle every aspect of your taxes or you're simply interested in some advice, we'll be sure to address any questions and concerns you might ask in a clear and comprehensive manner. Along with this convenience, we're also prepared to provide:Year-round service Competitive rates and flexible hours Evening appointments Free initial consultations Registered tax return preparer on staffTo see for your self what sets our Fayetteville, NC, tax preparation service apart from the competition's, give us a call to schedule a consultations or learn more about our firm. At Continental Tax and Accounting Services, we're at your service for any and all of your tax preparation needs. Annual Filing Season ProgramAt Continental Tax and Accounting, we hold ourselves to the highest standards in the industry.  Not only through our accreditation with the BBB, but also through our affiliation with the Annual Filing Season Program, a government program that offers continuing education for tax preparers, we strive for constant improvement and learning in order to serve you better.To learn more about the AFSP, click here. Testimonials"Barbara has been doing my personal and business tax for a few years now. She always goes above and beyond to make sure I am getting the most out of my money. She is very knowledgeable about her work. I think she is one of the best and would and have recommended her to everyone!"-Tehra T. "Cheers to Continental Tax Service folks, namely Inna Dame, for helping me with a seemingly insurmountable tax problem. Inna and Continental Tax Service made my day. I recommend them highly for their professional courtesy and awesome customer service. Thank you, and God bless you all."– Claudia S., Fayetteville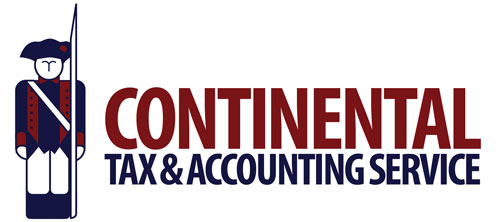 2207 Bragg Boulevard, Fayetteville, NC 28303 (910) 483-7893 Mon-Fri 8:00AM - 5:00PM
Tax Preparation in Fayetteville, NC
If you're in need of a knowledgeable, dependable accountant who can make sure your Fayetteville, NC, tax preparation is completed in the best way possible, look no further than Continental Tax and Accounting Service. Regardless of the scope of what you need accomplished, our punctual and professional staff members will make sure every detail is taken care of with your best interests in mind.
Whether you want us to handle every aspect of your taxes or you're simply interested in some advice, we'll be sure to address any questions and concerns you might ask in a clear and comprehensive manner. Along with this convenience, we're also prepared to provide:
Year-round service
Competitive rates and flexible hours
Evening appointments
Free initial consultations
Registered tax return preparer on staff
To see for your self what sets our Fayetteville, NC, tax preparation service apart from the competition's, give us a call to schedule a consultations or learn more about our firm. At Continental Tax and Accounting Services, we're at your service for any and all of your tax preparation needs.
Annual Filing Season Program
At Continental Tax and Accounting, we hold ourselves to the highest standards in the industry. Not only through our accreditation with the BBB, but also through our affiliation with the Annual Filing Season Program, a government program that offers continuing education for tax preparers, we strive for constant improvement and learning in order to serve you better.
To learn more about the AFSP, click here.
Testimonials
"Barbara has been doing my personal and business tax for a few years now. She always goes above and beyond to make sure I am getting the most out of my money. She is very knowledgeable about her work. I think she is one of the best and would and have recommended her to everyone!"
-Tehra T.
"Cheers to Continental Tax Service folks, namely Inna Dame, for helping me with a seemingly insurmountable tax problem. Inna and Continental Tax Service made my day. I recommend them highly for their professional courtesy and awesome customer service. Thank you, and God bless you all."
– Claudia S., Fayetteville