FLIGHTS & RESERVATIONSWichita Falls Regional Airport offers daily flights to and from the Dallas/Ft Worth Airport serviced by American Eagle. Reservations and flight information are provided by American Eagle.American Eagle can be contacted at 1-800-433-7300 or by visitingwww.aa.com.Go to www.aa.com for flight information. Daily Flights to Dallas/Fort Worth International Airport (DFW)Go to www.flywichitafalls.net to see current arrivals and departures Charter FlightsCharter Flights for casino activities are available to Lake Tahoe, Reno, Laughlin, Nevada & Tunica, Mississippi. Allegiant Air and Sun Country are the airlines servicing these destinations.Allegiant Air services flights out of Wichita Falls to Laughlin, Lake Tahoe and Reno, Nevada. For more information and reservations visitcasinosinternationalinc.com.Rebulic services flights out of Wichita Falls to Laughlin, Lake Tahoe and Reno, Nevada. For more information and reservations visit https://junketflights.com/JF_Schedule.pdf.CAR RENTALWichita Falls is serviced by three rental car locations. For more information on each visit their website.Hertz Rent-a-Car - hertz.com Avis Car Rental - avis.com Budget Rent A Car - budget.comThere is also a car rental return, follow the signs to the rental car return lot just west of the New TerminalPARKINGLong-term parking is available at the terminal for our passengers. The current fee is a flat $3.00 for the entire length of your stay. The fee is collected at the entrance of the parking lot, where the gate accepts credit cards, $10, $5 and $1 bills, quarters, dimes and nickles.Mid year 2015 the long term parking will change to $2.00/day, pay as you exit.  You will enter the lot and take a ticket.  When exiting, you will insert your ticket and insert payment.There is short term parking available in front of the new terminal at parking meters.  Meters take nickles, dimes and quarters. ***The City of Wichita Falls is not responsible for any injury, loss or damage to you or your vehicle (or its contents) while parked on Airport property.New Parking LotFor more information please visit our Parking FAQ.WWI CALL FIELD LIVING MUSEUMResidents, aviators and visitors to Wichita Falls are pleased that the dream of returning an airworthy piece of history to the City has been realized. Regional Airport is now the home of the World War I Call Field Living Museum also known as the "Jenny to Jet" Museum. The museum honors and memorializes the brave men who trained in Wichita Falls at the World War I Army Air Corp base known as Call Field all hte way through current SAFB training in the T-38. The base operated in Wichita Falls from 1917-1918 with hundreds of pilots learning to fly using the Curtiss JN4-D "Jenny."The JennyOnly five of Curtiss Jenny's remain in flying condition in the world. Museum organizers are proud that the citizens and City Leaders of Wichita Falls financed the purchase of one of the five, now the center piece of the museum. The Wichita Falls "Jenny," call number 2525 Sierra, is airworthy and is flown for demonstrations on special occassions.Museum OperationThe museum is funded and operated by the Museum of North Texas History. For information on the museum and this project, please visit the Museum of North Texas History website or contact the museum at (940) 322-7628. You can also read more by going to this article in the Times Record News. 1-800-433-7300FLY WICHITA FALLS4000 Armstrong Dr Suite 8Sheppard Air Force Base/Wichita Falls Regional Airport (SPS)Wichita Falls, TX 76305940-855-3623Contact Us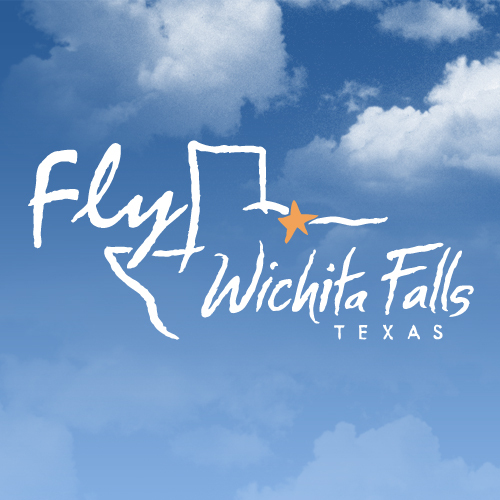 FLIGHTS & RESERVATIONS
Wichita Falls Regional Airport offers daily flights to and from the Dallas/Ft Worth Airport serviced by American Eagle. Reservations and flight information are provided by American Eagle.
American Eagle can be contacted at 1-800-433-7300 or by visitingwww.aa.com.
Go to www.aa.com for flight information.
Daily Flights to Dallas/Fort Worth International Airport (DFW)
Go to www.flywichitafalls.net to see current arrivals and departures
Charter Flights
Charter Flights for casino activities are available to Lake Tahoe, Reno, Laughlin, Nevada & Tunica, Mississippi. Allegiant Air and Sun Country are the airlines servicing these destinations.
Allegiant Air services flights out of Wichita Falls to Laughlin, Lake Tahoe and Reno, Nevada. For more information and reservations visitcasinosinternationalinc.com.
Rebulic services flights out of Wichita Falls to Laughlin, Lake Tahoe and Reno, Nevada. For more information and reservations visit https://junketflights.com/JF_Schedule.pdf.
CAR RENTAL
Wichita Falls is serviced by three rental car locations. For more information on each visit their website.
There is also a car rental return, follow the signs to the rental car return lot just west of the New Terminal
PARKING
Long-term parking is available at the terminal for our passengers. The current fee is a flat $3.00 for the entire length of your stay. The fee is collected at the entrance of the parking lot, where the gate accepts credit cards, $10, $5 and $1 bills, quarters, dimes and nickles.
Mid year 2015 the long term parking will change to $2.00/day, pay as you exit. You will enter the lot and take a ticket. When exiting, you will insert your ticket and insert payment.
There is short term parking available in front of the new terminal at parking meters. Meters take nickles, dimes and quarters.
***The City of Wichita Falls is not responsible for any injury, loss or damage to you or your vehicle (or its contents) while parked on Airport property.
For more information please visit our Parking FAQ.
WWI CALL FIELD LIVING MUSEUM
Residents, aviators and visitors to Wichita Falls are pleased that the dream of returning an airworthy piece of history to the City has been realized. Regional Airport is now the home of the World War I Call Field Living Museum also known as the "Jenny to Jet" Museum. The museum honors and memorializes the brave men who trained in Wichita Falls at the World War I Army Air Corp base known as Call Field all hte way through current SAFB training in the T-38. The base operated in Wichita Falls from 1917-1918 with hundreds of pilots learning to fly using the Curtiss JN4-D "Jenny."
The Jenny
Only five of Curtiss Jenny's remain in flying condition in the world. Museum organizers are proud that the citizens and City Leaders of Wichita Falls financed the purchase of one of the five, now the center piece of the museum. The Wichita Falls "Jenny," call number 2525 Sierra, is airworthy and is flown for demonstrations on special occassions.
Museum Operation
The museum is funded and operated by the Museum of North Texas History. For information on the museum and this project, please visit the Museum of North Texas History website or contact the museum at (940) 322-7628. You can also read more by going to this article in the Times Record News.

1-800-433-7300
FLY WICHITA FALLS
4000 Armstrong Dr Suite 8
Sheppard Air Force Base/Wichita Falls Regional Airport (SPS)
Wichita Falls, TX 76305
940-855-3623
Contact Us