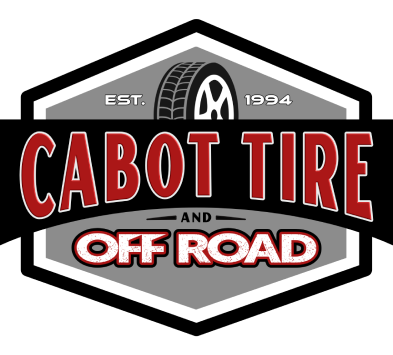 285 ARENA RD.
CABOT, AR 72023
(501) 941-2044
Cabot Tire & Off Road—
We're Here When You Need Us!



NOT JUST AN OFF ROAD SHOP..
we can take care of ALL
of your tire needs!


Cabot Tire & Off Road is the area's top tire and auto repair shop,
serving drivers in Cabot, AR, Little Rock, AR, and Conway, AR
for more than 24 years.



Whether it's auto repairs or tires you need, we've got the right tools for the job. Our personalized service ensures you'll have a great experience, no matter what brings you to us. Come to us for:
Quality auto repairs that include preventive maintenance, brake repairs, steering and suspension service, and even 4WD system repairs.
Tire services guaranteed to give you the most miles possible out of your tires. See us for tire rotations, computerized spin balancing and flat tire repairs
Free lifetime tire rotations with the purchase of any 4 tires
Free shuttle service


TIRES-
WE HAVE WHAT
YOU'VE BEEN LOOKING FOR!
Looking for tires for your car, truck or SUV? Give us a call. We stock tires from the best names in the business, like Hercules, Hankook, and Toyo. We'll help you get off the road, or stay there.


At Cabot Tire & Off Road, we provide new tires to customers in Cabot, AR, Little Rock, AR, Conway, AR, and surrounding areas. Use our consumer tire guide below to learn more about tire type, tire width, aspect ratio, construction, wheel diameter, load index and speed rating. Find out how these basic tire traits can help you choose the right tire for your vehicle. Browse our tire catalog full of the best brands in the industry.



AUTO REPAIRS
Your car is good to you--make sure you're good to your car. Get the quality auto repairs and preventive maintenance you need at Cabot Tire & Off Road. Since 1995, we've been your 4WD specialists in Cabot, AR. Need a brake repair? Looking for steering and suspension service? Give us a call. We work on most vehicles---foreign and domestic. Like our name says, we know off road. Let us install your lift or leveling kit.


Did you know you can get more miles out of your tires? Our tire services can help increase tire life. Give us a call to learn how regular tire rotations, computer tire repairs and TPMS adjustments can protect your investment.
Visit us at 285 Arena Rd in Cabot, AR. We're open Monday-Friday from 8:00 a.m.-5:30 p.m. or Saturdays form 8:00 a.m.-12:00 p.m. Call us now at (501) 941-2044 to schedule your appointment.









FACEBOOK: @Cabot.Tire



INSTAGRAM: CabotTireOffRoad



CABOT TIRE & OFF ROAD
285 ARENA RD.
CABOT, AR 72023
(501) 941-2044

https://www.cabottireoffroad.com/