Jacksonville, Arkansas..
SOARING HIGHER!









Jacksonville-Area
Attractions & Events




Jacksonville's Annual FestiVille



Every fall, thousands of visitors attend FestiVille, Jacksonville's largest and most anticipated annual event. The two-day city festival is free to the public and features activities for the whole family. The festival features carnival rides, games, live entertainment & music, trap shooting exhibitions and food vendors. There is always something fun to do including a petting zoo, chili cook-off contest, 5k run, volleyball tournament and a children's area that includes a rock climbing wall.




JACKSONVILLE TRAIL OF HOLIDAY LIGHTS

The City of Jacksonville hosts its Holiday Lighting Ceremony at City Hall to illuminate its displays and kick off the Christmas season! After the Lighting Ceremony, follow Main Street to downtown to see additional lighting and displays. The nighttime parade features illuminated floats and Santa even makes an appearance! The parade begins at the corner of Sharp and Main Streets and ends at the First United Methodist Church.



JACKSONVILLE GUITAR CENTER & MUSEUM




In the heart of downtown Little Rock, the River Market District, by day, offers a market hall with an exciting mix of food vendors that will entice your senses and fit any culinary cravings. Shop for fresh fruits and veggies, visit several art galleries and souvenir stores, dine at a variety of restaurants, take a trolley ride or stroll through the park. In addition, take in multiple works of public sculpture, experience several local history museums and attractions and enjoy incredible and relaxing views of the Arkansas River.

Looking for a night out on the town? The River Market District is the best place to find live entertainment and local music. Offering entertainment from acoustic, techno, alternative, piano bars, rock, jazz, classical and country. If a lively, high-energy atmosphere is what you are looking for, the district's bars, restaurants and pubs offer a night on the town you'll never forget.

This revitalized area also offers diverse residential, commercial, entertainment and cultural venues such as loft apartments, luxury condominiums, remodeled and newly-developed office and retail space, restaurants, bars, and much more.

LITTLE ROCK ZOO

The Little Rock Zoo has long been one of Arkansas' great treasures. The Zoo has includes more than 725 animals representing 200+ species, many on the endangered list. The Zoo itself, has become one of the state's greatest educational and conservation resources. Experience the majesty of elephants and rhinos. Stick your neck out at the Giraffe exhibit. Marvel at the strength and beauty of lions, tigers and jaguars in our Big Cat Habitat. Monkey around at Spider Monkey or Lemur Islands..or slither around to the Reptile House to go face-to-fang with a deadly reptile. Don't forget to visit the Children's Farm where you can get up-close to the animals. We look forward to seeing you at the Little Rock Zoo.

OUTLETS OF LITTLE ROCK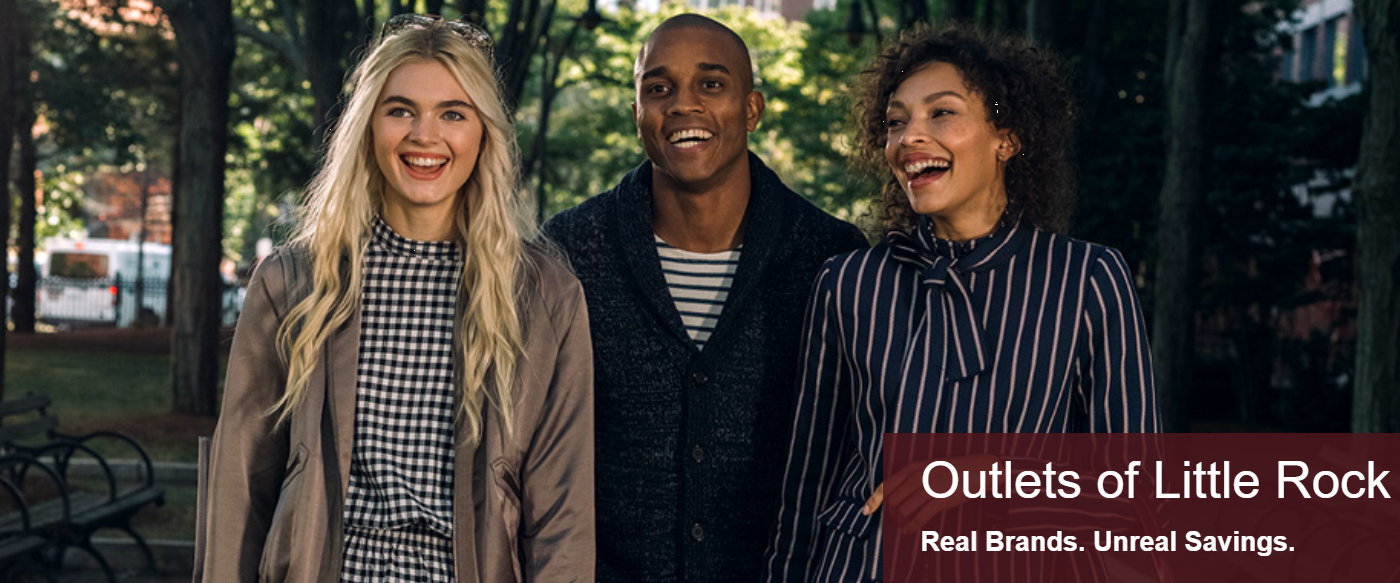 Outlets of Little Rock is a truly distinctive shopping destination featuring outlet stores including some of the best names in fashion. Located within Arkansas' premier entertainment destination, including Bass Pro Shops, Dave & Buster's, Movie Tavern, Harley Davidson, Tru by Hilton and more. Outlets of Little Rock is conveniently located at the I-30 and I-430 interchange.

GREERS FERRY LAKE
Greers Ferry Lake is a favorite water playground nestled in the foothills of the Ozarks in north-central Arkansas. This 40,000-acre masterpiece pleases water enthusiasts of all types. The lake is surrounded by an abundance of rock outcropping, trees and wildlife making it a leading tourist destination. The lake has deep clean water for boating, water skiing and scuba diving. There are vast stretches of water for sailing and other water sports. The Corps of Engineers operates 10 campsite areas with boat launches, restroom facilities and swimming beaches. There are eight marinas located on Greers Ferry lake that provide rentals of ski boats, pontoon boats, houseboats, fishing rigs, and personal watercraft. The marinas provide boat service and sell recreational equipment and other supplies needed for a great lake experience. Fishing on Greers Ferry Lake is superb throughout the year.

CLINTON PRESIDENTIAL CENTER
The Clinton Presidential Center provides year-round cultural and educational opportunities and is home to the Clinton Presidential Library and Museum, one of the largest archival collections in American presidential history.


Important Links:
VISIT THE CITY OF JACKSONVILLE'S PAGE:
CLICK HERE

JACKSONVILLE CHAMBER OF COMMERCE:
CLICK HERE

ARKANSAS.COM:
CLICK HERE

THE JACKSONVILLE SHOOTING SPORTS COMPLEX:
CLICK HERE

DOWNLOAD THE JACKSONVILLE, AR VISITORS GUIDE:
CLICK HERE