A new adventure awaits you at Prairie Band Casino & ResortOwned by the Prairie Band Potawatomi Nation, the Prairie Band Casino and Resort is located just 15 minutes north of Topeka, Kansas.Watch Prairie Band Potawatomi Tribal History Video to learn more about the history of the Prairie Band Potawatomi Nation. Be sure to watch all six video chapters to get a complete understanding of the Tribe's past, present and future.Visit Prairie Band Potawatomi Nation government site for more information. The Ultimate Gaming ExperienceYour gaming experience has endless possibilities. You can feel the rush of winning on our spacious gaming floor featuring over 1,100 slots and more than 25 table games including live poker. What- ever your game is, it's more exciting at Prairie Band. Charitable ContributionsPrairie Band Casino is committed to help make our local communities a better place to live and work, and to be a driving force for growth and improvement. The Charitable Contributions Committee will assist programs that have a positive impact in the communities in which we live. Prairie Band Casino will focus its human and financial resources on programs that have a wide impact and help the financially challenged or the elderly.Charitable Donations Guidelines and Request Form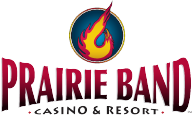 A new adventure awaits you at Prairie Band Casino & Resort
Owned by the Prairie Band Potawatomi Nation, the Prairie Band Casino and Resort is located just 15 minutes north of Topeka, Kansas.
Watch Prairie Band Potawatomi Tribal History Video to learn more about the history of the Prairie Band Potawatomi Nation. Be sure to watch all six video chapters to get a complete understanding of the Tribe's past, present and future.
Visit Prairie Band Potawatomi Nation government site for more information.
The Ultimate Gaming Experience
Your gaming experience has endless possibilities. You can feel the rush of winning on our spacious gaming floor featuring over 1,100 slots and more than 25 table games including live poker. What- ever your game is, it's more exciting at Prairie Band.
Charitable Contributions
Prairie Band Casino is committed to help make our local communities a better place to live and work, and to be a driving force for growth and improvement. The Charitable Contributions Committee will assist programs that have a positive impact in the communities in which we live. Prairie Band Casino will focus its human and financial resources on programs that have a wide impact and help the financially challenged or the elderly.
Charitable Donations Guidelines and Request Form