Welcome to Mediterranean Breeze Restaurant & Bar We are proud to offer a variety of locally-sourced fresh ingredients ranging from mouthwatering wood-fired kebabs, stuffed Turkish flatbreads, to distinctively crafted classics like our cold & hot appetizers.Whether you are looking to have lunch with friends, a dinner gathering with family, parties for special occasions, or just a drink after a busy day, Mediterranean Breeze will meet your expectations.Join our free VIP program and earn a FREE Donair Kebab Plate for every 10 visits.You'll also receive one free Baklava for each future visit!Ask your server for more information on how to join.      Contact information 2302 Harrison Ave NW Olympia, WA 98502 (360) 915-7343   M-Th: 11:30 am – 9:00 pmF-Sa: 11:30 am – 10:00 pmSun: 12:30 pm – 9:00 pm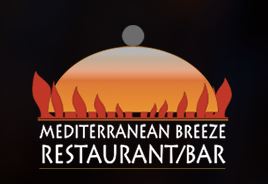 Welcome to Mediterranean Breeze Restaurant & Bar
We are proud to offer a variety of locally-sourced fresh ingredients ranging from mouthwatering wood-fired kebabs, stuffed Turkish flatbreads, to distinctively crafted classics like our cold & hot appetizers.Whether you are looking to have lunch with friends, a dinner gathering with family, parties for special occasions, or just a drink after a busy day, Mediterranean Breeze will meet your expectations.
Join our free VIP program and earn a FREE Donair Kebab Plate for every 10 visits.
You'll also receive one free Baklava for each future visit!
Ask your server for more information on how to join.
---
Contact information
2302 Harrison Ave NW
M-Th: 11:30 am – 9:00 pm
F-Sa: 11:30 am – 10:00 pm
Sun: 12:30 pm – 9:00 pm