In Hinesville and Savannah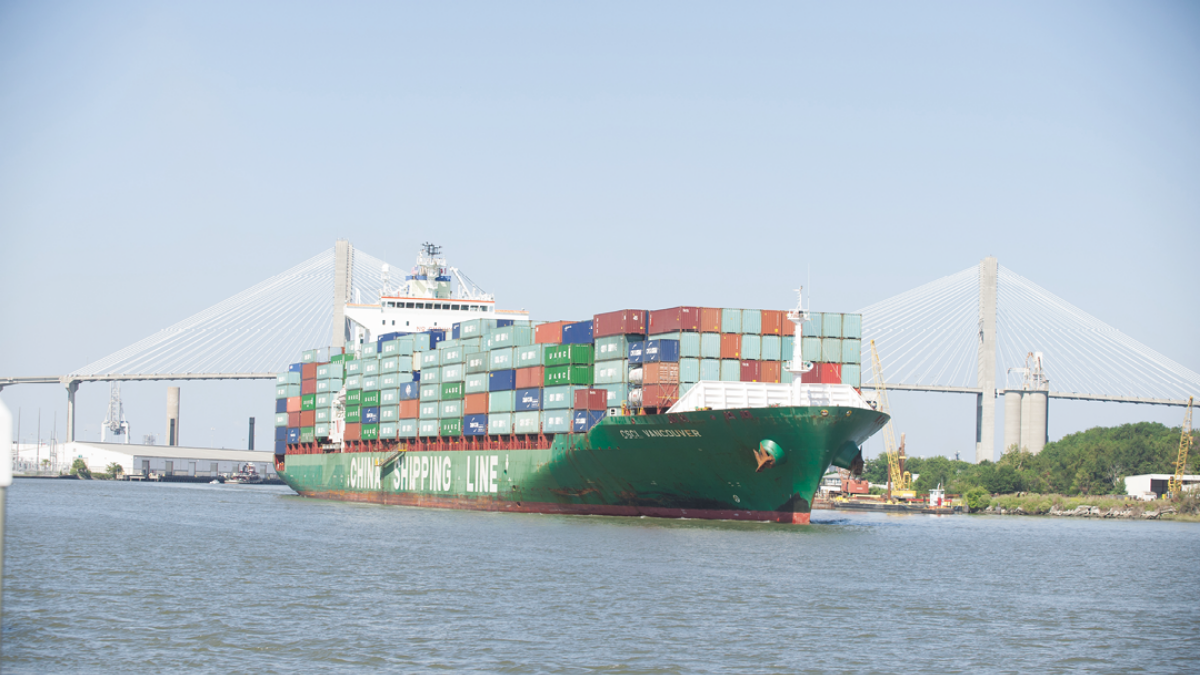 Coastal Georgia's growth prospects are among the best in the nation. Savannah's unique ambiance, mild climate and transportation infrastructure make it an attractive place to live and do business. The Port of Savannah, manufacturing, military and the tourism industry are Savannah's major economic drivers. In 2006, the Savannah Area Convention & Visitors Bureau reported more than 6.85 million visitors to the city during the year. By 2011, the bureau reported that the number of visitors the city attracted increased by nearly double that figure. Lodging, dining, entertainment and visitor-related transportation account for more than $2 billion in visitors' spending per year and employ over 17,000.
In 2013, the U.S. Bureau of Labor Statistics ranked Hinesville's metro area fourth among all the metro areas in the country in job growth in the industrial sector. The accolades continued as the area was then recognized as one of the Top 10 "Shining Examples of Economic Development That's Working" in Southern Business & Development magazine's 2013 winter edition. The salute was for being one of only 11 markets in the South that had seen wage growth over the past 24 months.
Fort Stewart and the Port of Savannah have long been lures for the retail industry and its accompanying growth, as well as the manufacturing sector. In 1986, it took only a quick glance at the Hinesville area for executives at SNF, a French chemical company, to decide it was the perfect site for its first U.S. manufacturing site. The company is a top employer in Hinesville, third only to Fort Stewart and the Liberty County Board of Education. It's also interesting to note that the largest workforce pool for SNF employees is among the veterans leaving Fort Stewart in retirement or at the end of their service.
Although the area has been listed as one of the Top 10 most affordable places to retire, about one-third of the population in Hinesville and Savannah is under 18. The median age in Hinesville is 26 years and 31 in Savannah, meaning the workforce skews younger. Median household income in Hinesville is $43,807 and $39,386 in Savannah, according to the U.S. Census Bureau.
Ports, Planes and Highways
Three major components of Georgia's transportation system are vital to the state's economy — the interstate highway system,
Hartsfield-Jackson Atlanta International Airport and the deepwater ports of Savannah and Brunswick. Much of Georgia's transportation infrastructure is based in Atlanta. The state has more than 1,200 miles of interstate highways connecting Georgia to neighboring states and the rest of the nation, connecting Georgia's major cities, and connecting commuters' homes to employers in the major cities. Three interstate highways converge in Atlanta, making it (along with Hartsfield-Jackson Atlanta International Airport) the transportation hub of the Southeast. Atlanta is one of only five cities in the nation to be served by three separate interstate highways.
Interstate 95 goes along Georgia's coast, passing near Savannah, while I-16 connects Macon and Savannah. Other interstate highways run through smaller portions of Georgia, while others provide bypasses around major cities or spurs to other areas of Georgia. Combined, all of these interstate highways make moving products and people relatively easy.
The deepwater seaports of Savannah and Brunswick are another component of Georgia's transportation system that are vital to the state's economy. The Port of Savannah handles approximately 80 percent of the material entering Georgia via ship, and is one of the fastest-growing ports in the nation. The port has historically been important to the Savannah area. In the 19th century, the Port of Savannah became one of the most active in the United States, and the city's residents had the opportunity to consume some of the world's finest goods, imported by foreign merchants. The port continues to have a huge impact on the area. In 2014, it was North America's fourth-largest port for shipping container traffic.
Natural Resources
Agriculture was essential to Georgia's economy during its first two centuries, beginning with the settlement by English colonists, led by Gen. James E. Oglethorpe, in Savannah in 1733. Silk and indigo production, both in demand in England, were early export commodities. By 1767, almost a ton of silk per year was exported to England. Georgia's mild climate offered perfect conditions for growing cotton, which became the dominant commodity after the American Revolution. Its production under the plantation system and shipment through the Port of Savannah helped the city's European immigrants achieve wealth and prosperity. The invention of the cotton gin by Eli Whitney in 1793 while he was visiting a friend near Savannah revolutionized the cotton industry. Growing cotton almost exclusively proved to have ravaging effects on the soil. That, and the onset of a boll weevil infestation, led to the decline of cotton growth in the state. Cotton is no longer "king" in Georgia, but cotton sales still accounted for more than 18 percent of the total cash receipts for agricultural production in 2012.
Today, agriculture still accounts for much of the state's economy. Many U.S. residents wouldn't have fruit, meat and nuts if it wasn't for Georgia's agriculture. The state is known as the No. 1 pecan producer in the world, and is among the leading producers of blueberries, peaches, peanuts and poultry products. Agribusiness accounts for $72 billion annually of the state's economy, with 1 in 7 Georgians working in agriculture, forestry or a related field, according to the Georgia Farm Bureau.
Fort Stewart and Hunter Army Airfield
Fort Stewart is not only the largest military installation east of the Mississippi River, covering nearly 285,000 acres, but, combined with Hunter Army Airfield, is one of the largest employers in Coastal Georgia. The ratio of military to civilian employees is approximately 6 to 1, with 22,422 officers and enlisted military and 3,891 civilians employed at both installations. Fort Stewart accounts for nearly 75 percent of the military employment in the area. Fort Stewart and Hunter Army Airfield are estimated to have an annual economic impact of $4.9 billion, according to the most recent Economic Impact Statement.
Resources

LOCAL RESOURCES
Georgia Department of Workforce Services
Coastal Workforce Services
601 E. 66th St., Suite 201
Savannah, GA 31405 912-351-6379
Hinesville Career Center
740 General Stewart Way, Suite 202
Hinesville, GA 31313 912-370-2595
Savannah Career Center
5520 White Bluff Road
Savannah, GA 31405 912-356-2773
www.georgia.org/workfor-ce-division
The Georgia Department of Economic Development's Workforce Division was created in August 2006 to administer Workforce Innovation and Opportunity Act funds and ultimately improve the quality of job training and marketability of Georgia's workforce for the economic growth of the state. The website serves as a one-stop integrated employment and training service. Job hunters can get help with job preparation and exploring careers, labor market information and information about unemployment insurance.
State of Georgia
http://georgia.gov/popular-topic/finding-job
http://team.georgia.gov/careers
http://employgeorgia.com
Employment opportunities with the state of Georgia are posted online. Search by category, department or location, then apply online. The Georgia Department of Labor and the Georgia Department of Economic Development's Workforce Division can help with creating resumes, getting job training and receiving professional development.
Chatham County
Human Resources
123 Abercorn St.
Savannah, GA 31401 912-652-7964
www.chathamcounty.org
Chatham County is the second-largest county in the state and among the top employers in the county. Jobs are posted online with benefits information, and applications are available for download with submission instructions. Call the job information line at 912-652-7931 or email Jobs@ChathamCounty.org.
Liberty County
Human Resources
112 N. Main St.
Hinesville, GA 31313 912-876-2164
www.libertycountyga.com
Liberty County posts open positions on its website, and the county's application is available for download. For questions or comments, call Human Resources at 912-876-2164.
City of Hinesville
115 E. Martin Luther King Jr. Drive
Hinesville, GA 31313
www.cityofhinesville.org
From the city's home page of its website, click "Residents" then "Employment Opportunities" to connect with job listings and to apply online.
City of Richmond Hill
40 Richard R. Davis Drive
Richmond Hill, GA 31324
www.richmondhill-ga.gov
From the main menu on city's website, click "How Do I?" then "Apply For" then "Job" to view open position, apply online, download the city's application for employment, email resumes or create a job profile.
City of Savannah
1375 Chatham Parkway
Second Floor
Savannah, GA 31405 912-651-6484
www.governmentjobs.com/careers/savannah
Visit the city's Employment Opportunities page to access available job listings. Online applications are accepted, and job-interest notifications can be created.
EMPLOYMENT RESOURCES
National Resources
At the national level such websites as www.monster.com, www.careerbuilder.com, www.jobs.com and www.indeed.com have extensive search capabilities as well as resume tips, forum support and professional networking options.
The National Military Spouse Network, a networking, mentoring and professional development organization, has a wealth of career information at its website, www.nationalmilitaryspousenetwork.org. The group aims to help military spouses build a meaningful, sustained career path and offers a library of articles that touch on topics from entrepreneurship, resume tips, self-promotion and more as well as a membership-only discussion forum. The organization also features companies that are military spouse-owned or military spouse-friendly on its Homefront Business Listings page.
EMPLOYMENT AGENCIES
An employment agency can offer posts ranging from high-level administration to warehouse work. Many employers use agencies as their human resources department. Agencies advertise, interview, test and manage payroll. A temp-to-perm arrangement allows the employer and prospective employee to evaluate each other before committing to permanent employment.
Municipal and regional chambers of commerce include local employment agencies in their member lists, along with contact information. See Page 18 for a list of chambers of commerce in Hinesville and Savannah.
JOB-SEEKER TIPS
Always keep your resume up-to-date and have different resumes that target specific industries and highlight your skills that fit their job descriptions.
Compile several reference lists with a good variety of people and former business associates. Be sure to first ask each if you can use them as references.
Compose a comprehensive, catchy and succinct cover letter of no more than a page (this is no place to ramble). It will introduce you and your desire to work for the company. Have a knowledgeable friend check it for errors; misspelled words and bad grammar hint at carelessness and indifference. Know what the company does, and highlight skills, work experience and education that apply to the position. Be aware that many employers now accept only online applications so get comfortable with computers.
Maintain a positive, professional and broad-based presence on social media such as Facebook and LinkedIn; almost all employers search social media sites to vet job candidates, and your absence there will raise red flags. Also be very, very aware that images and comments posted spur-of-the-moment can be searched out forever and come back to haunt you.
Be prepared for an interview at any time. When you submit your application, a supervisor may want to talk immediately, or the phone may ring with a call from a hiring director. Compose — and rehearse — your one-minute self-promotional speech on who you are, an achievement or two and your strengths. It's not vanity to make a good first impression. If a supervisor wants to know why she should hire you, be ready.
Always follow up with thank-you letters and calls. Even today, a letter as well as the quick-response email will separate you
from a surprising number of the other applicants — to your advantage — and keep your name fresh in the interviewer's mind. Judicious calls display your continued interest. Writing out beforehand what you want to say helps. So does rehearsal.
Be aware that due to the usually huge numbers of applicants, most companies are able to follow up only with candidates in whom they are interested. Don't take it personally if you're not notified that you didn't get the job.
FORT STEWART AND HUNTER AAF CIVILIAN OPPORTUNITIES
Federal Jobs
Visit www.usajobs.gov to search for Department of Defense jobs at Fort Stewart and Hunter Army Airfield. Or visit the Civilian Personnel Advisory Center website for links to local job listings at www.stewart.army.mil/about/Garrison/DHR/civilian-personnel-advisory-center.
NAF Jobs
For information about service jobs, including openings in lodging, marina, recreation areas and more, (non-appropriated fund positions) call Fort Stewart/Hunter Army Airfield's NAF hotline at 912-767-5051.
Exchange Jobs
For Base Exchange jobs, visit the AAFES career page at http://odin.aafes.com/employment and search for Fort Stewart.
SELF-EMPLOYMENT
Georgia Small Business Development Center
The Georgia Small Business Development Center offers small business resources and workshops for those looking to start a business. Visit www.sba.gov. Or visit the Georgia Small Business Development Center location at The University of Georgia in Savannah at 111 E. Liberty St., Suite 200, Savannah, GA 31401.
Small Business Resources
Learn the steps to start and grow a small business at USA.gov's Small Business website. The platform features hand-picked government websites helpful to small business owners. Learn about business taxes and incentives, financing a business, importing and exporting, federal government contracting, state business resources and more. The website also provides information on a wide range of programs and services to help veterans, women, minorities and the economically disadvantaged start or grow a business.