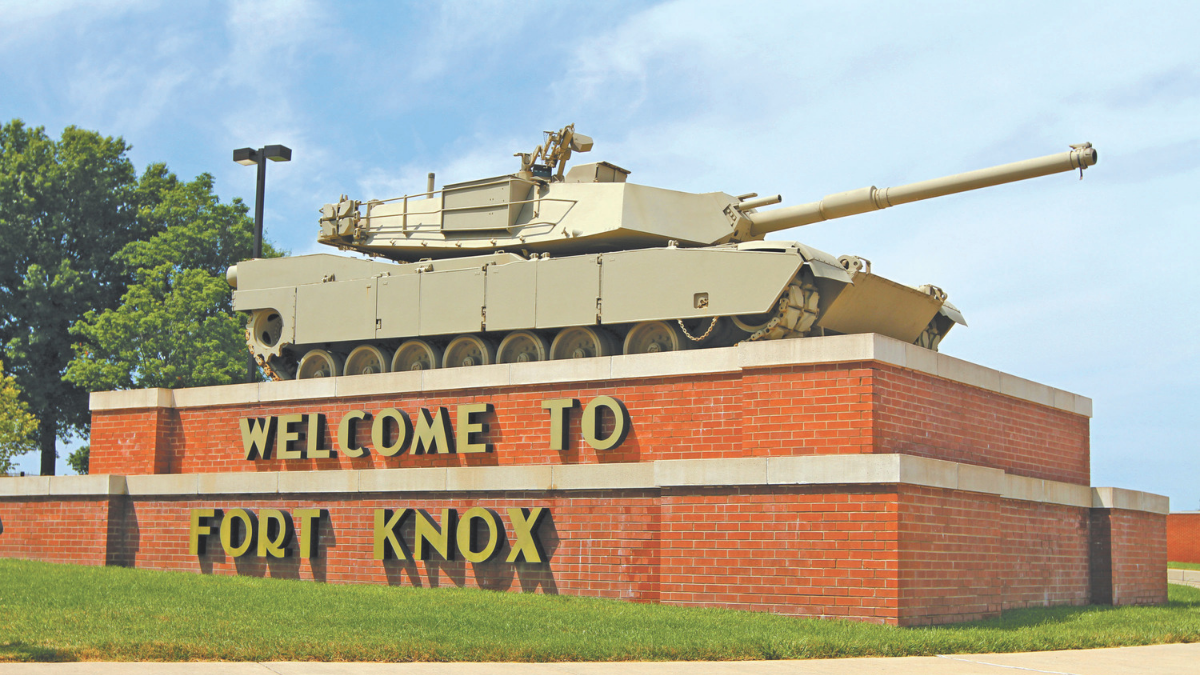 Preplanning is essential for newcomers to Fort Knox, whether for a permanent change of station move, a temporary duty assignment or a school tour. Two excellent online sources of information for military moves are Military OneSource at www.militaryonesource.mil and the Fort Knox website at http://home.army.mil/knox/.
Military OneSource provides information about a wide range of subjects, including relocation, child care, personal finances and emotional support during deployments. All the information you need to know to plan a successful move can be found using the tools on this page.
There are a number of actions you should take as soon as you receive PCS orders — actions such as arranging for movement of your household goods, requesting on-post family housing if desired, arranging temporary quarters for when you are house hunting or enrolling your children in the on-post Child Development Center program, if appropriate.
Newcomers are encouraged to contact their local Personal Property Office as soon as possible after receiving orders to arrange shipment of household goods. Most of this process can now be accomplished online using the Defense Personal Property System at www.move.mil. You can now schedule delivery directly with your carrier.
Single Soldiers E-5 and below must reside in single Soldier housing. Military Families can either apply to live in military family housing or reside in the local community. Information about military family housing, including application procedures and approximate wait times, is available on the Knox Hills website at www.knoxhills.com. Information about off-post housing is available through the Housing Services Office. Those planning to rent off post must report to Family Housing prior to entering into a lease agreement.
Military Families requiring on-post child care are encouraged to contact the Fort Knox Child Development Center at (502) 624-6703,
8 a.m. to 4 p.m. Monday through Friday. Military Families moving to Fort Knox also may have their children's CDC information exported from the previous installation to Fort Knox Parent Central Services.
Before departing home, remember to hand carry important paperwork such as military service records, PCS orders, passports, leave and earning statements, proof of car registration and insurance, marriage certificates, immunization records of children, household goods inventory lists and military ID cards.
While traveling, be sure to document all travel expenses for reimbursement at Fort Knox.
Newcomer Orientation and Welcome is a presentation of installation programs and services pertinent to permanent duty assignment to Fort Knox. It is provided monthly and is mandatory for sergeants first class, chief warrant officers, captains and below. Newcomer Orientation and Welcome is open to all Soldiers, spouses and civilian employees. Spouses are highly encouraged to attend, and if needed Army Community Service will provide a voucher to the Child Development Center in Building 4249 on Bullion Boulevard. Children must be registered with Child and Youth Services prior to making reservations with CDC hourly care at (502) 624-6708. Call ACS for date, time and location at (502) 624-8391.
TRAVEL
Fort Knox is 35 miles southwest of Louisville, just off Highway 31W, which can be reached from the north by taking Louisville's Gene Snyder Freeway (Kentucky Route 841) west off Interstate 65. If approaching from the south, take Kentucky Route 313, Exit 102, off Interstate 65. All three entry gates are located just north of Radcliff, Kentucky.
If you are traveling by plane you'll most likely arrive at Louisville International Airport. Assistance can be found for military personnel and their Families in an Army Reception Center on the airport's second level. The center is open 8 a.m. until the last flight arrives on weekdays and 9 a.m. to 2 p.m. Saturday and Sunday. Refreshments, games, cable TV, writing materials and phone lines are available.
No commercial bus transportation is available to Fort Knox, but some taxi companies provide group rates for military travelers. Details on discount taxi rates are available at the airport information desk. Some of the Reserve units offer a shuttle service from the airport to the installation. Incoming Reserve personnel should contact their sponsoring unit regarding transportation from the airport.
ARRIVAL
Fort Knox has three entry gates — Wilson Gate, Brandenburg Station Road Gate and Chaffee (24-hour, Main) Gate — all accessible from Highway 31W, just north of Radcliff. All military members, civil service employees, contractors and visitors need either a valid driver's license or DOD identification to enter the post. All personnel without a valid DOD identification cards (CAC, retired and dependent), who have not previously accessed Fort Knox will be required to stop at the Visitor Center at the Chaffee (Main) Gate, show proper identification to be vetted for access and be registered into the Automated Installation Entry system prior to entry. The Chaffee Gate far left lane(s) will be used for vetting personnel when the Visitor Center is closed. The Visitor Center is open 6 a.m. to 9 p.m. daily. Gate hours are available on the Fort Knox website at home.army.mil/knox/index.php.
Individuals wishing to bring a firearm onto the installation must have the weapon or weapons registered with the Fort Knox Directorate of Emergency Services in advance. All firearms must be declared upon entry to Fort Knox and the weapons registration permit verified when entering a gate. If you are declaring a firearm at the gate, all personnel will pull directly to the guard booth for processing. Privately owned firearms carried in a vehicle will be secured in the trunk. For vehicles without a trunk, firearms will be encased in a container to the rear of the vehicle. The weapon and ammunition must be stored separately. Carrying concealed firearms on Fort Knox is strictly prohibited. State concealed weapons permits are not recognized or honored on the installation. Requests for firearms registration permits can be dropped off at the Fort Knox Visitor Center at the Chaffee (Main) Gate. Those personnel who are in transit to Fort Knox on military orders will be provided a seven-day temporary registration. Make sure to have all pertinent information ready but do not bring any weapons into the center. Firearms being stored on the installation must be registered with the Directorate of Emergency Services. For more information on weapons registration, call (502) 624-7011/7019 or visit https://home.army.mil/knox/index.php
IHG Army Hotels have more than 400 hotel rooms located in six facilities throughout the post. All hotel facilities on post are owned and operated by Rest Easy LLC/InterContinental Hotels Group. The main front desk check-in location is at Holiday Inn Express, Newgarden Inn, Building 1327, 406 N. Knox St.
Hotel rooms are diverse in design, available to accommodate one to five persons. Rooms are equipped with one queen-sized bed or two full-sized beds, microwaves, refrigerators, cable TV, DVD players and free in-room wireless internet access. Guest services include breakfast, a fitness center, a conference room, a business center and a laundry facility.
Roll-away beds and portable cribs are available to guests on a first-come, first-served basis. They also have rooms that accommodate ADA persons. When calling or emailing your reservation, please inform the reservationist of any special needs. Reservations are recommended and are taken 180 days in advance.
To contact the hotel directly for reservations, please call (502) 943-1000. Reservations are accepted 24/7 for all travelers. A credit card guarantee is required for all reservations. Reservations may also be made through the central reservation system at (877) 711-8326 or www.ihg.com/armyhotels.
Room rates range from $71 to $159 for official travel and are based on the facility available. A copy of TDY or PCS orders or payment with a government travel card is required to receive the official travel rate. Please contact the hotel directly for retiree and leisure rates.
Pets are welcome at IHG Army Hotels. There is a $75 nonrefundable pet cleaning fee and a daily charge of $7 beginning the sixth night. Pet arrangements must be made at the time of reservation. Additional restrictions and fees may apply.
IN-PROCESSING
The first stop for all newly arriving personnel is the Process Control Station in Rockenbach Hall, Building 2020, 159 Black Horse Regiment Road. In-processing is conducted 7:30 a.m. to 4 p.m. Monday through Thursday and 8:30 a.m. to 4 p.m. Friday. The facility is closed weekends, federal holidays and garrison training holidays. All personnel arriving prior to 3:30 p.m. will be in-processed at the time of arrival. Soldiers are required to have copies of reassignment orders, all amendments, and a completed DA Form 31, Request and Authority for Leave, signing them out of the last duty station. Soldiers who have an approved DA Form 31 for PTDY from the losing command are to report to Knox Hills/Family Housing in Building 1385, which is adjacent to White Hall, prior to reporting to the Process Control Station.
Soldiers will be given appointments to in-process finance and CIF on the date of arrival. Finance and accounting, transportation, retirement services, the Transition Center and the travel offices are at White Hall, Building 1384. Soldiers are to complete installation in-processing within five duty days of arrival. All in-processing must be done in military uniform. You may contact the Process Control Station at (502) 626-0183.
Soldiers with units who do not have a staff duty desk and are arriving after duty hours can sign in at the MP desk, Building 298, on Gold Vault Road. The desk can be reached at (502) 624-2111. The MP desk can assist with billeting by contacting garrison for single Soldiers in grades E-1 to E-6. All officers, senior NCOs and married Soldiers, upon signing in at the MP desk, will report to Newgarden Inn, 406 N. Knox St., Building 1327. Newgarden Inn can be reached at (502) 943-1000.
RELOCATION SUPPORT SERVICES
Army Community Service Relocation Support Services helps Soldiers and their Families settle in to Fort Knox as quickly and easily as possible. ACS has many programs and services to assist newcomers. These services include the Lending Closet, relocation counseling, pre-arrival information, mandatory overseas orientation, re-entry workshops, newcomer orientations, services to multicultural families, services to waiting families and sponsorship support.
All ACS activities are in Building 1477 on Eisenhower Avenue. Call (502) 624-8391/6291.
The ACS Lending Closet is stocked with basic items needed upon arrival or before departure. Dishes, pots, pans, silverware, toasters, irons and ironing boards are just a few of the items available on loan. This program provides basic housekeeping items on temporary loan for 30 to 60 days to all incoming personnel. An extension is available if the household shipment has not arrived within the time period.
For outgoing families, items may be borrowed after the household shipment has been picked up. All items need to be returned prior to the departure date. It is best to bring your own linens because the Lending Closet does not provide them.
The Army established the Total Army Sponsorship Program to assist Soldiers, civilian employees and Family members during the relocation process. Program participants are provided with accurate and timely information and other support needed to minimize problems associated with relocating to a new duty station. The program is available to the active Army, the Army National Guard, the Army Reserve and civilian employees whose assignment to a position within the Department of the Army requires a PCS.
Interested in learning about how to become a sponsor? Have you been assigned official sponsorship duties? Log on to the CAC-enabled eSponsorship Application Training website at www.militaryonesource.mil.
You can never be too financially ready for your move. The government ships your household goods and gives you travel funds, but it may not be enough to cover all your expenses. While advance pay may seem like a great solution, remember that you must pay back this advance within 12 months. The temporary hardship of relocating may affect your Family for a long time. Moving expenses you can expect include: rent, advance rent, deposits, hookup fees, a license, tags, registration, car rental, transportation from the car shipping port if stateside, temporary lodging and food. Please call your ACS Relocation Services for assistance, and plan ahead.