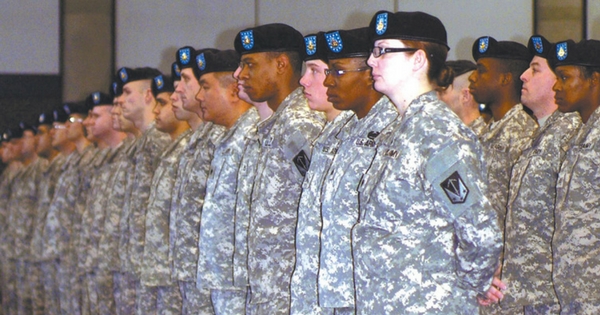 U.S. Army Alaska is at the forefront of protecting America's interests in the volatile Asian Pacific region while also providing ready and relevant forces to overseas contingency operations. We are one of the U.S. military's most centrally located power projection platforms that benefits from joint training opportunities, a breathtaking environment and diverse weather, all of which provides ideal training grounds to prepare our Soldiers for the challenges of our times.
U.S. Army Alaska, headquartered at Joint Base Elmendorf-Richardson, has units at two installations covering 1.65 million acres with nearly 12,000 Soldiers and 2,500 civilian employees who keep the mission going.
U.S. Army Alaska is at the forefront of protecting U.S. interests around the world. Successful combat tours by the 1st Stryker Brigade Combat Team, 25th Infantry Division, 4th Brigade Combat Team (Airborne), 25th Infantry Division and many of our other supporting units mark the Army's continued commitment to stopping terrorism and defending freedom. The stationing of the U.S. Army Alaska Aviation Task Force units at Fort Wainwright and the 3rd Maneuver Enhancement Brigade at Joint Base Elmendorf Richardson has expanded our capabilities.
The 49th state owes much of its success, infrastructure, roads and accessibility to the Army. Soldiers were here from the moment Alaska was transferred from Russia to the United States, Oct. 18, 1867. Now, 150 years later, U.S. Army Alaska is the Army's forward presence for the Northern and Pacific region's defense. Our mission is to deploy combat-ready forces for joint military operations worldwide and serve as the Joint Forces Land Component Command to support Joint Task Force Alaska.
Our strategic location, superior training capabilities and dynamic relationship with our local civilian communities make Alaska a significant national asset and world-class power projection platform for military operations anywhere in the world. Extensive training areas throughout Alaska known as the Joint Pacific Alaska Range Complex (JPARC) provide backdrops for molding the tough, well-trained Soldiers essential for these new forces. With more than 66,000 square miles of land and air maneuver space and the ability to do live virtual constructive training, JPARC is truly a national treasure for military training.
We execute our mission focusing on taking care of Soldiers, families and communities, fighting the global war on terror, pursuing joint initiatives, responding to theater contingency operations across the Pacific and expanding our strategic reach to missions spanning the globe.
SOLDIERS AND FAMILIES
Our Soldier, spouse and family programs are second to none. Better Opportunities for Single Soldiers, Army Community Service, medical care, youth services and our outstanding recreational programs rank with the best in the Army.
One of our newest programs is Comprehensive Soldier Fitness, using individual assessments, tailored virtual training, classroom training and embedded resilience experts to provide the critical skills our Soldiers, family members and Army civilians need. The goal of the program is to equip and train our Soldiers, family members and Army civilians to maximize their potential and face the physical and psychological challenges of sustained operations. All elements of the CSF program combine to enhance resilience and coping skills, enabling Soldiers, family members and civilians to grow and thrive in today's Army.
FORCES — JOINT BASE ELMENDORF-RICHARDSON
3RD MANEUVER ENHANCEMENT BRIGADE
"TRAILBLAZERS"
The 3rd Maneuver Enhancement Brigade is the Army's newest multifunctional brigade and a recent addition to the operational force stationed at Joint Base Elmendorf-Richardson. The MEB is a command-and-control headquarters designed to perform maneuver support operations for its echelon. Although primarily intended to provide support to a division, it is capable of conducting combat operations similar to that of a maneuver battalion when task-organized with a tactical combat force or other maneuver forces.
4TH BRIGADE COMBAT TEAM (AIRBORNE), 25TH INFANTRY DIVISION
"SPARTA LIVES"
The 4th Brigade Combat Team (Airborne), 25th Infantry Division is the first new airborne unit created in the U.S. Army since the end of World War II and is the only airborne brigade-sized unit west of the Mississippi River. The Spartan Brigade is a strategic asset to the Department of Defense's Pacific Command. It provides a quick reaction force capable of deploying anywhere in the world in 18 hours or less. Since the brigade was formed, the Spartans have conducted training missions all around the world, as well as deploying to Iraq in 2006 and to Afghanistan in 2009.
FORCES — FORT WAINWRIGHT
1ST STRYKER BRIGADE
COMBAT TEAM
"ARCTIC WOLVES"
The 1st Stryker Brigade Combat Team provides the Army with a lethal, deployable, survivable and mobile option formed around the Stryker vehicle. The Stryker Brigade fills the operational gaps between the Army's light forces and the heavy forces still fielded with Abrams tanks and Bradley Fighting Vehicles and is a key component of Army transformation.
On order, the 1st SBCT deploys rapidly to a designated contingency area of operation by air and conducts operations either as a separate brigade combat team or under the control of a contingency force headquarters.
USARAK AVIATION TASK FORCE
"ARTIC FALCONS"
The USARAK Aviation Task Force (UATF) trains and prepares forces for expeditionary aviation operation in support of Unified Land Operations (ULO), Combined Arms maneuver (CAM) and Wide Area Security (WAS) to ensure the success of the Combatant Commander. Simultaneously, the UATF responsibly stewards resources and takes care of Soldiers and their families. The Task Force delivers general aviation support to U.S. Army Alaska with UH-60L Blackhawks and CH-47F Chinooks providing command and VIP transport, 24/7 MEDEVAC coverage, air assault and air movement support. Additionally, the Task Force delivers reconnaissance, security and offensive operations support with AH-64D Apache and MQ-1C Gray Eagle aircraft.