Annual Events

MUSHING CHALLENGE RACES
The Alaska Dog Mushers Association hosts Sunday races at the Jeff Studdert Race Grounds on Farmers Loop Road, featuring skijoring, four-dog, six-dog, eight- to 10-dog and open classes throughout the winter. Championship races are held in February and March. These races are great fun to participate in or watch, and getting involved in this exciting Alaska pastime is a great way to enjoy winter outdoors.
YUKON QUEST INTERNATIONAL SLED DOG RACE
The Yukon Quest is a 1,000-mile international sled dog race between Fairbanks, Alaska, and Whitehorse, Yukon Territory, Canada. The early February start alternates each year between Fairbanks and Whitehorse, with a Fairbanks start in even-numbered years. The Yukon Quest Trail follows historic Gold Rush and mail delivery dog sled routes from the turn of the 20th century. Yukon Quest dog teams compete over two weeks with mushers guiding their canine athletes across frozen rivers and lakes and over mountain summits in the heart of the Arctic winter. Race promoters say: "The Yukon Quest is a clear demonstration of the indomitable spirit of people and animals. The legacy is that of the proud, strong and adventurous people whose lives sometimes depended on their dog teams and their own Arctic survival skills. The history of the North lives on in the Yukon Quest and in the thousands of people from the Yukon and Alaska who have worked so hard in support of this event."
Yukon Quest 300
This qualifier for the Yukon Quest and Iditarod sled dog races is 300 miles of mushing in early February.
IRON DOG
Late February finds the finishers arriving in Fairbanks for this 1,971-mile race that begins in Wasilla and tests the endurance and skills of snowmachine racers from Wasilla to Nome and back to Fairbanks. Presenting sponsor is the National Guard.
WORLD ICE ART
Ice-sculpting artists from around the world participate in the World Ice Art Championships in Fairbanks beginning in late February each year. The sculptures remain on display through late March, weather permitting.
FESTIVAL OF NATIVE ARTS
You can find the festival at the University of Alaska Fairbanks campus in late February or early March. The three-day event celebrates Alaska Native culture with singing, dancing, traditional foods, arts and crafts.
TIRED IRON RIVER RALLY
The Chena River gathering and races of snowmachiners with vintage sleds from 1975 and before is held tentatively the second weekend in March. Racers choose among the 8-mile Jurassic Classic, 22-mile Tired Iron Classic, Wet Iron, Wired Iron and Fun Run races.
SONOT KKAAZOOT
The Nordic Ski Club of Fairbanks holds 20K and 50K cross-country ski races through Birch Hill Recreation Area trails, with a downtown start and finish in late March each year.
INTERNATIONAL CURLING BONSPIEL
Early April signals this annual event, held since 1935. The Fairbanks Curling Club, organized in 1905, is the oldest club devoted to any sport in Alaska. Curlers ages 5 to 85 participate in this sport throughout the winter.
ARCTIC MAN SKI AND SNO-GO CLASSIC
Each team entry in this early April race pairs a downhill skier with a snowmachiner. More than 13,000 spectators and participants converge for five days at Summit Lake, Mile 196 of the Richardson Highway, to cheer on 80 teams.
ALASKA VISITOR INDUSTRY WALK FOR CHARITY
Sponsored by the Fairbanks chapter of the Alaska Travel Industry Association and Fairbanks Convention & Visitors Bureau, this 4K graze held in May is a walk through downtown, sampling goodies from local eateries and raising money for Alaska charities.
CHENA RIVER RUN
The first 5K run/walk of the season, which benefits the local community, is sponsored by the Fairbanks Rotary Club, Fairbanks Memorial Hospital/Banner Health and BP. All proceeds from the early May race benefit local charities and the Fairbanks community.
TANANA VALLEY FARMERS MARKET
Immerse yourself in fresh produce and Alaska products every Wednesday, Saturday and Sunday throughout the summer at the Tanana Valley Farmers Market at College Road and Caribou Way.
FAIRBANKS FOLK FEST
www.alaskasbest.com/fairbanksfolkfest
Enjoy a day of free music at Pioneer Park in February and in early June featuring folk, bluegrass, blues, jazz and Celtic music and fun for the whole family.
YUKON 800 BOAT RACE
June's Yukon 800 Mile Marathon, the "grandfather of Alaska's contemporary endurance races," has been held annually for nearly 50 years. This two-day, high-speed riverboat race on the Chena, Tanana and Yukon rivers through hundreds of miles of vast Alaskan wilderness has been called "the longest, roughest and toughest speed boat race in the world."
MIDNIGHT SUN FESTIVAL
Fabulous fun every June 21, the longest day of the year, this Summer Solstice festival includes music, food, arts and crafts vendors, family fun and games.
W.G. & EDDIE STROECKER MIDNIGHT SUN BASEBALL GAME
www.goldpanners.pointstreaksites.com/view/goldpanners
Held annually on the summer solstice, this unique game is played at night without the use artificial lights. First pitch is at 10:30 p.m. in Growden Memorial Park.
MIDNIGHT SUN RUN
This Summer Solstice event, held annually since 1983, is a 10K run/walk race complete with costumes for a festive celebration of the midnight sun.
INDEPENDENCE DAY
www.facebook.com/Fairbanks-North-Star-Borough-Pioneer-Park-421557384639379/
The annual July 4 celebration at Pioneer Park includes a day full of food, entertainment, family activities and military ceremonies.
MIDNIGHT SUN INTERTRIBAL POWWOW
www.fb.com/pages/Midnight-Sun-Intertribal-Powwow/117544551593557
A traditional Indian powwow with drums, dancing and cultural exchange by Alaska Natives, American Indians and First Nations People of Canada is held in Fairbanks each year in mid-July. The three-day powwow hosted by the Midnight Sun Intertribal Powwow Council is a spiritual event that honors elders and children and also educates the general public.
FAIRBANKS SUMMER ARTS FESTIVAL
About 1,000 adults participate every year in this two-week, multidiscipline, study and performance festival held the last half of July. Nearly 100 guest artists offer workshops and master classes in music, dance, healing arts, theater, opera, figure skating, and the literary and visual arts.
WORLD ESKIMO-INDIAN OLYMPICS
The first World Eskimo Olympics was held in Fairbanks in 1961. Contestants and dance teams from across the circumpolar north gather for athletic contests, dancing, cultural arts and crafts, and regalia, along with a beauty pageant and a baby contest.
GOLDEN DAYS
www.alaska.org.detail/golden-days
Five days of festivities around the third week of July include a parade, a pancake breakfast, a river regatta, a rubber duckie race, a beer festival, music, food, crafts and family entertainment.
EQUINOX MARATHON
The Equinox Marathon is a mid-September, 26-mile trail run, a 50K ultra marathon and a relay.
INTERNATIONAL SLED DOG SYMPOSIUM
This October three-day trade fair features workshops and presentations about raising sled dogs, mushing and skijoring.
ALASKA FEDERATION OF NATIVES
The annual convention of the Alaska Federation of Natives in October alternates between Fairbanks and Anchorage.
TANANA VALLEY STATE FAIR
Interior Alaska's state fair is nine days of family fun beginning around the first week of August. Exhibits of produce, agriculture and crafts, along with numerous food and merchandise vendors, add to the fun and amusement of midway carnival games and rides.
WINTER SOLSTICE CELEBRATION
www.explorefairbanks.com/events/winter-events/
The Winter Solstice Celebration, held in downtown Fairbanks, includes river front lighting, music and winter fun. Call 907-459-1010 ext. 1 for more information.
Museums & Cultural Centers
Find information on all the museums in Alaska (locations, hours of operation, collections, exhibits and links) at the statewide museum association website, www.museumsalaska.org
DOG MUSHING MUSEUM
Sleds, clothing, harnesses, trophies and cold-weather expedition gear are on display in the Dog Mushing Museum, Courthouse Square, in downtown Fairbanks. Call 907-457-6874 for more information.
FAIRBANKS COMMUNITY MUSEUM
www.fairbankshistorymuseum.com
Housed in Historic City Hall, the Fairbanks Community Museum was founded to help revitalize the downtown area and celebrates the history of Fairbanks with interpretive displays, period artifacts, newspapers and archival photos.
FAIRBANKS ICE MUSEUM
Check out the "coolest show in town." The Fairbanks Ice Museum has ice sculptures, a multimedia show and a slide show. Experience Alaska's winter anytime.
FIRST FRIDAY ART
http://fairbanksalaska.com/events/event/first-Friday-3/
Each month, go on a tour of selected art galleries for First Friday receptions between 5 and 8 p.m.
FOUNTAINHEAD ANTIQUE AUTO MUSEUM
The Fountainhead Antique Auto Museum at Wedgewood Resort presents three extraordinary collections under one roof: classic cars, vintage fashions and Alaska transportation history. Here visitors can spend hours exploring how American automobile design and clothing styles evolved dramatically from the late Victorian Age through the Roaring '20s and art deco eras. More than 65 rare vehicles are on display, including horseless carriages, steam automobiles, electric cars, speedsters, cyclecars, midget racers and '30s classics. Remarkably, all but a few of the automobiles are driven each summer, making this a true "living museum."
The museum is at 212 Wedgewood Drive, off College Road and Margaret Avenue. Call 907-450-2100 or visit the website for more information.
MORRIS THOMPSON CENTER
This regional visitor center gives visitors a great experience in discovering the people and land of Interior Alaska. The center features a theater, an artisans' workshop and demonstration area, an elders' gathering area, cultural and environmental education classrooms, and outdoor recreation space, as well as providing visitor information and trip planning services.
NOEL WIEN PUBLIC LIBRARY
http://fnsblibrary.org/?page_id=119
Before Fairbanks had a museum, this functional, award-winning library decided to provide residents with culture and beauty. The Noel Wien Public Library also serves as a museum, with fine art displayed throughout.
PIONEER AIR MUSEUM
http://www.pioneerairmuseum.org/
Planes, Alaska aviation paintings, lithographs, photographs and other memorabilia of the Interior and Arctic Alaska Aeronautical Foundation are on display at the Gold Dome in the center of Pioneer Park in the farthest north air museum in the U.S.
PIONEER MUSEUM & BIG STAMPEDE SHOW
http://old.fnsb.us/ParksandRecreation/PioneerPark/attractions/museums/pioneer_museum.htm
The Pioneer Museum in Pioneer Park contains artifacts, photos and related information on the history of Fairbanks and Interior Alaska since the gold rush era. The 45-minute Big Stampede show depicts the rush to the Klondike and Alaska.
UNIVERSITY OF ALASKA MUSEUM OF THE NORTH
Stunning architecture and exhibits showcase millions of years of biological diversity as well as ancient and contemporary Alaska Native culture, art and artifacts on the University of Alaska Fairbanks campus in the only research and teaching museum in the state. The museum also contains the acclaimed "Place Where You Go to Listen" installation, which transforms the electronic pulse of the cosmos into music.
WICKERSHAM HOUSE MUSEUM
http://dnr.alaska.gov/parks/units/wickrshm.htm
A house museum, dedicated to the life and times of Judge James Wickersham and his family during the years 1900-10, is on the grounds of Pioneer Park.
Churches
More than 100 churches in the Fairbanks area welcome you to services and activities. A congregation in your faith can give you an immediate faith family, or exploring to find a church home that fits your beliefs can be an exciting adventure. Look online for places, services, phone numbers and church websites: www.airbanks-alaska.com/churches-of-fairbanks.htm.
In Delta Junction, 19 churches hold services and welcome newcomers. Look online at http://ci.delta-junction.ak.us/churches.
The Great Outdoors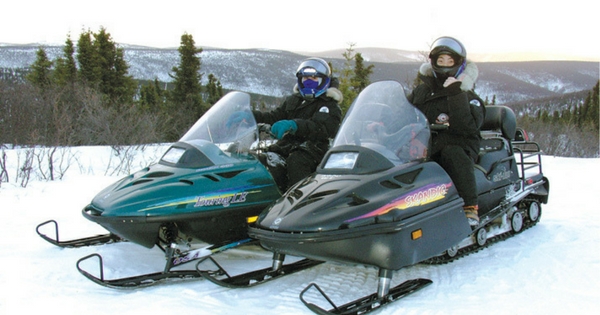 Getting out into the wild can be exhilarating and great fun, or it can be terrifying and life-threatening. The difference comes in being properly informed and equipped. Arm yourself with information before venturing into the great Alaska outdoors. Nature doesn't care, so people must.
The following websites offer a plethora of local information:
HIKING
More than a dozen books detailing Alaska hikes are available, with authors ranging from Alaskans such as Bill Sherwonit and Helen Nienhueser to international publishers such as Lonely Planet and Falcon Guides. There is also a club for hikers in the Interior called Fairbanks Area Hiking Club; the group explores the area by foot, boot, ski and snowshoe.
MAPS
USGS topographic, thematic and other maps of Alaska and western Canada are for sale, as are circumpolar and geologic maps, select National Geographic products and a satellite photo poster of Fairbanks.
State, country and world maps are also available at:
Alaska Satellite Facility 907-474-5041
Map Sales 907-474-6166
Geophysical Institute, UAF
903 N. Koyukuk Drive
Fairbanks, AK 99775
907-474-6166
BICYCLING
Fairbanks has miles of trails to bike, many of them paved, all with spectacular scenery. The Fairbanks Cycle Club's website is a good resource for cyclists: www.fairbankscycleclub.org.
CLIMBING
Mountain climbers are a breed apart. True mountain enthusiasts will find each other, and one place to connect is the Alaskan Alpine Club, with members around the planet.
RUNNING
Dozens of races are held each year and most have categories for participants at all levels, from walking to qualifying for the Boston Marathon. Training grounds include the hundreds of miles of trails in and around town.
GOLF COURSES
Chena Bend Golf Course 907-353-6223
Fairbanks Golf & Country Club 907-479-6555
North Star Golf Club 907-457-4653
MINI GOLF
Pioneer Park has two 18-hole miniature golf courses in the middle of the park, near the playground. The course is open 11 a.m. to 9 p.m. every day during the season. Call 907-459-1087 for more information.
SKI & SNOWBOARD
Anyone who loves skiing or snowboarding is in the right place. Fairbanks has three downhill ski slopes (two public and one military): Moose Mountain (http://fairbanks-alaska.com/moose-mountain-ski-resort.htm), Mount Aurora Skiland, and Birch Hill Ski and Snowboard Area (https://wainwright.armymwr.com/pacific/wainwright/programs/ski-snowboard).
Some of the world's best back-country skiing is north in the White Mountains and south in Denali National Park. There are hundreds of miles of Nordic trails in and around town. Visit the Nordic Ski Club Fairbanks online at www.nscfairbanks.net.
Team Sports

UNIVERSITY OF ALASKA FAIRBANKS NANOOKS
Enjoy UAF Nanooks teams in regular season athletic activities. Men's sports include hockey, basketball, cross-country, rifle and skiing. Women's sports include basketball, cross-country, rifle, skiing, swimming and volleyball.
BASEBALL
Catch baseball in Fairbanks with the Goldpanners, one of six teams making up the Alaska Baseball League, which plays in the midnight sun from June through August and is one of the premier wooden-bat collegiate summer leagues in North America.
BOWLING
Bowling centers in Fairbanks sponsor leagues and provide entertainment for individuals, groups and families who enjoy this indoor sport.
BRIDGE
Join the Farthest North Bridge Club for duplicate bridge. Go to www.farnorthbridge.org/ for more information.
CURLING
http://www.alaska.org/detail/fairbanks-curling-club
The Fairbanks Curling Club promotes this fun sport with league games and special events.
HOCKEY
Fairbanks has more than a half dozen hockey organizations, making it one of the most represented sports in the area.
SOCCER
Fairbanks Youth Soccer Association sponsors teams and play for youth through age 19. Call 907-456-3976 or visit www.fysasoccer.org for more information.
Fairbanks Soccer Association Women's League has indoor and outdoor games for women 18 and over. Visit the league online at www.fairbankssoccer.org.
SOFTBALL
Golden Heart Softball strives to capture the community in this fun summer activity.
ROLLER DERBY
The Fairbanks Rollergirls were founded in 2009 by a local entrepreneur who describes herself as having a history of drag racing in her blood and a need for speed of a different kind — speed on skates. Check the website for events and tryouts.