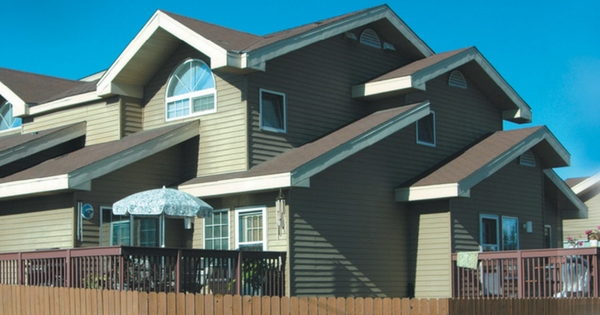 For the housing offices at Fort Greely and Fort Wainwright, visit the Army's website at https://www.housing.army.mil and select an installation.
Depending on the number of PCS rotations and size of families departing, the wait for a home can range from two months to a year at Fort Wainwright and from no wait to a year at Fort Greely. Typically, more than one-third of the families assigned to Fort Wainwright live off post in the Fairbanks North Star Borough for part of their tour of duty. At Fort Greely, more than two-thirds of the families usually live on post.
The DOD policy of raising BAH rates to eliminate most out-of-pocket expenses for rental housing has greatly improved the ability of all ranks to obtain adequate, affordable, off-post housing. You should check current BAH rates for your grade as soon as you are alerted for PCS to Alaska.
Vacancy rates and costs off post are seasonal, and rental units become more expensive and difficult to obtain during the summer. The winter rental vacancy rate is typically double that of the lowest summer rate.
All military members must process through the Housing Services Office (HSO) prior to entering into any rental or sales agreement.
FORT WAINWRIGHT
HOUSING SERVICES OFFICE
Welcome Center, Building 3401, Santiago Road 907-353-1661/1659/1096
FORT GREELY HOUSING SERVICES OFFICE
DPW Building 603, Arctic Avenue 907-873-4658
HSO provides off-post housing services and administers the Temporary Lodging Allowance (TLA). HSO will help married and unaccompanied service members as well as DOD civilians find affordable rental housing on the local economy. Rent for houses is higher than for apartments or duplexes, with an accompanying higher utility rate, especially for all-electric homes. Natural gas is not widely available in Fairbanks, and oil is a common source of home heating.
Off-post housing utilities will vary in cost depending on location, type of utilities and time of year. It is recommended that inbound families obtain a letter of credit, showing their most recent one-year payment history, from their current utility providers. If your credit history is good, Fairbanks-area utilities may waive the usual deposit requirement prior to initiating service.
The Preferred Tenant Program (PTP) is a service for Soldiers who reside off post for one year or more. PTP is designed for military personnel and offers a 3 percent below-market rate for rentals, as well as reduced security deposits. For information, contact the HSO.
Very few rentals accept pets, and it is recommended that individuals with pets be prepared to make other arrangements for their care. There is an absolute limit of two pets in privatized family housing on post, and individuals arriving with excess pets will not be allowed to apply for or occupy privatized housing.
On post, a limited number of four- and five-bedroom houses is available. Soldiers requiring four or five bedrooms should be absolutely assured that housing is waiting for them upon arrival before bringing family members to Fort Wainwright or Fort Greely.
For those who will be renting community housing on an interim or permanent basis, research and planning are essential for a successful move. Like most states, Alaska's landlord-tenant laws are based on the Uniform Residential Landlord and Tenant Act. The total amount charged for all deposits and prepaid rent (except the first month's rent) cannot exceed two months' rent. A rental lease is an important legal document and lays out responsibilities of both landlord and tenant.
Soldiers should pay close attention to the presence of a military clause, required notice of termination, etc.
Tourism is one of the top three Alaska industries, leading to a seasonal (i.e., high summer) demand for lodging and housing. This means that lodging books early for the summer months, and you are unlikely to find suitable temporary accommodations in either Anchorage or Fairbanks if you do not plan ahead and reserve early. In Fairbanks, some apartment complexes even revert to daily and weekly temporary lodging rates for customers during the summer to accommodate the influx of tourists and seasonal workers.
Use your sponsor for travel planning advice and assistance. Be aware that kennels fill up and that most landlords do not accept pets. Use Army Housing Online User Services to plan and confirm your accommodations.
At Fort Wainwright, single service members in grades staff sergeant and above can live either in the bachelor quarters or off post. "Unaccompanied" Soldiers who are voluntarily separated are not authorized assignment to bachelor quarters; therefore, these service members must reside off post.
At Fort Greely, single service members in grades private to staff sergeant can live in the barracks, while single service members in grades staff sergeant and above can live off post. Voluntarily separated "unaccompanied" Soldiers, grades private to staff sergeant, are authorized assignment to the barracks on a space-available basis.
Family and senior enlisted and officer bachelor quarters units are equipped with a dishwasher, garbage disposal, washing machine, clothes dryer, electric range and refrigerator. All personnel who are authorized housing are allowed shipment of their full household goods weight allowance.
The Fort Wainwright HSO opens at 7:30 a.m. and closes at 4:30 p.m. on weekdays except Thursday, when it opens at 9 a.m. For more information, call DSN 317-353-1661/1659/1096 or commercial 907-353-1661/1659/1096.
The Fort Greely HSO opens at 7:30 a.m. and closes at 4 p.m. on weekdays. For more information, call DSN 317-873-4658 or commercial 907-873-4658.
ON-POST HOUSING
NORTH HAVEN COMMUNITIES (NHC) PRIVATIZED FAMILY HOUSING
Service members of all ranks on forts Wainwright and Greely who elect to serve "with family members" (accompanied) tours and who receive command sponsorship are eligible to apply for on-post housing with North Haven Communities. Service members with families who would like to live on post are encouraged to visit the NHC website at www.nhcalaska.com. All service members, including bachelor and unaccompanied officers and enlisted members, must check in at the Fort Wainwright Housing Office before making any arrangements for housing, including off-post housing.
The doors, stairs and hallways of family housing may not accommodate oversized furniture or large freezers, so plan your move accordingly.
North Haven Communities can provide "loaner issue" furniture if available, pending arrival of the member's personal household goods. The loaner issue includes such items as beds, couches and dining tables with chairs but does not include bed linens, pots and pans or curtains.
Cookware and dinnerware can be obtained from the Army Community Service loan closet on a first-come, first-served basis. Government-furnished appliances are currently electric.
While all homes constructed since 1994 have one- or two-car attached garages, the majority of the housing inventory does not. Each home is normally assigned a minimum of one parking space equipped with an engine heater outlet. The outlets have a 1,000-watt maximum capacity, but even for very large engines, 850-watt heaters are adequate. Running extension cords from inside homes to heat additional vehicles is not authorized.
North Haven Communities housing consists of two-, three-, four- or five-bedroom units. Most are two-story fourplexes with a full basement, while field-grade officer housing features duplexes (one floor with a basement).
Homes for families with Americans with Disabilities Act (ADA) requirements who are enrolled in the Exceptional Family Members Program (EFMP) are available. It is important for inbound families to coordinate specific ADA and EFMP needs with the EFMP program manager in advance of arrival. Personnel must have family members screened for the program before arriving. A copy of DA Form 5888 (Family Member Deployment Screening Sheet) must accompany a copy of DA Form 4787 (Reassignment Processing) for approved travel for family members. Ensure that any EFMP family members are enrolled in the program prior to your PCS to Alaska, and notify North Haven Communities and the HSO of your needs on arrival.
At Fort Wainwright there are more than 1,600 homes on post in North Haven Communities' neighborhoods largely within walking distance of elementary schools, the shoppette, the child care center and the chapel.
Forts Wainwright and Greely have a variety of older and newer homes. Projects are ongoing to renovate many older homes and construct new ones.
PETS
There is an absolute limit of two pets in NHC housing, and certain breeds of dogs are not permitted. Please refer to the NHC website, www.nhcalaska.com, for specific pet policy and a list of barred dog breeds (no exceptions to this policy will be considered).
North Haven Communities has an active Facebook page. The North Haven Communities housing management office address is 4268 Neely Road. For more information, call 907-353-3410 or visit www.nhcalaska.com. The North Haven Leasing Office is co-located with the HSO in the Welcome Center, 3401 Santiago Road, for convenient in-processing.