Health Care

MEDICAL CARE
General Leonard Wood Army Community Hospital (GLWACH) is accredited by the Joint Commission, the College of American Pathologists, the American College of Radiology, the American Association of Blood Banking, the Food and Drug Administration and is an active member of the American Hospital and Missouri Hospital associations. Both of our Medical Homes are certified with the National Committee for Quality Assurance.
The hospital staff strives to provide patient-centered medical care in a kind and compassionate environment. The hospital is a 45-inpatient-bed facility and offers a wide range of medical services to include patient-centered medical home primary care clinics (family practice, internal medicine and pediatrics), cardiology, pain interventions, general surgery, orthopedics, ophthalmology, optometry, podiatry, obstetrics and gynecology, physical therapy, occupational therapy, audiology, otolaryngology, psychiatry, psychology, social work, neurology and substance abuse. In addition, radiology provides a full range of services to include X-ray, magnetic resonance imaging (MRI), ultrasound, mammography and computer tomography (CT scan). The laboratory offers a full range of inpatient and outpatient services. The main hospital pharmacy is open 7 a.m. to 7 p.m. Monday through Friday and 8 a.m. to 5 p.m. Saturday, offering a full complement of outpatient and call-in refill services. Additionally, a refill branch pharmacy, in the exchange, is open 9 a.m. to 6 p.m. Monday through Friday. Note: Pharmacies open one hour later Thursday mornings. The FLW Alcohol and Substance Abuse Counseling Program, offers drug and alcohol education, assessments and counseling services. The Counseling Program is in GLWACH Basement Room 61, phone number is 573-596-1507.
TRICARE PROGRAM
TRICARE Prime enrollment is available to all eligible DOD beneficiaries under age 65 who reside within a 30 minute drive-time from the Medical Home.
Questions concerning TRICARE or eligibility for enrollment should be directed to the TRICARE Service Call Center at 877-988-9378. Walk-in support is available at Guest and Healthcare Relations, in GLWACH, Room 163-1, and is open 7:30 a.m. to 4:30 p.m. Monday through Friday. There is also a satellite TRICARE Service Center in Building 470 to support newly arriving personnel. For more information, the regional contractor offers the following website: www.uhcmilitarywest.com, or you can call the TRICARE contract liaison officer at 573-596-0131, ext. 60727.
Beneficiaries enrolling in TRICARE Prime will be assigned a primary care manager in a Patient Centered Medical Home at the hospital or the off-post Ozark Family Centered Medical Home.
Patients not enrolled in TRICARE Prime will be seen on a space-available basis.
For enrollment appointments, call 866-299-4234 from 7 a.m. to 4:30 p.m. Monday through Friday.
PATIENT SUPPORT SYSTEM
The hospital has recently adopted patient support systems to improve access to care. All enrolled patients are encouraged to register in and update their TRICAREonline.com account. Primary care visits are Web-enabled, which means patients can make their appointments online anytime at their convenience. Even better, TRICAREonline.com now offers both email and text message patient reminder notices. Register today at www.TRICAREonline.com.
The hospital Patient Centered Medical Homes have all established the Army Secure Messaging System, which offers patients a safe way to message their primary care manager (PCM). Patients may register during their first visit with their PCM and are encouraged to use this system for medical guidance and advice, prescription renewals, etc.
The hospital also offers AudioCARE, an automated patient appointment reminder system, which calls patients the evening before a scheduled appointment. To protect privacy, patients may be asked to validate their birth date. The system leaves reminder messages on answering machines and allows patients to confirm or cancel appointments if necessary.
Appointments: The hospital's appointment line at 866-299-4234 is available 7 a.m. to 4:30 p.m. Monday through Friday; however, TRICARE online is always available and offers a wide range of primary care appointments.
OFF-POST HEALTH CARE FACILITIES
The hospital's Ozark Family Centered Medical Home offers TRICARE Prime patients convenient access to care in St. Robert. It is a full-service primary care clinic, pharmacy and laboratory support, which meet a great majority of their needs. Patients or prospective patients are always welcome to stop by and see the facility at 194 Eastlawn Ave., Suite D, St. Robert, Missouri, between 7:30 a.m. and 4:30 p.m. Monday through Friday.
Other off-post care is provided through referrals to ensure patients have access to the best medical care available. TRICARE partners with the best medical facilities in the region to extend a robust range of primary and specialty health care.
Family members of active-duty personnel, TRICARE Prime retirees and their family members who reside north of post are encouraged to enroll for primary care services at the Ozarks Family Centered Medical Home.
Those residing on post, south of the installation, and other beneficiary categories will be seen at the main hospital. There are six hospitals within the surrounding nine-county area. The largest local facilities are Phelps County Regional Medical Center in Rolla, Missouri; Lake of the Ozarks General Hospital in Osage Beach, Missouri; and Mercy Hospital in Lebanon, Missouri.
TRICARE strives to provide care as convenient to the patient as possible; however, specialty care may be directed to larger regional medical centers in Springfield or Columbia to meet patient care needs.
Veterans Affairs beneficiaries may be seen at the community-based outpatient clinic at 700 GW Lane, Waynesville, Missouri, or at the Harry S. Truman Memorial Hospital in Columbia, Missouri. Veterans may contact VA facilities through their local call center, telephone 573-774-2285.
GENERAL HEALTH INFORMATION
For more information, visit the website at http://glwach.amedd.army.mil, or for a complete guide to medical care at GLWACH, write to: Commander, USA Medical Department Activity, ATTN-CSD (Managed Care), 4430 Missouri Ave., Fort Leonard Wood, MO 65473-8952.
DENTAL CARE
The Fort Leonard Wood Dental Health Activity (DENTAC) provides dental care to all assigned military personnel. Dental clinics provide the following comprehensive services: general dentistry, periodontics, endodontics, oral surgery, prosthodontics and 24-hour emergency dental care. Soldiers are given exams upon in-processing, walk-in or by appointment.
Family members can contact the GLWACH Beneficiary Counseling Assistance coordinator at 573-596-0418, or contact TRICARE Dental Program at 855-638-8371 or visit their website for enrollment information at www.tricare.mil/CoveredServices/Dental/TDP.aspx.
Harper Dental Clinic
Located in Building 500 on the corner of Virginia and West Fourth streets, Harper Dental Clinic services all Fort Leonard Wood permanent party service members, including those serving in the Army, Marine Corps, Navy, Air Force, Coast Guard and international military. Sick call hours are 7:30 to 9:30 a.m. Monday through Friday. To reach the receptionist or make appointments, call 573-596-0408. Clinic operating hours are 7:30 a.m. to 4:30 p.m. Monday through Friday.
Roll Dental Clinic
The Roll Dental Clinic is temporarily closed due to pending renovations; however, it is located in Building 1608, 1724 Nebraska Ave. (across from the Fort Leonard Wood Museum), Roll Dental Clinic supports Initial Entry Training and Advanced Individual Training Soldiers.
Sick call is 7:30 to 9:30 a.m. Clinic operating hours are 7:30 a.m. to 4:30 p.m. Call 573-596-0364 for more information.
Boak Dental Clinic
Located in Building 789, 12720 Kansas Ave. (on the corner of Buckeye Avenue), Boak Dental Clinic supports Initial Entry Training and Advanced Individual Training Soldiers.
Sick call is 7:30 to 9:30 a.m. Clinic operating hours are 7:30 a.m. to 4:30 p.m. Call 573-596-0131, ext. 61475 for more information.
Dental Emergencies
After-duty-hours dental emergencies need to report to the General Leonard Wood Army Community Hospital emergency room.
Civilian Employment
More than 6,500 civilian employees provide valuable support in many occupations at Fort Leonard Wood. These federal service employees work for the U.S. Army Maneuver Support Center of Excellence, which includes the U.S. Army Chemical, Biological, Radiological and Nuclear School, Engineer School, Military Police School; U.S. Army Garrison Fort Leonard Wood; and GLWACH.
Employment information and assistance for these jobs can be obtained through the Missouri Career Center in the Soldier for Life Center, Room 2203, Building 470 on Replacement Avenue. The center lists all appropriated fund and nonappropriated fund job openings and has application information and forms for announced vacancies.
In addition, the center provides job information for some contractor vacancies. Although they do not have vacancy listings for Army and Air Force Exchange Service (AAFES) positions, they do provide applications for employment with AAFES (which includes work in the PX, clothing sales store, theaters and snack bars).
Many civilian employers in the St. Robert-Waynesville area advertise their job openings on the website https://jobs.mo.gov.
The Missouri Career Center's phone number is 573-596-0294.
Legal Services
Legal Assistance, Building 315 on Missouri Avenue, first floor, is open from 8:30 a.m. to 4:30 p.m. Monday through Wednesday and Friday and serves Soldiers, retirees and eligible dependents in the areas of family law, contracts, consumer rights, estate planning, home purchase, landlord-tenant issues, Servicemembers Civil Relief Act matters, military administrative law, debts, income taxation and other personal legal problems. Powers of attorney and notary services are available 9 to 11 a.m. on a walk-in basis. Estate planning is done on an appointment basis, and an estate-planning briefing must be attended prior to setting an appointment. Estate planning briefings are held at 8:30 a.m. every Wednesday. Family law issues (including divorce, paternity issues, child custody, support and separation) are handled on an appointment basis. Other legal matters are handled by appointment or on a walk-in basis. The office is closed Thursdays, federal/training holidays and after 11:30 a.m. the first Friday of every month. For more information or to schedule an appointment, call 573-596-0629.
The Claims Office, also in Building 315 on Missouri Avenue, investigates and adjudicates the claims of Soldiers and Department of the Army civilian employees for loss or damage to their personal property due to their federal service or employment. The Claims Office also investigates and adjudicates claims against the U.S. for damage to property, personal injury or death based on the negligence of a Soldier or federal employee who was acting within the scope of employment. All Soldiers or DA employees asserting claims for loss or damage to their personal property may come by the office anytime during normal duty hours to consult with a claims adjudicator regarding claims procedures. Claims for household items damaged or lost during shipment, including loss or damage not discovered until after delivery, must be reported to the Claims Office or the transportation provider within 75 days of the delivery of goods. Please contact the Claims Office for proper guidance on providing notice to the carrier. Failure to provide notice may result in a significant reduction in the amount of reimbursement you would have otherwise received. The Claims Office is open 8 a.m. to noon and 1 to 4 p.m. Monday, Tuesday, Thursday and Friday. The Claims Office does not open to the public until 1 p.m. Wednesday. For more information, call 573-596-0627.
The Federal Litigation Division, also in Building 315 on Missouri Avenue, is the Fort Leonard Wood branch of the U.S. District Court for the Western District of Missouri, which hosts Magistrate Court. Magistrate Court adjudicates all traffic offenses or hunting violations occurring on Fort Leonard Wood and is typically held at 9 a.m. the first Tuesday of the month. The Litigation Division also adjudicates petty offenses and administers bars to the installation and the revocation and suspension of on-post privileges. For more information, call 573-596-0676.
The Trial Defense Service (TDS), also in Building 315 on Missouri Avenue, counsels and assists active-duty Soldiers facing no judicial punishment, administrative separation, criminal investigation and courts-martial. TDS will also see National Guard and Reserve Soldiers who are on active-duty orders. They also represent Soldiers at courts-martial and administrative separation boards. Article 15 and administrative separation counseling is done by appointment only. Appointments are scheduled by calling 573-596-0628. Suspect rights are done on a walk-in basis. Hours of operation are 9 to 11:30 a.m. and 1 to 5 p.m. Monday through Friday (the office is closed Thursday mornings for training).
Visit www.wood.army.mil/sja for more information on legal services available at the Fort Leonard Wood Office of the Staff Judge Advocate.
Child, Youth and School Services
Child & Youth Services (CYS) creates a seamless delivery system for children and youth from 4 weeks through 18 years of age. The division is made up of a center-based system, quarters-based system, and Parent and Outreach Services.
There are three Child Development Centers (CDCs) on the Garrison.
CDC-615 is on Replacement Avenue (across from the Soldier for Life Center). This facility is a state-of-the-art, expertly staffed, well-equipped, nationally accredited and Department of Defense (DOD) certified center. CDC-615 accommodates full day care, part day preschool and Strong Beginnings pre-K. The operational hours for this facility are 5:30 a.m. to 5:30 p.m. weekdays however some programs located within the facility are different.
CDC-408 is located on Headquarters Avenue is an additional state-of-the-art facility that opened in November 2013. CDC-408 is expertly staffed, well-equipped, nationally accredited and DOD-certified. CDC-408 accommodates full day care from 6 weeks to 5 years of age. CDC-408 accommodates full day care, part day preschool and Strong Beginnings pre-K. The operational hours for this facility are 5:30 a.m. to 5:30 p.m. weekdays however some programs located within the facility are different.
CDC-614 on Replacement Avenue is an additional state-of-the-art facility that opened in November 2013. CDC-614 is an expertly staffed, well-equipped, nationally accredited and DOD certified center. CDC-614 accommodates hourly care program for ages 6 weeks to Kindergarten. Hourly care reservations can be made from 7:30 a.m. to 5:30 p.m.
Family Child Care (FCC), a quarters-based system, is also available. FCC provides in-home care by certified adult family members occupying authorized government quarters as a child care option for parents seeking a small group setting. The program offers full day, part day and hourly care. It also offers extended hours care that includes early morning, evening and weekend care. CYS certifies all FCC providers.
The School-Age Center (SAC) is a state-of-the-art, expertly staffed, well-equipped, nationally accredited and DOD-certified center. SAC offers a before and after school program during the school year and a full day program during summer months and on non-school days. The program is open 5:30 a.m. to 5:30 p.m. weekdays for children from Kindergarten through fifth grade in the summer and on non-school days. SAC offers many opportunities to include a computer lab, homework lab and various 4-H clubs.
SKIESUnlimited offers instructional programs for children and youth ranging in age from 4 weeks to 18 years. Through SKIESUnlimited, children and youth have equal access to opportunities to expand their knowledge, find inspiration, and explore and acquire new skills. Call 573-596-0238/0421 for more information, or drop by CYS Parent Central Services office inside Building 470, Suite 1126, from 7:30 a.m. to 4:30 p.m. Monday through Friday.
The Middle School/Teen Program is located in Building 9625 on Young Street for sixth- through eighth-graders. The Teen Program gives teens a place to call their own. The Teen Program is open to military and civilian family members in ninth through 12th grades. The Middle School Program is open to military and civilian family members in sixth through eighth grades. A full range of youth social and educational activities are offered, including youth trips, theme dances, parties and adventure day camps. The Middle School/Teen Program has an active partnership with Boys & Girls Clubs of America and the 4-H Clubs of America. For more information, call 573-596-0209.
Fort Leonard Wood's Youth Sports and Fitness Program offers both individual and team activities and involves not only Fort Leonard Wood teams but also surrounding community teams.
Parent and Outreach Services (POS) expand the CYS programs and offer a wide variety of services. POS includes the School Liaison Specialist (SLS) who supports command interests regarding policy, funding and facilities with the Waynesville R-VI School District and 10 other districts in the surrounding area. The SLS serves as the subject matter expert on school transition issues. The SLS is the "point person" for facilitating the delivery of quality school transition and education support services with all school districts serving the youth of Fort Leonard Wood.
Kids On Site (KOS) offers on-site hourly group child care within the same building where the parents or guardians are attending the same on-post function. Sites for KOS sessions must be approved in advance. All children attending KOS sessions must be registered at CYS Parent Central Services.
Volunteer Childcare in the Unit Setting (VCCUS) is free child care provided by the family members in one military unit or organization for family members in another military unit or organization in exchange for similar services at a future, mutually agreed upon time. Unit child care volunteers must be at least 16 years of age and must attend CYS training prior to providing care. There must be a minimum of two volunteers at each session.
POS also offer resource and referrals to assist parents in locating off-post child care, as well as teenage baby sitter training that provides training for baby sitters age 13 and up and provides a referral list to prospective parents looking for baby-sitting services.
Parent Central Services is your first stop in the CYS process and is the central point of enrollment. All necessary paperwork will be completed at the time of registration. Up-to-date immunization records, the child's Social Security number and emergency contact information are required at the time of registration.
Enrollment information for all CYS programs is available online at https://leonardwood.armymwr.com or at the Parent Central Services Office, in the Soldier For Life Center, Room 1126, Building 470, 13486 Replacement Ave., or by calling 573-596-0238/0421.
For more information on Child and Youth Services (CYS), please call 573-596-0238/0421.
Armed Services YMCA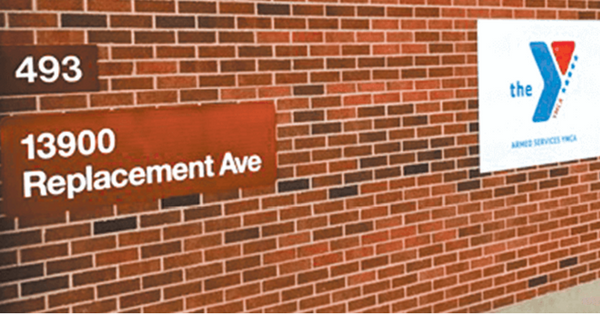 Their goal is to serve the community by offering support and opportunities that empower military Families to learn, grow and thrive. ASYMCA provides free or low cost programs to help strengthen young Families as they learn to cope with the unique challenges of military life. The organization focuses on programs that promote healthy living, social responsibility and youth development.
Anyone who would like to participate may do so by registering online at www.asymca.org/fort-leonard-wood-home, by calling 573-329-4513, or in person at the ASYMCA, co-located with the Fort Leonard Wood Thrift Shop in Building 493.
American Red Cross
The American Red Cross offers many services and programs to members of the U.S. military and their families through a national network of stations on military installations, chapters and the Hero Care Centers in Washington, D.C., and Fort Sill, Oklahoma.
The Fort Leonard Wood American Red Cross office, located in Building 470, Room 1130, provides the following services, during the hours of 8 a.m. to 4:30 p.m. Monday through Friday:
Briefings: newcomers brief, deployment, pre-deployment, family separation and FRG with information specific to your group. Contact the Fort Leonard Wood office at 573-596-0300 to schedule a briefing.
Volunteer opportunities: The Red Cross office on Fort Leonard Wood partners with the Army Community Service volunteer program, and is now the new centralized point of contact (Volunteer Hub), providing all in-processing and onboarding for those interested in volunteering for a variety of programs and organizations on Fort Leonard Wood, as well as providing ongoing volunteer support. Red Cross opportunities are available at the hospital and dental clinic (Dental Assistant Training Program), as well as off the installation (i.e. disaster assistance, smoke alarm install, etc.).
Emergency verification and communication: In the event of an emergency, critical illness, death and other qualifying emergencies in a service member or spouse's immediate family, the Red Cross should be called at once. The Red Cross is equipped to verify the situation and relay an emergency request, if necessary, to proper military authorities. It is up to the military to decide whether or not to grant leave. For assistance military personnel assigned to Fort Leonard Wood and their family members residing in the same household should call the Fort Leonard Wood office, 573-596-0300 or the Hero Care Center at 877-272-7337, for emergency communication/verification assistance. Family members not residing with the service member should call the Hero Care Center at 877-272-7337, or visit www.redcross.org/herocarenetwork, or through the new free hero care app. Services are available 24 hours a day, 7 days a week.
Emergency Financial Assistance: When an emergency arises that requires the presence of a service member or his or her family, emergency financial assistance may be available from Army Emergency Relief, Air Force Aid or the Navy-Marine Corps Relief Society. During normal duty hours, active-duty personnel and family members residing in the same household should contact the appropriate agency directly. If emergency financial assistance is needed after normal duty hours or on weekends or holidays, the American Red Cross Hero Care Center may be able to provide assistance on behalf of the service relief agencies. Phone: 877-272-7337.
Reconnection Workshops: The Red Cross offers free and confidential multiple skill-building opportunities to help service members, retirees, veterans—as well as their families and support systems—identify and cope effectively with the unique challenges that arise during and after service in the military, which can linger, long after leaving the military, if left unaddressed. Five adult and two children workshops with different topics are being offered. Sessions and materials focus on learning useful skills, developing effective coping mechanisms, and where to find resources. For more information, call 573-596-0300.
Information & Referral to Red Cross services off the installation (i.e. disaster assistance, health and safety classes, etc.).
For blood drive information or to schedule a blood drive, please contact the Donor Services Account Manager at 573-680-0813 or visit www.redcross.org/give-blood.
For a more information on the American Red Cross and services available, please visit www.redcross.org
Army Community Service
Located in Building 486, at 14060 Replacement Ave., the Army Community Service Center (ACS) assists service members, retirees, Department of Defense employees and their families by providing in-depth information, referral and intervention services. These services typically involve individuals and their families seeking help with problems beyond the scope of their own resources. The Army Community Service Center also serves as the installation's primary social service agency and provides commanders with current statistics, research and programs relating to military families. For more information on ACS, call 573-596-0212.
Services Offered at the Army Community Service Center
The Fort Leonard Wood Army Community Service Center offers a broad spectrum of programs and services for service members and their families in all branches of service — whether active or reserve component — and to government civilian employees as well.
Army Community Service (ACS) is the proponent for the Army Volunteer Corp (AVC) and provides information, placement and referral for individuals desiring to volunteer for any installation agency. ACS has a long and rich history with volunteers, and the ACS Center provides a wide variety of opportunities within each ACS program area. Inside ACS, you will also find Army Emergency Relief (AER). AER provides emergency assistance to military personnel and their families when a valid emergency exists (e.g., rent, essential car repairs, food, utilities, etc.).
The Army Family Team Building Program (AFTB) is a volunteer-based program whose primary objective is to improve the overall readiness of the force by teaching and promoting personal and family readiness. This is accomplished through standardized, progressive and sequential education. There are numerous volunteer instructor and office management positions available that help build new job skills, as well as being personally fulfilling.
The Army Family Action Plan (AFAP) is another volunteer-based program, which creates an information loop between the global Army family and leadership. This program's process begins at the installation level and continues through HQDA-level, focusing on issue management and resolution.
Employment Readiness provides local work-related referral and resource information, career counseling and coaching, job search assistance and a local job bank.
Relocation Readiness offers a wide array of relocation services, from information to in-depth relocation counseling. The office provides up-to-date information on any worldwide assignment and features a loan closet of common household items to assist families arriving at or departing from the installation.
Soldier and Family Readiness primarily focuses on healthy lifestyle issues in the areas of family, stress management, anger control, parenting and the prevention of any form of family violence or sexual assault. Victim Advocacy services are available 24/7.
The Exceptional Family Member Program (EFMP) provides advocacy, support and, in some cases, respite care for families with members enrolled in the program.
The Mobilization Deployment Program provides deployment cycle support for commanders, unit rear detachments, Soldiers and their families, as well as deploying civilians and Family Readiness Groups. The program also provides family assistance and support during natural disasters and acts of terror.
Financial Readiness supports commanders in maintaining unit financial readiness. Classes are provided in personal financial management, budget development and record keeping, financial planning for family separations, short-notice deployments, extended absence financial plans and PCS moves. Individual counseling sessions are provided for Soldiers and family members in areas such as budget development and financial planning, developing a spending plan, managing personal finances and debt reduction.
Survivor Outreach Services (SOS) is a new program designed to provide dedicated and comprehensive support to survivors of Soldiers who have died while on active duty. Services include emotional support, advocacy, life skills training, resource and referral, expertise on benefits, and financial planning and guidance. SOS is here to embrace and reassure survivors that they are continually linked to the Army family for as long as they desire.
Army Substance Abuse Program (ASAP) provides prevention training for the installation, the Employee Assistance Program and the Drug Test Program for military and civilians. Contact 573-596-0938 for more information. The ASAP Drug Test Program can be contacted at 573-596-7683. EAP may be reached at 573-596-7199.
Resilience and Performance Training Center
Co-located with the AWC (Army Wellness Center) in Building 350, at 14122 Third St., the Resilience and Performance Tracing Center (R&P-TC) assists service members, Department of Army Civilians (DAC) and their families by increasing the physical and psychological health, resilience, while enhancing performance of the Fort Leonard Wood (FLW) Army Community. The R&P-TC provides expert level training regarding the 12 Resilience skills annually mandated IAW AR 350-53 for all units and organizations. Additionally, the R&P-TC executes Performance Training which provides Soldiers, DAC, and their families with the specific mental and emotional skills that underlie optimal human performance when it matters most: in combat, healing after an injury or managing work and home life. Listed below are some of the R&P-TC's capabilities:
Resilience Training
MRT Level 1 courses
QA/QE for unit level MRTs
Provide support to local MRTs
Performance Training
Leader Development Course
Unit-specific training
Individual Mastery (One on One Performance Counselings)
Academic Performance Training
Training for Special Populations, including:
Resilience and Performance Training for Teens
Executive Resilience and Performance Courses
Support for Army National Guard and U.S. Army Reserve Command requirements
Pre-deployment training
DCRT (Deployment Cycle Resilience Training)
Additional capabilities (at select TCs)
Teambuilding (tailored for each organization and/or unit)
Spouse- and Teen-focused Resilience Training
Other Services

POST OFFICE
The Fort Leonard Wood branch of the U.S. Post Office is at 233 Illinois Ave., Suite 1, and provides complete postal services 8 a.m. to 4:30 p.m. weekdays and 9:30 a.m. to 1:30 p.m. Saturday. A complete line of mailing supplies is available, as well as postage stamps and related products.
P.O. boxes are available for patrons to rent. The P.O. Box lobby is open 24/7, and a vending machine is available in the lobby for your convenience.
The post office is conveniently located in Building 498. For more information, call 573-329-5909.
THRIFT SHOP
The Thrift Shop is a newly renovated, state-of-the-art resale shop, located in Building 493, across from the Fort Leonard Wood exchange. The store is open to the general public (no military ID needed) 9 a.m. to 3 p.m. Tuesday, Thursday and Friday. It is also open 10 a.m. to 2 p.m. on Wednesday and payday Saturday.
This nonprofit organization has a full staff and volunteers, disburses all profits through scholarships to individuals and financial contributions to community organizations.
Military personnel, retirees, family members and Department of Defense civilians may also consign unneeded items for sale. All items must be clean and in good condition. Call the consignment manager for same-day approval to bring in large items. Consignment hours are 9 a.m. to 2 p.m. Tuesday, Thursday and Friday, and 10 a.m. to 1 p.m. Wednesday and payday Saturday. Donations are always accepted and a tax receipt is available upon request.
For more information, call 573-329-4707/2537. You can also call the message line at 573-329-2141 anytime for consignment information, or visit http://flwthriftshop.embarqspace.com for more information about shopping, consigning items or joining the volunteer staff.
LIBRARY
The Bruce C. Clarke Library is on both floors of Building 3202 in the MSCoE complex, just off Nebraska Avenue and First Street. All services' active-duty military, reservists, National Guard, and DOD, DA and NAF civilian employees, as well as military and DAC retirees and family members of eligible spouses, and DOD contractors may be registered as library users. Military or civilian employee ID cards are required for library privileges.
The library's holdings include more than 143,000 books, 12,000 movies, 4,400 audio books, 4,300 music CDs, 1,300 video games, a collection of unit histories and more than 1,500 rare books. The library has a large collection of materials on current and historical military affairs, as well as nonfiction in many other subjects.
The library also has adult, young adult and children's fiction, mysteries, science fiction and Westerns. There are collections of books in large-print format. Books not available in the Bruce C. Clarke Library can be obtained through an online interlibrary loan service. The Bruce C. Clarke Library also loans materials to other libraries.
The children's library offers Story Times on Tuesdays at 10:30 a.m. and Wednesdays at 12:30 p.m. Other children events held throughout the year include the Summer Reading Program, which is open to children and adults, Creation Lab, Story Walks and a Santa Visit in December.
The Bruce C. Clarke Library provides a large number of online research and reference databases. Many of these are available to all users of the Fort Leonard Wood campus area network, and most are also available through remote access at home and work to authorized library patrons. These include full-text journals, magazines, newspapers, reference materials and e-books on a wide range of subjects. Reference services are available, which offer personalized, in-depth assistance by a reference librarian. The online reference library is at www.wood.army.mil/library.
First floor computers have commercial internet access and are available for use by authorized library patrons. The computers located on the second floor may be used by individuals with a Common Access Card (CAC). The computers have standard office programs and internet access. Support is available for standard software packages that are found on most official computers, such as all Microsoft Office Suite, and the staff will also try to assist with other software problems as well. Meeting rooms are available on both floors and may be reserved by calling 573-563-4109. Microform readers and printers are on the second floor for viewing and reproduction purposes. A coin-operated photocopier is available on the first floor.
Phone numbers are:
Bruce C. Clarke Library 573-563-5608
Community Services (First Floor)
Circulation and Information 573-563-4113
Children's Room 573-563-5857
Media Zone 573-563-3814
Academic Services (Second Floor)
Reference and Research 573-563-4109
TRUMAN EDUCATION CENTER
The Truman Education Center is in Building 499 on Constitution Avenue. The Ed Center provides more than 80 different goal-oriented educational program opportunities for the military and civilian community, including complete college degree programs, testing services, Basic Skills Education Program on-duty classes, educational counseling, English as a second language classes, GED preparation classes and professional learning center services. Seven regionally accredited, not-for-profit colleges and universities offer more than 85 different complete undergraduate and graduate degree programs to the military and civilian community population. Central Texas College, Columbia College, Drury University, Lincoln University, Park University, Missouri University of Science and Technology, and Webster University all provide customer service in Building 499 and staff these offices with professional educators to assist students, conduct enrollment and advise students on their programs in the Truman Education Center. All seven colleges maximize opportunities for Soldiers and others by providing seated and online classes. In special cases, the on-post colleges also provide Directed Studies if a low class size prevents a student from attending a class needed to finish a degree. These schools also accept CLEP and other credit-bearing tests to speed students toward graduation. An average of 900 degrees are awarded to military and civilian students each year at associate, bachelor's and master's degree levels. Call 573-596-0172 Monday through Friday for more information. Hours are: 7:30 a.m. to 4:45 p.m.
ARMY AND AIR FORCE EXCHANGE SERVICE
The Fort Leonard Wood Main Post Exchange Shopping Center, Building 487, provides customers the convenience of one-stop shopping. In addition to the Main PX, the center houses barber and beauty shops, a florist, a video arcade, an optometry shop, various gift shops, car rental (airport) and a large food court.
Food establishments provide a variety of refreshments, including a Baskin-Robbins, an Anthony's Pizza, Manchu Wok, Charlie's Grilled Subs, Einstein Bagels, Auntie Anne's, Boston Market and Dickey's Barbeque.
The Fort Leonard Wood Mini Mall, an Army and Air Force Exchange Service-operated facility in Building 490, contains a furniture store, Military Clothing Sales Store, Class Six, Alteration Shop, T-Mobile, Starbucks, GameStop, Jimmy John's and Qdoba Mexican Eats. For more information, call 573-596-0131, ext. 61501.
Burger King and Popeyes Louisiana Kitchen are also located in the dual food facility, Building 491. Other facilities at convenient locations on post include four AAFES branch exchanges in troop training areas, offering snacks, convenience items and a barbershop, plus two neighborhood convenience stores. The Missouri Avenue Express includes a gas station, Class Six, Redbox video rental and Dunkin Donuts, and serves the residents of Lieber Heights. There is also a Firestone with an eight-bay vehicle repair garage conveniently located behind the Missouri Avenue Express. The South Express includes a gas station and Blimpie Sandwich Shop and serves the residents of Piney Hills and Specker Barracks.
Facilities are open to all active-duty and reserve Soldiers, retirees and their Family members. Food facilities are open to all visitors to Fort Leonard Wood.
For more information about any AAFES facility, call 573-596-0131, ext. 61501.
COMMISSARY
The Defense Commissary Agency's (DeCA) mission is to operate an efficient and effective commissary system that provides a non-pay benefit that improves the quality of life of patrons and enhances military readiness and the retention of quality personnel. The Fort Leonard Wood Commissary is near the Post Exchange at 689 Nebraska Ave. Hours are: 10 a.m. to 6 p.m.Sunday, 9 a.m. to 7 p.m. Monday through Saturday. Special orders are processed by each department with 24-hour notice. For more information, call 573-596-0783.
MISSOURI USO INC.
Founded in 1981, the James S. McDonnell USO provides military personnel and their family members' services to make them feel at home. This not-for-profit organization operates facilities on Fort Leonard Wood, in the Lambert-St. Louis International Airport and the two Mobile USO units that support the troops at deployment and welcome home parties, training exercises, community festivals and USO of Missouri, Inc. special events.
The USO is not funded by the government, military or the United Way; it depends entirely on donations from private sources. It is the only organization who provides these unique services for the military community throughout Missouri and the Illinois counties of Monroe, Madison, St. Clair and Jersey. For more information, visit: www.usomissouri.org.
Fort Leonard Wood USO
This facility offers a place to unwind from the everyday stresses of being in the military.
Highlights of the facility:
Canteen stocked with comfort food.
Wireless internet access and cybercafé.
Big-screen TVs, Xbox and DVD player.
Entertainment events.
Programs for trainees and permanent party military members.
The facility is on post and is open Thursday through Sunday.
The facility can be reserved for large military functions during non-operational hours.
Facebook Page: USO of Missouri, Inc. – FLW USO Club
Mobile USO
The mobile USO enables the USO to take the support on the road to meet the troops and families.
Features of the mobile USO:
The unit travels throughout Missouri with frequent trips to Scott Air Force Base and Fort Leonard Wood.
It supports the troops at deployment and welcome home parties, training exercises, community festivals and USO special events.
Three full-size serving windows.
50-inch flat-screen television and DVD player.
Canteen for food and beverages.
Reservations for use of the mobiles can be made online at www.usomissouri.org.
James S. McDonnell USO at Lambert International Airport
The airport facility is open 24/7.
Services include:
Large media room with big-screen TV and Blu-ray player.
Canteen stocked with food and beverages.
Fully equipped nursery and playroom.
Sleeping room with wake-up calls.
Free long-distance calls on USO cellphones and DSN phone.
Information and referral services.
Facebook Page: USO of Missouri, Inc.
MISSION AND INSTALLATION CONTRACTING COMMAND
Mission and Installation Contracting Command (MICC), the local contracting office, oversees all aspects of contracting with private industry. This includes the bid and award process. It also manages the GPC credit card program. Call 573-596-0266 for more information.
NETWORK ENTERPRISE CENTER
On behalf of the 106th Signal Brigade Command Team, welcome to the Network Enterprise Center (NEC), 7th Signal Command at Fort Leonard Wood. The NEC is the single authority to deliver seamless enterprise-level C4IM common user services in support of MSCoE and Fort Leonard Wood for the Army. The NEC installs, maintains and defends the information management resources to meet the installation core missions. The NEC is responsible for the security of all systems on the Army infrastructure. NEC operates the Video Teleconferencing Center (VTC) in MSCoE.
Computer work orders can be placed via a web link found in the "Helpful Links" folder of FLW computers or by calling 866-335-2769. The Visual Telecommunications Center (VTC) Suite can be reached at 573-563-6162. For additional information, please call 866-335-2769.