Santa's Castle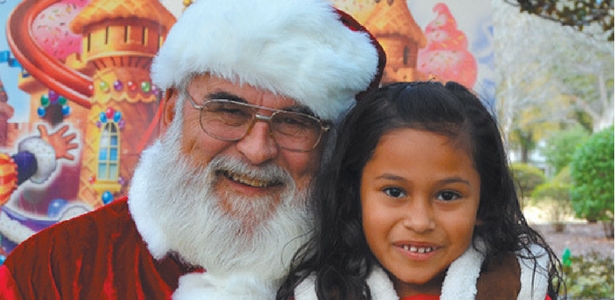 Santa's Castle is a nonprofit organization run by volunteers to provide toys for children of Fort Benning Soldiers who cannot afford gifts at Christmas. Each child receives about $125 worth of toys, and each family receives a board game. Gifts are new and age appropriate.
The deadline to apply is Oct. 31. To request an application, email fortbenningsantascastle@gmail.com. If you would like to make a donation or hold a fundraising event to benefit Santa's Castle, email fortbenningsantas castle@gmail.com.
Family Housing

The Villages of Benning — Family Housing / 706-685-3939
Michaels Management Services is responsible for the Villages of Fort Benning private housing on Fort Benning under the Residential Communities Initiative. We provide a high standard of living for military families, with amenities that include parks, playgrounds, community centers and swimming pools. Most of the villages are near an elementary school. Residents enjoy a variety of free community events and activities. Each village has an on-site management and maintenance team.
Families choosing to live in RCI housing receive a basic allowance for housing. Rent is taken from the Soldier's pay as an allotment. There are no additional move-in expenses, no credit checks, no application fees, security deposits or deposits for the first two pets. Eligibility for neighborhoods is determined by grade, and home size is determined by family size. For more information, visit The Villages of Benning Welcome Center at 601 Lumpkin Road or go to www.villagesofbenning.com.
Housing Services Office / 706-545-3921/6610
The HSO helps Army families and Department of the Army civilians find housing off post. All military personnel assigned to Fort Benning are required to report to this office before entering into any lease, rental or purchase agreement. Lists of apartments and houses for rent or sale are updated weekly. You can access Homes.mil to view available properties.
Several motels in the area provide special rates. For temporary on-post lodging, see the Lodging section. The HSO is in Building 35, Room 385.
Health Care

HEALTH CARE TRICARE / 800-444-5445
TRICARE is the DOD's worldwide healthcare program available to active-duty and retired members of the uniformed services, their families and survivors. The Defense Enrollment Eligibility Reporting System determines eligibility for TRICARE.
TRICARE Prime is the mandatory health care option for active-duty service members. Family members of active-duty service members, retired service members and their families may also use this option. If you use TRICARE Prime, you are assigned a primary care manager at a military or network provider who delivers most of your care. Active-duty service members and their families pay nothing out of pocket. On Jan. 1, 2018, TRICARE Standard and Extra were combined into a new plan,
TRICARE Select, a standardized fee-for-service plan available to family members of active-duty service members, retired service members and their families. With Select, you may schedule an appointment with any TRICARE-authorized provider. Referrals are not required. You will pay a copay or cost share based on the type of care and provider you see. If you are already using TRICARE Select, moving is easy. Update your personal information in DEERS then find TRICARE-authorized providers in your new area. Beginning in 2019, however, TRICARE allows you to switch between plans only if you have a "qualifying life event" such as the birth of a baby or a move.
MACH Health Benefits Advisors are available to assist patients with questions regarding TRICARE benefits and billing concerns. To reach an adviser, call 706-544-3461/1347.
MEDDAC & Martin Army Community Hospital / 762-408-2604/2605
Martin Army Community Hospital provides inpatient and outpatient care to about 2,500 patients daily. It maintains a fully accredited laboratory service, diagnostic radiology with computerized tomography and nuclear medicine, pharmacy and many other ancillary support services.
MACH offers adult primary care, family medical home and pediatrics clinics, and troop medical clinics.
Specialty clinics include allergy/immunology, dermatology, gastroenterology, neurology, spine, interdisciplinary pain management, internal medicine specialized services, sleep medicine, chiropractic, otolaryngology, ophthalmology, optometry, nutrition care, women's wellness, orthopedic surgery, physical therapy, podiatry, urology and behavioral health.
For more information, visit MACH at 6600 Van Aalst Blvd. or go online to www.martin.amedd.army.mil.
Teaching and Training Mission
MACH's three-year Family Practice Residency Program produces the best physicians in the U.S. Army. Other specialty training programs include the clinical portion of the Army's Physician Assistant Program, a residency in health care administration, training in several military occupational specialties and numerous clinical rotations and externships with local colleges and universities.
Specialty Care
Eighteen specialty clinics are available within Martin Army Community Hospital. If the primary care manager determines there is a need for a referral to a specialist, a request will be entered into the TRICARE system. Patients are then contacted by phone or mail with the details of the referral appointment. The referral may be with a specialist in the Fort Benning MEDDAC or with an outside TRICARE Network civilian provider.
To access care while traveling, patients must contact their PCM to receive authorization for medical care in the civilian sector to ensure TRICARE reimbursement and less out-of-pocket expense. If a medical emergency occurs when traveling, call 911 or report to the nearest emergency room, military or civilian, with your military ID card. Contact your PCM within 24 hours to receive an authorization code. If authorization is not granted, patients will be responsible for all costs incurred.
Appointments
Routine medical appointments, cancellations and reschedules for clinics at MACH are made through the Central Appointment CARE Line 7 a.m. to 4 p.m. weekdays. After hours, patients may leave messages for their primary care managers. It is important that patients arrive 15 minutes prior to appointments. If it is not possible to keep an appointment, call the CARE Line at 762-408-2273.
Army Secure Messaging Service / 866-735-2963
The Army Secure Messaging Service powered by Relay Health is a secure online service through which providers and patients can communicate. Using the Army Secure Messaging Service, you can consult your doctor about specific health symptoms, request a prescription refill, request appointments, receive lab or test results, and access patient education resources on more than 5,000 health topics and 6,000 medications.
Patient and Family Advocate Office / 762-408-2602/2603/2420
Patients with questions or comments about hospital procedures may visit the hospital's Patient and Family Advocate Office.
Red Cross at MACH / 706-545-5194
Every week, hundreds of volunteer hours are logged in hospital clinics, wards and administrative areas through the American Red Cross. The ARC sponsors a summer youth program, allowing teens to volunteer in the hospital. To volunteer with the Red Cross, call 762-408-0484.
Additional Clinics and Services
A reception station clinic and several medical clinics support training activities on the installation. Additional troop medical clinics are at Dahlonega, Georgia; and Eglin Air Force Base, Florida; in support of the Ranger Training Program. Also part of the Fort Benning MEDDAC: Warrior Transition Unit, Alcohol and Drug Abuse Prevention and Control Program, Physical Examination Service, Social Work Service, Community Mental Health Service and Veterinary Service. The Combined Troop Medical Clinic on Main Post serves more than 10,000 active-duty troops.
North Columbus Medical Home is a Community-Based Primary Care Clinic at 1100 Brookstone Centre Parkway, Suite 101 in Columbus, Georgia. Women's health, well baby and child exams, school and sports physicals, pharmacy and lab services are available for TRICARE Prime beneficiaries. Call 762-408-CARE (2273) to schedule an appointment. The After Hours Care Clinic at North Columbus Medical Home is available 5:30 to 8 p.m. weekdays for TRICARE Prime beneficiaries with minor
illnesses or injuries arising when Primary Care Clinics are closed. Call 706-626-3838 for more information.
Fort Benning VA Clinic / 706-257-7205
The Fort Benning VA Clinic, Building 9214 on Bass Road, offers mental health services, dietary, social work, clinical pharmacy and laboratory services.
Dental
The Fort Benning Dental Health Activity is a major subordinate command of the Dental Health Command-Atlantic at Fort Belvoir, Virginia. DENTAC conducts an Advanced Education in General Dentistry residency, accredited by the American Dental Association.
Service members receive routine dental care between 7:30 a.m. and 4:30 p.m. weekdays at the clinic designated to support their unit. Phone numbers are listed in the Telephone Directory at the back of your Tour Guide. Dental care for family members is provided by local civilian dentists participating in the Tricare Dental Program. A list of participating dentists is available at all dental facilities. Retirees are eligible for the TRICARE Retiree Dental Program.
Military personnel and family members requiring emergency dental care after duty hours should report to the Emergency Room at Martin Army Community Hospital. Family members should seek care with their civilian dentist first.
Army Substance Abuse Program / 706-545-1138/4415
The ASAP provides services to deter alcohol and drug abuse. Programs include counseling, prevention education, employee assistance, drug testing, risk reduction and suicide prevention.ASAP Counseling Center / 706-545-8362/4821
The ASAP Counseling Center provides unit commanders with a clinical staff to treat alcohol and drug abusers. The clinical program manager is your POC for counseling and rehabilitation services. Counselors evaluate Soldiers, DA civilians and adult family members with potential substance abuse problems and provide rehabilitation services.
Prevention and Education / 706-545-7027
The ASAP prevention coordinator administers substance abuse prevention programs with the installation training officer. ASAP helps commanders and directors provide education in accordance with Army Regulation 600-85. Coordinators also conduct the 16-hour Prime For Life course.
Employee Assistance / 706-545-5137
The Employee Assistance program provides intervention and referral services and educates civilians on stress management, relationships, substance abuse and more.
Drug Testing / 706-545-2123/5880
The Drug Testing coordinator operates a secure collection point and serves as the installation expert on urinalysis collection and testing.
Risk Reduction / 706-545-5718/6049
The Risk Reduction Program is designed to decrease high-risk behaviors among Soldiers to reduce deaths, injuries, sexually transmitted diseases, suicide attempts, drug and alcohol offenses, criminal behaviors, domestic violence, financial distress and more.
Suicide Prevention / 706-545-5441
The Suicide Prevention program manager coordinates installation suicide prevention initiatives. This program
integrates the efforts of commanders, chaplains, staff and relevant agencies to develop goals and objectives for the installation.
Education

Fort Benning Schools
Fort Benning's five elementary schools and one middle school offer quality education for children of military personnel living on post. Programs are designed to serve the unique needs of military families.
A school board made up of parents elected from each school serves in an advisory role to the school district. Parental involvement is encouraged. Each Fort Benning school has a parent-teacher organization.
Eligibility to attend the Fort Benning schools is based upon residency and age. Students must reside on post in family housing or have a billeting assignment for occupancy within 180 days. The student must be 4 years old on or before Sept. 1 of the current year to enter pre-kindergarten and 5 years old on or before Sept. 1 of the current year to enter kindergarten. Schools belong to the Georgia/Alabama District and are part of the DOD Domestic Elementary and Secondary Schools.
Fort Benning schools offer programs for students with special needs, including learning disabilities, intellectual and emotional impairments, developmental delays and speech-language impairments. If the needs exceed the services available on post, services may be provided through programs in the Muscogee County School System. Sponsors of children needing special education services should call Fort Benning's director of special education at 706-545-8263. Gifted education services are also provided to eligible students in kindergarten through eighth grades.
The English as a Second Language program helps children attain proficiency in English. School counselors and nurses work in each school to provide services to all children. For more information about Fort Benning schools, visit www.dodea.edu/Americas.

Dexter Elementary 706-545-3424
McBride Elementary 706-544-9411
Stowers Elementary 706-544-2312
White Elementary 706-545-4623
Wilson Elementary 706-545-5723
Faith Middle 706-545-0310
School Liaison Office / 706-545-3062
The school liaison officers work with Child & Youth Services and local schools to address educational issues involving military children. Liaisons are a communication link between the installation and the surrounding school districts.
Local High Schools
Students on Fort Benning may attend Spencer High School in Columbus or Chattahoochee County High School. Both provide advanced, on-grade level and remedial classes to accommodate all academic levels.
All Columbus high schools offer magnet academies, which are specialized schools of study. Fort Benning students may apply to any of these magnets. The application process and requirements vary. Students who qualify for these programs may be required to meet and maintain a minimum GPA, submit report cards signed by their eighth-grade counselor, pass an entrance exam, provide teacher recommendations and interview with school officials. Students interested in attending a magnet academy are encouraged to call the school for more information.
Army Continuing Education System / 706-545-7397/6258
The Army Continuing Education System serves Soldiers and family members through the Army Education Center in Building 9230 in the Commissary Mall on Marne Road. Counselors provide information on the GoArmyEd portal, Army Tuition Assistance, GI Bill, various grants, scholarships and more.
Legal & Advisory

Office of the Staff Judge Advocate / 706-545-3281
The Office of the Staff Judge Advocate, Building 2839 on Way Street, houses Client Services, Legal Assistance and Claims, Criminal Law, Installation Hearing Officer, Administrative Law and Civil Law. Legal Assistance offers advice on family law, consumer law, wills and estates, landlord-tenant and real property, military administrative law, taxes and more.
Ad valorem forms, notary services and powers of attorney are available on a walk-in basis. Claims accepts and processes initial notices of loss or damage and the actual claims based on shipment damage, household goods or POVs. It also provides help filing claims directly against the moving company. Claims also handles damages stemming from incidents related to military
service and all fault-based claims, such as auto accidents, against the Army, AAFES or DFMWR. All claims services are available on a walk-in basis.
Inspector General / 706-545-9076
The IG advises the commanding general on the state of economy, efficiency, discipline, morale and readiness of all Fort Benning units and activities.
Emergency Services

Department of Emergency Services / 706-545-5222/5223
The Fort Benning DES, in Building 215 on Wold Avenue, provides 24-hour force protection, law enforcement, fire protection and community assistance. DES maintains liaison with federal, state and local law enforcement agencies and supports installation contingency operations. For more information, go to www.benning.army.mil/garrison/des.
Red Cross Emergency Communications / 706-545-5194
When a Soldier or military family experiences a crisis, the American Red Cross provides emergency communications 24 hours a day, 365 days a year. The Red Cross relays urgent messages to service members anywhere in the world. Red Cross puts military personnel in touch with their families following the death or serious illness of an immediate family member, the birth of a service member's child or grandchild, or when a family experiences other emergencies. Red Cross information helps commanding officers make decisions regarding emergency leave. To contact the Red Cross, call 877-272-7337 toll free within the continental United States.
Religious Services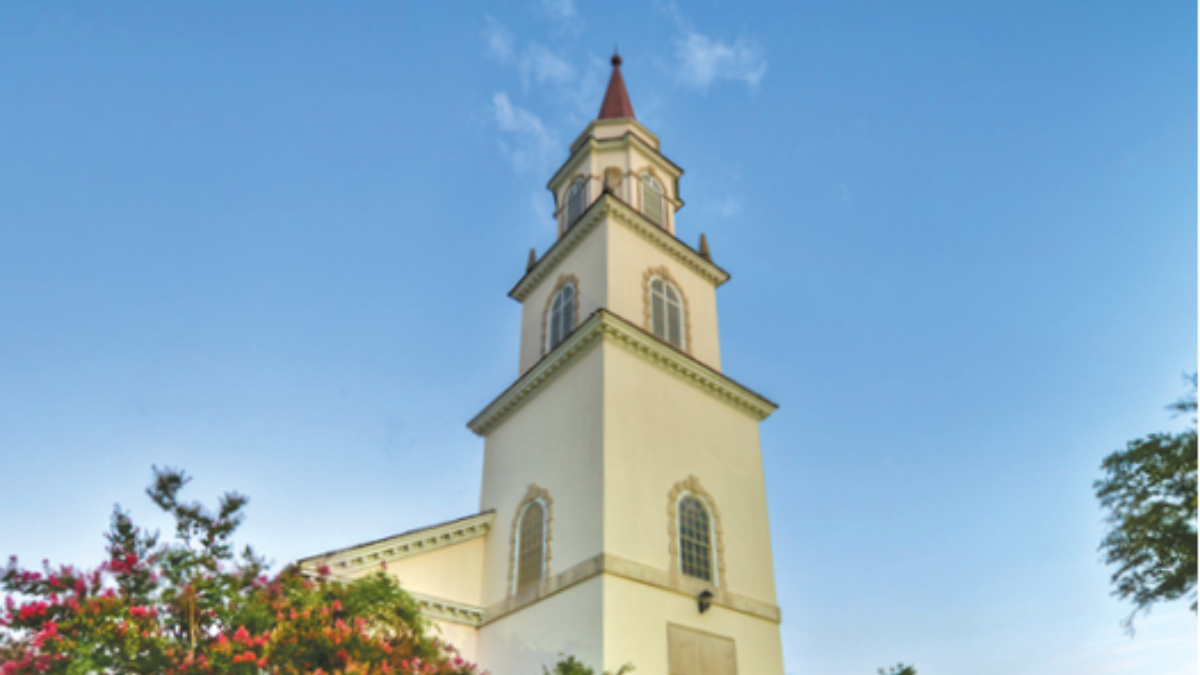 Fort Benning's religious support program conducts more than 20 services each week in seven chapels. Bible studies, Sunday school, Rite of Christian Initiation for Adults and Faith Formation classes are a few of the programs offered on Fort Benning.
The Fort Benning Unit Ministry Team consists of chaplains, assistants, DA civilians and contract personnel. Chapel volunteers also conduct key programs. Every unit receives religious support through a unit chaplain or one who has been tasked to provide religious support.
You will find a list of chapels and phone numbers in the Telephone Directory in this Tour Guide. For emergencies after duty hours, call 706-545-2218.
Chaplain Family Life Center
The Chaplain Family Life Center, Building 974 on Lincoln Avenue, is staffed with a team of chaplains and civilian residents with specialized training in counseling. The center is also home to the Family Life Chaplain Training Program. Chaplains provide pastoral counseling for a wide range of issues for individuals, couples and families. The Family Life Center offers premarital counseling the first Friday of each month.
Shopping
Commissary / 706-544-3965
The Fort Benning Commissary, Building 9230 on Marne Road, includes a grocery, bakery, rotisserie and sushi bar. Customers must show their ID at the checkout. Personal checks are accepted for up to $25 over the amount of purchase. Telephone orders are accepted with 24-hour notice for special-order meat cuts, deli meat, cheese trays, fruit baskets and fruit and vegetable trays. The commissary is open daily except Easter, Thanksgiving, Christmas and New Year's Day.
AAFES Post Exchange Mall / 706-685-3257
At 247,000 square feet, Fort Benning's Post Exchange Mall has a great variety of dining options, concessionaires and merchandise, clothing, cosmetics, fragrances, home decor, electronics, appliances, recreation equipment, toys and garden supplies. The PX, at 9220 Marne Road, is open 9 a.m. to 9 p.m. Monday through Saturday and 10 a.m. to 7 p.m. Sunday.
Concessionaires
Alterations/Dry Cleaning 706-687-7755
Barbershop 706-687-2436
Beauty Shop 706-687-2743
Beauty Supplies 706-405-3939
Burger King 706-685-3257, ext. 391/392
Charley's Grilled Subs 706-685-3257, ext. 391/392
Day Spa 706-685-9000
GameStop 706-689-6893
GNC 706-689-1832
Manchu Wok 706-685-3257, ext. 391/392
MMA Express 706-208-2376
Optical Center 706-685-4448
Optometry Clinic 706-682-3938
Pizza Hut 706-685-3257, ext. 391/392
Starbucks 706-685-3257, ext. 215/216
T-Shirt Shop 706-685-4845
Wireless Accessories 706-682-0290
Main Post Mini Mall / 706-682-0473
The AAFES Mini Mall, 103 Ingersoll St., is open 6 a.m. to 9 p.m. weekdays and 8 a.m. to 9 p.m. weekends. Call concessionaires for individual store hours.
Concessionaires
Alterations/Dry Cleaning 706-687-4700
Barbershop 706-682-0011
Bruster's Ice Cream 706-683-9585
Charley's Grilled Subs 706-687-3665
GNC 706-689-3137
Kim's Boot & Shoe Repair 706-689-2175
Qdoba Mex Grill 706-687-3665
UPS Store 706-685-3535
Sand Hill Mini Mall
The Mini Mall is at 3218 11th Airborne Division Road.
Concessionaires
Barbershop 706-687-8618
Military Rings 706-687-9688
MMA Express 706-763-8463
Sand Hill Snack Bar 706-682-9430
Sand Hill Troop Store 706-682-9493
Sweet Shop 706-718-8187
T-Shirt Shop 706-617-1943
Class Six Store / 706-682-2756
The package store, 9235 Marne Road, offers assorted liquors, beer, wine, soft drinks and snacks.
Military Clothing Sales
In addition to clothing, Military Clothing Sales also carries a large selection of books and supplies for the student Soldier. MCS is located in the Main PX Mall. For more information, call 706-689-7981.
Shoppettes and Troop Stores
Custer Road Shoppette/Gas/Car Wash
10598 Custer Road 706-682-0854
Dixie Road Shoppette/Gas/Car Wash
2650 Dixie Road 706-687-3450
Harmony Church Shoppette/Gas
4218 8th Division Road 706-682-5343
Harmony Church Troop Store
4308 15th Calvary Road 706-685-4519
Main Post Mini Mall
103 Ingersoll St. 706-682-0473
Sand Hill Reception Center Troop Store
3022 Johnston Drive 706-682-7887
Sightseeing Road Troop Store
2821 Sightseeing Road 706-687-6806
Food
Arby's 706-683-0933
Dixie Road Popeye's Chicken 706-685-9645
Main Post Burger King 706-689-0934
McGraw Village Starbucks 706-225-7688
Additional Services
Firestone Complete Auto Care
9233 Marne Road 706-687-6520
Bikes and Beyond
9230 Marne Road 706-687-9253
Banking & Credit Unions
Synovus / 800-641-2268
Synovus has a full-service office on post, 16 locations in Columbus and 25 ATMs on Fort Benning. You can access your money at other Synovus bank offices throughout the Synovus five-state region, which includes offices at CB&T of East Alabama in Phenix City and Opelika. Most branches are open 9 a.m. to 5 p.m. weekdays, with extended drive-thru hours and Saturday banking. Through our partner Synovus, you'll also have access to a team of experts for mortgage, financial planning and retirement services. Stop by the Commissary Banking Center on Marne Road.
Automated telephone banking is available 24/7, and representatives are available 8:30 a.m. to 7 p.m. Monday through Saturday.
Kinetic Credit Union / 877-332-1269
Kinetic Credit Union provides financial products and services for active-duty and retired military personnel, civilian employees and contractors. Services include checking and savings accounts, free home banking, bill pay and presentment, electronic statements, electronic balance notifications, money market and certificate accounts, low-cost loans, retirement and
investment planning, and mortgage and home equity loans. Be sure to visit our on-post drive-thru branch at 2786 Eckel Street or any of our other branches or ATMs throughout the Columbus-Fort Benning community.
Wells Fargo Bank, N.A. / 706-685-7001
There are 18 Wells Fargo financial centers in the Columbus area and two on post. The Wells Fargo Main Post branch, 109 Wold Ave., is open 9 a.m. to 5 p.m. Monday through Thursday, 9 a.m. to 6 p.m. Friday and 9 a.m. to noon Saturday. The drive-thru closes one hour earlier Friday. The Wells Fargo mall branch, 9230 Marne Road, is open 9 a.m. to 5 p.m. weekdays.
Army Community Service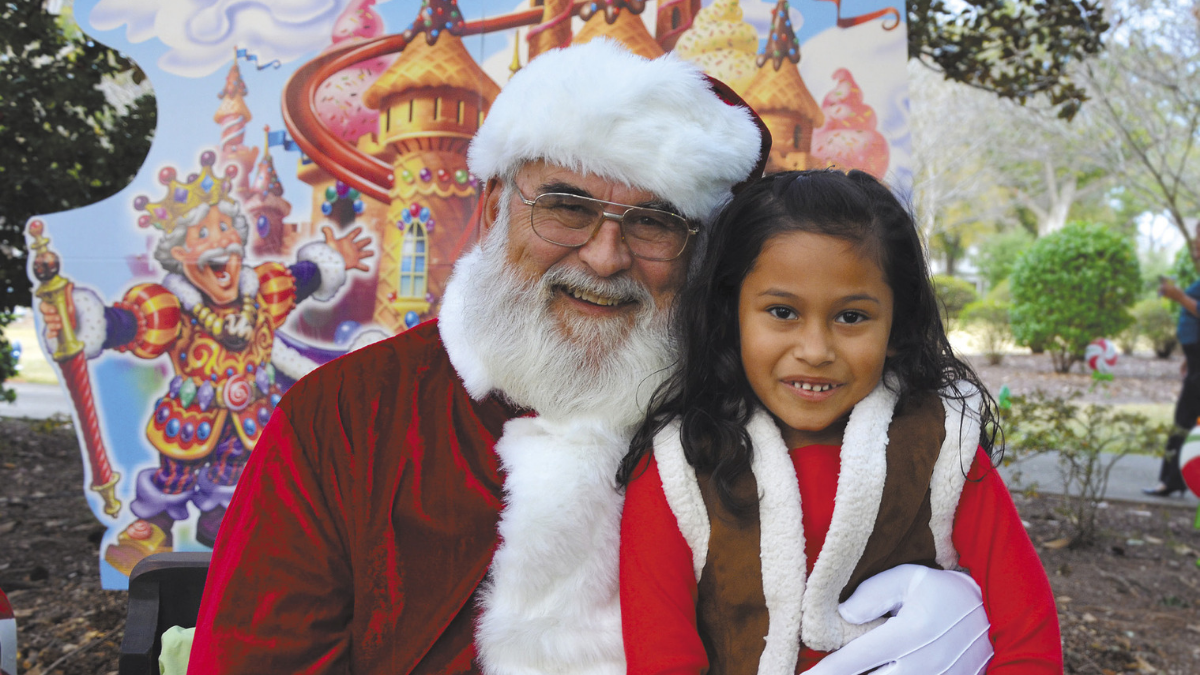 Army Community Service is a network of services, resources and programs designed to help Soldiers and their families enjoy their time at Fort Benning. ACS addresses matters related to career and finance, retirement, home and family, moving and deployment, volunteering, professional development and much more. Programs include the Family Advocacy Program, the Soldier and Family Assistance Center, Survivor Outreach Services, Employment Readiness Program, Financial Readiness Program, Relocation Readiness Program, Mobilization/Deployment and Stability and Support Operations Readiness Program, Army Volunteer Corps and the Exceptional Family Member Program. For information on all of the ACS programs on Fort Benning, see the MWR section.
Employment/Pay
Equal Employment Opportunity / 706-545-1872
The Equal Employment Opportunity Office advises post commanders and officials on equal employment policies and procedures for DOD civilian personnel. EEO educates civilian and military personnel regarding EEO concerns. The office is in Building 6, Room 121, at 6650 Meloy Drive and is open 8 a.m. to 5 p.m. weekdays.
Civilian Personnel Advisory Center / 706-545-2655/3374
CPAC provides personnel services and support through recruitment, job training and retention of the force by developing a supportive atmosphere where employees excel. CPAC is in Building 6, Meloy Hall.
Defense Military Pay Office / 706-545-7963
For in- and out-processing, travel claims and separations, report to Building 35 on Morrison Avenue weekdays from 7:30 a.m. to 4 p.m. The branch that handles Reserve pay, debt management collections, military pay inquiries, mobilization and demobilization operations, and wounded warrior pay is in Building 89 on Vibbert Avenue. It is open 7:30 a.m. to 4 p.m. weekdays. Call 706-545-7969.
Employment Readiness Program / 706-545-4043
The Employment Readiness Program offers resources to help with your career plan and job search. Whether you're a military spouse or family member, retiree, DOD civilian or active-duty military (including Reserve and National Guard), we're here to help. We provide information on employment opportunities, job market trends and education, and volunteer resources. We offer classes on self-assessment and career exploration, resume writing, interviewing techniques and more.
Installation Retention Office / 706-545-6759/6157
The Installation Retention Office, in Building 35, has oversight on all career counselors assigned to Fort Benning. The IRO is also where separating Soldiers can find the Reserve component career counselors.
Soldier for Life ? Transition Assistance Program / 706-545-2308
The Transition Assistance Program provides information and training to ensure that service members separating from active duty are prepared for the next step in life, whether pursuing education, finding a job or starting a business. Fort Benning's Soldier for Life Center is in Building 9230 on Marne Road.
Libraries

Long Library / 706-545-4911
At MWR's Long Library on Eckel Avenue, you'll find a vast selection of reading material for all ages, as well as movies, music and more. Each summer, we host a popular reading program for school-age children, and throughout the school year, they'll enjoy book clubs, chess club and special activities. Preschool Story Hour, from 10 to 11 a.m. Wednesdays through the school year, offers big fun for the little ones. In addition to stories, preschoolers will enjoy games, songs and crafts.
While the little ones are having fun, browse our collection of books, CDs, DVDs, periodicals and databases or enjoy free internet access and Wi-Fi. Our librarians will help you with your homework or accesslanguage learning software and genealogy databases that typically cost money.
Donovan Research Library / 706-545-5661/6411
MCoE Donovan Research Library provides reference and research services. Resources include books, magazines, newspapers, audio books and DVDs in standard and e-formats. Collections include historical documents, student papers and post newspapers. Virtual service is available at www.benning.army.mil/library.
Patrons have access to computers, Wi-Fi, scanners, copiers, a fax machine and microform reader/printers. Donovan Research Library is on the first floor of Building 70, on the east side of McGinnis-Wickam Hall. The MCoE Virtual Branch Library, at www.benning.army.mil/library, provides access to the online catalog, information databases, digitized collections, e-books and audio collections.
Human Resources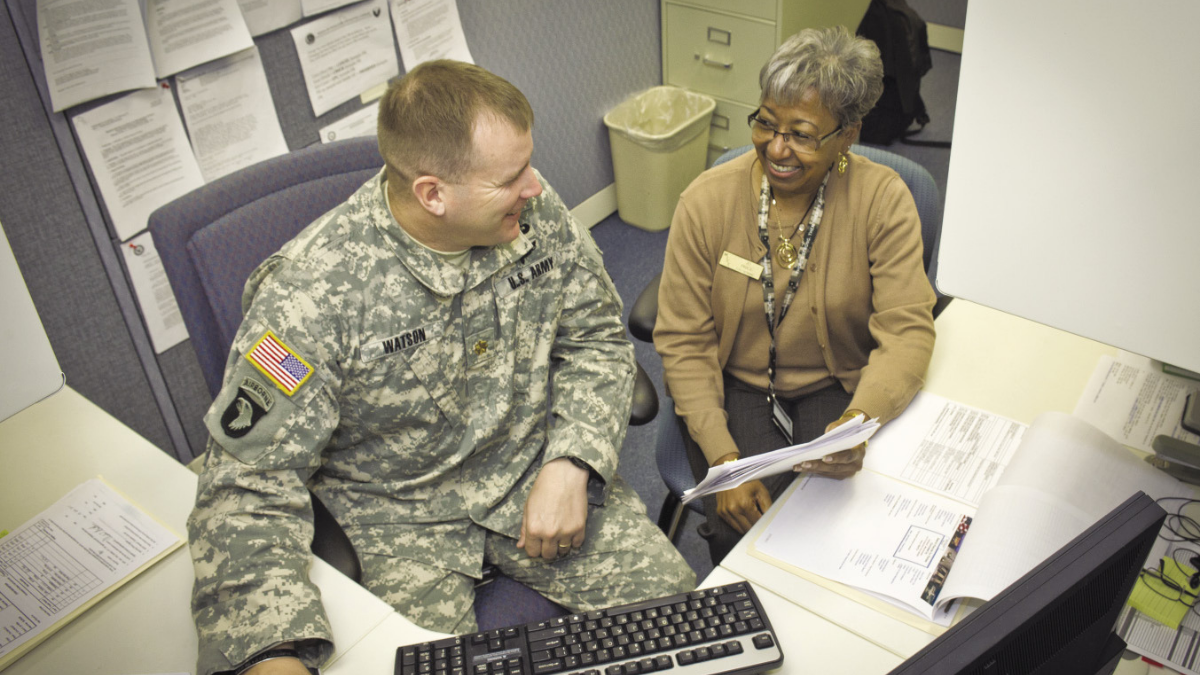 Military Personnel Division, Directorate of Human Resources / 706-545-4002
The Military Personnel Division provides personnel services required upon arrival and departure and other personnel actions initiated by the customer, including in- and out-processing, installation strength management services, eMILPO automation support services, reassignment actions, passport and visa applications, Soldier actions, OCS, Soldier Readiness Processing (deployment and redeployment), retirement and transition services processing, trainee and student personnel operations, processing of identification cards and tags, document certification, Defense Enrollment Eligibility Reporting System (DEERS) enrollment, line of duty investigations, casualty reporting assistance, military personnel files records maintenance, emergency forms preparation, personal affairs, DOD Forms 214 and publishing of orders. The following lists the branches that fall under MPD and services they provide.
Personnel Readiness Branch / 706-545-3768
The functions of the Personnel Readiness Branch involve notifying Soldiers of reassignment, verification of assignment eligibility, preparation of permanent change of station and family travel orders, and processing of deletion and deferment action by commanders. Except for TRADOC organizations, PRB is responsible for personnel manning for officer assignments, enlisted assignments and unit readiness, review of HQDA manning targets, requisitions for special skills, processing of incoming installation permanent party gains to units, assignment verification during in-processing, unit readiness reporting for personnel (NetUnit Status Reporting for FORSCOM units), classifications and special duty pay for permanent party personnel. The Personnel Automation Section handles the management of and access to eMILPO (Electronic Military Personnel Office) and is the point of contact for military personnel accountability for Fort Benning. It is responsible for installation access to the Enterprise Datastore application as well as monitoring AWOL situations and forward dropped from rolls (DFR) packets for the installation with the exception of 3rd Brigade. PAS is the point of contact for Personnel Asset Inventories. Within PAS also is a mobilization section responsible for all Reserve and Guard federalizations for contingency operations.
Personnel Operations Branch / 706-545-0160
The Personnel Operations Branch functions involve Casualty Operations (NOK notification, casualty assistance, funeral honors, etc.); Retirement Services Operations (retirement applications, Survivor Benefit Plan counseling, assistance to retirees and families, etc.); Deployment Cycle Support Operations (Administrative SRP for CRC and redeployment services, DD214 preparation, REFRAD orders, etc.); and Transition Services Operations (separation orders and DD214 and DD220 preparation for trainees, students and permanent party personnel).
Trainee/Student Branch / 706-545-8811
The Trainee/Student Branch provides all military personnel support services to trainees and Soldiers attending Initial Entry Training or professional development schools on Fort Benning. TSB also manages the Army Training Requirement & Resources System.
Personnel Services Branch / 706-545-9017
The Personnel Services Branch provides support to permanent party Soldiers upon arrival and departure from the installation. Services include in-processing and out-processing, military awards, promotions, Soldiers Actions, OCS applications, Defense Enrollment Eligibility Reporting System (DEERS) enrollment, ID cards and tags, military personnel files and voting assistance.