The Original Presidio of Monterey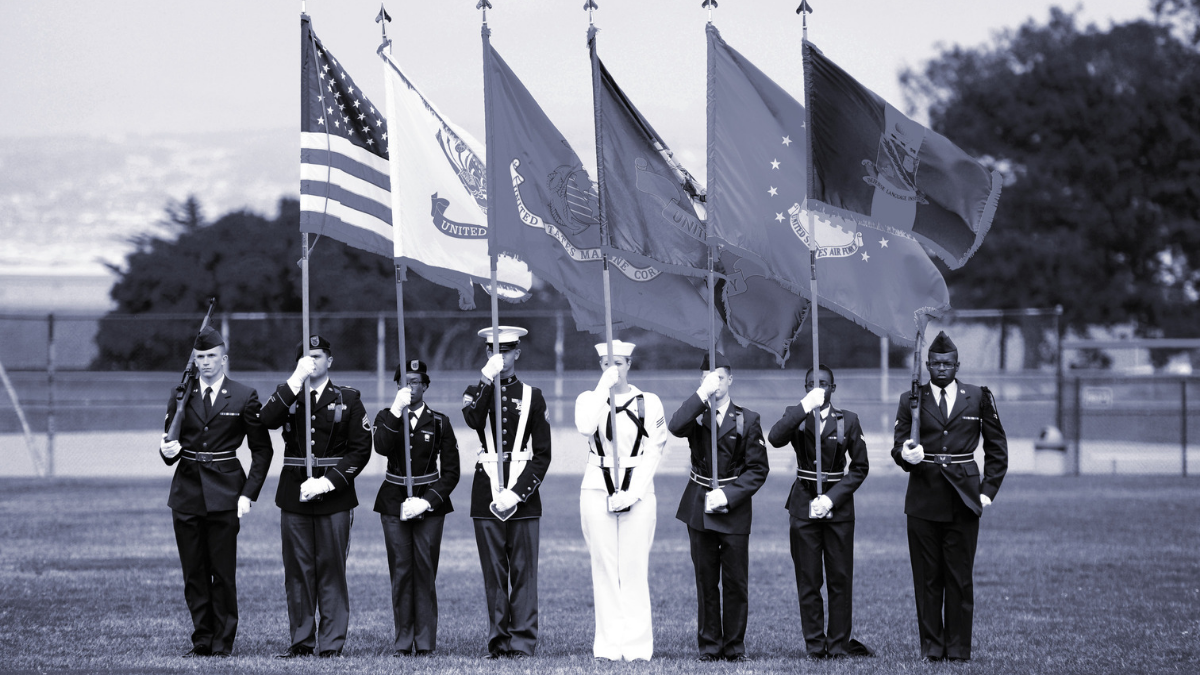 The military has played a vital role on the Monterey Peninsula since the area was claimed for Spain by Sebastian Vizcaino in 1602. Vizcaino named the bay Monterey in honor of his benefactor, Gaspar de Zuniga y Acevedo, Conde de (count of) Monterrey, then viceroy of New Spain (Mexico).
The Monterey Bay area was colonized by a small Spanish expedition that reached Monterey Bay in May 1770. Capt. Don Gaspar de Portola commanded the military component of this expedition and Franciscan Father Junipero Serra was in charge of the religious element. Portola officially took possession of Alta (upper) California for Spain, and Serra celebrated a Thanksgiving Mass on June 3, 1770. Portola established a presidio (fort) and mission at the southern end of Monterey Bay the same day, in accordance with his orders to "erect a fort to occupy and defend the port from attacks by the Russians, who are about to invade us." Portola's actions were spurred by the Spanish fear that other nations, particularly Russia, had designs upon its New World empire. Spain then moved to occupy that portion of the western American coast that it had previously neglected. The Monterey Presidio was one of four presidios and 21 missions established by Spain in California.
The original presidio consisted of a square of adobe building near Lake El Estero in the vicinity of what is now downtown Monterey. The fort's original mission as the Royal Presidio Chapel, established in 1770, was renovated and reopened in 2008. The original presidio, called El Castillo, was protected by a small fort with 11 cannons. It was built in 1792 on land now part of the present Presidio of Monterey. The original presidio fell into disrepair, as Mexican rule replaced that of Spain in 1822.
FORT MERVINE
Commodore John Drake Sloat, commanding the U.S. Pacific Squadron, seized Monterey in July 1846 during the Mexican War. He landed unopposed with a small force in Monterey and claimed the territory and the presidio for the United States. He left a small garrison of Marines and seamen who began improving defenses near the former El Castillo to better protect the town and the harbor. The new defenses were named Fort Mervine in honor of Capt. William Mervine, who commanded one of the squadron ships.
The U.S. fortification held many names in its early history, including Fort Halleck, Fort Savannah and the Monterey Redoubt. In 1852, it was renamed the Monterey Ordnance Depot and used until 1856 as a military storehouse. Closed from 1856 to 1865, the now-named Ord Barracks was abandoned the next year, although the U.S. War Department reserved 40 acres of land for possible future use.
THE PRESIDIO OF MONTEREY: 1902-1946
Near the end of the Philippine Insurrection in 1902, the Army recognized a need for West Coast fortification. As possible sites were being surveyed, the Army remembered Ord Barracks in Monterey. In July 1902, the Army announced plans to build a cantonment area and station an infantry regiment there. The 15th Infantry Regiment, which had fought in China and the Philippines, arrived in Monterey in September 1902 and began building the cantonment area. The 1st Squadron, 9th Cavalry, Buffalo Soldiers arrived shortly thereafter.
In 1902, the name of the cantonment area was the Monterey Military Reservation. It was changed to Ord Barracks on July 13, 1903, and to the Presidio of Monterey on Aug. 30, 1904.
Army Language Training Moves to Monterey

MILITARY INTELLIGENCE SERVICE LANGUAGE SCHOOL
On Nov. 1, 1941, the Army established the 4th U.S. Army Intelligence School at the Presidio of San Francisco to teach Japanese to Japanese-American (Nisei) soldiers in case of a possible conflict with Japan. War broke out in December 1941, and in 1942 the school was moved to Minnesota and renamed the Military Intelligence Service Language School. Almost all of the 6,000 wartime graduates of MISLS were trained in Japanese.
ARMY LANGUAGE SCHOOL
In 1946, MISLS was moved to the Presidio of Monterey. It added Russian, Chinese, Korean, Arabic and six other languages to its curriculum and was renamed the Army Language School in 1947. The size of the faculty and student classes and number of languages taught increased throughout the Cold War years.
DEFENSE LANGUAGE INSTITUTE
Different service language schools were combined in 1963, when the Army Language School was redesignated the Defense Language Institute West Coast Branch, with its headquarters in Washington, D.C. The Navy school became the Defense Language Institute East Coast Branch. The Air Force programs were phased out by 1970. The U.S. Air Force English Language School for foreign military personnel at Lackland Air Force Base, Texas, became the Defense Language Institute English Language Center.
During the Vietnam conflict the need for Vietnamese language training was so great that a special branch, the Defense Language Institute Southwest Branch, was established at Biggs Air Force Base near El Paso, Texas. This branch was phased out in 1973, but not before the Defense Language Institute had given more than 20,000 service members experience with the Vietnamese language.
When the U.S. Army Training and Doctrine Command was established in 1973, the Defense Language Institute was placed under its control. In 1974, the institute headquarters and the East Coast branch merged with the West Coast branch at the Presidio of Monterey. In 1976, the English Language Center was separated from the rest of the institute, and the school at Monterey became the Defense Language Institute Foreign Language Center.
Presidio of Monterey Garrison Command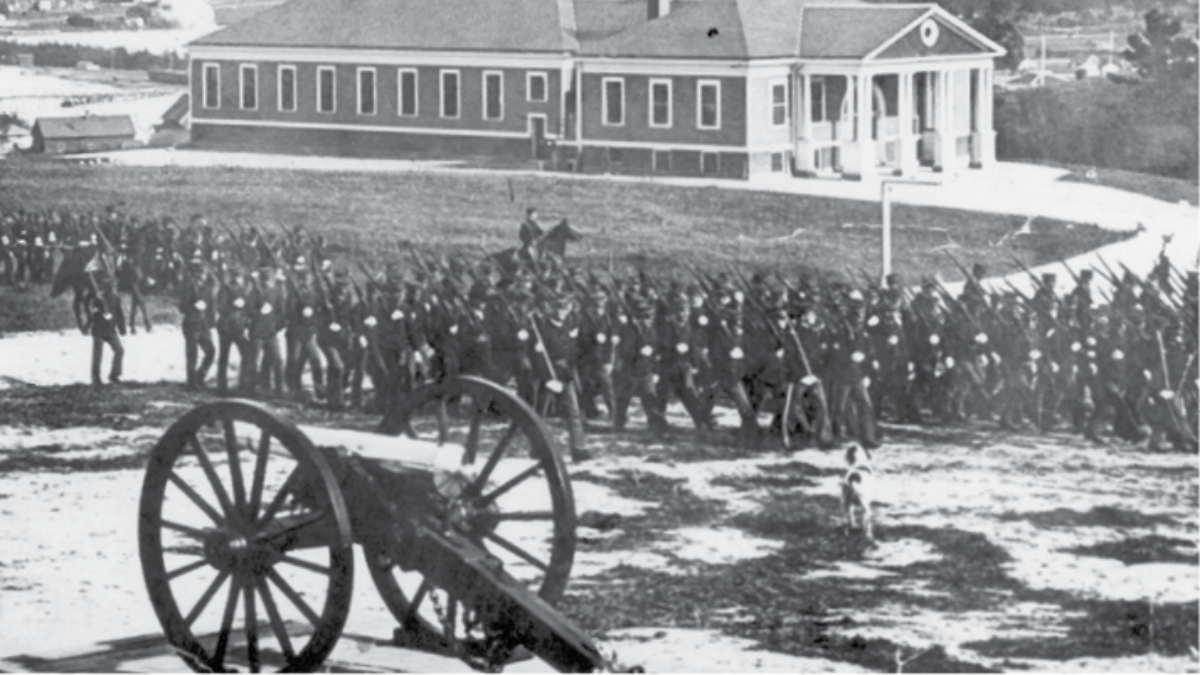 For many years the Presidio of Monterey was a sub-installation of the nearby Fort Ord. When Base Realignment and Closure shut down Fort Ord on Sept. 30, 1994, the Presidio of Monterey became a separate installation under the U.S. Army's Training and Doctrine Command. It retained nearly 1,900 units of military family housing and support facilities at the former
Fort Ord, such as Army Community Services, the commissary and post exchange, on what is now known as Ord Military Community.
The Army established the Installation Management Agency on Oct. 1, 2003, to separate the administration of post services and logistics from the senior commander at an installation. At the presidio, a garrison commander (Army colonel) and command sergeant major head up a staff of service directorates that runs all base functions, supporting all tenant units and commands. In 2006, Installation Management Command was created. It is currently headed up by a three-star Army general with its headquarters at Fort Sam Houston, San Antonio, Texas.
DEFENSE LANGUAGE INSTITUTE FOREIGN LANGUAGE CENTER
Mission
DLIFLC provides culturally based foreign language education, training, evaluation and sustainment to enhance the security of the nation.
About DLIFLC
DLIFLC is regarded as one of the finest schools for foreign language instruction in the nation. Resident instruction provided at the Presidio of Monterey consists of more than a dozen languages and several dialects taught five days a week, seven hours per day, with two to three hours of homework each night. Courses last between 36 and 64 weeks, depending on the difficulty of the language.
The present facilities at the Presidio of Monterey accommodate approximately 3,500 Soldiers, Marines, Sailors and Airmen, as well as select DOD members and the U.S. Coast Guard. To attend DLIFLC one must be a member of the armed forces or be sponsored by a government agency.
DLIFLC students are taught by more than 1,800 highly educated instructors, 95 percent of whom are native speakers of the languages they teach. Aside from classroom instruction, faculty members also write course materials, design defense language proficiency tests, conduct research and provide analysis.
To further advance student knowledge in a particular language, DLIFLC has designed an immersion program, which consists of an off-site facility where students spend one to three days in an isolated environment with their instructors and are not allowed to speak English. The facility is equipped with kitchens and sleeping quarters, while the program consists of real-world exercises, from bargaining for food and clothing at a marketplace, to going through customs or making hotel reservations. DLIFLC also sends a number of students on 30-day, in-country immersions.
Nonresident continuing education instruction primarily takes place near the presidio at Ord Military Community in Seaside, California. Intermediate, advanced and refresher courses are conducted at this facility. DLIFLC also maintains language training detachments at numerous sites worldwide, where DLIFLC instructors are assigned to teach language sustainment and enhancement courses at the request of a particular military service.
Instructor mobile training teams travel year-round to deliver from two days to six weeks of training, depending on the needs of the requesting unit. Additionally, DLIFLC instructors teach within the scope of the Professional Military Education System at military schools such as the Command and General Staff College, the Air War College and the Naval Postgraduate School.
To support the general purpose force, DLIFLC produces Language Survival Kits, which are pocket-size pamphlets with CDs designed to be used in the field and range in topics from search and cordon to medical terminology.
DLIFLC also offers a program called Headstart2, consisting of an interactive, 80-hour, self-paced program that teaches basic language, culture, and limited reading and writing. The avatar characters used in this product are designed to function along the lines of today's interactive computer games. Headstart2 is currently available in nearly 40 languages.
For more information about foreign language materials, please go to www.dliflc.edu.
THE DLI FOUNDATION
In 2014, the Defense Language Institute Alumni Association, founded in 2001, joined the DLI Foundation. The DLI Foundation is a public-benefit nonprofit corporation in the state of California and is tax exempt under Section 501(c)(3). The purpose of the foundation is to promote the institutional advancement of DLIFLC and its alumni by developing, coordinating and promoting programs that attract support and participation of alumni; by offering opportunities for career networking and mentoring; by showcasing DLIFLC academic programs and students, alumni and faculty achievements; by coordinating events, seminars, dinners and speaking tours; and by bringing together alumni in a professional and social setting. For more information, visit www.dli-foundation.org.
CHECKING IN
Both Taylor Hall and Rasmussen Hall are on Lawton Road. If you're arriving during the duty day, go to Taylor Hall (Building 616) at the corner of Lawton and Rifle Range roads near the Franklin Street Gate. After duty hours, go to your respective service duty office.
Pvt. Bolio Gate is open 24/7 for vehicle and pedestrian access. Visitor passes are issued 24/7 for authorized visitors with license, proof of insurance and vehicle registration.
IN-PROCESSING AT POM
After unit in-processing, all service members will attend the joint service in-processing brief; it is mandatory for all newly assigned military members of all ranks and services. The brief is conducted to provide a one-stop in-processing station to ensure military members process with all installation and community-level agencies. The brief is conducted every Tuesday. It consists of briefings and in-processing stations.
For more information, contact the Directorate of Human Resources, U.S. Army Garrison, Presidio of Monterey, at 831-242-5210/7212 or DSN 768-5210/7212.
Military Units at POM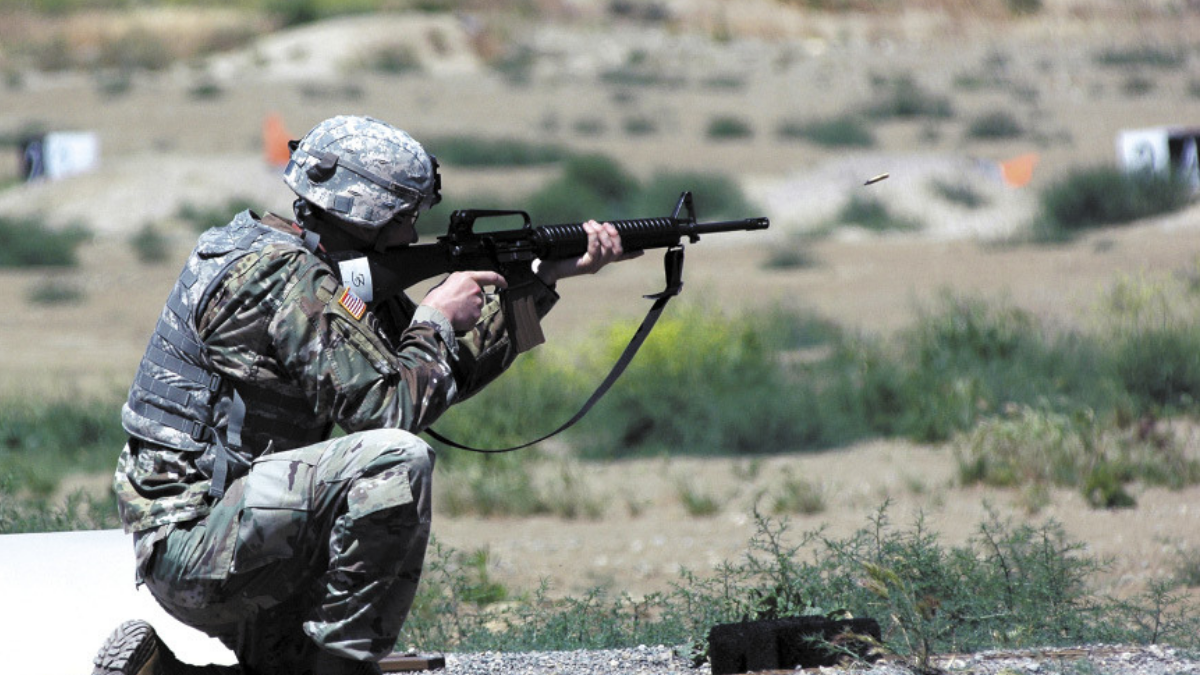 The academic regimen at DLIFLC is rigorous. Students attend class six hours a day and complete two hours of homework each night. A typical school day covers two weeks of normal college language curriculum, and the typical language course is the equivalent of four to five years of college language training. First-term service members typically share a room in the barracks with telephone service, cable television and internet service available.
See detailed family housing information in the Military Community Services section beginning on Page 18. As parking on the presidio is at a premium, commuting via the free Monterey-Salinas Transit bus service (cost is subsidized by DOT) is highly recommended.
U.S. ARMY: 229TH MILITARY INTELLIGENCE BATTALION
Mission
The 229th Military Intelligence Battalion provides Army-ready Soldier linguists. The commander's priorities include developing leaders; mental, physical and moral fitness (discipline); and teamwork. Battalion Soldiers strive to become linguists for the Army who are Soldiers first and intelligence professionals second to none. The battalion balances military and academic training, maximizing the potential for Soldier success in DLIFLC's culturally based foreign language education and training. The battalion promotes the Warrior Ethos, lifelong learning and combat readiness, while ensuring the welfare of Soldiers and their families. The battalion encourages agile and adaptive leaders to lead with initiative, courage and discipline and engages the community positively as contributing citizens and neighbors.
On average, 950 Soldiers face challenging language education at any given time during the year. Combined with permanent party cadre, personnel strength exceeds 1,200 Soldiers in the battalion with students enrolled in all of DLIFLC's language schools. With that, the 229th Military Intelligence Battalion is one of the largest and most diverse battalions in TRADOC.
Six companies comprise the battalion. Each company is responsible for the billeting, discipline, morale and welfare of its Soldiers. Companies A, B, C, D and F provide command, control, training, administration and supply support to Initial Entry Training Soldiers and careerist Soldiers through the rank of staff sergeant. More than 40 percent of the Soldiers attending the Defense Language Institute are Initial Entry Training Soldiers.
Companies A through D and F are organized by the languages their students are learning: Companies A and C are Middle East languages, Company B students are in European and Latin schools, Company D includes east Asian languages and Company F handles central Asian languages. Company B also performs the reception mission, and all Initial Entry Training Soldiers report to Company B immediately following Basic Combat Training. Company E provides command, control, training, administration and supply support to assigned and attached careerist student personnel, including officers and senior NCOs. Company E also coordinates with the foreign area officer program coordinator to enhance foreign area officer assignments, training and administrative support.
In addition to language and military skills training, the Soldiers of the 229th participate in a wide range of intramural athletics and community service activities. For more information, visit https://home.army.mil/montery/Service_Units/229th_mib.html.
U.S. ARMY: HEADQUARTERS AND HEADQUARTERS COMPANY
The primary mission of HHC, DLIFLC and POM is to provide command and control for the installation. This company is composed of permanently assigned Soldiers at DLIFLC and POM — on average, 100 Soldiers. Soldiers that belong to this company include the staff, all Army military language instructors and all support elements at the Defense Language Institute not assigned to the 229th Military Intelligence Battalion.
HHC Soldiers are actively engaged in the administration of the institute as well as teaching the military aspects of language instruction to linguist students from all military services. Military language instructors in HHC teach Arabic (modern and Iraqi dialect), Chinese, Korean, Persian Farsi, Russian, Spanish, Tagalog and many others.
Some of the support services provided by HHC Soldiers include administrative actions, supply transactions, legal advice, inspector general, equal opportunity, retention and chaplain support. For further details and information regarding HHC, DLIFLC and POM, visit https://home.army.mil/montery.
U.S. MARINE CORPS DETACHMENT
Mission
Provide operational, administrative and logistical support for Marine Corps personnel assigned for duty in the Monterey Peninsula area. Coordinate and integrate language training for Marines attending the Defense Language Institute in support of Marine Corps requirements.
Detachment Information
MARCORDET Presidio of Monterey is under the command of the Marine Corps Training and Education Command in Quantico, Virginia, and is administratively responsible for more than 700 Marines attending training at the Naval Postgraduate School and the DLIFLC. DLIFLC is the premier language training institution in the nation with standards that surpass all other undergraduate- and graduate-level language study programs in the United States.
The detachment is broken into four companies: Alpha, Bravo, Charlie and Headquarters. Alpha, Bravo and Charlie companies are organized by language.
All officer students and permanent staff are organized into Headquarters Company, with the exception of the assigned student company commanders.
Officers attending the Naval Postgraduate School are administratively assigned to MARCORDET Presidio. The world-class faculty of the Naval Postgraduate School trains the best and brightest military officers from all services, U.S. government agencies and allied nations on real-world military and defense issues. The Naval Postgraduate School provides its students with the intellectual know-how and practical skills to improve defense technologies, systems and programs. Officers attending the Naval Postgraduate School will spend 18 to 36 months depending on their course of study. The Marine Corps Representative, Naval Postgraduate School is responsible for day-to-day accountability and training for Naval Postgraduate School Marines.
Additional information on MARDET Presidio can be found at www.trngcmd.marines.mil/Units/Northeast/MCIS.aspx.
Checking In
The Marine Corps Detachment is prepared to receive new-joins 24/7. Normal working hours are 7:30 a.m. to 4:30 p.m. Monday through Friday. During this time, check-in will be conducted at the Detachment S-1. After normal working hours and during the weekend and holidays, check in with the detachment duty NCO in the Marine Corps Detachment, Building 629B. If you experience any problems, you can reach the duty NCO at 831-242-6855. Marines typically share a room in the barracks with telephone service, cable television and internet service available.
Marine Uniforms
Uniform for check-in is Service A for all personnel. Marine Corps uniform items are available in limited quantities at the post exchange, therefore, Marines should attempt to acquire all needed uniform items prior to arrival or seek to purchase any uniform items online. Unlike other services, Marines are not authorized for walking off post in utilities.
U.S. NAVY: INFORMATION WARFARE TRAINING COMMAND – MONTEREY
Mission
The mission of the Information Warfare Training Command – Monterey is to develop fleet-ready Sailors who possess the basic foreign language skills necessary to support the nation's war-fighting and intelligence operations.
Located on the Presidio of Monterey U.S. Army Garrison, the command provides administration oversight of all Sailors attending language courses at the DLIFLC.
Personnel
The unit consists of about 45 staff and 700 to 800 students. About 20 staff members are from the cryptologic technician interpretive branch, who serve as military language instructors in DLIFLC classes and as well as LPOs and LCPOs in the detachment. The majority of Sailors at DLIFLC are Initial Entry Training students attending Class A school for the cryptologic technician interpretive rating, and approximately 75 officers per year have follow-on orders to Personnel Exchange Program billets or billets for which their community desires them to obtain foreign language skills.
Checking In: Warfare Training Command
Information Warfare Training Command – Monterey maintains a 24-hour quarterdeck for all check-ins in Building 629A. If you experience any problems with your travel en route, you can reach the assistant command duty officer at 831-242-5142. Normal working hours are 7:30 a.m. to 4 p.m. The command occupies five barracks buildings and one administration building.
With the Naval Postgraduate School in Monterey, there is a Navy Exchange available for Navy and Marine Corps-specific
uniform items.
View the command's website at https://home.army.mil/montery/Service_Units/IWTC_Monterey.html.
U.S. AIR FORCE: 517TH TRAINING GROUP'S 311TH AND 314TH TRAINING SQUADRONS
Mission
The mission of the 517th Training Group is to train Airmen as linguists, develop Airmen skills and instill Air Force values. Airmen
Both squadrons are not only taught a language but also the values and military skills necessary to excel as Airmen and linguists.
Checking In: Military Training Flight
Headquartered in Building 627. On average, about 1,200 Airmen study a language here at any time. Shortly after arrival, inbound personnel will be assigned to a Military Training Flight according to the language they will be learning. The function of the MTF is to provide Airmen readiness training while supporting the language-training mission of the institute. Military training leaders provide guidance to students on military training issues while academic training advisers work closely with the schoolhouses and students to ensure academic needs are being met.
The training squadrons work closely with the language schools to monitor student progress and implement additional language training programs. The 314th provides an introductory course, Jump Start, to all incoming Airmen, and the presidio provides Smart Start and Post Language Training to maximize opportunities for success.
Air Force Uniforms
Regardless of Air Force specialty code, all Airmen are expected to bring uniforms to include the service dress uniform, short-sleeve and long-sleeve blues, Airman battle uniform and battle dress uniforms or flight suits. Airmen will wear the issued camouflage cap with ABUs and BDUs but are not authorized to wear baseball-style caps with ABUs and BDUs.
Graduating Airmen must be in service dress, which is also recommended for those attending graduation ceremonies.
View the POM Air Force website at www.monterey.army.mil/Service_Units/517th.html.
Army Continuing Education System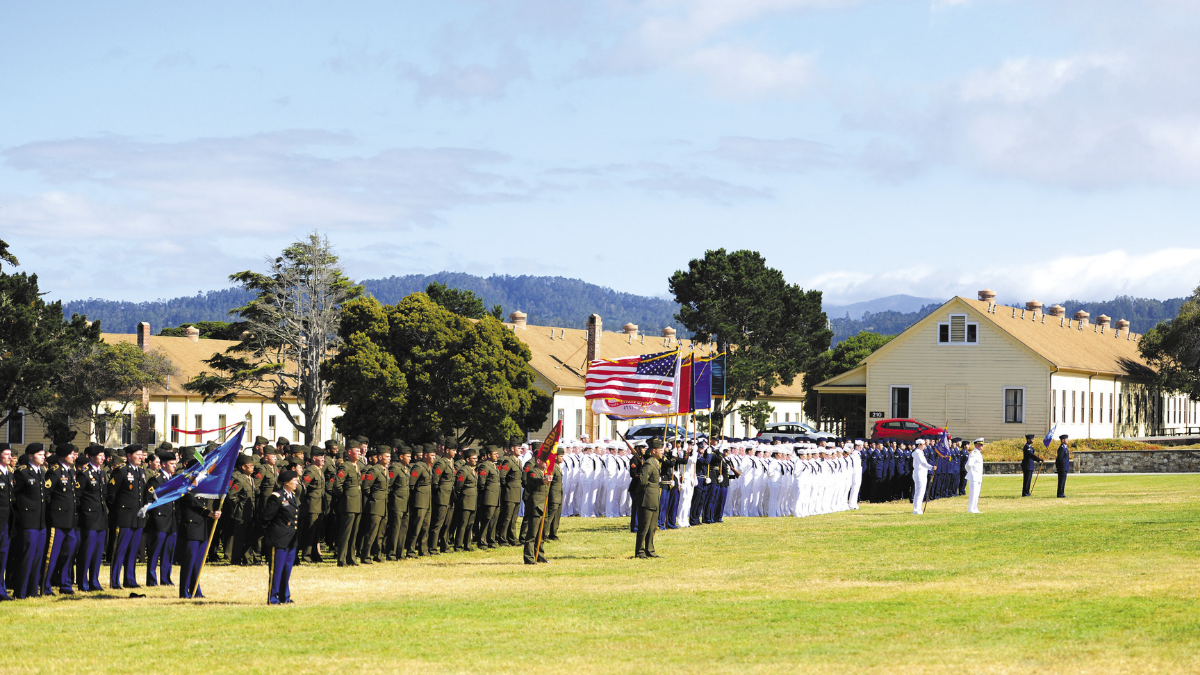 The Presidio of Monterey Education Center's mission is to provide professional educational services to support the personal and professional development goals of Presidio of Monterey community members. It is in Building 636B, Rifle Range Road, on the Presidio of Monterey. The telephone phone is 831-242-5325, DSN 768-5325. The fax number is 831-242-6817. For detailed information on local and distance learning schools (Community College of the Air Force; Naval Postgraduate School; Monterey Peninsula College, California State University at Monterey Bay; Brandman University; Monterey Institute of International Studies; Monterey College of Law; Excelsior College), visit
www.monterey.army.mil/Education_Services/education_main.html.
POSTSECONDARY PROGRAMS
Defense Language Institute Foreign Language Associate of Arts Degree Program
Service members who complete language studies at the Defense Language Institute earn 45 semester hours toward a college degree. By completing minimal additional general education requirements, students can earn an associate degree in the language studied. For more information, visit www.dliflc.edu.
EDUCATION PROGRAMS
Professional Counseling Services
Guidance counselors are available to assist military personnel and adult family members with achieving educational and occupational goals. Meeting with a counselor is key to becoming acquainted with programs and services that support one's needs. Counseling is available on a walk-in or appointment basis.
THE MILITARY LEARNING FACILITY
The Military Learning Facility provides a comfortable location where service members can pursue educational and career development research with the internet.
Student Life

DINING FACILITIES
The food service program provides two full-service dining facilities and an a la carte fast-food kiosk. The food service program is structured to incorporate popular foods while providing nutritious meals and a consistently relaxed dining experience for all service members.
IDENTIFICATION CARDS
ID Card Section
Building 616, Taylor Hall, Suite 111
Telephone 831-242-5209
Hours: 8 a.m. to 4 p.m. Monday through Friday.
Identification cards for service members, family members and NAF employees can be obtained at the ID Card Section.
NAF employees must bring a completed DD Form 1172 from their unit-verifying official who has a signature card on file with the ID Card Section.
Military family members must meet one of the following criteria to obtain an ID card:
• Be accompanied by their sponsor.
• Present a notarized DD Form 1172.
• Present a DD Form 1172 verified by any ID card-issuing facility.
Retirees may also get a new ID card from the ID card issue facility. They must show either the old ID card or bring photo identification such as a driver's license if the ID card has been lost or stolen.
For further information, contact the ID card facility. To make an appointment, go to
www.monterey.army.mil/Human_Resources/id_card.html.
FINANCE
Defense Military Pay Office
412 Rifle Range Road
POM, Building 616, Taylor Hall
Hours: 7:30 a.m. to 4 p.m. Monday through Friday.
For all customer service inquiries, Soldiers must go through their unit administrator prior to reporting to the finance office.
Pay inquiries must be signed by commanders, first sergeants or unit administrator representatives.
Please direct customer service inquiries to 831-242-4783.
UNITED STATES POST OFFICE
Building 517, Private Bolio Road
Hours: 9:30 a.m. to 3:30 p.m. Monday through Friday, closed for lunch 1 to 2 p.m.
LIBRARY
The Aiso Library Learning Center provides print and multimedia resources for the DLIFLC on POM. It supports the faculty, students and staff in carrying out their mission to provide foreign language training to the military community. It supports both the residential training programs and the distance education programs of the DLIFLC, including assistance to command language programs.
The library collection comprises approximately 115,000 items containing 39 foreign language collections. In addition to books, there are pamphlets, maps, games, audio and video recordings, newspapers, magazines, journals and software for circulation. All levels of comprehension are covered. A broad range of subjects is covered in each language. The general collection concentrates on linguistics, language teaching and area studies. The library has computer workstations with internet access, Wi-Fi, cable broadcasts, and word processing and language software. Full borrowing privileges are extended only to the DLIFLC community. For specific privileges, contact the library. The library has agreements with other area libraries for reciprocal library use. Command language programs can use their post or school libraries for interlibrary loans directly to Aiso. Call 831-242-5578.
STAFF JUDGE ADVOCATE
Legal Assistance
The Legal Assistance Office assists active-duty personnel and retirees of all branches and their family members with their personal legal affairs. Free help is available for nonmilitary matters such as writing wills, understanding rental contracts, dealing with creditors, preparing and filing income tax returns, counseling on divorce, advising on civil suits, preparing powers of attorney and notarizations.
Visit the Army Legal Assistance website at www.jagcnet.army.mil/legal. This webpage has additional information on a variety of personal legal affairs and provides general information. Every case is different. For specific advice, consult a legal assistance attorney or a private attorney or other professional of your choice.
The Legal Assistance Office/Tax Center is in Cottage 358 on Buffalo Soldier Trail off Private Bolio Road, Presidio of Monterey. Follow the tax center signs and use the tax center parking spaces on Buffalo Soldier Trail. Call 831-242-5084 to make legal assistance appointments. Call 831-242-7365 for tax center appointments.
Claims
Another important service the legal office provides is that of processing claims for personal property damage sustained during permanent change of station moves. If you wish to file a claim, the Personnel Claims Section is open 9 a.m. to 2 p.m. Monday through Friday on a walk-in basis. If you cannot make it during these hours, call 831-242-6396 for an appointment.
TRANSPORTATION SERVICES
The Transportation Office provides a variety of services. For more information call the following numbers:
Household Goods (Inbound) 831-242-5096
Household Goods (Outbound) 831-242-5330
Passports/Port Call 831-242-5203
Commercial Travel Office 800-350-4219
Transportation Motor Pool 831-242-7791
Shuttle Services (non-MST) 831-242-6380
PUBLIC AFFAIRS OFFICE
The Presidio of Monterey Public Affairs Office coordinates presidio and Defense Language Institute interactions with the news media and publishes the InBrief newsletter online. For more information, call 831-242-5555 or visit the Public Affairs Office in Building 614 on the presidio. Find the office online at https://home.army.mil/montery, on Twitter @POMgarrison and on Facebook at www.facebook.com/USAGPresidio.
CIVILIAN PERSONNEL ADVISORY CENTER
The CPAC provides the full spectrum of human resources services to about 2,300 civilian employees who work for the DLIFLC, the various tenant activities and the U.S. Army garrison that supports the Defense Language Institute. Although employees work primarily at the Presidio of Monterey or the Ord Military Community, many DLIFLC employees are at various language training detachment sites throughout the United States and abroad. Employees work in a variety of occupations ranging from administrative support assistants to language instructors and professors. The CPAC is in Building 277 and is open 7:45 a.m. to 4:45 p.m. Monday through Friday. For employment assistance, call 831-242-5160.
NONAPPROPRIATED FUND HUMAN RESOURCES OFFICE
The NAF Human Resources Office is a part of the CPAC and is in Building 277. NAF employees work in various activities on the Presidio of Monterey and Ord Military Community, including the Army Community Service Branch, Youth Services, Outdoor Recreation and the Child Development Center. For employment assistance, call 831-242-6119.
Family, Morale, Welfare & Recreation Facilities Located on POM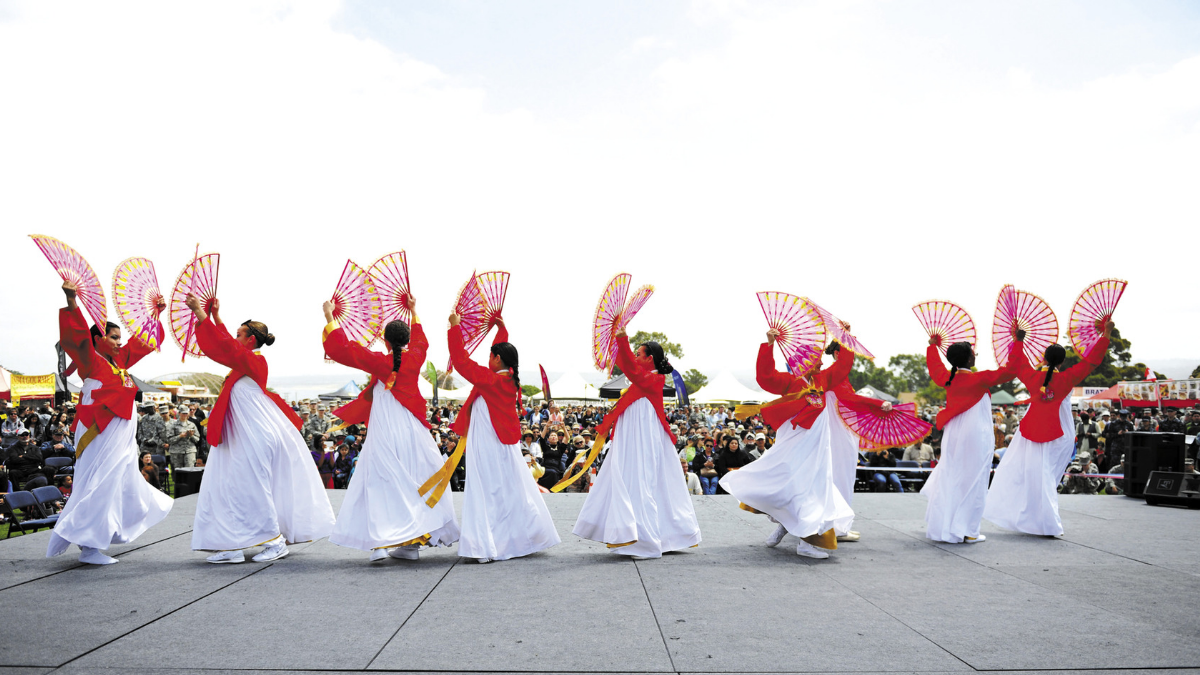 HOBSON RECREATION CENTER
POM, Building 843 831-242-5447/5377
The Hobson Recreation Center has a variety of equipment for checkout (for use on-site), which includes: Xbox 360 and Xbox One, PlayStation 3 and 4, Nintendo 64 and Nintendo GameCube video games, an assortment of musical instruments, board games, more than 400 DVDs, including new releases, and newly released movies and games every Tuesday. The center has three soundproof music rooms, two table tennis tables, three billiards tables, air hockey tables, shuffleboard and two theaters. Catch all the action on five large-screen TVs with surround sound and 12 wireless computers with internet access. The center is open daily, maintaining operational hours that meet the social needs of service members.
JAVA CAFE
Upper POM (Hobson), Building 843 831-242-7323
Mid-POM, Building 632 831-242-7123
Lower POM, on Soldier Field 831-236-3274
There are three Java Cafe locations on the presidio. They offer specialty sandwiches, breakfast pastries, snacks and salads. Java Cafe brews Starbucks hot and cold beverages. Free Wi-Fi is available at the upper and mid-POM locations.
PRICE FITNESS CENTER
POM, Building 842 831-242-5557
Price Fitness Center offers a Cardio Theater room with state-of-the-art equipment, a functional-fitness facility, five racquetball courts, a squash court, three basketball courts across a main court and an indoor track. It also houses three physical training areas to include cardio, Life Fitness Strength and Hammer Strength equipment, a martial arts room, men's and women's locker rooms with saunas, a classroom and a sun deck. Weekly fitness classes and personal training sessions are offered for an additional fee. Adjacent to Price Fitness Center is an artificial turf football and soccer field; a six-lane, all-weather track; two combination tennis and basketball courts; a sand volleyball court; and a large picnic area.