History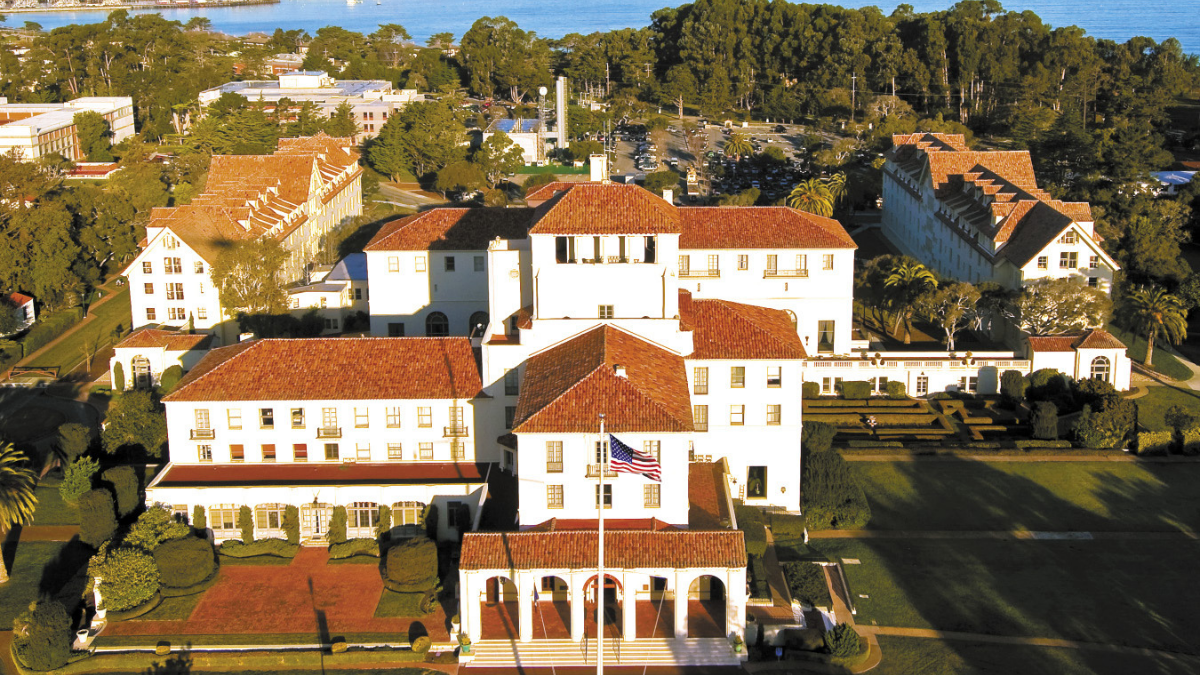 The idea for a graduate education program for naval officers emerged in the late 19th century, but the concept found few advocates initially. With Guglielmo Marconi's invention of the "wireless" in 1901, the Wright brothers' flight in 1903 and the global trek of the steam-powered White Fleet from 1907 to 1909, belief that advanced education for U.S. naval officers could be intrinsically valuable to the Navy gained support.
On June 9, 1909, less than four months after the completion of the record-setting world cruise of the Great White Fleet, Secretary of the Navy George von L. Meyer signed General Order No. 27, establishing a school of marine engineering at Annapolis.
This small program, consisting of 10 officer students and two Navy instructors, would later become today's Naval Postgraduate School. The Navy secretary's order placed the fledgling school under the direction of the Naval Academy superintendent, who was charged with "securing ample use of the educational plant of the Naval Academy to students and instructors of the school without interfering with the instruction of midshipmen." This translated into two attic rooms being set aside for classroom and laboratory space for the school.
Within three years, Meyer agreed to a proposal to change the school. On Oct. 31, 1912, he signed Navy General Order No. 233, which renamed the school the Postgraduate Department of the Naval Academy. The order established courses of study in ordnance and gunnery, electrical engineering, radio-telegraphy, naval construction and civil engineering, as well as continuing the original program in marine engineering. With the additional curricula, enrollment increased to 25. Officers who attended the school finished their academic programs at civilian institutions such as Yale, Harvard, the Massachusetts Institute of Technology, and Johns Hopkins and Columbia universities.
During World War II, Fleet Adm. Ernest King, chief of naval operations and commander in chief of both the Atlantic and Pacific fleets, established a commission to review the role of graduate education in the Navy. The recommendations from this group, the Pye Commission, were regarded highly within the Navy and Congress. In 1945, Congress passed legislation to make the school a fully accredited, degree-granting graduate institution. Two years later, Congress adopted legislation authorizing the purchase of an independent campus for the school.
A postwar review team, which had examined 25 sites nationwide, had recommended the old Hotel Del Monte as a new home for the postgraduate school. The Navy had come to Monterey during World War II, leasing the Hotel Del Monte in early 1943 for a preflight training school, subsequently using the facility for other training programs.
Negotiations with the Del Monte Properties Co. led to the purchase of the hotel and 627 acres of surrounding land for $2.13 million.
In December 1951, in a move virtually unparalleled in the history of academe, the postgraduate school moved lock, stock and wind tunnel across the nation, establishing its current campus in Monterey. The coast-to-coast move involved 500 students, about 100 faculty and staff, and thousands of pounds of books and research equipment. Rear Adm. Ernest Edward Herrmann supervised the move that pumped new vitality into the Navy's efforts to advance naval science and technology.
Since that time, the student population at the Naval Postgraduate School has grown to nearly 3,000, with students coming from all service branches of the U.S. defense community, as well as from the Coast Guard, the National Oceanic and Atmospheric Administration, the Department of Homeland Security and the services of more than 100 allied nations to date. Today, the school provides approximately 70 programs of study, ranging from the traditional engineering and physical sciences to the homeland security and rapidly evolving space science programs.
Naval Support Activity, Monterey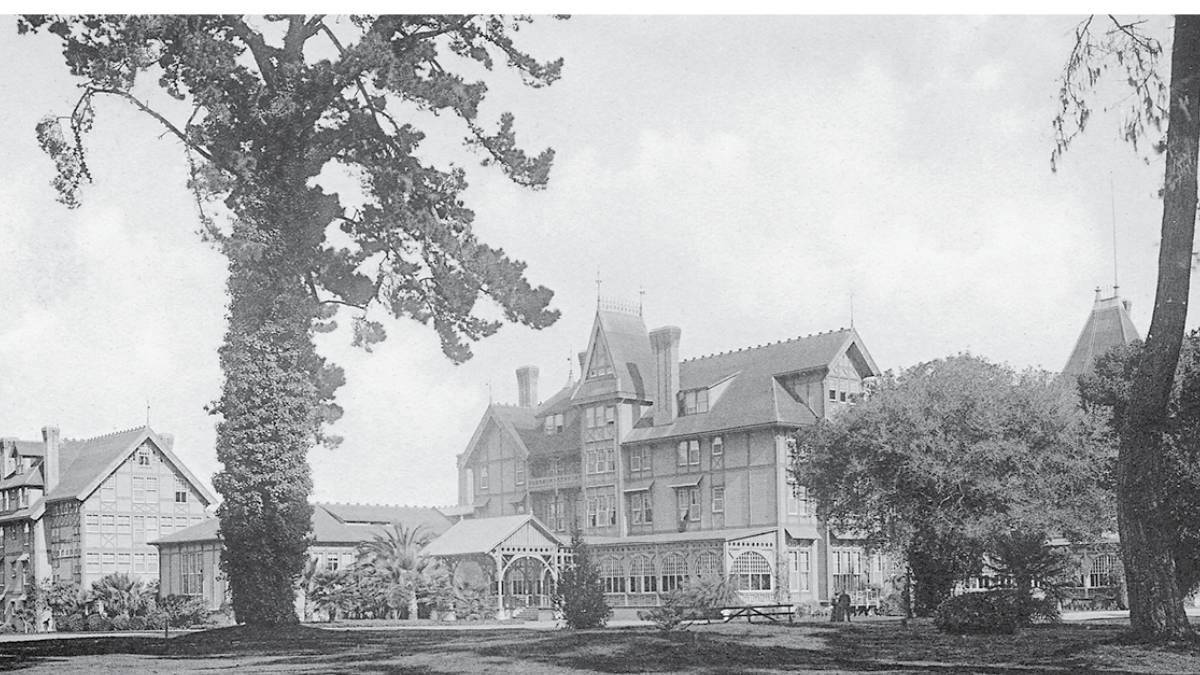 Established in 2010, Naval Support Activity Monterey is a multifunction organization dedicated to providing responsive, high-quality base operations support to enable its tenants to accomplish their mission. Home to more than 15 tenant commands, NSA-Monterey provides primary support to the Naval Postgraduate School, Navy Research Lab, and the Fleet Numerical Meteorology and Oceanography Center. NSA-Monterey supports more than 160 buildings, which are located on more than 627 acres.
Gate Access
Note: Gate hours and operations are subject to change at any time due to force protection needs.
Main Gate (Sloat Avenue)
24/7
Del Monte Gate
Hours: 7 to 8:30 a.m. and 4 to 5:30 p.m. Monday through Thursday; 7 to 8:30 a.m. Friday
Annex Gate
Hours: 7 a.m. to 4 p.m. Monday through Friday
Vehicle Pass and ID Office
Vehicle Pass and ID Office, outside of the Main Gate (Sloat), is open throughout the day for temporary passes and decals. Call 831-656-3643 or visit https://my.nps.edu/web/nsam/operations-and-management.
NPS at a Glance
Established in 2010, Naval Support Activity Monterey is a multifunction organization dedicated to providing responsive, high-quality base operations support to enable its tenants to accomplish their mission. Home to more than 15 tenant commands, NSA-Monterey provides primary support to the Naval Postgraduate School, Navy Research Lab, and the Fleet Numerical Meteorology and Oceanography Center.
GATE OPERATIONS
Note: Gate hours and operations are subject to change at any time due to force protection needs.
Sloat Main Gate:
24/7
Del-Monte Gate:
0700-0830 / 1600-1730 M-Th and 0700-0830 on Fridays
Annex Gate:
24/7
PASS AND ID OFFICE
(831) 656-3477 or (831) 656-3643
Services are located at the Sloat Main Gate. Pass/ID Office Hours: Monday-Friday 0700-1500. Closed for lunch from 1130-1200. Closed Holidays.
NPS AT A GLANCE
THE SCHOOL
The Naval Postgraduate School is an academic institution whose emphasis is on study and research programs relevant to the Navy's interests, as well as to the interests of other arms of the Department of Defense and U.S. allies and coalition partners. The programs are designed to accommodate the unique requirements of the military.
MISSION
The mission of the school is to provide high-quality, relevant and unique advanced education and research programs that increase the combat effectiveness of the naval services, other armed forces of the U.S. and its partners to enhance our national security.
THE CAMPUS
Located in Monterey on the Pacific Ocean 140 miles south of San Francisco, the Naval Postgraduate School campus covers 627 acres. The site, which has been home to the school since 1951, houses state-of-the-art laboratories, numerous academic buildings, a great federal repository library, government housing and impressive recreational facilities.
THE STUDENTS
On average, about 1,600 resident and 1,200 nonresident students are enrolled in degree programs at the Naval Postgraduate School. The student body consists of officers from the five U.S. uniformed services, officers from more than 40 other countries and civilian employees.
Selection of officers for fully funded graduate education is based on outstanding professional performance as an officer, promotion potential and a strong academic background.
THE FACULTY
Faculty members, a majority of which are civilians, are drawn from a broad diversity of educational institutions and represent a world-class collection of scholars. Faculty-student interaction is high. Every class is taught directly by a faculty member — more than 99 percent have a Ph.D.
ECONOMIC EFFECT
The Naval Postgraduate School's effect upon the Central California coast by the numbers:
• 2,541 — Total number of faculty, students and staff members (military and civilian).
• $450 million — Total annual operations and military salary.
• $270.6 million — Total annual expenditures.
DEGREES CONFERRED
The Naval Postgraduate School offers courses leading to advanced degrees in a variety of fields, including:
Master of Arts
Degrees in identity management and cyber security, management and security studies.
Master of Science
Degrees in aerospace engineering, applied mathematics, applied physics, applied science, astronautical engineering, computer engineering, computer science, defense analysis, electrical engineering, engineering systems, information strategy and political warfare, information technology management, mechanical engineering, meteorology, meteorology and physical oceanography, modeling virtual environments and simulation, operations research, physical oceanography, physics, systems engineering, software engineering and systems technology.
Doctor of Philosophy
Degrees in aeronautical and astronautical engineering, applied mathematics, applied physics, computer science, electrical engineering, engineering acoustics, mechanical engineering, meteorology, operations research, physical oceanography, physics, security studies, software engineering and systems management.
Doctor of Engineering
Degrees in aeronautical and astronautical engineering, engineering acoustics and mechanical engineering.
In-Processing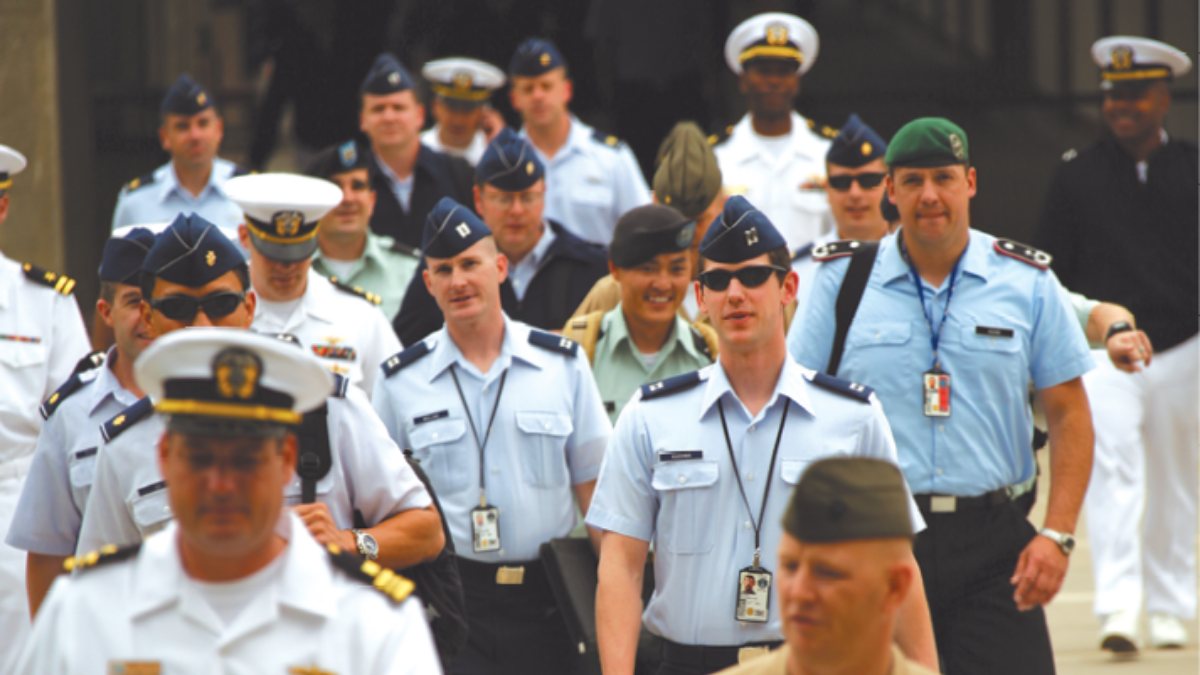 Students report to the student services office in the lower level of Herrmann Hall upon check-in; students arriving after working hours or on the weekends may check in at the quarterdeck on the main floor of Herrmann Hall. It is recommended to arrive one week before the beginning of classes to complete the check-in process.
Military faculty and staff should report to the chain of command in their respective school, program or office.
STUDENT ORIENTATION
New student orientation is held in the school's King Hall Auditorium on the date indicated in the welcome aboard packet. The new student orientation will take the entire day and begins at 7 a.m.
Each graduate school also conducts its own student orientation. Dates and times for graduate school orientations vary among schools.
STUDENT SERVICES
NPS Student Services is a student-centered team of professionals committed to empowering students to achieve their educational and personal goals. The Department of Student Services office provides administrative and military support services to students during their course of study at the Naval Postgraduate School.
REGISTRAR
Upon arriving at NPS, students arriving with orders in hand must check in at the registrar's office. As the registrar maintains the school's official academic records, students are obliged to respond to that office on all matters pertaining to courses and grades, and students are responsible for meeting all deadlines for adds, withdrawals, incompletes, thesis submissions, etc.
A student's academic record is his or her own responsibility, and it must not be assumed that professors, program officers or others are taking care of these matters. The registrar's staff welcomes conscientious attention to these important details through visits to its office.
Other Parts of Campus Life

DRESS AND ATTIRE REGULATIONS
The school dress code is in effect at NPS 7:30 a.m. to 5 p.m. Monday through Friday (except holidays) or at any other time when meeting with and greeting visiting personnel in an official capacity. The academic quad, the library and the Presidio of Monterey Army Health Clinic and Naval Medical Administration Unit constitute locations where this dress code is in effect. Personnel in an off-duty status going to and from the Navy Exchange, U.S. post office and other facilities on the grounds are not required to conform to the school attire dress code described in this instruction but will always present a neat, orderly appearance. Military uniform regulations for grooming shall be met at all times.
CIVILIAN CLOTHING
Appropriate civilian business casual attire is authorized for students while attending NPS. The following school dress code will be in effect at the school from 7:30 a.m. to 5 p.m. Monday through Friday (except Tuesdays, which are uniform days, and holidays). Students shall ensure that their dress and personal appearance are appropriate for the occasion and will bring credit to themselves and the military services.
Students are expected to dress and conduct themselves in a manner appropriate to a business environment at all times while on campus. Business casual does not have a requirement for a coat or tie. However, it includes a dress-quality collared shirt or turtleneck and dress slacks for men and either a dress or a dress blouse and dress slacks or skirts for women. Shirts and shoes should be of similar style and quality. Socks are required. Pressed khakis and turtlenecks are acceptable but do not include collarless shirts and flight deck jerseys. Logos on the collar or extreme logos elsewhere on the garment are not permitted. The uniform equivalent to business casual consists of service khakis for the Navy and the open-collared equivalent uniform for other services.
LIBRARY SERVICES
The Dudley Knox Library at NPS provides scholarly resources and research support to the school's faculty, staff, students and alumni. Selected library services are extended to members of the local community, American military personnel worldwide and other scholars doing defense-related research. The library is a combination of collections, people and services that support the NPS academic enterprise. Library resource and discovery services include a variety of print and digital books and journals; numerous electronic databases; several special collections; curricula-specific instruction, class orientations and general library tutorial instruction sessions; an electronic Ask a Librarian service; interlibrary loan and document delivery; and more. Additional information is available at the library's website at http://library.nps.edu.
CAMPUS SAFETY
The NPS Safety Office, in Building 436, 831-656-2822, is responsible for overseeing safety conditions at the school and its satellite areas. Students should, when feasible, attempt to resolve unsafe or unhealthy conditions personally and on the spot. The Safety Office supervisor is responsible for resolving difficult, persistent or pervasive safety problems.
Traffic safety problems should be brought to the attention of NPS Security for referral to the Traffic Safety Council.
Any mishaps involving military personnel occurring on or off duty shall be reported to the quarterdeck at 831-656-2441/2442.
STUDENT LOCKERS
Student lockers are available in limited quantities and are assigned by program offices. Lockers are for storing unclassified materials only (books, notebooks, etc.) and should not be used for storage of classified material.
STUDENT PARKING
Traffic regulations are strictly enforced at NPS. A high-occupancy vehicle lot is available behind the mechanical engineering auditorium. Lot D behind the west wing of Herrmann Hall and the combined bachelor quarters residents' parking spaces are the only restricted parking spaces on campus. Students may park in any other green- or brown-marked spot. Students parking outside the school grounds are reminded not to block local residents' driveways and should be aware of posted local parking regulations.
Student carpooling is strongly encouraged due to limited parking spaces on base.
COMMAND SPONSOR PROGRAM
An effective, well-administered Command Sponsor Program benefits all personnel by reducing apprehensions normally associated with any permanent change of station move. Current students will serve as a sponsor to U.S. military students at least twice during their tour at NPS. Student Services sends a welcome aboard message to new U.S. Navy students. Sponsors assigned to U.S. Army, Air Force, Marine Corps and Coast Guard students will send a welcome aboard email to incoming students from these service branches. Everything a new student will need is on the web; hard copy packages are no longer produced. Sponsoring incoming students is one of the few additional military duties required of all U.S. military students at the school.
SPONSORING INTERNATIONAL STUDENTS
An international sponsor is an ambassador of goodwill. Entering a new culture is seldom easy, and the sponsor program is designed to help an international NPS student adjust to life in the United States. The sponsor in turn benefits from this unique opportunity to meet and become acquainted with a foreign military officer and his or her family. Current students will serve as a sponsor to international military students at least once during their tour at the school.
LEAVE POLICY
Regular leave will be granted to students during designated vacation periods, i.e., Christmas and summer break. Regular leave may be granted during the academic year on a not-to-interfere basis with assigned studies.
Student Services officers will approve and forward student leave requests by fax to the personnel management agencies of all student's services.
The school's command duty officer may grant leave for cases arising outside of normal working hours (i.e., weekend or 4:30 p.m. to 7:30 a.m. PST). Emergency leave will be granted depending upon the merits of each individual case.
PRESIDENT'S ELECTRONIC SUGGESTION BOX
The school's electronic suggestions box is available to all students to provide immediate suggestions to the superintendent and the school's executive board. Your suggestions are important. Please answer each question fully and provide as much detail as possible. The suggestion box can only be used while on base, within the school's firewall.
PRESIDENT STUDENT COUNCIL
The purpose of the President Student Council is to facilitate effective communication and understanding among student officers assigned to the school and the school's administration. Its function is to bring forth new ideas and to provide feedback and recommendations to improve the quality of student life. The president of the council interfaces with the NPS president directly and on occasion through the dean of students, the provost, and other senior faculty and staff officers. The committee is composed of volunteer representatives from each curriculum and meets monthly.
STUDENT SPOUSE CLUB
The Officer Student Spouse Club is an organization for the spouses of students attending NPS. The club holds a business meeting and a social function each month. Spouses of new students can expect an invitation to participate within the first several weeks of reporting. The club also offers a wide variety
of activities.
CHARITY DRIVES
Students will have an opportunity to participate in scheduled DOD-recognized charity campaigns. The DOD-wide efforts in which NPS participates are the Combined Federal Campaign, Navy-Marine Corps Relief Society Fund Drive and the Navy Blood Donor program. All students are strongly encouraged to participate in these drives or the corresponding programs of their respective services. A designated NPS officer for each drive will coordinate these charitable efforts through student services and the section leaders.
LA MESA RIDESHARE PROGRAM
NPS and the La Mesa Residence Association have instituted a rideshare program between the school and the La Mesa housing area. It is designed to encourage carpooling because parking is limited at the school.
Association area reps helped identify five La Mesa locations in which to put up signs (Rideshare to NPS). Three locations have also been chosen at the school (Rideshare to La Mesa).
THE FLEET & FAMILY SUPPORT CENTER
The FFSC supports the military community by providing a wide range of services and assistance that respond to personal and family needs to positively impact the quality of life for our service members and their families. Classes are free of charge, but space is limited. All classes are held at the FFSC – La Mesa Housing information, call our main line at 831-656-3060. If you can't make a particular class/workshop, give us a call – we are flexible and mobile to meet your needs.
Volunteer opportunities are always available!
MainLine 831-656-3060
Counseling Appointment Line 866-923-6478
Sexual Assault Prevention
Response Hot Line 877-955-5247
Find us on Facebook at facebook.com/ffscmonterey for updated information.
Contact the FFSC at Community at 1280 Leahy Road, unless otherwise indicated. Childcare is available, however it must be arranged no later than 5 days prior to class date. For more 831-656-3060 to confirm classes
FFSC Office Location:
La Mesa Village, 1280 Leahy Road
Mon-Fri 8am – 4:30pm
Bldg. 205, Presidio of Monterey – By appointment only
Dining and Lodging

NAVY GATEWAY INNS & SUITES
Continuing the tradition of excellence in one of the most beautiful places in the world, Navy Gateway Inns & Suites provides quality lodging and hospitality services, which contribute to mission accomplishment and quality of life for a mobile Defense community. NGIS welcomes NAF and DOD employees, active-duty and retired military members; you can sponsor friends and family to stay at NGIS, too. For out-of-town family and friends joining you for the holidays or family festivities, it is the perfect solution. It offers comfortable accommodations, affordable rates, and the amenities you want and deserve. Why stay anywhere else!
While staying at NGIS, take the opportunity to experience the history of the former Del Monte Hotel, a property that established a reputation as "the most elegant seaside resort in the world" and "America's most loved resort." Living history paraded through its corridors as its notable guest list expanded, including presidents William McKinley, Rutherford Hayes, Benjamin Harrison, Teddy Roosevelt and Ronald Reagan; Gen. William Tecumseh Sherman; Gen. "Black Jack" Pershing; Charles Lindbergh; Hawaiian Monarch King Kalakaua; and England's Marquis of Queensberry. The personalities who helped make its Club Del Monte "the queen of American watering places" include Bob Hope, Bing Crosby, W.C. Fields, Charlie Chaplin, Ernest Hemingway, Clark Gable, Eleanor Roosevelt, Will Rogers, Gloria Vanderbilt, Walt Disney, Marlene Dietrich, Salvador Dali and Douglas Fairbanks.
THE DEL MONTE HOTEL
The Club Del Monte staff continues its historic tradition of serving its customers great food in the elegant setting of the historic Del Monte Hotel. The executive chef, Hugh Butler, has worked at the world-famous Greenbrier Hotel and Resort, the Quail Lodge and Pebble Beach Resort, as well as owned and operated two of his own restaurants. Only the freshest fruits and vegetables are purchased from "America's salad bowl" in Salinas Valley. Additionally, the freshest seafood, right from Fisherman's Wharf, is purchased less than 2 miles from the kitchen.
THE TRIDENT ROOM
Beverage service hours: 4 to 9:30 p.m. Monday through Wednesday, 3 to 9:30 p.m. Thursday and Friday, 4 to 9 p.m. Saturday.
Dinner service hours: 4 to 9 p.m. Monday through Saturday.
Originally called the Del Monte Tap Room and renamed the Trident Lounge in 1952 when the Navy took over operation of the Old Club Del Monte, the Trident is perhaps one of the most famous bars in American history. Featured are 10 draft beers, from the standards to a great assortment of microbrews, all served in NPS's own Trident mugs. Also offered are a variety of wines, cocktails and nonalcoholic beverages. The Trident Room is in Herrmann Hall, Building 220, on the ground floor, and is open Monday through Saturday.
Families may order meals to take out or to enjoy in the Trident Room as well. Children are allowed in the Trident bar if accompanied by a parent. Check out the great social hour specials and hors d'oeuvres that are made with customers in mind. Come for the food, stay for the fun. For more information, call 831-656-7508 after 3 p.m.
THE EL PRADO DINING ROOM
The El Prado Dining Room is on the ground floor of Herrmann Hall, Building 220. Seating up to 150 guests, the Spanish-style El Prado Room is a unique site for both meetings and weddings. The room can be divided to accommodate a varying number of guests. It is open on weekdays for breakfast and lunch. It is closed weekends and federal holidays. For more information, call 831-656-2170.
Breakfast in the El Prado Room
A la carte breakfast: 6:45 to 10:45 a.m. Monday through Friday.
Hot breakfast: 6:45 to 9:15 a.m. Monday through Friday.
Breakfast is served continental style with an assortment of breads and breakfast pastries, fresh fruit, cold cereals, yogurt, juices, and a choice tea and coffee selection. Hot breakfast options range from pancakes, waffles, French toast and oatmeal to scrambled eggs, bacon and sausage. The menu varies daily.
Lunch in the El Prado Room
Hours: 10:45 a.m. to 1:15 p.m. Monday through Friday. Closed on holidays.
Patrons may select from several hot entrees with side dishes, the salad bar, soups and chili, and made-to-order sandwiches. Specialty menus are offered every Friday in addition to daily specials.
CAFE DEL MONTE
Hours: 7 a.m. to 2 p.m. Monday through Friday. Closed federal holidays. Open for lunch 10:30 a.m. to 2 p.m.
Cafe Del Monte is next to the Knox Library.
CATERING
Club Del Monte catering is available for special occasions of all kinds. A quality event is not complete without memorable first-class service. When choosing Club Del Monte for an event, the catering department will assist with the utmost in quality and service. Each of the gathering rooms will be catered using the finest foods and beverages. There are rooms ranging in size from intimate patios and alcoves to the grandeur of the great ballroom. Whether planning holiday parties, graduations, weddings, anniversaries, birthdays, hail and farewells, conferences or any other special event, the Club Del Monte catering department is here to take care of all the details. See the event planning guide for more details or contact the catering department directly at 831-656-1049.
STARBUCKS
Store hours: 6:30 a.m. to 5:30 p.m. Monday through Friday, 9 a.m. to 2 p.m. Saturday. Closed Sunday and federal holiday weekends.
Starbucks is located in the Dudley Knox Library.
THE BARBARA MCNITT BALLROOM
The ballroom seats up to 550 guests, and a reception can accommodate up to 900 guests. This magnificent ballroom was created in the tradition of the grand ballrooms of yesteryear. The immense windows that line this extraordinary room create an aura of natural light and wonder. At night, the twilight lighting in the room becomes iridescent, almost magical, and is the perfect setting for a romantic wedding. This truly grand ballroom is adorned with ornate details such as inlaid mosaics, magnificent iron chandeliers, an intricate Spanish colonial ceiling and stunning, oversized, carved double doors. A large private veranda overlooking the gardens and grounds is accessible as a comfortable break for guests. It is a perfect room for any occasion.
THE QUARTERDECK
The Quarterdeck can accommodate up to 250 reception guests. The Quarterdeck has a spiritual quality, with high, hand-carved ceilings and massive windows, creating the perfect setting for a daytime — or evening — reception. Many choose this room for guests to gather and mingle, enjoying drinks and hors d'oeuvres when waiting for the main reception to start. This is also a premium room to host meetings, luncheons and other events.
THE LA NOVIA RECEPTION ROOM AND THE TERRACE
The La Novia Room seats up to 90 guests and can accommodate up to 160 guests for a reception.
The La Novia Terrace dining area boasts a unique diorama of a bride and groom on horseback, set into a black walnut case created by renowned artist Joe Mora. The historic room lets out onto a large, bright patio called the Terrace, creating an outdoor feeling, including natural foliage.
Fleet Numerical Meteorology and Oceanography Center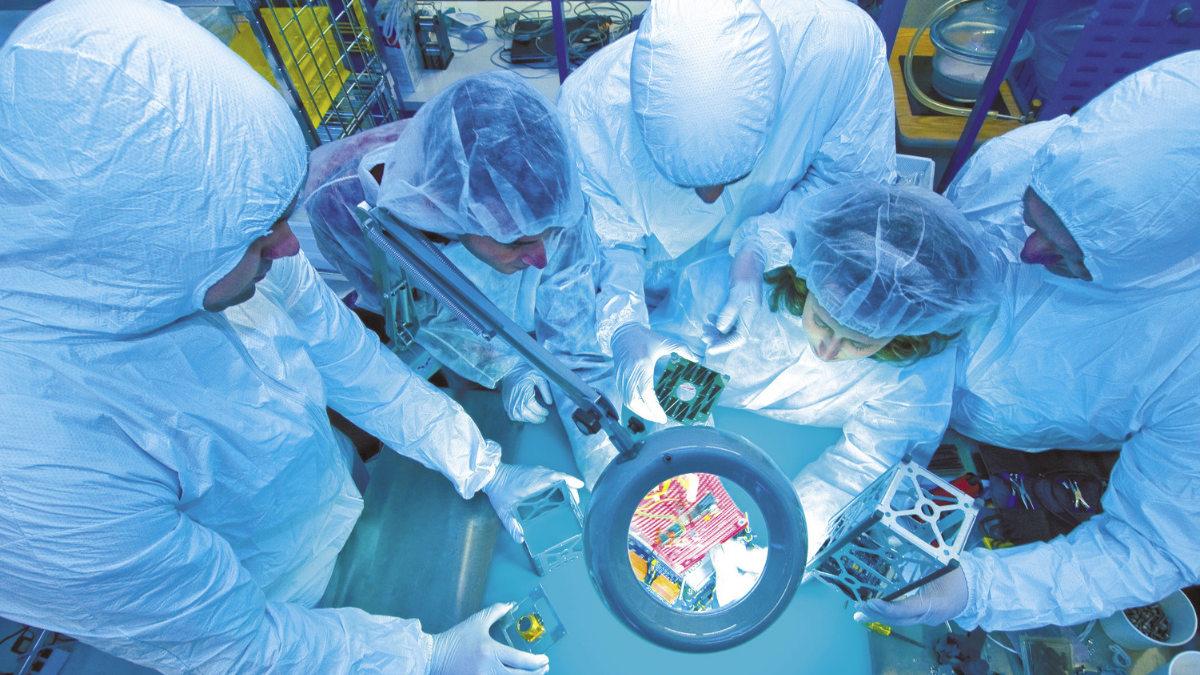 Fleet Numerical Meteorology and Oceanography Center is the Navy's Operational Numerical Environmental Prediction Center, providing 24/7 weather and ocean prediction products and forecasts in support of Fleet safety and warfighting effectiveness. Additional capabilities include a dedicated climatology team to provide tailored products and data in support of mission planning and execution.
The center does this with the Navy's only supercomputer and high-performance data distribution system dedicated to operations. All that is only significant because of the world-class team of dedicated military and civilian personnel consisting of renowned experts in meteorology, oceanography, climatology, computer science, and military operations.
Fleet Numerical collaborates with the Naval Postgraduate School, particularly in the areas of meteorology, oceanography, information technology, and operations research. A model for successful transition of research into operations, the center closely partners with the Naval Research Laboratory (NRL) Oceanography, Acoustics, and Space Division, and the center is co-located and closely partnered with the NRL Marine Meteorology Division.
Marine Meteorology Division, Naval Research Laboratory, Monterey

MISSION
The Naval Research Laboratory is the corporate research laboratory for the Navy and Marine Corps. The laboratory's Marine Meteorology Division conducts a research and development program designed to improve the basic understanding of atmospheric processes and the atmosphere's interaction with the ocean, land and cryosphere; to develop and implement automated analysis, prediction and weather interpretation systems for DOD users; and to study the effect of the atmosphere on naval weapons systems.
ABOUT
The Marine Meteorology Division is part of the laboratory's Ocean and Atmospheric Science and Technology Directorate, which contains six divisions performing broadly based scientific research and advanced technology development in the fields of marine geosciences, acoustics, oceanography, marine meteorology, remote sensing and space science — covering the bottom of the ocean to the top of the atmosphere to meet identified and anticipated needs of the Navy and Marine Corps.