Welcome
Named after Henry Harford, the ­illegitimate son of Frederick Calvert, sixth Lord Baltimore, Harford County is located along the shores of Chesapeake Bay. The county is approximately 25 miles northeast of Baltimore, Md. It is bordered by the Mason-Dixon Line and Pennsylvania to the north, the Susquehanna River to the east, the scenic Chesapeake Bay to the south and Baltimore County to the west.
Harford County has a population of approximately 250,000 and is home to three ­municipalities: Aberdeen, Bel Air and Havre de Grace. The county is also home to the ­ Aberdeen Proving Ground, the Army's oldest active proving ground.
The county is comprised of an ideal mix of rich historical areas, bustling urban regions and waterfront amenities, along with ­picturesque and scenic landscapes of hills, forests and farms. Numerous outdoor recreational ­opportunities include fishing, hiking, horseback riding, canoeing, kayaking and more. There are a number of parks, gardens, museums and other cultural attractions. The county is also home to a minor league team, the Aberdeen IronBirds, founded by former Baltimore Orioles player and hall of famer Cal Ripken Jr., who was raised in Aberdeen.
The county offers many shopping, dining and nightlife opportunities for residents to explore.
A number of annual events and festivals ­celebrate everything from Maryland's history to chocolate and art.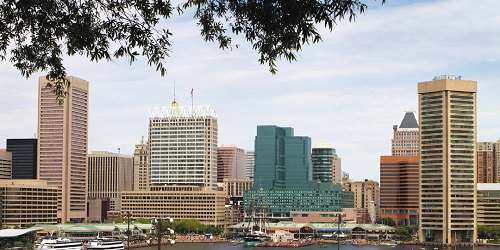 History
Capt. John Smith of the Virginia Colony landed on what would become Harford County in 1608 during his second map-making trip throughout Chesapeake Bay and its many tributaries. Smith's maps of the upper country and its islands were so accurate that many of the places he designated are still called by the same names today.
The region's first settlement was made by Edward Palmer, an Englishman, in 1622. Palmer was familiar with Smith's explorations and chose his location, at the mouth of the Susquehanna, to best establish fur-trading operations with American Indian trappers to the north and other trading posts on the bay and rivers to the south.
Harford had its early beginnings as part of Baltimore County, which was created in 1659 and included the territory of Baltimore, ­Harford and Cecil counties. The first county seat was established in 1674 in Old Baltimore, what is now Aberdeen Proving Ground. In 1712, the county seat was moved to "Gunpowder Town," where Joppatowne now stands. In 1768, the county seat was moved to Baltimore. Harford was not organized into a county until 1774. The name was chosen to honor Harford, who served as the last proprietary governor of Maryland, but, because of his illegitimacy, did not inherit his father's title. At the time of the naming, the present territory was fairly well-settled.
The county held its first court March 22, 1774, at Harford Town, or Bush, where the junction of Route 7 and Route 136 is today. In 1775, the citizens of the county passed "The Bush ­Declaration," a precursor to the Declaration of Independence, making it the first organized body of men in the country to declare independence from Britain.
Havre de Grace, an incorporated city in ­Harford County, was once under consideration to be the capital of the United States rather than Washington, D.C. It was favored for its strategic location at the top of the Chesapeake Bay; this location would facilitate trade while being secure in time of war. After the ­Revolution, Harford elected in 1782 to move the county seat to Bel Air.
Weather and Climate
Harford County enjoys a humid subtropical climate, with hot, humid summers and fairly mild winters. The sun usually shines on Harford County for 211 days a year. The warmest month is July, with an average high of 87 degrees. The coldest month is January, with an average ­minimum temperature of 23 degrees. Precipitation hovers near 45 inches a year, with rainfall evenly distributed through all 12 months.
Local Hazards
Every second counts in a disaster so planning and preparation can be lifesavers. The following are considered significant hazards in Harford County.
Flash Floods
Because of its location on the Chesapeake Bay, and especially during hurricanes, areas of Harford County are prone to flooding. A flash flood watch is issued when flash flooding is expected to occur within six hours after heavy rains have ended. A flash flood warning is issued for life- and property-threatening flooding that will occur within six hours. During a flash flood watch or warning, stay tuned to local radio or TV stations or a National Oceanographic and Atmospheric Administration Weather Radio for further weather information.
If you are outdoors during a rainstorm, seek higher ground. Avoid walking through any floodwaters — even water 6 inches deep can sweep you off your feet. If you are driving, avoid flooded areas. The majority of deaths in a flash flood occur when people drive through flooded areas. Roads concealed by water may not be intact. Water only a foot deep can displace a vehicle. If your vehicle stalls, leave it immediately and seek higher ground. Rapidly rising water can engulf a vehicle and sweep it away.
Hurricanes
In addition to thunderstorms and tornadoes, hurricanes and extreme storms — such as Hurricane Sandy in 2012 — are real concerns throughout the county. Hurricane season begins June 1 and ends Nov. 30. Hurricane hazards come in many forms, including storm surge, torrential rain, powerful winds, tornadoes and flooding.
Preparation is essential in a disaster and ­hurricane readiness should begin long before the event occurs. Download the Centers for ­Disease Control and Prevention's "Key Facts About ­Hurricane Readiness" at http://emergency.
cdc.gov/disasters/hurricanes/pdf/readiness.pdf.
It combines all the key content of the CDC's ­hurricane website into one printable file. Printing the file will ensure that you have important hurricane health and safety information available even when you're without power or Internet service.
Sun Exposure
Some exposure to sunlight is good, even healthy, but too much can be dangerous. Broad-spectrum ultraviolet radiation, listed as a known carcinogen by the National Institute of ­Environmental Health Sciences, can cause blistering sunburns and long-term problems such as skin cancer, cataracts and immune suppression. Overexposure also causes aging of the skin.
Cloud cover reduces UV levels, but not ­completely. Depending on the thickness of the cloud cover, you can still burn on a cold and dim day. Be prepared with sunglasses, sunscreens, long-sleeved garments, wide-brimmed hats and an umbrella.
Thunderstorms
Higher temperatures, increased humidity, slow-moving thunderstorms, lightning, sudden fierce downpours and flash flood warnings — welcome to a typical summer in Harford County. Dangerous storms with extreme winds — including "microbursts," or punches of wind up to 120 mph — can occur over large areas. Some of these storms can quickly evolve into tornadoes. Hail, potentially as large as softballs, can be just as damaging.
For added safety during storms, remember: "When the thunder roars, go indoors." During a lightning storm, avoid corded phones, electrical appliances, plumbing fixtures, and metal doors and windows as they may conduct electricity. The National Weather Service recommends ­following the 30/30 Rule, which states that people should seek shelter if the "Flash-to-Bang" delay — the time in seconds from a lightning flash to the sound of subsequent thunder — is 30 seconds or less and remain under cover for 30 minutes after the final thunder clap. For more information, visit the National Weather Service at www.lightningsafety.noaa.gov.
Tornadoes
Tornadoes can develop quickly, with minimal warning, so it is important to have a plan in place before they occur. If a tornado watch is issued, weather conditions favor the formation of ­tornadoes, such as during a severe thunderstorm. A tornado warning is issued when a tornado funnel is sighted or indicated by weather radar. You should take shelter immediately during a tornado warning.
Know where the safest place of shelter is in your home — a basement, or an inside room on the lowest floor (like a closet or bathroom) if your home does not have a basement. Avoid windows and get under something sturdy, like a heavy table, and cover your body with a blanket or mattress to protect yourself from flying debris.
For more information on tornado preparedness, visit the Centers for Disease Control and Prevention's website at www.emergency.cdc.gov/disasters/tornadoes.
Winter Storms
Harford County reaches below freezing temperatures in the winter and occasionally experiences severe winter weather. Prepare for
winter storms by assembling a disaster supply
kit for your home and vehicle. Have your car ­winterized before the winter storm season arrives.
Listen to weather forecasts and plan ahead.
A winter storm watch means a winter storm is possible in your area. A winter storm warning means one is headed for your area. A blizzard warning means strong winds, blinding snow and dangerous wind chills are expected. Avoid travel during these watches and warnings.
Winter storms can cause power outages. During
a power outage, gather in a central room with an alternative heat source like a fireplace. Be sure to keep a screen around an open flame and don't close the damper while the ashes are still hot.
During the day, open drapes and blinds to let the sun warm the space. Close them at night to minimize heat loss. If the indoor temperature drops below 55 degrees, open faucets slightly so they constantly drip to prevent pipes from freezing.
For more information on winter preparedness and how to protect your home from freezing weather, visit www.bt.cdc.gov/disasters/winter.