Housing & Real Estate
From the Bustling Town of Bel Air to the ­historic city of Havre de Grace — Harford County's
communities are diverse. In 2012, approximately 250,000 people called the county home, according to the U.S. Census Bureau. The county has three municipalities — Aberdeen, Bel Air and Havre de Grace — and various towns and villages offer residents everything from big-city amenities to quiet and serene farmland.
Harford County's communities give newcomers to the region plenty of choices to consider when selecting a home. Enlist the help of a reputable real estate agent to help you sort through the area's home options. The Harford County Association of Realtors is a central source of local real estate information and services. Its members can ­provide expertise and professional services for those interested in purchasing a new home. Visit www.harfordrealtors.com for more information.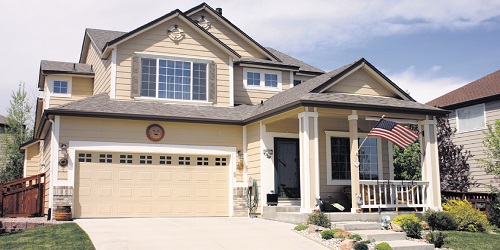 Planning Your Move
Relocating to a new home can be one of the most stressful situations in life. Whether moving across town or across the nation, preparation and organization can make all the difference. First, decide to use a professional moving company or make it a do-it-yourself move.
For a DIY move, consider distance, labor help and the costs to rent the moving van, gas, lodging during the move and insurance. A ­transportable storage unit can bridge a professional and DIY move. When the unit is ­delivered to your ­residence, you load and secure it for transport and then unload it at your new residence.
Whatever the method, be sure to obtain as many quotes from professional movers as ­possible as well as cost estimates for a DIY move. Next, compare the costs involved for each type of move, weighing the stress and physical exertion involved. Ask any company you are interested in for references and use
them to inquire about reliability and customer service.
Regardless of which method you choose, the first step in moving should be to take ­inventory of your personal belongings. The list, with ­photographs of any valuables, will be important for both insurance purposes and to help keep you organized during transit.
Plan for one full day to pack each room — the kitchen and garage may take longer though. Make a rough estimate of your packing schedule and then add 50 percent more time. It always takes longer than predicted to pack. Toss or donate unused items to lighten your load. Visit Goodwill, Salvation Army, or www.clothingdonations.org for locations near you or to arrange a pickup.
Pack for success:
Consider what you're packing and control box weight. Books should go in small boxes while bedding can easily fill a larger box.
Wrap fragile items with cardboard dividers, tissue paper or Bubble Wrap.
Use bright colors when wrapping small items so they don't get thrown out accidentally.
Use crumpled paper or newspaper to line the top and bottom of boxes.
Tape a copy of your inventory list to boxes to identify what's inside and where it should go.
Buying Versus Renting
The decision to buy or rent is the most important step in your relocation process. Purchasing a home entails a long-term emotional and financial commitment with various advantages and dis­advantages. The advantages include the ­possibility of building equity and the freedom to design and decorate your property or landscape. And don't forget the tax benefits. Disadvantages involve upkeep, property taxes and fluctuating property value.
Renting, on the other hand, makes moving easier and someone else maintains the ­property. Amenities, such as laundry rooms, exercise rooms, swimming pools and tennis courts vary from one rental complex to another. The main disadvantage is loss of control over the residence. Some complexes, for example, restrict or prohibit pets and personal touches such as painting. And the landlord or property managers can also raise the rent with proper notice.
Before determining your best option, account for all of your needs, review your financial ­situation and research your options thoroughly.
Finding an Apartment
Find local apartments listed in chamber of commerce membership directories, local newspaper classifieds, online, or through referrals from family or friends.
Be prepared when you meet with the leasing agent, property manager or owner. Bring a list of what you are looking for in a rental; it is important to be clear about your needs and to get all of your questions answered. You will also need to provide information and verification about your job, your income and your past rental ­history. Dress to make a good impression and treat the meeting as though it is a job interview — be polite and arrive on time.
Before you decide to rent, inspect the apartment with the landlord. Look for the following problems:
Cracks, holes or damage in the floor, walls or ceiling.
Signs of leaking water, leaky fixtures or water damage.
Any signs of mold or pests.
Lack of hot water.
Inadequate heating or air conditioning.
Use a written checklist with the landlord to document the condition of the rental before you move in, and keep a copy of the completed checklist to use when you move out.
Buying a Home
Buying a home is a complex process and, as the recent housing crisis demonstrated, requires a thorough education on the part of the buyer. First, fully understand your financial position — credit score, available savings, monthly income and expenditures. Subtracting your expenditures from your income, for instance, will yield the amount you can afford for housing.
Be sure to account for all insurance costs associated with owning a home, possible homeowner association fees and property taxes in your monthly expenditures. According to www.ginniemae.gov, loan program rules vary on the percentage of your income used for housing-related expenses. Most conventional loans allow 28 percent, with Federal Housing ­Administration at 29 percent and Veterans Affairs at 41 percent.
Next, research the different types of home loans to determine the right fit for your ­financial situation and discuss your options with a lending professional. Lenders are diverse today, and not all homebuyers obtain their mortgage loans through their banks and credit unions. For example, you may choose to work with an Internet lender, a mortgage broker, a homebuilder or a real estate agency lender. To determine which lender is best for you, get ­recommendations from friends and family ­members and check credentials as well as Better Business Bureau ratings.
A preapproved loan before starting your search for a home can determine your spending limits and signal any potential issues in the way of receiving a loan.
Knowing your monthly budget and the amount of your loan are invaluable during the next phase: determining your home preferences. Do single-family houses, condos, town houses and duplexes fit your needs and budget? Do you prefer building a home, buying a new home or purchasing an older residence? Though new homes generally cost more, existing homes may come with maintenance issues and renovation costs. What is the number of bedrooms and bathrooms you'd like? Do you want an attached garage? Will you live in the city, a suburb or in the country? How close to work, school, ­shopping or public transportation do you want to be? Answers to the majority of these questions will greatly assist your search and the next stage: hiring a real estate agent.
The ideal agent will help find your ideal home and guide you through the purchase process. First, interview potential candidates to ensure they understand your needs, know your homebuying preferences and neighborhoods, and are readily accessible.
Good luck and happy hunting!
Communities
Aberdeen
60 N. Parke St.
Aberdeen, MD 21001.............. 410-272-1600
Just 30 miles northeast of Baltimore, ­Aberdeen has a family-oriented, small-town feel. With plenty of access to the Chesapeake Bay, the city has a wealth of outdoor recreational opportunities. It's also home to Aberdeen Proving Ground, the Army's oldest operational proving ground and the county's largest employer.
Aberdeen's land area is 6.8 square miles and with a population of approximately 15,000, it averages 2,202 persons per square mile. Mean travel time to work is 25 minutes. Median rent is $863 and selected monthly owner costs of housing units with a mortgage are $1,682.
The city is home to nearly a dozen parks and recreational facilities. Among the parks are skateboarding facilities, a family swim center, various sports fields and a paved walking trail. The city is also home to Ripken Stadium and a minor league baseball team, the Aberdeen IronBirds.
Bel Air
39 N. Hickory Ave.
Bel Air, MD 21014.. 410-638-4550/879-2711
The county seat of Harford County, the town of Bel Air is known as "The Heart of Harford." The town is host to a number of annual events and festivals, including the delectable ­Maryland State BBQ Bash and the Chocolate and Candy Festival. Bel Air also hosts a summer concert series and is home to the Center for the Arts at Tudor Hall. With an ideal mix of historic sites like the Hays House and Liriodendron and modern amenities like the newly ­renovated ­Harford Mall, Bel Air has something for everything.
Bel Air's land area is 2.93 square miles and with a population of approximately 10,000, it averages 3,450 persons per square mile. Mean travel time to work is about 30 minutes. Median rent is $1,167 and selected monthly owner costs of housing units with a mortgage are $1,764.
The town maintains five neighborhood parks with a variety of amenities, including a dog park, picnic facilities, play equipment and an amphitheater. The MA & PA Heritage Trail has a nearly 2-mile section in Bel Air, beginning in Heavenly Waters Park and ending at Williams Street.
Edgewood
An unincorporated community in southern Harford County, Edgewood is home to the Edgewood area of Aberdeen Proving Ground. The rural and suburban area is bordered by the Bush River and the communities of Abingdon and Joppa. A community council represents the needs of the community since Edgewood has no mayor or city hall.
Edgewood's land area is 17.78 square miles and with a population of approximately 26,000, it averages 1,437 persons per square mile. Mean travel time to work is about 31 minutes. Median rent is $1,103 and selected monthly owner costs of housing units with a mortgage are $1,527.
Edgewood is home to six parks and ­recreational
facilities, including a community center, sports fields, boat launching facilities and a dog park.
Havre de Grace
711 Pennington Ave.
Havre de Grace, MD 21078..... 410-939-1800
Frequently called "the best-kept secret in Maryland," the county's oldest city on the mouth of the Susquehanna River allows attractions such as the Steppingstone Farm Museum, Concord Point Lighthouse, Decoy Museum, Maritime Museum and Susquehanna Museum at the Lock House to collectively tell its story. Named after the port city of Le Havre, France — French for "Harbor of Grace" — the city at the uppermost reach of Chesapeake Bay has become a tourist destination and one of the busiest communities in the state for festivals, events and cultural activities centered on the half-mile Promenade, a waterfront boardwalk.
Havre de Grace's land area is 5.5 square miles and with a population of approximately 13,000, it averages 2,356 persons per square mile. Mean travel time to work is 27 minutes. Median rent is $906 and selected monthly owner costs of housing units with a mortgage are $2,049.
The city has 14 parks and recreational ­facilities, including an activity center, sports ­facilities, walking trails, fishing piers and more. The city is also home to Susquehanna State Park, which features a historic working grist mill, the canal, a campground and the Archer mansion.