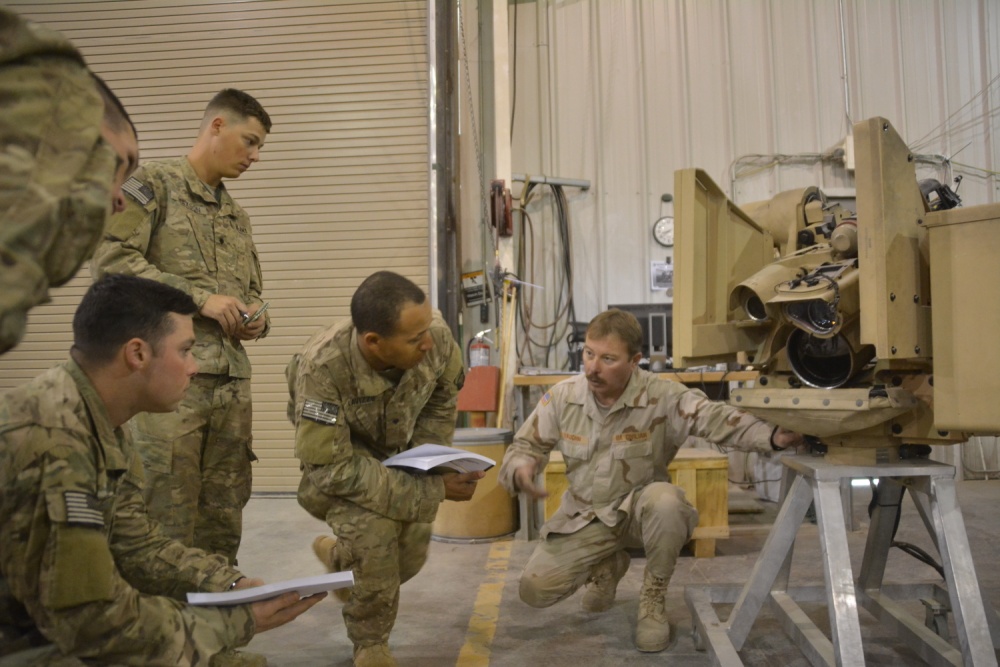 Soldiers from 3rd Battalion, 187th Infantry Regiment look on intently as a training specialist deployed from TACOM Detroit Arsenal explains how the Common Remotely Operated Weapons Station can be mounted on a vehicle during operator training at Bagram Air Field. CROWS has a sensor suite and fire control software. It can be mounted on more than 20 platforms and accommodate four different weapons. CROWS-equipped units can acquire and engage targets while protected inside an armored vehicle. (Photo by Mary Barkley, January 2015)
Detroit Arsenal is in Macomb County, in the small city of Warren, a manufacturing and residential community situated just north of Detroit. The arsenal is home to TACOM Life Cycle Management Command headquarters, which unites all of the organizations that focus on soldier and vehicle ground systems throughout the entire life cycle. The arsenal is also home to the Tank Automotive Research, Development and Engineering Center.
About 20 miles north of Detroit Arsenal is Selfridge Air National Guard Base. Selfridge ANGB is home to many National Guard and reserve units. The base's exchange, commissary and other services are available to Detroit Arsenal military personnel and their families.