Redstone Arsenal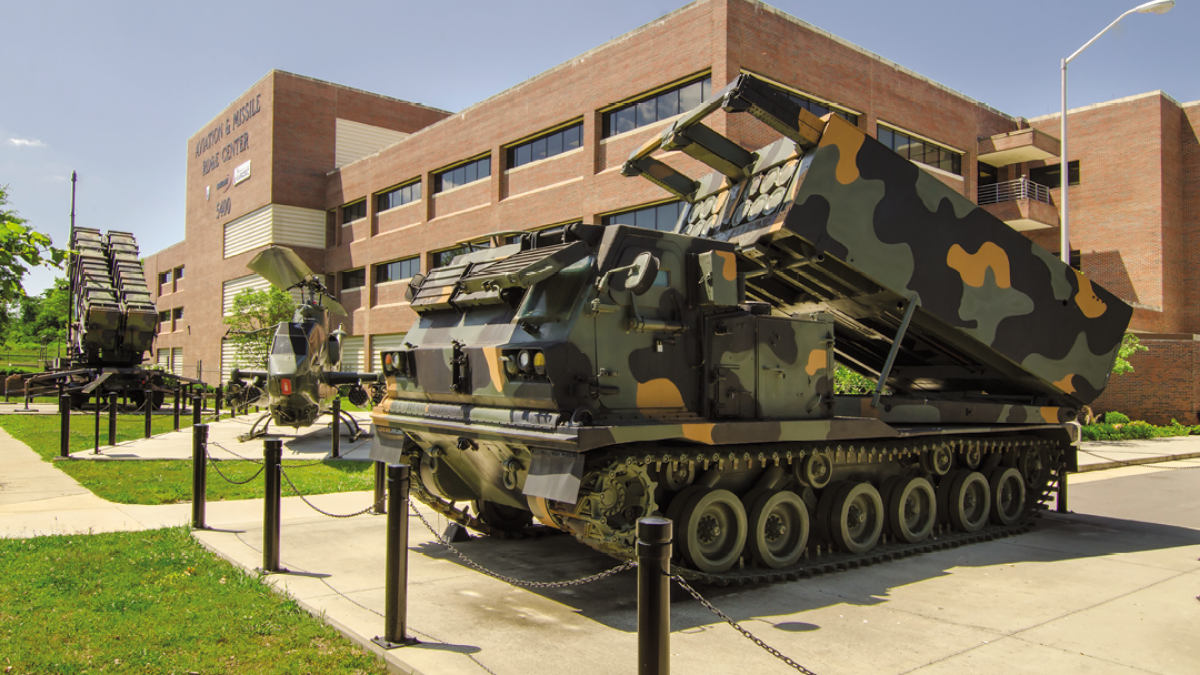 Situated in northwest Alabama's Tennessee River Valley, Madison County is the state's third most-populated county and enjoys its second-highest per capita income. Huntsville, the county seat and fastest-growing city, borders Redstone Arsenal on the north and east, with the Tennessee River forming Redstone's southern boundary. Huntsville is 110 miles south of Nashville, Tennessee, on Interstate 65; about 335 miles northeast of Jackson, Mississippi, on I-65 and I-20; and 185 miles northwest of Atlanta on U.S. Highway 72 and I-75. Dallas lies 667 miles to the west on I-40, I-30 and U.S. 72; and Chicago is 583 miles north on I-65.
Morgan County is just southwest of Redstone Arsenal, and its largest city and county seat — Decatur — sits 21 miles away on the banks of the Tennessee River.
Redstone Arsenal is home to the U.S. Army Materiel Command, Space and Missile Defense Command, Army Forces Strategic Command, U.S. Army Contracting Command, U.S. Army Security Assistance Command, numerous Program Executive Offices and major components of the Defense Intelligence Agency and the Missile Defense Agency. Several tenant and satellite organizations are also at Redstone Arsenal, which celebrated its 75th anniversary in 2016.
Redstone is the heart of the Army's rocket and missile programs. It was at Redstone Arsenal that Wernher von Braun and other German rocket experts developed the first ballistic missile, leading to the establishment of NASA's Marshall Space Flight Center in 1960.
Redstone Arsenal remains the center of testing, development and doctrine for the Army's missile programs, and it continues to host the Marshall Space Flight Center, NASA's field center for propulsion analysis and development, which developed the Saturn rocket family in the 1960s and propulsion systems for the Space Shuttle.
Population
The arsenal has 900 active-duty military personnel, with about 1,225 family members; 24,000 government-employed civilians; and 17,000 contractor employees who live in the area.
Economic Impact
Redstone Arsenal, the largest employer in the metropolitan area, has a workforce of 42,000 people, including active-duty military, government-employed civilians and contractors. The arsenal has an economic impact of more than $10.5 billion, according to the U.S. Department of Housing and Urban Development's 2015 Housing Market Profiles. Redstone generates 66,500 indirect jobs in the metropolitan area and bordering counties. NASA's Marshall Space Flight Center employs 6,000 people and creates 17,000 indirect jobs in Madison County. The space center has a $3.8 billion economic impact on Madison County.
History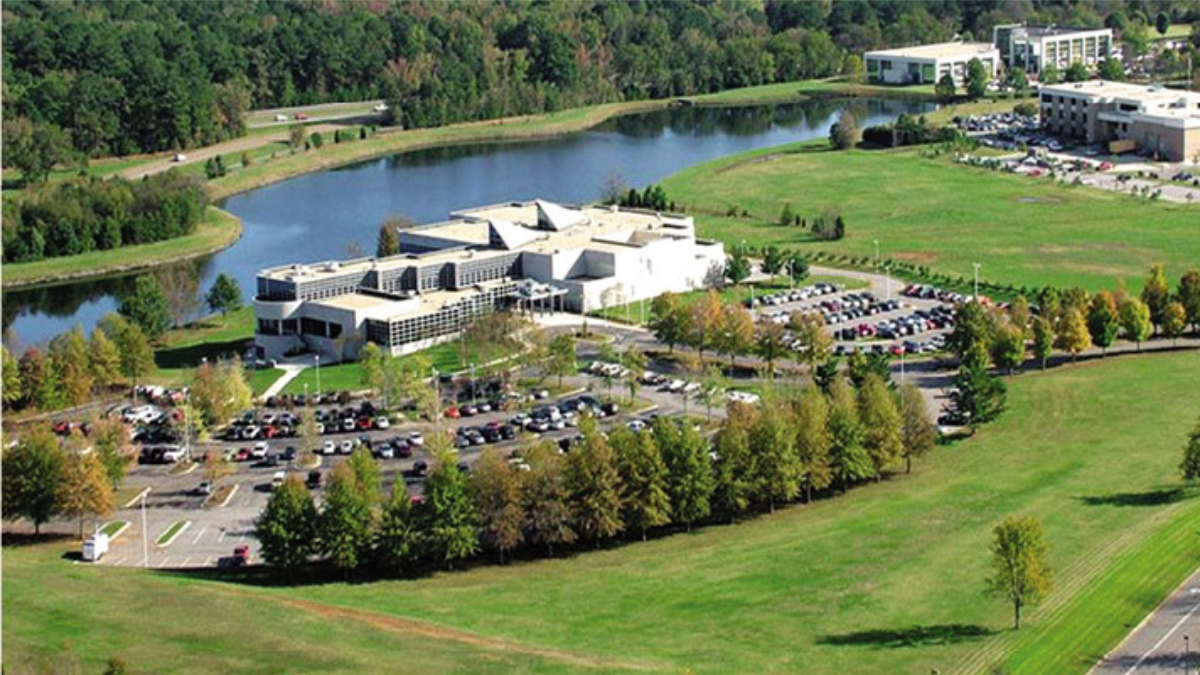 Pre-Arsenal settlements: The middle Tennessee River valley, now occupied by Redstone Arsenal, was originally inhabited by Native American tribes including the Creek, Cherokee and Chickasaw. By the early 1800s, Anglo-American farmers had settled along the Tennessee River basin where more than 550 families, mostly tenants and sharecroppers, lived in small communities. Ultimately, the U.S. War Department purchased the farmland to build what is now Redstone Arsenal.
1940s: What became Redstone Arsenal began as three separate entities in 1941 and 1942 as part of the War Department's ramp-up for World War II. Huntsville Arsenal manufactured chemicals, Redstone Ordnance Plant (later Redstone Arsenal) manufactured munitions and the Huntsville Chemical Warfare Depot (later Gulf Chemical Warfare Depot) stored the conventional and chemical-filled munitions before they were shipped out.
When World War II ended, the focus shifted from production to demilitarization and salvaging munitions along with deactivating the arsenal's huge manufacturing facilities. Some empty buildings were even leased to private enterprise. Designated the home of Army missiles in 1948, Redstone dropped from a peak-World War II employment of more than 19,000 to a little-used post of a few hundred workers.
By 1949, the Army Corps of Engineers tried to sell part of the arsenal, but the sale effort was halted by the Army's decision to consolidate its rocket and guided missile missions at Redstone in 1948 and 1949.
1950s: With the arrival of aerospace engineer von Braun and his rocket team from Fort Bliss in 1950, the arsenal became the center of Army missilery and rocketry. During this decade, Redstone's scientists, engineers and technicians transformed numerous weapon systems such as the Redstone, Jupiter, Hawk, Pershing, Nike Ajax and Nike Hercules from ideas into realities. During this time the von Braun team also made significant contributions to the nation's space effort while working for the Army. Most notable was the Army's launching of America's first satellite, Explorer I, into space in January 1958. This and other Army achievements helped lay the foundation for U.S. space exploration.
1960s: To support the newly formed NASA, a large number of Army employees, land and facilities supporting space and rocket programs were transferred to the program, and the Marshall Space Flight Center was created. Army work continued to focus on developing and sustaining ground and air defense missile systems with a focus on the Cold War and maintaining a technological edge over Soviet systems. Meanwhile, MSFC concentrated on putting a man on the moon. Rocket-motor test stands roared as MSFC worked around the clock to achieve manned space flight. The Saturn V rocket that eventually carried the three American astronauts to the moon in 1969 was based on work performed at Redstone Arsenal.
1970s and 1980s: As the Cold War continued, Redstone Arsenal pursued development of advanced weapon systems and training service members on maintenance and repair. These systems included the Pershing II, Chaparral, Multiple Launch Rocket System, Patriot and Avenger.
After retiring the Apollo space missions, MSFC continued to focus on propulsion systems, space station operations and other programs including the Skylab space station, Space Shuttle development for routine space access and Spacelab 1.
In 1988, the Base Realignment and Closure Commission transferred the Test, Measurement and Diagnostics Equipment Center from Lexington, Kentucky, to Redstone and sparked a renewed era of growth.
1990s: The Space Shuttle program throughout the 1990s was NASA's workhorse and included delivery of the Hubble Space Telescope, which was developed at the Marshall Space Flight Center. BRAC 1991 brought materiel and logistics readiness activities from Lexington and San Francisco's Presidio, which merged and became Army Materiel Command's Logistics Support Activity. Initially, the Armament, Munitions and Materiel Command also was to relocate to Redstone, but this decision was reversed in BRAC's 1993 round. Subsequent BRAC changes in 1995 realigned multiple Army aviation activities and commands from St. Louis, merging them with Redstone Arsenal's Missile Command and other missile-centric centers.
2000s: Redstone Arsenal — and the local community — saw tremendous growth as the largest BRAC changes to date took hold. BRAC 2005 brought the Army Materiel Command's four-star headquarters, Space and Missile Defense Command's three-star headquarters, the majority of DOD's Missile Defense Agency and the U.S. Army Security Assistance Command's two-star headquarters from Northern Virginia. The Aviation Technical Test Center moved from Fort Rucker, Alabama, and merged with the Redstone Technical Test Center to become Redstone Test Center. The Second Recruiting Brigade and 2nd Medical Recruiting Battalion were also moved from Fort Gillem, Georgia, to Redstone.
Significant growth also occurred apart from the BRAC process. The newly activated Army Contracting Command and Expeditionary Contracting Command, realignment of Justice Department's explosives research and analytical centers for the FBI and ATF, and new programs within existing organizations also brought growth and added to the diverse and dynamic missions found only at Redstone Arsenal.
Organizations

U.S. ARMY MATERIEL COMMAND
U.S. Army Materiel Command is the Army's primary logistics and sustainment command, developing and delivering materiel readiness solutions to ensure globally dominant land force capabilities. As one of four Army Commands, Army Materiel Command leads and directs logistics and sustainment efforts, managing the Army's global supply chain across the Total Force to best meet Army readiness requirements, ensuring the best-equipped and sustained fighting force in the world.
The command's complex missions range from manufacturing and maintenance to transportation and technological upgrades. From managing the Army's arsenals, depots and ammunition plants to maintaining Army Prepositioned Stocks, both on land and afloat, Army Materiel Command assures supply availability — ensuring America's fighting force has the right equipment in the right location and the right time. The command is headquartered at Redstone Arsenal, Alabama, has a presence or impact in all 50 states and more than 150 nations.
U.S. ARMY AVIATION & MISSILE COMMAND
The Aviation and Missile Materiel Enterprise is composed of the Aviation and Missile Command; the Army Contracting Command-Redstone; the Program Executive Office, Aviation; and the Program Executive Office, Missiles and Space.
AMCOM's mission is to provide and sustain world-class aviation and missile systems to the joint warfighter to support national security and defense strategies.
It and the other members of the Aviation and Missile Materiel Enterprise ensure that the Army's aviation and missile systems are technologically superior, affordable and ready for the Soldier. AMCOM sustains six of the Army's major warfighting systems and the majority of its Force Management Support cases.
AMCOM's USATA is the Army's functional and technical proponent for the Army-wide Test, Measurement and Diagnostic Equipment Calibration and Repair Support Program that provides worldwide calibration support. USATA is also home to the Army Primary Standards Laboratory, a state-of-the-art precision measurement systems facility.
U.S. ARMY SECURITY ASSISTANCE COMMAND
The Security Assistance Command leads the Aviation Missile Command's Security Assistance Enterprise by building and sustaining U.S. global partnerships; it does this by developing and managing security assistance programs and foreign military sales for the Army. USASAC is called the Army's "Face to the World" because it is the primary entry point for U.S. Army materiel and service-related foreign military sales requirements.
USASAC works to build partner capacity, support geographic Combatant Command engagement strategies and strengthen U.S. global partnerships. The command carries out U.S. Army security assistance programs, including sales of military defense items and services to eligible foreign governments. USASAC is responsible for life cycle management of such sales, from pre-letter of request to development, execution and closure.
The U.S. Army Security Assistance Training Management Organization, a subordinate command of USASAC, can deploy teams from its engagement and aviation branches to provide worldwide training tailored to any country for equipment it has purchased.
U.S. ARMY CONTRACTING COMMAND
The Army Contracting Command is a two-star level command with a one-star subordinate command —the Mission and Installation Contracting Command — and six major contracting centers that support AMC's life cycle management commands and major subordinate commands. These centers also provide contracting support to several program executive offices and program managers that support the Army's major acquisition programs. ACC also has eight contracting support brigades, 13 contracting battalions, and 68 contracting teams stationed throughout the world in support of the Soldier.
ACC's Soldiers, civilians and contractors support warfighters worldwide by buying equipment, supplies and services vital to our Soldiers' missions and well-being.
As the Army's principal buying agent, ACC offers the contracting expertise of some of the best-trained people in the service, ready to support the warfighter while overseeing responsible stewardship of taxpayers' funds. ACC ensures contracting support to the warfighter as mission requirements emerge and as the Army transforms and moves within the U.S. and globally.
ACC professionals are dedicated to providing the highest quality of contracting support to all customers whenever and wherever needed. A combat multiplier, the Army Contracting Command is doing its part to keep the Army strong.
U.S. ARMY COMBAT CAPABILITIES DEVELOPMENT COMMAND AVIATION & MISSILE CENTER
The U.S. Army Research, Development and Engineering Command, Aviation & Missile, also known as CCDC AvMC focuses on meeting current and future life cycle needs for aviation and missile systems to support the joint warfighter.
The CCDC AvMC team of more than 9,500 military, civilian and contractor employees has built a reputation for finding creative solutions, rapidly transitioning technologies and providing synergistic expertise to customers and stakeholders who include Program Executive Offices, program managers, Department of Defense and other federal agencies, academia and industry.
CCDC AvMC's top three priorities include:
Readiness: Provide aviation and missile systems solutions to ensure victory on the battlefield today
Future Force: Develop and mature Science and Technology to provide technical capability to our Army's (and nation's) aviation and missile systems
Soldiers and People: Develop the engineering talent to support both Science and Technology and the aviation and missile material enterprise
CCDC AvMC is a valued partner for the joint warfighter because it rapidly provides technology, critical materiel, analyses and system support for about 20 missile systems, 10 aviation platforms, numerous unmanned platforms and other major weapon systems.
LOGISTICS DATA ANALYSIS CENTER
Logistics Data Analysis Center's (LDAC) mission is to provide timely and integrated life cycle logistics information, knowledge and expertise to Soldiers globally so it can meet its full-spectrum operational requirements.
LDAC maintains the Logistics Information Warehouse (LIW), which is the Army's official single authoritative logistics data repository, and provides crucial logistics information through analytical tools and business intelligence solutions to effectively acquire, manage, equip and sustain the materiel requirements of the U.S. Army.
LDAC is composed of four centers:
The Enterprise Integration Center: Technical and Data Experts;
The Logistics Engineering Center: Strategic Solutions for Acquisition Logistics;
The Soldier Support Center: LDAC's Logistics Data and Processes SMEs;
The Global Support Center: LDAC's Face to the Field.
LDAC and its functionally diverse centers are involved in the Army's materiel development process. It develops and trains for software applications, standards and policies to ensure a viable Integrated Product Support strategy and programs that optimize system and equipment readiness and availability to meet operational demands.
U.S. ARMY SPACE & MISSILE DEFENSE COMMAND/ARMY FORCES STRATEGIC COMMAND
The U.S. Army Space and Missile Defense Command/Army Forces Strategic Command serves as the Army Service Component Command to the U.S. Strategic Command and fulfills the Army's requirement to provide trained and ready space and missile defense professionals and capabilities throughout the Joint Force.
USASMDC/ARSTRAT also conducts space and missile defense operations and provides planning, integration, control and coordination of Army forces and capabilities. It is the Army's force modernization proponent and operational integrator for global space, missile defense and high altitude capabilities. The commanding general is the senior commander for U.S. Army Kwajalein Atoll and Fort Greely, Alaska, and the senior Air Defense Artillery officer for the Army.
USASMDC/ARSTRAT is a multi-faceted, multi-component warfighting team of two brigades, a Technical Center and Future Warfare Center, globally synchronized to provide space and missile defense capabilities supporting both the U.S. Army and U.S. Strategic Command.
The command's major operational element consists of the 1st Space Brigade and the 100th Missile Defense Brigade, headquartered in Colorado Springs, Colorado, with additional operational elements around the world (23 locations/11 time zones).
The 1st Space Brigade provides trained and ready space forces to conduct continuous global space force enhancement, space support, and space control and contingency activities in support of combatant commanders, U.S. government agencies and international partners.
The 100th Missile Defense Brigade (Ground-based Midcourse Defense) is a multi-component brigade consisting of active-component Army and Army National Guard Soldiers in Colorado, California and Alaska who defend the homeland from intercontinental ballistic missile attacks.
The Technical Center manages science, technology, research and development. It provides critical technologies that meet today's requirements and address future needs, enabling Warfighter effectiveness in the core competencies of directed energy, space, high altitude systems, cyberspace and missile defense.
The Future Warfare Center is the command's architect for future force design. It develops and integrates innovative doctrine, concepts, and capabilities; trains and educates agile, adaptive, and ready Soldiers and Leaders; executes life-cycle management for Army Space Operations Officers (FA 40); develops the Army Space Cadre; and enables informed decision making through studies, analysis modeling, and simulation within the capabilities of Army and Joint Space, Missile Defense, and High Altitude.
USASMDC/ARSTRAT is also the Army proponent for the Army astronaut program.
PROGRAM EXECUTIVE OFFICE, AVIATION
Program Executive Office, Aviation (PEO Aviation) leads and executes the life-cycle management for all Army Aviation Weapons Systems. The organization serves Soldiers and our nation by designing, developing, delivering, and supporting advanced aviation capabilities for operational commanders and our allies.
PEO Aviation is statutorily responsible for the execution of nine Major Defense Acquisition Programs representing 30% of Army Acquisition, and serves as the Milestone Decision Authority (MDA) for 15 programs of record with a robust portfolio of supporting capabilities. In addition to supporting Combat Aviation Brigades (CABs) and Combatant Commands, PEO Aviation provides critical aviation capabilities to support other U.S. government agencies including the National Guard and Department of Homeland Security. Also, PEO Aviation supports building aviation capacity of approximately 70 partner nations through Foreign Military Sales.
PEO Aviation is best known for the Apache, Black Hawk, Chinook, Gray Eagle, and Shadow. It is also known for support systems such as Lakota for aviation training and light utility; the C-12 family of fixed wing; and Non-Standard Rotary Wing aircraft. Aviation Systems products support radio and ground support equipment used across our platforms. PEO Aviation also provides forward-deployed pilots, training, and logistics to COCOMs.
PEO Aviation's top priority is to reduce the burden on the Soldier. Our primary emphasis is on effectively delivering enhanced capabilities to commanders so they can continue to execute the challenging missions they perform every day.
The PEO Aviation is the manager for eight Project Offices including:
Apache Attack Helicopter Project Office.
Aviation Systems Project Office.
Aviation Turbine Engines Project Office.
Cargo Helicopters Project Office.
Fixed Wing Aircraft Project Office.
Future Vertical Lift Project Office.
Multi National Aviation Special Project Office.
Unmanned Aircraft Systems Project Office.
Utility Helicopters Project Office.
PROGRAM EXECUTIVE OFFICE, MISSILES & SPACE
The mission of Program Executive Office Missiles and Space (PEO MS) is to develop, field, and sustain Missile and Space Systems for the U.S. and Coalition Warfighters that Provide a Decisive Battlefield Advantage. To accomplish this, PEO MS provides centralized management for all Army Tactical and Air Defense Missile Programs. To enhance multi-domain warfighting capabilities, PEO MS serves as a key link between the Warfighter and the technology base to ensure that integration and interoperability are achieved with Army programs. To meet the needs of the Warfighter, PEO MS manages eight (8) Project Offices.
The Integrated Air and Missile Defense (IAMD) Project Office is responsible for developing, acquiring, fielding, and sustaining the IAMD Battle Command System (IBCS) within an overarching construct that supports the integration of current and future sensors and weapons providing an effective IAMD capability at all echelons.
The Lower Tier Project Office (LTPO) develops, produces, fields, and sustains air and missile defense systems to defend the lower tier within the terminal defense segment of the Ballistic Missile Defense System architecture.
Cruise Missile Defense System (CMDS) is responsible for delivering the materiel solutions that provide Warfighters the ability to detect and defeat Cruise Missiles, Unmanned Aircraft Systems, Rotary and Fixed Wing Threats, and Rockets, Artillery and Mortars.
The Counter-Rocket, Artillery, Mortar (C-RAM) Project Office provides for the overall life cycle management of automated air and missile defense command and control systems, force protection systems-of-systems, and counterfires and counter target acquisition radars.
The Missile Defense and Space Systems (MDSS) Project Office provides Army acquisition expertise and management for several missile defense and space system related areas.
The Precision Fires Rocket and Missile Systems (PFRMS) Project Office provides for the Precision Fires family of launchers and munitions in support of the Warfighter's long-range field artillery requirements.
The Joint Attack Munition Systems (JAMS) Project Office provides life cycle support for all Army aviation rockets, launchers, and missiles.
The Close Combat Weapon Systems (CCWS) Project Office provides the best capabilities in a timely, reliable, and responsive manner in support of Warfighter needs at home and abroad.
In support of the Army Modernization Strategy and the newly established Futures Command, PEO MS directly supports the Long Range Precision Fires and Air and Missile Defense priorities and contributes to the Soldier Lethality, Positioning Navigation Timing, and the Future Vertical Lift Cross-Functional Teams. It accomplishes this through active Program Manager participation directly within the Cross Functional teams, helping to ensure rapid prototyping and fielding efforts can be properly aligned to longer term modernization strategy to ensure capabilities can be properly matured and sustained.
U.S. ARMY REDSTONE TEST CENTER
The Redstone Test Center is a U.S. Army Test and Evaluation Command tenant activity on Redstone Arsenal. The center provides cutting-edge test and evaluation support for customers. Its mission is to provide superior technical expertise and state-of-the-art facilities to plan, conduct, analyze and report the results of tests on aviation, missile and sensor systems, subsystems and components.
Services are provided to ensure the safety, performance and reliability of military hardware and embedded software in field operations. To provide the best technical results for the customer's dollar, the center uses the most effective combinations and sequences possible of testing, modeling and simulation. Its strength lies in a skilled workforce dedicated to furnishing the safest and most effective weapons systems to Soldiers.
U.S. ARMY GARRISON – REDSTONE
U.S. Army Garrison-Redstone executes daily operations effectively and efficiently with a qualified and professional workforce of civil service and contractor personnel. Each member of the Garrison strives for excellence to make certain our tenant organizations can execute their peacetime and wartime missions without concern about any interruption in home station support. Workers focus on the installation's continued viability and sustainability, achieved through strategic planning and appropriate execution of services and programs.
USAG-Redstone's mission is to operate an installation that assures the success of its joint and interagency team working around the globe and into space.
The garrison maintains over 14 million square feet of administrative and RDT&E building space, 200 miles of roads, eight major test ranges, an airfield, a railhead with two spurs, two barge docks and six gates on the installation. USAG-Redstone is committed to the health, welfare and morale of Soldiers, their families and the civilian workforce.
The Family and Morale, Welfare & Recreation, Army Community Services, Religious Support Office and civilian support agencies are crucial providers of services and outreach, performing exceedingly well in a coordinated effort to ensure that resiliency on Redstone Arsenal is sustained. Redstone Arsenal continues to maintain a strong community partnership that has proven beneficial.
2ND RECRUITING BRIGADE
The 2nd Recruiting Brigade recruits for the Active Army and Army Reserve in eight Southeast states and in Puerto Rico and the Virgin Islands. The brigade's geographical footprint is 362,700 square miles, and it is supported by eight recruiting battalions and 46 recruiting companies. It partners with 930 colleges, 52 ROTC programs, 3,600 high schools and 24 vocational trade schools. Annually, 2nd Recruiting Brigade recruits over 22,700 new Soldiers in support of the U.S. Army Recruiting Command.
2nd Recruiting Brigade's strategic mission is to expand the Army's influence and external networks through community engagements and partnerships to increase and engage the qualified market. This mission is facilitated by partnering with organizations such as the Association of the United States Army, 100 Black Men of America, Kiwanis International, the League of United Latin American Citizens, Veterans of Foreign Wars, and the Association for Career and Technical Education.
FOX ARMY HEALTH CENTER
Fox Army Health Center provides access to quality and cost-effective primary care for patients while maintaining a state of readiness for mobilization. Fox transformed from a hospital with inpatient services to a primary care Health Center in January 1996.
Fox is one of several military medical treatment facilities in TRICARE Region IV and works with Humana Military, Veterans Affairs (VA) and other organizations to develop a fully integrated health system within the region. Fox Army Health Center is part of the Regional Health Command – Central, headquartered in San Antonio.
More than 60,000 people rely on FAHC for direct health care, public health and education, occupational medicine and industrial hygiene, among other services. These include active duty and their family members, retirees and their family members, civil servants and contracted personnel.
Patient Centered Medical Home is a new approach to health care that puts the patient at the center of every decision with regard to medical care. The health center's PCMH is composed of three teams: Blue Team, Red Team and White Team. The Blue Team's mission is to optimize the health, well-being and medical readiness of the "Human Weapon System" through a dedicated approach to Warfighter Medicine. Blue Team's clinic provides physical exams, medical readiness and deployment screenings to support the military's wartime mission.
The Red and White teams provide comprehensive medical care to the beneficiaries of Fox Army Health Center, including adult and family medicine as well as pediatrics and minor outpatient procedures. All TRICARE Prime patients enrolled at FAHC and assigned to this clinic will have a Primary Care Manager who will coordinate any specialty care, thus ensuring continuity, timeliness and appropriateness of referrals. The Advice Nurse system is available after normal business hours.
In addition to a busy outpatient pharmacy service, the clinic offers laboratory and radiological service. The Behavioral Health Division provides mental health treatment. The Wellness Center provides patient and community health education and promotions, environmental health activities and surveillance of communicable diseases. The Health Center employs 232 military and civilian employees and is accredited by the Joint Commission.
U.S. Army Audit Agency
The U.S. Army Audit Agency's mission is to serve the Army's evolving needs by helping senior leaders assess and mitigate risk and by providing solutions through independent internal auditing services for the benefit of Army Soldiers, Civilians, and Families.
The Agency is the Army's internal audit organization, and it plays a critical role in Army governance. The Agency examines all Army operations and programs. Its goal is to be recognized as a model organization with an engaged workforce of respected professionals who, guided by innovation and integrity, help the Army overcome challenges in high-risk areas.
TELEPHONE: U.S. Army Audit Agency
Huntsville Field Office:
256-955-6578/256-955-6256
U.S. ARMY ENGINEERING & SUPPORT CENTER, HUNTSVILLE
The U.S. Army Engineering and Support Center serves U.S. forces, their families and the nation by providing specialized technical expertise, global engineering solutions and cutting-edge innovations through centrally managed programs that support national interests.
The center is a major element of the U.S. Army Corps of Engineers and employs more than 900 people from engineering and support disciplines with an annual payroll of more than $70 million. Though in Huntsville, it serves the Department of Defense and other government organizations worldwide.
The center's original mission was to support ballistic missile defense but over time it has expanded into installation support, ordnance and explosives, engineering, chemical demilitarization programs and the Environmental and Munitions Center of Expertise.
Its programs are both national and global, broad in scope and require integrated facilities or systems that cross geographical boundaries, require centralized management or require commonality, standardization, multiple-site adaptation or technology transfer.
The center's major directorates aiding its diverse group of global customers are:
Installation Support and Programs Management.
Ordnance and Explosives.
Engineering.
Chemical Demilitarization.
Environmental and Munitions Center of Expertise.
Department of Defense Organizations

U.S. MISSILE DEFENSE AGENCY
The Missile Defense Agency (MDA) is a research, development, and acquisition agency within the Department of Defense. Our workforce includes government civilians, military service members, and contractor personnel in multiple locations across the United States. We are focused on retaining and recruiting a dedicated workforce interested in supporting our national security.
As we develop, test, and field an integrated Ballistic Missile Defense System (BMDS), the MDA works closely with the combatant commands (e.g. Pacific Command, Northern Command, etc.) who will rely on the system to protect the United States, our forward deployed forces, and our friends and allies from hostile ballistic missile attack. We work with the combatant commanders to ensure that we develop a robust BMDS technology and development program to address the challenges of an evolving threat. We are also steadily increasing our international cooperation by supporting mutual security interests in missile defense.
The MDA is committed to maximizing the mission assurance and cost effectiveness of our management and operations through continuous process improvement.
DEFENSE INTELLIGENCE AGENCY/MISSILE AND SPACE INTELLIGENCE CENTER
The Missile and Space Intelligence Center produces comprehensive scientific and technical assessments of foreign weapons systems.
The Defense Intelligence Agency's Missile and Space Intelligence Center assesses foreign missile and space systems for clients, warfighters, weapons developers, homeland security-intelligence and policymakers. The center uses scientific and technical methods to evaluate all sources of intelligence data to determine foreign weapon characteristics, performance and operations so U.S. and allied forces can triumph in current and future conflicts.
In addition, the center projects future trends in foreign weapons systems' research and development, characteristics and limitations. It also monitors and reports on foreign developments in applied sciences and technologies that have warfare potential, and alerts Department of Defense planners and decision-makers of any that could adversely affect U.S. national security.
Federal Organizations

NASA'S MARSHALL SPACE FLIGHT CENTER
Teams at Marshall Space Flight Center lead some of the nation's most exciting space endeavors, thanks to their unique expertise in large-scale, complex space systems development and propulsion. Over its more than 50 years of scientific and technological excellence, Marshall has developed a broad portfolio of abilities:
It performs basic research and develops, tests and sustains propulsion systems for all phases of space transportation, including boost, upper stage and in-space applications.
Teams at Marshall develop, test and evaluate materials, processes, designs and systems as well as full-up vehicles such as the nation's new heavy-lift, human-rated Space Launch System for exploration beyond Earth's orbit.
It supports NASA in developing large space structures and their supporting space systems, including modules for the International Space Station and now manages all the science work of the astronauts aboard the ISS from a 24/7 Payload Operations Integration Center. Marshall also develops and manages small satellite projects and scientific payloads on a number of different spacecraft.
Marshall develops, tests and manages scientific instruments, experiments and spacecraft that gather vital information about Earth and space.
ATF — NATIONAL CENTER FOR EXPLOSIVES TRAINING & RESEARCH
The National Center for Explosives Training & Research is composed of the National Canine Training and Operations Center in Front Royal, Virginia, and the Explosives Enforcement and Training Division and the Explosives Research and Development Division. Both of the latter are at Redstone Arsenal.
The center manages all federal Bureau of Alcohol, Tobacco, Firearms and Explosives canine training initiatives and operational responses, ATF's certified explosives specialist program, Explosives Technology Branch operations and explosives enforcement officer operational responses. It also provides basic and advanced explosives training and research to safeguard the public and reduce deaths and injuries from explosives crimes and accidents, and buttresses ATF's core mission of investigating the criminal misuse of explosives and regulation of the industry, aligning this support with the U.S. counter-IED effort.
NCETR is a multiagency, multiuse facility: ATF conducts training on Redstone Arsenal for military explosives ordnance disposal technicians, the U.S. Department of State, ATF personnel, state and local bomb technicians and other federal and international law enforcement agencies.
The center also has three major laboratories: the explosives research lab, the electronics lab and the forensic instrument lab, with staff that include a full-time research scientist and ATF forensic chemists.
THE FEDERAL BUREAU OF INVESTIGATION
The Federal Bureau of Investigation continued to grow at Redstone Arsenal during 2018 as part of its strategy to enhance operations while simultaneously creating numerous synergies across FBI programs.
The Terrorist Explosive Device Analytical Center (TEDAC) was formally established in 2003 within the FBI's Laboratory Division as the single source for strategic level improvised explosive device (IED) exploitation. Previously located in Quantico, Virginia, TEDAC relocated to Redstone Arsenal in 2015. TEDAC has developed extensive partnerships throughout the Department of Justice (DOJ), Department of Defense (DOD), Department of Homeland Security (DHS) and the international community.
TEDAC is a forward-leaning center utilizing a whole-of-government approach. TEDAC's interagency and collaborative mission as a strategic exploitation center coordinates law enforcement, the intelligence community, the military, and other government agencies such as ATF and DHS to gather and share information with the primary goal of preventing a terrorist attack. The center has collected and maintains in excess of 1 million IEDs and related materials from around the globe.
TEDAC's focus remains steadfast in protecting the United States as well as our international partners against terrorist attacks. Its collaborative efforts include:
Scientific and technical exploitation and examination of IEDs utilizing forensic techniques.
Production of intelligence products shared with its partners specific to IED attributes, terrorist tactics, techniques and procedures.
Timely responses to partners' priority requests for intelligence, device exploitation, data and analysis.
Forecasts of IED-related threats worldwide based on scientific and technical analysis of the devices.
A centralized repository for IED-related material collected through strategic liaisons and partnering.
The FBI's Hazardous Devices School (HDS) is a part of the FBI's Counter IED Section within the Critical Incident Response Group based in Quantico, Virginia. HDS was established in 1971 as a joint operation between the FBI and the United States Army and is the nation's only civilian bomb disposal training facility that certifies all United States public safety bomb technicians in countering IED threats. HDS also works closely with the Counter IED Section's Research and Development team.
In 2016, the FBI assumed full responsibility for the day-to-day operation of the school as well as the development of all curriculum. By leveraging its partnerships with TEDAC and outside agencies, HDS uses intelligence gathered from past, present and emerging threats to drive course curriculum; creating a training environment where technicians are faced with real-world scenarios and are challenged to create real-world solutions.
HDS offers a variety of training courses to include the initial six-week certification course, a one-week recertification course and multiple advanced training courses. All courses include classroom and hands-on training. By serving as the singular certifying entity, HDS ensures that bomb technicians from multiple federal, state and local bomb squads can come together and seamlessly integrate with each other to address all hazardous situations.
In 2018, the school's 455-acre facility received additional training facilities as well as range upgrades. These facilities provide a variety of venues to create the most realistic training environments possible inclusive of room for advances in technology such as robot operations, specialty threats and advanced IED responses. By providing these types of environments, it affords all technicians the opportunity to receive world-class training to address the ever-changing explosive threat.
Other entities located on the Arsenal which support the overall FBI mission include the interim Tennessee Valley Regional Computer Forensics Laboratory (TNRCFL) and the National Defense Cyber Alliance (NDCA). The TVRCFL is one of 17 laboratories in the country serving as a full-service, digital forensics laboratory and training center dedicated entirely to the examination of digital evidence. The NDCA will improve national security by protecting our sensitive networks through collaborative strategies and information sharing between the cleared defense contractor community and the U.S. government.
Arrival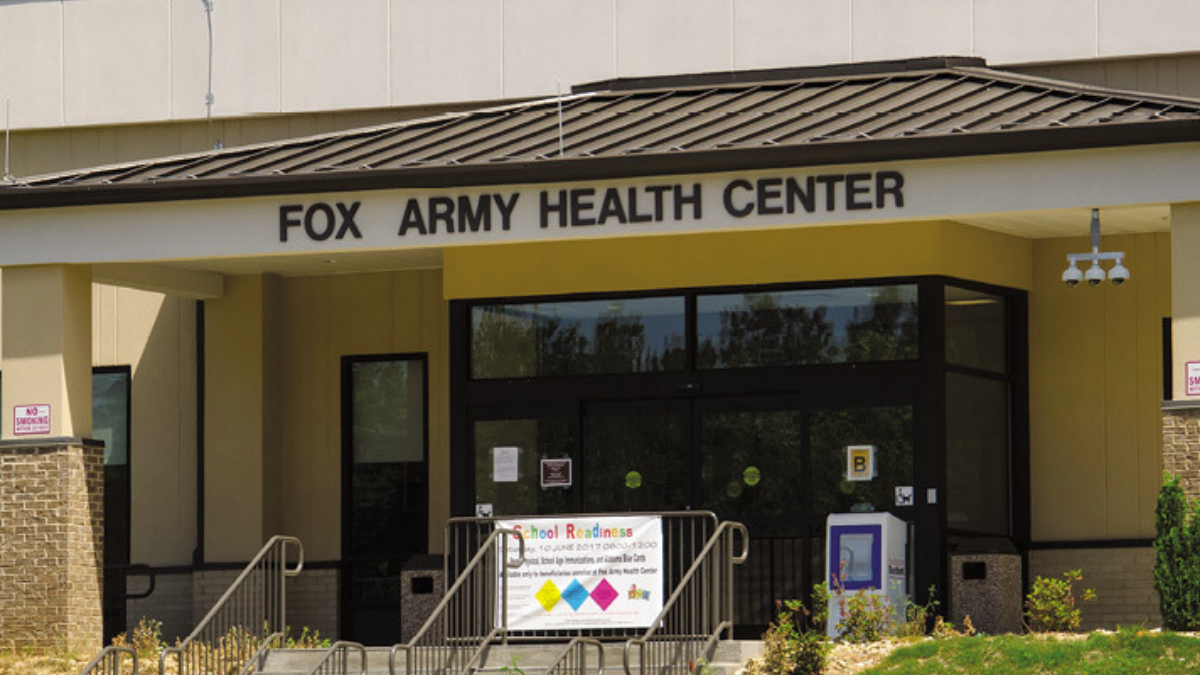 See the Getting To & Around Madison and Morgan counties chapter on Page 23 for information about local airports, train service and public transportation. The closest commercial flights land at Huntsville International Airport-Carl T. Jones Field in Huntsville, Alabama, about 8 miles from Redstone. Transportation is not provided to the arsenal.
SPONSORSHIP
Inform your sponsor of your estimated arrival time and flight information, if applicable, before arrival at Redstone Arsenal.
Sponsorship is vital to the relocation process. Don't PCS without talking to your sponsor before departing for Redstone Arsenal. Your sponsor will answer any questions you have about the post and the local area, make lodging arrangements and meet you upon arrival. Your sponsor will be there to help you and your family until you are settled into your new community.
If you have not been in touch with a sponsor and your departure is nearing, contact your gaining unit. You can request a welcome packet from Army Community Service at 256-876-5397 or by writing or stopping by ACS in the Pershing Welcome Center from 7:30 a.m. to 4:30 p.m., Monday through Friday, at Building 3443, Honest John Road.
DRIVING DIRECTIONS
Cellphone use by the driver of a moving motor vehicle is prohibited on all Department of Defense installations unless the cellphone is used with a hands-free device.
From Huntsville International Airport-Carl T. Jones Field
From the airport, turn left onto Houston Goodson Way. Turn right (north) onto Glenn Hearn Boulevard SW (Houston Goodson Way SW). Take the ramp onto Interstate 565 (US 72) and head north. Take Exit 14 toward Research Park Boulevard and keep right, following the signs for Redstone Arsenal. Continue onto Rideout Road, then turn left onto Goss Road SW, then right onto Mountain Drive to the main gate.
From Interstate 565
From Interstate 565, take Exit 14 and keep right, following the signs for Redstone Arsenal/Gate 9. Continue onto Rideout Road, then turn left onto Goss Road SW, then right onto Mountain Drive to the main gate.
CHECK-IN PROCEDURES
Military Personnel Division
Bldg. 3494, Honest John Road 256-842-7091
When you arrive at the post, you must in-process with Military Personnel Division (One Stop) between 7:30 a.m. and 3:45 p.m. Monday through Friday. If you arrive after duty hours, on a weekend or a holiday, report to HHC AMCOM PAC, Bldg. 3494 (One Stop) on the next duty day. All officers, warrant officers and enlisted permanent party Soldiers should report to the Military Personnel Division, Room 114, after signing in with HHC the first duty day. Soldiers should have their Military Personnel and Soldier Readiness File with them.
Newcomers' Information
All Soldiers, DA civilians, and contractors arriving at Redstone Arsenal can obtain Newcomer's information at Army Community Service (256-876-5397) in the Pershing Welcome Center, Bldg. 3443 Aerobee Rd.
LODGING
IHG Army Hotels and Candlewood Suites
Check-in: 3440 Aerobee Road,
Huntsville, AL 35808 256-924-7707
www.ihgarmyhotels.com
Getting Settled

HEALTH CARE
Fox Army Health Center
4100 Goss Road
Appointments 256-955-8888
Pharmacy 256-955-8888
Refills 256-842-7337
Dental care 256-876-5200
www.redstone.amedd.army.mil
The Fox Army Health Center provides comprehensive primary care to the Soldiers, family members, retirees and beneficiaries of the Redstone Arsenal community to improve readiness and promote health.
The health center provides a wealth of medical services, including dentistry, family health, immunizations, lab testing, optometry, physical therapy, radiology, pharmacy, traumatic brain injury, wellness clinic, behavioral health and veterinary services. All eligible beneficiaries can call during duty hours Monday through Friday for an appointment.
Electronically filed prescriptions are accepted from non-military members. Please view the flier at www.redstone.amedd.army.mil/docs/misc/pharmacy_escript_document.pdf for instructions on electronic prescriptions, or call 256-313-0300 for assistance. When you get a confirmation that your order has been accepted, come to the pharmacy for pickup.
Dental care is available only to active-duty military. Family members of active-duty personnel are encouraged to use the TRICARE Dental Program. Program information is available by visiting www.tricare.mil/CoveredServices/Dental/TDP.
NASA/MSFC Medical Center
4249 Morris Road 256-544-2390
The Marshall Space Flight Center has its own Occupational Health Clinic. While not a primary care clinic like Fox Army Health Center, the NASA/MSFC Medical Clinic provides voluntary annual physicals for the NASA civil servant workforce. Additionally, it offers monitoring/surveillance physicals for its civil servants and on-site contractors performing hazardous activities. HEMSI paramedics are also on site.
TRICARE
TRICARE is the health care program for active-duty and retired service members, their families and survivors. TRICARE provides health plans, prescriptions, dental plans and other special health programs to its beneficiaries. TRICARE's mission is to enhance the Department of Defense and the nation's security by providing health support for the full range of military operations and sustaining the health of all those entrusted to their care.
TRICARE offers a range of health care plans. TRICARE Prime is the mandatory health care option for active-duty service members. Family members of active-duty service members, retired service members and their families may also use this option. If you use TRICARE Prime, you are assigned a primary care manager at a military or network provider who delivers most of your care. If you need care your PCM cannot provide, you are referred to a specialist. Active-duty service members and their families pay nothing out of pocket for this option; however, there is less freedom to choose your provider. On Jan. 1, 2018, TRICARE Standard and Extra were combined into a new plan, TRICARE Select. Select is a standardized fee-for-service plan available to family members of active-duty service members, retired service members and their families. After you enroll in TRICARE Select, you may schedule an appointment with any TRICARE-authorized provider. Referrals are not required, but you may need prior authorization from your regional contractor for some services. You will pay a copay or cost share based on the type of care and provider you see. Costs for Select vary, but you will pay an annual deductible as well as a percentage of covered services. Non-network providers may charge up to 15 percent more than the TRICARE allowable charge; you are responsible for these extra charges. TRICARE also offers plans for remote and overseas locations, reserve military members, young adults who are no longer covered under regular TRICARE coverage and other scenarios.
TRICARE coverage is completely portable, so it moves with you when you relocate. Follow these simple steps to ensure you have no break in coverage when you move:
Do not cancel your TRICARE Prime enrollment option before you move.
Update your personal information in DEERS immediately when you arrive at your new location.
Select a new primary care manager.
If you are already using TRICARE Select, moving is easy. When you arrive at your new location, update your personal information in DEERS. Then find TRICARE-authorized providers in your new area. Remember, you may have a new regional contractor and claims filing address.
TRICARE's online tools can help you find and compare plans that you are qualified to use. Beginning in 2019, however, TRICARE will allow you to switch between plans only if you have a "qualifying life event" such as the birth of a baby or a move. For a complete description of the types of coverage programs and regions, visit www.tricare.mil. For more information about recent changes to TRICARE, visit https://tricare.mil/changes.
HOUSING

Housing Service Office
302 Hughes Road 256-876-6666
The Housing Service Office is ready to help you transition to your new home and community. Use its resources to become familiar with available housing options and support services. When you arrive at Redstone Arsenal, visit the HSO for valuable information, counseling and guidance before signing any lease or sales contract for housing.
Unaccompanied Housing
302 Hughes Road 256-876-6666
There are no barracks at Redstone Arsenal. The HSO will be provide you with a certificate of non-availability that will allow you to receive basic housing allowance at the without dependent rate.
Redstone Communities Welcome Center
320 Hughes Road 256-430-1517
www.redstonefamilyhousing.com
Redstone family housing is privatized. Redstone Communities offers the quality living your family deserves and the pricing and flexibility your family needs. Located at Redstone Arsenal, just minutes from Huntsville, Alabama, Redstone Family Housing is made up of seven distinct, vibrant communities encompassing 354 traditional and renovated homes. For comprehensive information about homes and amenities available in the Redstone privatized housing community, visit the Redstone Family Housing website.
MAIL
Post Office
3710 Aerobee Road 256-650-1153
The full-service Post Office on post provides window service on weekdays, and the lockbox lobby is always open.
PETS
Veterinary Services
Bldg. 3583 256-876-2441
www.redstone.amedd.army.mil/Pages/Redstoneveterinaryservices.aspx
Redstone Veterinary Treatment Facility is professionally staffed by Army Veterinary Corps personnel to provide care for all government-owned animals. It offers wellness services, vaccinations and treatment for sick pets of military families by appointment only. Because of limited staff and resources, veterinary emergency cases are best served through a full-service civilian veterinary hospital; see the Military Buyer's Guide tab to connect with local veterinarians.
Personnel living on Redstone Arsenal must register their dogs and cats with the Veterinary Treatment Facility within three working days of moving into family housing or acquiring the pets. The animals must be current on vaccinations. Proof of rabies vaccination and microchip must be presented at the time of registration.
Housing may limit the number and breed of pets that can live in on-post housing. Contact on-post housing for more information.
RELIGIOUS GUIDANCE
Religion Support Office 256-842-2964/2176
The Religious Support Office provides religious/spiritual care for Soldiers, DA civilians, military retirees, Families and all others with authorized access to Redstone Arsenal. Worship services, religious education programs for adult, youth and children, music programs, pastoral care are available at Bicentennial Chapel on Goss Road.
The Arsenal's chapel entrance into the chapel features stained glass depicting Gen. George Washington with his soldiers at Valley Forge. The entrance to the sanctuary has the overhead view of the Greek letters of the Alpha and Omega. Fourteen stained glass windows dedicated in July 1992 line the sanctuary and commemorate the 13 original states, while additional windows commemorate high points of U.S. history. For specific information about events, education, etc., contact the chapel team.
VEHICLE REGISTRATION
Private vehicles do not have to be registered with Redstone Arsenal, but all vehicles on base must be insured and license plates must be current. Alabama state traffic laws apply on base; see the Getting To & Around Madison and Morgan counties chapter on Page 23 for more information. All vehicles entering or leaving base are subject to search.
Serving You


DINING
For hours, menus and special event information, visit http://redstone.armymwr.com/us/redstone/categories/social-and-dining.
Firehouse Pub
Bldg. 114 256-842-0748
Brooklyn's Sports Bar
Bldg. 3424, Bowling Center 256-842-2695
Strike Zone
Bldg. 3424, Bowling Center 256-842-2695
Clubs at Redstone
Bldg. 130 256-842-9600
256-313-3255
Java Cafe
Bldg. 3443 256-842-1819
Weeden Mountain Grill
Bldg. 4140, Redstone Golf Course
256-842-0012
Post Restaurants
Administrative Office 256-876-8741
Software City Cafeteria, Bldg. 6263
Software City Sandwich & Coffee Shop, Bldg. 6264
Ctrl + Alt + Eat Cafeteria, Bldg. 5400
Ctrl + Alt + Eat Sandwich & Coffee Shop, Bldg. 5400
Sparkman Center Cafeteria, Bldg. 5302
MDA Cafeteria & Coffee Shop, Bldg. 5224
AMC HQ Lakeside Cafe, Bldg. 4403
Sustainer Grab-N-Go Sandwich & Coffee Shop
Bldg. 4400
FBI, TEDAC Café 4945 & Coffee Shop
Bldg. 4945
For hours, menus and special event information, visit https://redstone.armymwr.com.
EDUCATION
Army Education and Training Center
Bldg. 3495 256-876-9761
www.goarmyed.com/public/facility_pages/Redstone_Arsenal_Education_Center
The Education and Training Center provides educational opportunities and counseling services to the military community at Redstone Arsenal. Four colleges and universities are on post: Athens State University, Columbia College, Florida Institute of Technology and Embry-Riddle Aeronautical University. Five others are in the local community: University of Alabama Huntsville, Alabama A&M University, Oakwood University, Calhoun Community College and Drake State Technical College.
FAMILY SUPPORT
Family and Morale, Welfare & Recreation
Bldg. 1500 256-876-2073
http://redstone.armymwr.com/us/redstone
Family and MWR is a network of support and leisure services designed to serve the needs, interests and responsibilities of each individual in the Army community and to enhance the quality of their lives, from family, child and youth programs to recreation, sports, entertainment, travel and leisure activities.
Army Community Service
Bldg. 3443 256-876-5397
http://redstone.armymwr.com/us/redstone/programs/army-community-service
Army Community Service helps commanders maintain readiness of individuals, families and communities by developing, coordinating, and delivering services that promote self-reliance, resilience, and stability. ACS programs include Family Advocacy, New Parent Support Program, Financial Readiness, Exceptional Family Member, Information and Referral, Relocation Assistance, Mobilization/Deployment, Army Family Team Building, and Army Family Action Plan. ACS also provides services for Sexual Harassment & Assault Response and Prevention (SHARP) and Military and Family Life Counseling (MFLC).
Child Development Centers
http://redstone.armymwr.com/us/redstone/programs/childcare
Child Development Centers offer weekly care for children from 6 weeks to 5 years old. Hourly care can be reserved on a space-available basis. The nationally accredited centers provide a safe, nurturing environment that promotes the social, cognitive, language and physical development of youngsters.
Child Development Center-Goss Road
Bldg. 3140 and 3145 256-876-7952
Child Development Center-Mills Road
Bldgs. 5600 and 5601 256-842-5631
School Age Center
Bldg. 3155 256-876-6595
Exceptional Family Member Program
Bldg. 4100 256-955-8888, ext. 1654 or 1042
www.redstone.amedd.army.mil/Pages/EFMP.aspx
The Exceptional Family Member Program is a mandatory enrollment program that works with other military and civilian agencies to provide comprehensive and coordinated community support, housing, educational, medical and personnel services to families with special needs.
School Support Services
Bldg. 3443 256-842-9642
http://redstone.armymwr.com/us/redstone/programs/school-liaison-officer
School Support Services, a branch of Child, Youth and School Services, provides Army school-aged youth with the educational opportunities, resources and information they need for academic success.
School Support Services specializes in education transitions and ensures that incoming and exiting families have information about local schools, graduation requirements, after-school services and programs, youth sponsorship programs and home schooling. It also helps parents better understand the education process, school organization and how best to interact.
School Liaison Office
Bldg. 3443 256-842-9642
http://redstone.armymwr.com/us/redstone/programs/school-liaison-officer
The School Liaison Office, under School Support Services, helps deliver the best educational resources and information for your children by building relationships and fostering communication among Army Families and the local school community, informing and assisting parents with school transitions and deployment challenges; establishing school and community partnerships; facilitating access to home-schooling resources for parents; and providing information about college and other post-secondary opportunities, as well as preparation materials.
Parent Central Services
Bldg. 3443 256-876-3704
http://redstone.armymwr.com/us/redstone/programs/cys-services
Child and Youth Services (CYS) provides programs and services for children of eligible military and civilian families. Within CYS you can find something to meet your children's needs, whether it is for full-time, or hourly child care, or after-school care, camps, programs for middle schoolers and teenagers, instructional classes, or sports and fitness activities.
Youth Center
Bldg. 3148 256-876-5437
http://redstone.armymwr.com/us/redstone/programs/youth-services
Youth Sports
Bldg. 3708 256-313-3699
http://redstone.armymwr.com/us/redstone/programs/youth-sports
Seasonal team sports leagues are offered for children from 5 to 18 years old.
Team sports are offered in partnership with the City of Huntsville Recreation Services; fees vary depending on the sport, and include the uniform. All team sports require a sports physical at the time of registration. Various individual sports offered throughout the year may include baseball, soccer, basketball, flag football, tennis, golf and more. All registration takes place at Parent Central Services, Pershing Welcome Center, Bldg. 3443. For registration information, call 256-876-3704.
FINANCIAL SERVICES
Redstone Federal Credit Union
Bldg. 3227 256-722-3740
www.redfcu.org
Regions Bank
Bldg. 3226 256-535-0246
www.regions.com
LEGAL SERVICES
Legal Office
Bldg. 3439 Honest John Road 256-876-9005
https://osja.redstone.army.mil
All services require an appointment except for notaries and powers of attorney. Notaries and powers of attorney are done on a walk-in basis anytime during normal hours.
LIBRARY
Bldg. 3323 256-876-4741
https://redstone.armymwr.com/programs/library
The Redstone MWR Library is open to everyone in the Redstone Community including military, civilians, retirees and contractors. It has summer reading programs for children and adults as well as an outdoor StoryWalk for children and their parents to enjoy reading a picture book together as they stroll.
PERSHING WELCOME CENTER
Bldg. 3443 842-3202
Army Community Service 876-5397
Java Café 842-1819
Information, Tickets,and Reservations 876-4531
Leisure Travel 313-0090
MWR Membership Office 313-4006
Parent Central Services 876-3704
RECREATION
For information about recreational programs at Redstone Arsenal, visit the Redstone Arsenal Family and MWR online at http://redstone.armymwr.com/us/redstone.
Challenger BINGO
Bldg. 1500……………………….256-955-3727
https://redstone.armymwr.com/programs/challenger-bingo
Participants must be at least 19 years of age to play and all guests are welcome. Guests must pay a guest fee and be signed in.
The Links at Redstone Golf Course
Bldg. 4140 256-842-7977
http://redstone.armymwr.com/us/redstone/programs/golf-course
This is a regulation 18-hole golf course with a driving range, pitching and putting greens, a pro shop, golf lessons, a snack bar and a grill.
Fitness Centers
https://redstone.armymwr.com/programs/fitness
MWR Sports & Fitness has three fitness centers (Sparkman Fitness Center, Col. Stephen Scott Fitness Center and Pagano Gym) and an aquatics center (Redstone Aquatics Center) on Redstone Arsenal.
All fitness centers have cardio, strength and free weight equipment and a full schedule of group fitness classes including step, toning, turbo kick, Zumba, boot camp and yoga.
In addition, Pagano Gym has racquetball and basketball courts, and two of the centers have both a dry sauna and steam room.
The Aquatics Center offers cardio equipment and a racquetball court.
Colonel Scott Fitness Center
Bldg. 4460 256-955-6844
https://redstone.armymwr.com/programs/fitness
Pagano Gym
Bldg. 3474 256-876-6701
https://redstone.armymwr.com/programs/fitness
Aquatics Center
Bldg. 3705 256-313-1200
https://redstone.armymwr.com/programs/swimming-pool
Information, Ticket and Reservations Office
Bldg. 3443 256-876-4531
http://redstone.armymwr.com/us/redstone/programs/itr
The ITR office inside the Pershing Welcome Center offers many different discount tickets to local and regional attractions such as theme parks, historic and cultural sites and special events. Regularly discounted tickets include Disney World, SeaWorld, Universal Studios Florida, Six Flags Over Georgia and many more. Discount tickets are also available to dozens of celebrity theaters, dinner theaters, museums and other attractions. Principal travel destinations include Orlando, Pigeon Forge and Atlanta.
Outdoor Recreation
Bldg. 5139 256-876-4868
https://redstone.armymwr.com/programs/outdoor-recreation
Outdoor Recreation provides multiple opportunities to enjoy the great outdoors throughout the year through camping, fishing, hunting, canoeing, personalized skeet shooting lessons, and other outdoor adventures.
Bldg. 5139 houses equipment rental, hunting and fishing operations, a private conference room, women's and men's locker rooms and management offices.
Outdoor Recreation emphasizes skill development and opportunities to acquire lifetime leisure abilities; specialists are available to assist with activities such as camping, canoeing, boating, fishing, hunting and more.
And don't forget Outdoor Recreation when it comes to unit organizational days, backyard parties or weekend recreational getaways.
Swimming Pools
Aquatics Center, Bldg. 3705 256-313-1200
https://redstone.armymwr.com/programs/swimming-pool
Outdoor Pool 3 (Goss Road) 256-876-6713
Redstone Lanes Bowling Center
Bldg. 3424 256-842-2695
https://redstone.armymwr.com/programs/bowling-center
Strike up family fun at the bowling center. Shoe rental, bowling leagues, professional instruction and a snack bar are available.
Flying
Bldg. 4828 256-876-6774
https://redstone.armymwr.com/programs/flying-activity
Redstone Arsenal Flying Activity is northern Alabama's premier flying club where individuals in the authorized patron category can learn to fly or take their rating to a higher level. Redstone Arsenal Flying Activity offers safe, low-cost flying lessons, professionally certified flight instructors, pilot-related equipment, and services. Resources include a very low traffic 7,200-foot runway and a control tower staffed during daylight hours.
Arts & Crafts Center
Bldg. 3615 256-876-7951
https://redstone.armymwr.com/programs/arts-crafts
Explore your creative side, try something new, or increase your skills. The Arts & Crafts Center enhances the overall quality of life with activities that promote learning, creativity, skill development, stress relief and general well-being. For military and civilians with gate access, the Arts & Crafts Center offers self-development opportunities in creative pursuits. Classes are offered in art, woodworking, digital photography, Photoshop, framing and "Brushstrokes Uncorked."
Automotive Skills Center
Bldg. 3617 256-955-7728
https://redstone.armymwr.com/programs/auto-skills
Do your own automobile maintenance at the center using its stalls, lifts and tools. It also offers auto classes for do-it-yourselfers, and mechanics if you prefer to leave the repairs in expert hands.
SHOPPING
Redstone Arsenal Commissary
Bldg. 3224 256-876-3517
www.commissaries.com
Save an average of 30 percent of your hard-earned dollars when shopping for groceries at the Commissary. In-store amenities and specialties include a bakery, a deli, fresh sandwiches to go, party cakes, plants, sushi and rotisserie chicken.
Redstone Arsenal Main Exchange
www.shopmyexchange.com
Redstone Arsenal Exchange wants to be your first choice for shopping. It offers a price-match program that guarantees the lowest prices in town. Hours of operation for services outside of the Main Exchange vary so call or visit the website for detailed information.
Main Exchange
Bldg. 3220 256-883-6100
Exchange Restaurants
American Eatery 256-876-9325
Charley's Grilled Subs 256-881-3326
Gathering Grounds 256-881-3326
Popeyes Chicken no phone
Subway 256-881-3326
Services
Alterations 256-882-7171
Barbershop 256-881-7409
Beauty Shop 256-883-1450
Laundry/Dry Cleaners 256-489-1875
GNC 256-883-8482
Nail Salon 256-882-3630
Optical Center 256-882-2619
Optician 256-882-8663
Wireless Kiosk 256-881-8718
Express/Class Six and Gas Bldg. 3234 256-883-0367
Martin Road Express
Bldg. 5215 256-881-1521
Burger King 256-881-1569
Subway 256-881-1569
Other Facilities
Optical Center, Bldg. 3230 256-882-2619
Burger King, Bldg. 3228 256-881-0048