The United States Military Academy, West Point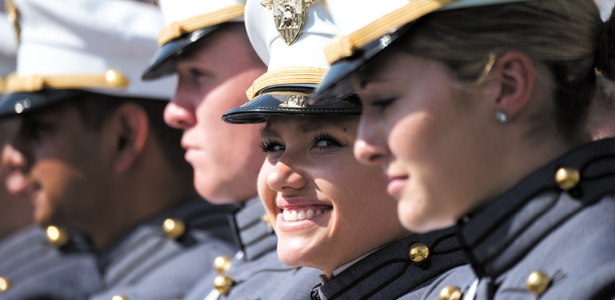 Located in the scenic Hudson River Valley of Orange County — only 50 miles from New York City — The United States Military Academy, West Point is a four-year academic institution and a nationally renowned historical site that traces its roots back to 1802. The undergraduates, known as cadets, are commissioned as officers in the U.S. Army upon graduation.
In addition to being a federal service academy with a full range of academic, military and athletic activities, West Point is America's oldest continuously occupied military installation. Its long history and the critical nature of its role in developing commissioned leaders of character contribute to West Point's stature as an American "national treasure."
The entire central campus is a national landmark and home to scores of historic sites, buildings, and monuments. The campus is a popular tourist destination complete with a large visitor center and the oldest museum in the U.S. Army.
The West Point Experience is designed to prepare cadets for leadership as commissioned officers on active duty in the U.S. Army. It is a 47-month process, which provides for the intellectual, military, physical, moral-ethical and social development of cadets and transforms them into leaders of character.
West Point is extremely selective, enrolling only the most promising men and women. When cadets enter the academy, they become active-duty members of the U.S. Army and take the first steps toward joining the Long Gray Line, one of the proudest traditions in the Army and the nation. At West Point, cadets develop as leaders prepared to serve the Army and the country for a lifetime.
Population
The West Point student body numbers approximately 4,400, from all 50 states, territories and more than 30 foreign countries. In addition to the Corps of Cadets, West Point is home to approximately 1,200 active-duty soldiers and about 3,000 family members. Supporting the academy is a civilian workforce of nearly 2,300 personnel.
Economic Impact
The U.S. Military Academy is the largest employer in Orange County, from which millions of dollars in salaries and wages are poured directly into the local economy.
History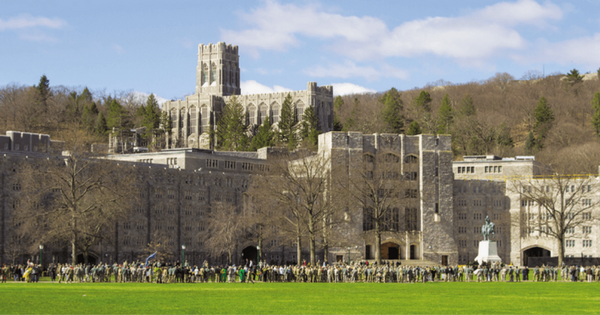 West Point exists because of war, terrain and Gen. George Washington's cunning: The military leader of America's revolution realized that the wooded plateau commanding a tight S-bend in the Hudson River was the place to stop British warships sailing north to crush their upstart colonies' revolt.
The general's Continental Army set up camp there in January 1778, 50 miles north of Manhattan, and Washington chose a noted Polish military engineer, Tadeusz Kosciuszko, to design its forts, batteries and redoubts. His soldiers also strung a 150-ton chain, "The Great Chain," across the river to block enemy vessels long enough for them to be shelled and sunk from above.
By 1780, the emplacement had thwarted British hopes to the point that they sought to suborn its commander, Maj. Gen. Benedict Arnold, to surrender it for a lump sum, a pension and a commission in the British Army. Arnold was an honored American patriot but not honored nearly enough, in his opinion. He was in the final stages of betrayal when three militiamen captured a British spy carrying papers that exposed the plot. Arnold fled to serve the British openly and confirm his name forever as a synonym for "traitor."
Though the fledgling nation had defeated the mother kingdom, Washington saw the continuing need for American-educated civil and military engineers, and now he joined other high U.S. officials to push for a domestic school of military strategy and engineering. But lawmakers didn't like the idea. They were afraid such an institution would be a step on the way to an elitist class system, and it wasn't until President Thomas Jefferson received assurances that the student body would be egalitarian that he signed legislation setting up the U.S. Military Academy at West Point in 1802.
Initially, the Academy was loose. The first class, in 1802, had two cadets, and standards were fluid over the next few years, with students ranging in age from 10 to 37 and staying between six months and six years. They did, however, adopt the gray cadet uniforms of today, inspired by the military garb of the War of 1812.
By 1817, the Academy had become so lax that the superintendent was replaced by a West Point graduate, Col. Sylvanus Thayer, "Father of the Military Academy" from 1817 to 1833. Thayer wasted no time: He elevated academic standards, focused the curriculum on modern in-depth engineering and officer training; imposed self-study and daily homework; and instilled military discipline and an honor code. Only top scholars had any hope of admission to the Academy's engineering program, and West Point was the first university with a class ring, emblematic of its esprit de corps.
Most of the new nation's lands were Great Unknowns, and it was the West Point engineers, surveyors and mappers, the topographers, who deployed westward in what the Smithsonian National Museum of American History calls "part military reconnaissance, part scientific exploration, part treasure hunt." They brought back accurate maps, specimens, records and observations that shaped scientific thought and national policy, as well as having a hand in building most of the new railroads, highways, harbors and bridges, and modernizing industrial practices.
Most Army officers were West Point graduates. Both Ulysses S. Grant (1843) and Robert E. Lee (1829) served in the Mexican War of 1846-48, and others worked to keep peace on the frontier as settlers pushing west seized land from Native Americans. Lee returned to West Point as superintendent, Col. Thayer's old post, from 1852 to 1857.
Then came the Civil War. West Point supplied 151 Confederate and 294 Union generals; in 55 of the war's 60 biggest battles, West Pointers commanded both sides, and commanded one side in each of the other five engagements, according to the Smithsonian National Museum of American History. Among others, the Union Army had Grant and William Tecumseh Sherman (1840), and rebel forces had Lee and Thomas J. "Stonewall" Jackson (1846). As then-secretary of war under President Franklin Pierce, Confederate President Jefferson Davis (1828) signed Grant's commission as a captain in the U.S. Army. In a touch of irony, Grant commanded the Union armies that overthrew the Confederacy and Davis.
Many battles were inconclusive and ended with such great loss of life on both sides that many believe it was superior West Point logisticians that ultimately gave the North the edge. Civil and railroad engineer Herman Haupt (1835), for instance, created the Union Army's railroad transportation corps as the war began, to such effect that May 23, 1862, Abraham Lincoln noted: "That man Haupt has built a bridge across Potomac Creek, about 400 feet long and nearly 100 feet high, over which loaded trains are running every hour, and upon my word, gentlemen, there is nothing in it but beanpoles and corn stalks." (Fact: Haupt spanned the creek in nine days using more than 2 million feet of lumber. His bridge carried 10 to 20 military trains every day loaded with ammunition, weapons and supplies for the Army of the Potomac.)
After Gen. Lee's 1865 surrender to Gen. Grant at Appomattox Court House, Virginia, West Point held off admitting cadets from the secessionist South until 1868. The first African-American cadet was admitted in 1870 because Congress ordered it; Henry Ossian Flipper was the first African-American to graduate in 1877, one of only three such graduates between 1870 and 1900.
The war had changed the nation, and West Point. From 1870 to the turn of the century, the curriculum shed its narrow emphasis on engineering for broader coursework, particularly military strategy and proficiency, and it was West Point graduates who supervised construction of the Washington Monument (1888), the Library of Congress (1897) and the Panama Canal (1913). Sports were added. The first Army-Navy game was at West Point in 1890 (Navy won, 24-0), but Army beat Navy at Annapolis the next year, and the grudge was on.
The Spanish-American War (1898), "a splendid little war," said U.S. Secretary of State John Hay, prompted Congress to increase the Corps of Cadets and authorize new campus buildings between 1900 and 1915. So many of the corps' most famous leaders graduated in 1915, including Dwight D. Eisenhower and Omar Bradley, that it became known as "the Class the Stars Fell Upon."
Europe then was at war, World War I, and despite President Woodrow Wilson's reluctance, the United States also declared war on Germany in 1917, mostly because German U-boats were sinking merchant and passenger ships in unrestricted submarine warfare and Americans were dying. West Point officers were in almost all the top command and staff posts. With a global front, problems posed by mobilization of personnel, weapons, ammunition and supplies to and across Europe had to be solved fast, and West Pointers headed all three agencies supplying the Army: the Quartermaster Corps, the Ordnance Corps and the Signal Corps. Three other West Pointers helped draw up and administer the 1917 Selective Service Act that provided four-fifths of the Army.
The Academy's broad educational mission had nearly buckled during World War I, but its post-war superintendent, Douglas MacArthur (1903), restored and strengthened its academics during his tenure from 1919 to 1922, made "Every cadet an athlete" into a fitness mantra, and codified the Honor System — "A cadet will not lie, cheat, steal or tolerate those who do" — under a Cadet Honor Committee.
In 1925, West Point was accredited by the Association of American Universities, and the Academy began awarding Bachelor of Science degrees to all graduates in 1933.
Facing a return to war and a demand for more officers, West Point absorbed additional land to embrace a reservation of almost 16,000 acres, initiated another building program just before World War II, and started a flight school that graduated more than 1,000 cadets as commissioned pilots between 1943 and 1946. Maxwell Taylor (1922) took over as superintendent in 1945 and began shaping the modern military academy by replacing such subjects as fencing and horsemanship with physics, electronics and applied psychology.
Academy graduates coming home to a grateful nation after the war included MacArthur, Eisenhower and Bradley, George S. Patton (1909), Joseph "Vinegar Joe" Stillwell (1904) and Jonathan M. Wainwright (1906).
Superintendent Garrison Hold Davidson (1927) added electives and promoted athletics for all students, and transformed and modernized the Academy's curriculum after he took over in 1956. Eight years later, President Lyndon Johnson signed a bill raising the size of the Corps from 2,529 to 4,417, though at present the Corps is capped at 4,400 cadets who represent every state and several foreign
countries.
In 1976, America's Bicentennial Year, Congress for the first time allowed women to enroll at the federal service academies, and West Point immediately began recruiting; by the late 1980s all cadet companies included women, and women had led in every position across the Corps of Cadets.
Today, West Point academics extend to 37 arts and science majors, though graduates still receive a Bachelor of Science degree. Though West Pointers have contributed immeasurably to the U.S. military, graduates also have served as teachers, astronauts, business leaders, engineers, presidents, governors, lawmakers, mayors, intelligence directors, Cabinet members, ambassadors, judges, authors, actors, Medal of Honor recipients, scientists, inventors, physicians and sports figures.
The history of West Point is the history of the cadets it has formed under its motto, "Duty. Honor. Country." Their history is the history of America.
Organizations


COMMAND AND GOVERNANCE
The superintendent, like a college president, heads USMA. The chief of staff is the principal executive to the superintendent in all command matters, directing and coordinating the formation of operating policies and implementation of decisions of the superintendent.
The dean of the Academic Board, like a college dean of faculty, coordinates the activities of the academic departments and advises the superintendent on academic matters.
The commandant of cadets is the military equivalent of a dean of students, overseeing cadet government and supervising the military training of the Corps of Cadets.
The superintendent, dean and commandant join the heads of academic departments; the directors of admissions, military instruction and physical education; and the medical activity commander, to form the Academic Board, which establishes standards for admission, academic performance and a wide range of other educational and administrative policies.
The faculty is composed of about 70 percent Army officers and 30 percent civilian professors. Since 1815, a Board of Visitors, similar in function to a board of trustees, has annually reviewed USMA's curriculum, policies and equipment and submitted recommendations to the president of the United States.
THE ACADEMIC PROGRAM
The purpose of the academic program is to provide students with the intellectual foundation for service as a well-educated commissioned officer who possesses the knowledge and skills necessary for continued growth as a U.S. Army officer. In coordination with the Military and Physical programs, the Academic Program develops in cadets a professional self-concept as an officer and nurtures their competence, character and confidence to act decisively on matters of concern to the nation. The structure, content and process of education and development enables cadets to understand the interrelated roles of a commissioned officer. Soldier, servant of the nation, military professional and leader of character: The leader development process compels cadets to incorporate these roles into their emerging professional identities.
The vision of the Academic Program is to educate and inspire adaptive leaders of character to build the Army and the nation's future. The program is challenging and distinctive, with the capacity to prepare graduates to meet challenges, opportunities and military threats with confidence in their abilities to accomplish their missions.
Providing a broad liberal education designed to develop versatile, creative and critical thinkers helps graduates anticipate and respond effectively to the uncertainties of a changing technological, social, political and economic world. West Point graduates will examine and assess the increasingly complex environment to identify new ideas and trends and imagine possible outcomes. Toward this end, the curriculum is structured to ensure a shared learning responsibility that provides students a foundation for continued intellectual development.
Academic Departments
Thirteen academic departments are offering more than 35 majors:
Behavioral Sciences and Leadership
Chemistry and Life Science
Civil and Mechanical Engineering
Electrical Engineering and Computer Science
English and Philosophy
Foreign Languages
Geography and Environmental Engineering
History
Law
Mathematical Sciences
Physics and Nuclear Engineering
Social Sciences
Systems Engineering
There are more than 35 research centers and research support centers at USMA. These centers, affiliated with and coordinated by the Institute for Innovation and Development, provide the infrastructure and support necessary to tackle the nation's and the world's most challenging problems. These research centers bring context to the classroom, are central to the vibrant and pioneering faculty, and are one way West Point connects to the Army and the nation.
USMA students are motivated, the faculty is world-class and, through these centers, scholars and scientists thrive and produce their best work. Cadets regularly win prestigious awards at national and international graduate-level conferences, the faculty hold fellowships and chairmanships in their discipline's national organizations and their products are deployed to the Soldier.
THE MILITARY PROGRAM
USMA's Military Program provides an outstanding professional foundation focused on education in the American military ethic and the Army's core values, along with training in individual and small-unit leadership skills. Cadets are inspired to make a commitment to national service as an Army officer and to adopt the ideals of the seven Army values.
Cadets receive formal military education each year in subjects that prepare them to become leaders. This knowledge complements summer military training, where cadets learn basic soldier skills, such as firing a rifle accurately, navigating in the woods with a map and compass, and rappelling off high cliffs. Also, cadets have the opportunity to spend part of one summer assigned to a unit in the field Army. These assignments often take cadets to Europe, Korea, Alaska or Hawaii. Finally, cadets lead and train junior members of the Corps of Cadets.
The Office of the Commandant of Cadets oversees all aspects of the military training and development of the corps within the context of the Military Program. This program provides a dynamic, four-year, sequential and integrated developmental process to teach, train and inculcate the fundamental military knowledge, skills and abilities expected of an Army officer.
The Office of the Commandant is organized with a supporting staff and separate departments to execute the Military Program. The United States Corps of Cadets staff provides administrative, logistic and training management in support of the Corps of Cadets. The Department of Military Instruction provides formal Military Science education and organizes the majority of military training. The Brigade Tactical Department oversees the daily activities of the cadets.
Directorate of Cadet Activities
The mission of the Directorate of Cadet Activities is to significantly enhance the development of the United States Corps of Cadets militarily, physically, academically, morally and ethically, spiritually and socially by providing organized, comprehensive and diverse programs and facilities, which provide for entertainment, extracurricular, recreational, cultural and social activities. DCA operates the Eisenhower Hall Theatre, the Cadet Restaurant, Grant Hall, the Cadet Store and the Cadet Bookstore. Within DCA, cadet publications are produced such as the award-winning Howitzer Yearbook, the West Point Calendar, Bugle Notes, the Circle in the Spiral Literary Journal and the West Point Planner. Cadet Programs sponsors weekly events such as dances and yearly traditions including Ring Weekend, Yearling Winter Weekend and Plebe-Parent Weekend.
The DCA plans and organizes traditional class and Corps weekend activities. Special functions include dining-ins, dances, special events and extracurricular activities such as athletic, recreational, academic, religious, hobby, committee and Corps support clubs and activities. The DCA provides cadets and the West Point community with comprehensive, diverse arts offerings. The program includes classical/popular music, dance, ballet, drama, musical theater and the visual arts that complement the educational experience of the USMA. The DCA also engages in the sale of food, beverages and food catering services to support the Corps of Cadets. The West Point Club has partnered with the DCA for catering services for all non-cadet-related events and is the entry point for all catering questions. Finally, the DCA manages and operates the USMA Cadet Store and Bookstore.
THE PHYSICAL PROGRAM
The Physical Program prepares cadets for the physically demanding requirements of an Army officer. It endeavors to develop in cadets the ability to maintain personal and unit fitness, fosters the warrior spirit, builds an appreciation for teamwork and inspires the will to win. Specific program activities include physical education classes, regular fitness testing and competitive athletics.
The athletic program at West Point, respected throughout the nation, includes more than 25 intercollegiate teams for men and women. There are also the competitive club and intramural sports programs in which cadet companies establish competitive rivalries. The Army football teams attract national interest by playing teams from across the country. There are also the traditional encounters against Air Force and Navy. Army basketball, wrestling, hockey, track, baseball, soccer and lacrosse have gained their share of regional and national recognition. The rifle team is a perennial finalist in NCAA competition.
Office of the Directorate of Intercollegiate Athletics
The mission of the Office of the Directorate of Intercollegiate Athletics is to provide an extraordinary Division I athletic experience that develops leaders of character committed to the values of duty, honor and country.
The goals of the athletic department, including more than 25 varsity sports, are to recruit and develop scholar-athletes who lead the Corps; compete and win at the highest level; beat Navy and Air Force; adhere to Department of the Army, NCAA, conference and Academy rules, regulations and policies; and effect changes in legislation, policy and regulations that improve performance.
The sports offered by ODIA include baseball; football; softball; men's and women's basketball, cross country, soccer, tennis, track and field, lacrosse, rugby, swimming and diving; golf; gymnastics; rifle; wrestling; volleyball; and sprint football.
For tickets, visit www.GoArmyWestPoint.com.
CHARACTER DEVELOPMENT
Character development is central to the 47-month West Point experience. The emphasis on personal character is to support the West Point motto — "Duty, Honor, Country" — and the ideals of the seven Army values: loyalty, duty, respect, selfless-service, honor, integrity and personal courage. A powerful means of influencing character development is the day-to-day interaction with USMA staff and faculty members, who set high standards for ethical conduct, but the academy also relies upon several formal developmental means.
In the Military Program, cadets inevitably experience a wide variety of ethical dilemmas as they perform their duties as leaders and as subordinates. These dilemmas represent opportunities to make decisions that will shape their value systems and, potentially, the value systems of their peers. Officer and NCO supervision allows the cadets to make ethical choices under the guidance and mentorship of experienced, professional Soldiers. The Simon Center for the Professional Military Ethic at West Point has oversight of the instruction of Army values and the professional military ethic as well as the two programs that highlight the academy's core values: honor and respect.
Simon Center for the Professional Military Ethic
The William E. Simon Center for the Professional Military Ethic educates, trains and inspires leaders of character in the Corps of Cadets through the development, coordination, and integration of the Professional Military Ethic in the curriculum and activities at West Point. The center's core functions lie in five key areas: the Cadet Character Development Program, MX400 (Officership), the Cadet Honor Code and System, the Cadet Respect Program, and Cadets Against Sexual Harassment and Assault.
The Military Academy founded the Simon Center for the Professional Military Ethic in 1998 as the center of excellence to promote the military ethic. William E. Simon, a patriotic businessman, avid sportsman and generous philanthropist, provided a grant to establish the center.
USMAPS
Located in the vicinity of Washington Gate at West Point, New York, the United States Military Academy Preparatory School, also known as West Point Prep or simply the Prep School was formally established by Gen. Maxwell Taylor
in 1946. The history of prepping soldiers for West Point, however, goes back to 1916 when Congress enacted legislation authorizing appointments for Soldiers to attend West Point.
Today, USMAPS exists as an avenue of opportunity for a select group of soldiers and civilian aspirants to attend the West Point. The prep school continues to provide focused academic, military and physical instruction in a moral-ethical military environment to prepare, motivate and inspire candidates for admission to and graduation from the academy.
USMAPS is primarily an academic institution where soldiers and students from diverse backgrounds rigorously train in preparation for the challenges of West Point. It is also a military school with a career focus that develops the foundations of the professional and physical attributes needed for growth as an officer in the U.S. Army.
USMAPS opened its doors at the West Point Campus in the summer of 2011, having been at Fort Monmouth, New Jersey, since 1975.
WEST POINT ASSOCIATION OF GRADUATES
The West Point Association of Graduates is the alumni association of the U.S. Military Academy. Its mission is to serve West Point and its graduates. A nonprofit, tax-exempt corporation, its philanthropic pursuits maintain a margin of excellence for cadets attending the academy.
The WPAOG offices are in Herbert Hall on Mills Road, just south of Lusk Reservoir. In addition to housing the WPAOG staff operations, there is a gift store, and West Point cadets, staff and faculty receive a 10 percent discount. The Great Hall is available for rental for promotions, awards, retirements and other functions. For more information, visit www.WestPointAOG.org or call 845-446-1500.
U.S. MILITARY ACADEMY BAND (WEST POINT BAND)
The U.S. Military Academy Band traces its roots back more than 200 years. Before the Revolutionary War, fifers and drummers were stationed with companies of minutemen on Constitution Island across the Hudson River from West Point. In 1778, elements of Gen. Samuel Parsons' Connecticut Brigade crossed the Hudson River and established West Point as a permanent military post. After the American Revolution, Congress disbanded most of the Continental Army, but the 55 men at West Point, members of the Second Continental Artillery, remained. Among their ranks stood at least one drummer and one fifer who alone maintained the tradition of military music.
With the establishment of the U.S. Military Academy in 1802 came an increased demand for military music. As the academy grew, it needed fifers, drummers and buglers to drill the new cadets and provide an audible order to their duty day. By 1817, the ensemble was named the West Point Band and was performing with a full range of instruments. In 1866, it received the official title of the U.S. Military Academy Band.
Today's band consists of four components: the concert/marching band, the Hellcats (the drum and bugle field music unit), the Benny Havens Band (popular music) and the support staff. As the senior premier musical representative of the Army, the band has appeared at many historic events. It also fulfills all the official musical requirements of the academy, including military and patriotic ceremonies, radio and television broadcasts, public concerts, sporting events and social activities for the U.S. Corps of Cadets and the West Point community.
The U.S. Military Academy Band gives free concerts throughout the year at West Point and in the New York City area. For event information, call the Performance Hotline at 845-938-2617 or visit http://westpointband.army.mil.
Arrival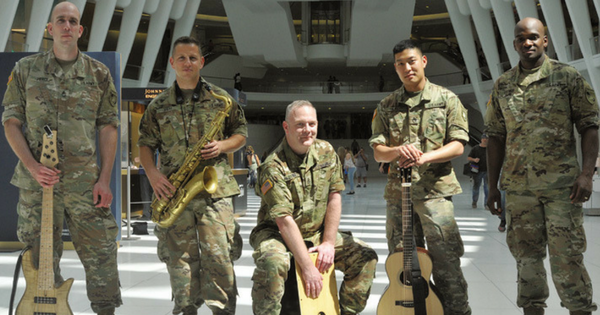 See the Getting To & Around Orange County chapter on Page 21 for information about local airports, train service and public transportation. The closest commercial flights land at Stewart International Airport in New Windsor, about
15 miles from the academy.
SPONSORSHIP
Soldiers should contact their sponsor with their estimated arrival time and flight information, if applicable, before arriving at West Point.
Sponsorship is vital to the relocation process. Don't PCS without talking to your sponsor before departing for West Point. Your sponsor will answer any questions you have about the garrison and the local area, make lodging or dorm arrangements and meet you upon arrival. Your sponsor will be there to help you and your family until you settle into your new community.
If you have not been in touch with a sponsor and your departure is nearing, contact the Army Community Service Relocation Readiness Program at 845-938-3487.
DRIVING DIRECTIONS
Cellphone use by the driver of a moving motor vehicle is prohibited on all Department of Defense installations unless used with a hands-free device.
From Stewart International Airport
Exit the airport and turn left onto Route 207 East (Little Britain Road). At the first light at the intersection with Union Avenue (Route 300), Route 207 becomes Route 300/207 and is called Temple Hill Road. Go straight on Route 300 for approximately 3 miles until you come to "Five Corners," the intersection of Routes 300, 94 and 32. Go straight through the intersection to Route 32 South and continue for 1.7 miles. After passing over a trestle-type bridge, turn left onto Quaker Avenue toward Cornwall. Take the exit on the right for Bear Mountain and 9W South and continue 5.7 miles over mountainous terrain. Next, you will encounter three exits for West Point
From Interstate 95/New York City
Head north to the George Washington Bridge/Interstate 95 South. Cross the bridge via the upper deck (no toll in this direction), and stay in the right lane. Take the Palisades Interstate Parkway north approximately 37 miles until it ends at the Bear Mountain Bridge traffic circle. Follow signs for West Point and Route 9W North and continue for about 3 miles, then exit right onto Route 218 North toward the Village of Highland Falls. Continue 2 miles, through Highland Falls, past the West Point Visitors Center to the Thayer Gate of West Point.
CHECK-IN PROCEDURES
Visitors Center
2107 New South Post Road
845-938-2638/7049
Incoming soldiers will report to their unit of assignment to sign-in before reporting to the Military Personnel Division. All soldiers must have copes of their PCS orders and the original DA Form 31 Leave Request. In the event of an emergency or if you report after duty hours, call 845-938-3333 or your unit listed as follows.
Military police and religious support personnel: Report to MP and HHC Headquarters in Building 620, 845-938-8872. After duty hours, report to Provost Marshal Office and MP Desk in Building 616, 845-938-3333.
MEDDAC: All personnel assigned to the U.S. Army MEDDAC will report to Keller Army Community Hospital (Building 900) upon arrival, 845-938-2634/6931. Soldiers arriving after duty hours, call 845-938-0677 for assistance.
DENTAC: All personnel assigned to the U.S. Army DENTAC will report to West Point Dental Activity (Building 606) upon arrival, 845-938-3121. Soldiers arriving after duty hours, call 845-938-7761.
West Point Band: Newly assigned personnel with the West Point Band will report to Building 685 upon arrival, 845-938-2445.
United States Military Academy at West Point: Report to the Office of Admissions, Building 606, 845-938-4041.
TEMPORARY LODGING
Five Star Inn
2113 New South Post Road
845-446-5943
https://tinyurl.com/yareb8un
The Five Star Inn is open 24/7 for reservations, check-in and checkout, information and message center and wake-up service.
A complimentary continental breakfast and ice machines, coin-operated soda/snack machines and free laundry facilities are available to all guests.
Temporary lodging is available to active-duty and retired military, National Guard and reserve personnel, their family members and DOD and retired civilian employees who are eligible to use Family and Morale, Welfare and Recreation facilities.
Reservations are accepted on a first-come, first-serve basis, without regard to rank. All rooms are nonsmoking and pet friendly; call the hotel at 845-446-5943 for more details on the pet policy.
Getting Settled

HEALTH CARE
Keller Army Community Hospital
900 Washington Road
Appointment Center 845-938-7992
Toll Free 800-552-2907
Front Desk 845-938-5169
Pharmacies
Outpatient 845-938-2271/3812
Automated Refill System 845-938-2527
Mologne Cadet Health Clinic 845-938-7800
Referral Assistance 845-938-5373
Medical care at West Point, available since the Revolutionary War era, continues today as an integral part of the installation. The Medical Department Activity provides health care for approximately 34,000 people, including cadets, active-duty personnel and their family members, and retirees. It also provides occupational health care for government employees at West Point and emergency services to tourists and other civilians here. Services range from monitoring air quality to intensive care. MEDDAC provides this care promptly, efficiently, courteously and competently.
Keller Army Community Hospital is a licensed, 65-bed facility incorporating some of the most modern and innovative hospital design features including a medical-surgical unit, an obstetric unit, an intensive-care unit and an ambulatory surgical unit in addition to outpatient clinics and supporting activities.
Preventive Medicine and Wellness (Building 606) provides occupational medical care to West Point civilian employees; conducts home visits; monitors the safety of air, water and the environment; provides health-risk appraisal screening; and sponsors classes on topics such as smoking cessation and HIV infection. For more information, call 845-938-5832/5834.
Mologne Cadet Health Clinic (Building 606) provides outpatient care for roughly 100 cadets a day. Physicians at MCHC admit and care for patients at KACH and refer cadets for specialist evaluation in other clinics or to the TRICARE network of civilian providers when needed. For more information, call 845-938-3003.
Routine care for family members and retirees is not available at the dental clinic. Family members of active-duty personnel are encouraged to use the TRICARE Dental Program. For more information, go to www.tricare.mil/CoveredServices/Dental/TDP.
TRICARE
TRICARE is the health care program for active-duty and retired service members, their families and survivors. TRICARE provides health plans, prescriptions, dental plans and other special health programs to its beneficiaries. TRICARE's mission is to enhance the Department of Defense and the nation's security by providing health support for the full range of military operations and sustaining the health of all those entrusted to their care.
TRICARE offers a range of health care plans. TRICARE Prime is the mandatory health care option for active-duty service members. Family members of active-duty service members, retired service members and their families may also use this option. If you use TRICARE Prime, you are assigned a primary care manager at a military or network provider who delivers most of your care. If you need care your PCM cannot provide, you are referred to a specialist. Active-duty service members and their families pay nothing out of pocket for this option; however, there is less freedom to choose your provider. On Jan. 1, 2018, TRICARE Standard and Extra were combined into a new plan, TRICARE Select. Select is a standardized fee-for-service plan available to family members of active-duty service members, retired service members and their families. After you enroll in TRICARE Select, you may schedule an appointment with any TRICARE-authorized provider. Referrals are not required, but you may need prior authorization from your regional contractor for some services. You will pay a copay or cost share based on the type of care and provider you see. Costs for Select vary, but you will pay an annual deductible as well as a percentage of covered services. Non-network providers may charge up to 15 percent more than the TRICARE allowable charge; you are responsible for these extra charges. TRICARE also offers plans for remote and overseas locations, reserve military members, young adults who are no longer covered under regular TRICARE coverage and other scenarios.
TRICARE coverage is completely portable, so it moves with you when you relocate. Follow these simple steps to ensure you have no break in coverage when you move:
Do not cancel your TRICARE Prime enrollment option before you move.
Update your personal information in DEERS immediately when you arrive at your new location.
Select a new primary care manager.
If you are already using TRICARE Select, moving is easy. When you arrive at your new location, update your personal information in DEERS. Then find TRICARE-authorized providers in your new area. Remember, you may have a new regional contractor and claims filing address.
TRICARE's online tools can help you find and compare plans that you are qualified to use. Beginning in 2019, however, TRICARE will allow you to switch between plans only if you have a "qualifying life event" such as the birth of a baby or a move. For a complete description of the types of coverage programs and regions, visit www.tricare.mil. For more information about recent changes to TRICARE, visit https://tricare.mil/changes.
HOUSING
Residential Communities
Initiative Housing Office
695 Buckner Loop
845-938-2500
www.westpoint.army.mil/housing.html
The West Point Residential Communities Initiative Housing Office is ready to help you transition to your new home and community. Use its resources to become familiar with available housing options and support services. When you arrive at West Point, visit the housing office for valuable information, counseling and guidance before signing any lease or sales contract for housing.
Unaccompanied Housing
Building 695
845-938-2500
West Point has two apartment buildings for unaccompanied officers and enlisted personnel (E-7 and above). The RCI provides assistance in finding suitable off-post housing. Inbound personnel should contact the RCI before entering into a lease agreement. Unaccompanied personnel can also check with Balfour Beatty Communities for availability on post at 845-446-6407.
Single soldiers, E-5 and below, are required to live in the Single Soldier Barracks.
West Point Family Homes
126 Washington Road
845-446-6407
www.westpointfamilyhomes.com
West Point Family Homes offers move-in ready homes in single-family, townhomes and apartment styles. Owned and managed by Balfour Beatty Communities, residents enjoy a secure and comfortable hometown environment with the convenience of 24-hour maintenance, lawn care services and free community events aimed for residents of all ages. Call the community management office or visit the website for leasing details.
MAIL
Cadet Post Office
845-446-8750
The West Point Post Office delivers all FedEx and UPS packages as well as USPS mail.
For all USPS mail and packages, use the following address:
Cadet Name
P.O. Box [number]
West Point, NY 10997
For all FedEx/UPS packages, use the following address:
Cadet Name
745 Brewerton Road # [P.O. Box number]
West Point, NY 10996
PETS
West Point Veterinary Clinic
630 Hodges Place
845-938-3838/3817
The clinic provides vaccinations, microchips, health certificates and limited sick-call appointments for privately owned pets. Due to scarce resources for privately owned pets, most veterinary cases go to a full-service private veterinary hospital; see the Military Buyer's Guide tab to connect with local veterinarians.
RELIGIOUS GUIDANCE
Office of Chaplains
www.usma.edu/chaplain
Numerous chapels support the religious needs of all West Point cadets, soldiers, their families and, in some cases, the community. The chapels offer many programs, including worship, liturgy, rites and religious education. Chaplains also provide counseling. All communications with the chapel are confidential and protected by the Uniform Code of Military Justice. If you are seeking spiritual support for any denomination or faith group, contact the chapel. Visit the website for more information.
VEHICLE REGISTRATION
West Point requires that all vehicles be registered at the MP station and display a DOD sticker on the windshield. All vehicles entering or leaving base are subject to search.
New York state traffic laws apply on post; see the Getting To & Around Orange County chapter on Page 23 for more information.
Serving You


DINING
Lil' Skeeters BBQ & Primo's Pizza
Building 622 (Bowling Center)
845-938-2140
West Point Club
603 Cullum Road
845-938-5120
West Point Golf Course Snack Bar
Building 732
845-938-2435
For hours, menus and special event information, visit https://westpoint.armymwr.com.
EDUCATION
Education Center
683 Buckner Loop
845-938-5389
www.goarmyed.com/public/facility_pages/West_Point_Education_Center
The Education Center provides educational opportunities to enhance the quality of life within the entire military community and offers personal and professional growth through career development and voluntary education programs.
The center's programs include basic skills training, college degree programs, educational counseling services, financial aid guidance and military and civilian testing programs. Information is provided concerning veterans' education benefits as well.
FAMILY SUPPORT
Child Development Center
1207 Patrick Trail
845-938-4798
https://westpoint.armymwr.com/programs/West-Point-Child-Care
Stony Child Development Center is accredited by the National Association for the Education of Young Children. Combined with Army standards and regulations, NAEYC guides the CDC program toward the highest quality of care for your children. CDC classrooms are mixed-age groups starting at 6 weeks old up to 36 months, preschool and a separate pre-K program. The classes include literacy, math and science, art, blocks, dramatic play, manipulative toys, and games.
Request care at the CDC at https://militarychildcare.com or register at Parent and Outreach Services (140 Buckner Loop).
Exceptional Family Member Program
622 Swift Road
845-938-5655
https://westpoint.armymwr.com/programs/efmp
This program provides special-needs families with information and referral services.
Family Child Care
140 Buckner Loop
845-938-4458
https://westpoint.armymwr.com/programs/West-Point-Child-Care
Family Child Care gives an alternative to the Child Development Center for families that need evening care, weekend care, care for children with special needs or infants and school-age children, and care during the swing and midnight shifts.
The program also offers an opportunity for spouses to contribute to the family income while caring for their children.
School Age Center
Building 140
845-938-8530
https://westpoint.armymwr.com/programs/West-Point-Child-Care
The School Age Center's 5,000-square-foot building has four large classrooms and a playground. Healthy food choices are planned by a nutritionist and served daily. SAC also offers sports and fitness programs and a variety of clubs.
SAC partnerships with 4-H, the Boys and Girls Clubs of America, and the Josephson Institute of Ethics Character Counts! curriculum provides children with additional options and opportunities for enhanced programs.
School Support Services
695 Buckner Loop
845-938-2092
https://westpoint.armymwr.com/programs/school-liaison-officer
The school liaison office is the connection between West Point families and private and public schools. It provides support to service members during all stages of transition and deployment to ensure children receive every available opportunity for quality education.
Middle School and Teen Program
Building 500
845-938-3727
https://westpoint.armymwr.com/programs/middle-school-teen-center-mst
The Middle School and Teen Program Center, for kids in grades six to 12, offers activities that focus on character and leadership development, academic success and mentoring, arts and creativity, sports, health and fitness. A monthly calendar of daily activities includes trips, tournaments, health and fitness activities, fine arts, cooking, recreational activities, teen development programs and volunteer opportunities for youth.
FINANCIAL SERVICES
PenFed Credit Union
West Point Branches
800-431-1404

1204 Stony Lonesome Road
600 Thayer Road
www.penfed.org
LEGAL SERVICES
Legal Office
Info and Appointments 845-938-4541
Tax-related Matters 845-938-5920
606 Thayer Road
626 Swift Road
www.westpoint.edu/sja
The Legal Assistance Office provides legal help at no cost to service members, family members, DOD civilians and retirees with a valid ID card. Clients may walk in for powers of attorney, notarizations, bills of sale and general information. For legal advice from an attorney, call for an appointment.
LIBRARY
United States Military Academy Library
758 Cullum Road
845-938-2230
www.westpoint.edu/Library
The library serves the West Point curriculum by partnering with faculty and staff across campus to equip cadets with the skills and resources necessary to conduct serious and meaningful research and to become life-long learners. Visit the library's website for more information.
RECREATION
For information about the recreational programs at West Point, visit Family and MWR online at https://westpoint.armymwr.com.
Army Community Service
Building 622
845-938-4621
https://westpoint.armymwr.com/categories/community-support
Army Community Service is the primary resource agency delivering support services tailored to the needs of the extended West Point community. ACS offers real-life solutions for successful Army living by providing a broad range of proactive educational opportunities, individualized counseling and coaching services. ACS programs support soldiers and their families from the first assignment through separation or retirement. The following are some of the programs available:
The Information, Referral and Follow-Up Program is a centralized point for information and referral to a comprehensive network of internal and external agencies, services and programs; crisis intervention; and in-processing.
The Family Advocacy Program focuses on delivering services that strengthen Army families by providing the tools to maintain safe and nurturing environments. Classes include parenting, a Wee-Ones playgroup, couples communication, and stress and anger management. Services include victim advocacy and domestic violence crisis intervention.
The Exceptional Family Member Program provides comprehensive and coordinated community support to family members with special needs.
The Financial Readiness Program offers extensive educational programming in the following areas: successful money management, budget counseling, proper use of credit, saving and investing for the future and consumer education. The
Army Emergency Relief Program provides no-interest loans and grants to active-duty and retired Soldiers and their families in times of financial distress.
The Employment Readiness Program offers a full range of employment assistance to Soldiers and family members with job search, career development and other related services including career coaching and testing, resume writing assistance, and executive transition workshops.
The Relocation Readiness Program supports America's mobile Army through educational training, guidance and outreach efforts. Services include welcome packets, newcomer orientation, a lending closet, cultural adaptation and English-as-a-second-language classes, sponsorship training, OCONUS orientation briefings and out-processing.
The Army Volunteer Corps serves as a centralized source of information on opportunities to volunteer within the community. The AVC coordinates with recognized and authorized volunteer organizations that are seeking volunteers and individuals to provide volunteer service. Volunteering offers everyone the opportunity to be involved in the community, with the potential for personal and professional growth. The AVC is in the Volunteer Resource Center, Building 622. For more information, call 845-938-3655.
The Army Family Action Plan is a grassroots-level program that gives a voice to all members of America's Army. The annual AFAP Conference provides a forum where the Total Army Family can express quality-of-life concerns and promote effective change.
Army Family Team Building, a volunteer-led organization, provides training to support the total Army effort. AFTB's mission is to educate and train America's Army in the knowledge, skills and behaviors designed to prepare our Army families to move successfully into the future.
Arts and Crafts Center
693 Washington Road
845-938-4812
https://westpoint.armymwr.com/programs/arts-and-crafts-center
Visit the Arts and Crafts Center online for information about the programs and services offered, including jewelry-making classes, matting and framing, stained glass classes, a digital photo contest and the annual Army Arts and Crafts Contest.
Automotive Center
648 Wilson Road
845-938-2074
https://westpoint.armymwr.com/programs/automotive-center
Do your own automobile maintenance at the center using its stalls, lifts and tools. It also offers auto safety training for do-it-yourselfers, and mechanics if you prefer to leave the repairs in expert hands.
Bowling Center
622 Swift Road
845-938-2140
https://westpoint.armymwr.com/programs/bowling-center
Strike up some family fun at the 10-lane, state-of-the-art bowling center. Shoe rental, bowling leagues, bowling lessons and dining options are available.
Bull Pond Recreation Area
1806 Bull Pond Road
845-938-2503
https://westpoint.armymwr.com/programs/bull-pond-rereation-area
The Bull Pond Recreation Area, off Route 293 on the West Point Reservation, offers limited fishing, boating, hiking and swimming. Bull Pond is the perfect place for a vacation close to home. Cottages, situated by the "private" lake, are available for rent in priority order by active-duty military personnel assigned to West Point, active-duty military assigned elsewhere, retired military, and civilian employees assigned to West Point. Every April a lottery is held to determine who rents the cottages.
Fitness Center
683 Buckner Loop
845-938-6490
https://westpoint.armymwr.com/programs/mwr-fitness-center
The center offers a variety of free weights, strength equipment and cardiovascular machines to help you achieve your fitness goals. Classes offered include spinning, yoga, boot camp, Les Mills BodyPump, introduction to strength training and more. Massage therapy and personal training are available by appointment for a fee.
Golf Course & Pro Shop
732 Victor Constant Road
845-938-2435
https://westpoint.armymwr.com/programs/golf-course
This "spikeless" 18-hole course includes a driving range, pro shop and full-service snack bar. Golf clubs, gas carts and pull carts are available for rental. The course is open to authorized users and the general public.
Lake Frederick Recreation Area
54 Lake Frederick Road
845-938-2503
https://westpoint.armymwr.com/programs/lake-frederick-recreation-area
Lake Frederick Recreation Area — on a catch-and-release lake just 7 miles from West Point — offers eight bunkhouses, 50 tent sites, mess hall and party pavilions. The office provides services such as an Equipment Rental Center, firewood, ice, canoes, paddle boats, rowboats, West Point fishing passes and more.
Leisure Travel Services
683 Buckner Loop
845-938-3601
https://westpoint.armymwr.com/programs/leisure-travel-services
Find information and get military discount tickets for area attractions including Disney World, Busch Gardens, Universal Studios,
SeaWorld, Sesame Place and many other amusement parks including some in the tristate area and California. Whatever travel destinations you seek, the ITT staff can also help you plan your trips with assistance with airline tickets, hotels and rental cars.
Morgan Farm Stable and Kennel
206 Morgan Farm Road
845-938-3926
https://westpoint.armymwr.com/programs/stable-and-kennel
Beginners and experienced riders can take advantage of Western- and English-style riding lessons, guided trail rides and summer riding camps. For private owners, full-care and partial-care stalls are available for rent at reasonable rates.
Morgan Farm Kennel offers pet care for community members transitioning to or from West Point or just going on vacation. The kennel offers reservations, a climate-controlled facility, large dog runs and daily walks for a nominal fee. Updated pet vaccinations are required, and grooming services are available. Call for more information.
Outdoor Recreation Equipment Rental Center
Building 648
845-938-0123
https://westpoint.armymwr.com/programs/outdoor-recreation-equipment-rental-center
Outdoor Recreation offers modern equipment for rent and sale; this activity supports all of your adventure needs. Equipment for rent includes party canopies, tables, individual and family-size tents, kayaks, canoes, barbecue grills, a dunk tank, climbing equipment, backpacking supplies and paintball equipment. The center also operates West Point's adventure programs with activities such as paintball, archery, rock climbing and ski trips.
Round Pond Recreation Area
1348 Round Pond Road
845-938-2503
https://westpoint.armymwr.com/programs/round-pond-recreation-area
Beaches, playgrounds, picnic areas, log cabins and campsites surround the tranquil pond. Nearly 30 RV campsites with water and electrical hook-up are available. Boating, hiking, swimming, fishing, volleyball, basketball and horseshoes are favorite pastimes at Round Pond. You can also refill propane gas and purchase hunting and fishing licenses at the office.
SHOPPING
West Point Commissary
1200 Stony Lonesome Road
845-938-3663
www.commissaries.com
Save your hard-earned dollars when shopping for groceries at the commissary. In-store amenities and specialties include a bakery, custom photo cakes, a deli, fresh sandwiches to go, a hot foods department, party cakes, plants, rotisserie chicken, sushi and a butcher shop.
West Point Exchange
The West Point Exchange wants to be your first choice for shopping. It offers a price-match program that guarantees the lowest prices in town. Hours of operation for services outside the Main Exchange vary, so call or visit the website for detailed information.
Main Exchange
1204 Stony Lonesome Road
845-446-5404
Military Clothing Store
845-446-1019
Exchange Restaurants
Burger King
845-446-2027
Starbucks, Building 683
845-839-0579
Subway, Building 683
845-446-2096
Taco Bell
845-446-2027
Services
Athletic Gift Shop
845-926-2703
Barbershop
845-839-0019
Floral Shop
845-446-3848
Enterprise Car Rental
845-446-2475
Optical Center
845-446-6565
Photography Studio, Bldg. 605
845-560-5670
The Cleaners
845-446-0046
Express/Class Six/Service Station
Building 1202 845-446-3666