St. Louis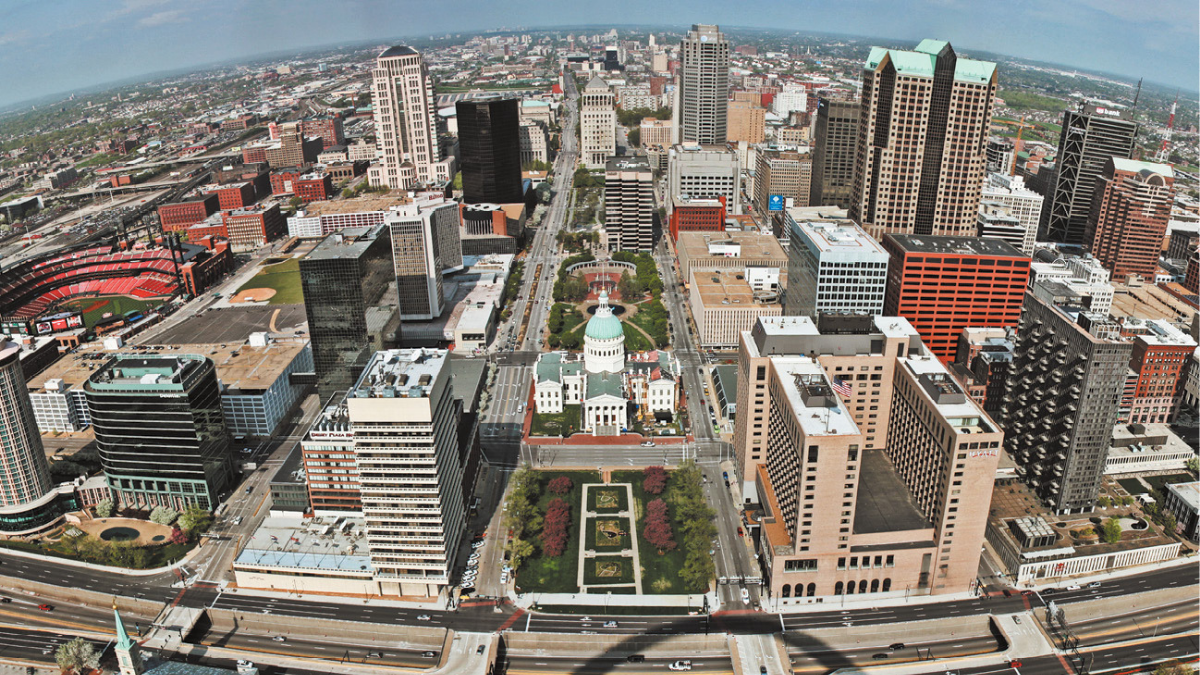 St. Louis, one of the largest cities in Missouri, is on the bank of the Mississippi River just below its junction with the Missouri River, and its downtown is less than 20 miles from Scott AFB. The metropolitan area encompasses 12 counties: seven in Missouri and five in Illinois. In 2017, the population of the city was estimated at 308,626, with nearly 1 million people in surrounding St. Louis County, according to the U.S. Census.
Because of its historic role in the nation's westward expansion, St. Louis is known as the "Gateway to the West," and the 630-foot stainless steel Gateway Arch, the nation's loftiest man-made monument, commemorates this role. The 50th anniversary of the Gateway Arch riverboats, the Tom Sawyer and the Becky Thatcher, was in 2014, and in 2015, a yearlong celebration kicked off to mark the 50th year of the arch itself.
St. Louis supports internationally recognized institutions and organizations, and cultural and informational opportunities abound. Residents and visitors young and old enjoy the zoo, science center, opera, theater, art museum, symphony and more, and five-star restaurants and corner bistros offer fine dining and casual dinners alike. St. Louis has great fairs and festivals with themes that reflect the area's cultural heritage and traditions. A sampling would include Fair St. Louis, the Blues Festival, Taste of St. Louis, the Greek Festival and the Great Forest Park Balloon Race.
Downtown St. Louis hosts the Enterprise Center, a major sports and entertainment venue; Busch Stadium, home to the St. Louis Cardinals; Laclede's Landing, a riverfront entertainment and dining destination; and Gateway Arch National Park. Union Station, a redeveloped train station, features luxury hotel rooms and conference areas. The historical Soulard farmers market is alive with the bustle of outdoor vendors. St. Louis Lambert International Airport serves more than 15 million passengers each year, and the MetroLink transportation system that connects the airport with downtown extends all the way to Scott AFB. St. Louis ranks high for medical institutions, universities and quality of life and is a hub for industrial and corporate headquarters.
To learn more, visit the city's website at www.stlouis-mo.gov. Visit the St. Louis Regional Chamber website at www.stlregionalchamber.com or call 314-231-5555.
Albers
Albers, a small community of about 1,000 residents, is 16 miles east of Scott AFB on state Route 161 in Clinton County, with easy access to Interstate 64, all Metro East communities and St. Louis. The quiet, family-centered town takes pride in its pleasant neighborhoods and friendly neighbors as well as its elementary school and well-maintained park, the site of community activities year-round.
Belleville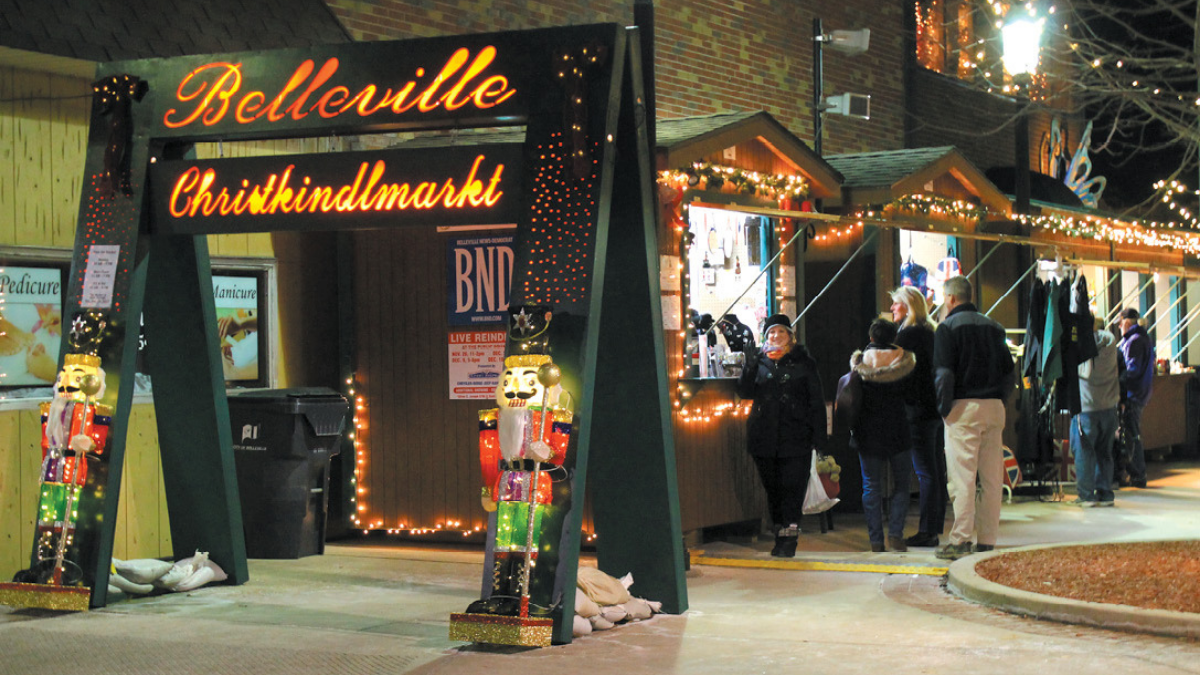 Belleville, county seat of St. Clair County, is five minutes from Scott AFB and 15 minutes away from downtown St. Louis. Having celebrated it's 200th anniversary in 2014, it is one of the oldest communities in the St. Louis metropolitan area. Farmer George Blair got things going on March 10, 1814, by donating an acre of farmland for a public square, and the former county seat then was transferred from Cahokia to the more central settlement. Blair got to name the town, and he chose "Belleville," French for "beautiful city."
Belleville rose quickly to prominence in politics and to economic growth in agribusiness, mining, banking, retailing and manufacturing. At one time it was known as "the stove capital of the world." By the 1870s, coal mining was a growth industry and railroads were in place to haul materials and goods. By 1880, Belleville was a national supply center, serving not only the local market and St. Louis but points west from the Mississippi River to the Pacific Ocean.
By 2015, Belleville's population had grown to 44,478, and the city had more than 300 miles of paved streets, including the longest Main Street in the U.S. with 9.3 miles of continuous city roadway. The municipality is the largest in Illinois south of Springfield, and has been a sister city to Paderborn, Germany, since 1990.
Belleville provides quality resources in both health care and education. Memorial Hospital has been serving the needs of area residents since 1958. In addition to the main hospital facility in west Belleville, Memorial also operates an off-campus diagnostic center and physical therapy center. Schools, both public and private, range from preschool through graduate school, including Lindenwood University – Belleville and Southwestern Illinois College.
The Belleville Public Library, a 183-year-old Carnegie Library, was the state's first circulating library. The Belleville Philharmonic Orchestra has been performing continuously for 152 years and is the second oldest in the nation.
To the east of Belleville is Scott AFB, the area's largest employer. The military base and the city have enjoyed a positive relationship for over a century. The Belle-Scott Committee, established in 1949, is the oldest continuous military-civilian partnership in the nation.
Business and economic growth has gotten a boost from the Business Assistance Program, an update of the city's comprehensive plan, and required business occupancy permits. Belleville's Economic Development, Planning and Zoning Department teams with the city's Health, Housing & Building Department and the Community Development Corp. on development issues and opportunities. The Greater Belleville Chamber of Commerce also works cooperatively to advance business and community interests.
Belleville's rich surrounding farmlands have consistently provided economic stability to the area and are famed for their white asparagus, horseradish, corn, strawberries, peaches and apples.
Downtown received a $7.1 million renovation in 2007 to become a shopping and tourism draw with its restaurants, boutiques, arts and crafts, museums, historic movie theater, and Old Town Farmers' Market selling locally grown fresh fruits and vegetables. Other points of interest include the National Shrine of Our Lady of the Snows, Eckert's Orchards, the Cathedral of St. Peter, the Skyview Drive-In Theatre, the Sept. 11 Memorial Walkway of Southern Illinois, Hofbräuhaus St. Louis-Belleville, parks, trails and golf courses. Annual events include Art on the Square, Oktoberfest, the Chili Cook-off, a Veterans Day ceremony, gingerbread festivities, a Christkindlmarkt (an open-air German Christmas market), and the largest Santa Claus parade in southern Illinois.
MetroLink light rail runs from Scott AFB through Belleville's stations to St. Louis and St. Louis Lambert International Airport. Interstates 64 and 255 are adjacent, and Illinois state highways 15, 159, 177, 13 and 161 all cross Belleville.
Residents can select housing in lofts, new subdivisions, established neighborhoods or historic districts, including three national and three local historic districts.
The city's 22 parks encompass more than 250 acres, which include 11 miles of bicycle and walking trails. Other recreational amenities include an outdoor skateboard park, as well as bowling, laser tag, bumper cars and go-karts.
To learn more, visit the City of Belleville website at www.belleville.net or call 618-233-6810 or visit the Greater Belleville Chamber of Commerce at www.bellevillechamber.org or call 618-233-2015.
Breese
German farmers drawn by fertile prairie settled around what became Breese in Clinton County, part of the Metro East region of southern Illinois' Greater St. Louis Metropolitan area, in 1816. The railroad arrived in 1855, the same year 20 blocks were laid out for the town, followed by a post office, businesses, schools, churches, a town improvement society, a volunteer fire department, water works and an electric power plant.
Residents named their new town "Breese" after county resident, U.S. senator and jurist Sidney Breese, a moving force behind the Illinois Central Railroad.
The town supports an elementary school, a high school, a busy public library and Bent Oak Golf Course. As for green space, Breese maintains several parks, including one dedicated to soccer, for residents of all ages, and a public pool with a splash pad. The historic Avon Theatre downtown, which opened in 1914 as the Grand Theatre, a 450-seat venue for the new silent films, is now home to the Clinton County Showcase, a nonprofit community arts group dedicated to promoting art, music and theater events.
The nearly 4,500 residents of Breese espouse the motto, "Proud of our past, planning for our future." To learn more about the town, go to www.breese.org or call 618-526-7731.
Cahokia
The French-flavored village of Cahokia, "Birthplace of the Midwest," had its beginnings in May 1699 when French priests from Quebec founded the Holy Family Mission. Its successor church, the Holy Family Log Church of 1799, is still used for services. Other historic structures in the village include the old Cahokia Courthouse, which was originally a private home built by a French fur trader around 1740. Earlier yet, Native American mound builders inhabited the largest mound complex north of Mexico City from around 1000 to 1400, the Cahokia Mounds State Historic Site near Cahokia.
The village itself, incorporated as a municipality under Illinois state charter on March 28, 1927, is in the geographic center of the country on the east bank of the Mississippi River, across from the St. Louis central business district. The Mississippi Flyway passes overhead, a migratory thoroughfare, and the area has one of the greatest concentrations of bird species in Illinois.
The community is home to approximately 14,000 residents. Cahokia Unit School District No. 187 provides public education for local children. Residents and visitors can enjoy a library, a nutrition center, a fitness center and the 18-hole Prairies Golf Club course. The city park features a pool, an ice hockey rink, a playground, athletic fields, picnic facilities and a lake. Go to www.cahokiaillinois.org or call 618-337-9510 for more information, or visit the Cahokia Area Chamber of Commerce at www.cahokiachamber.org.
Carlyle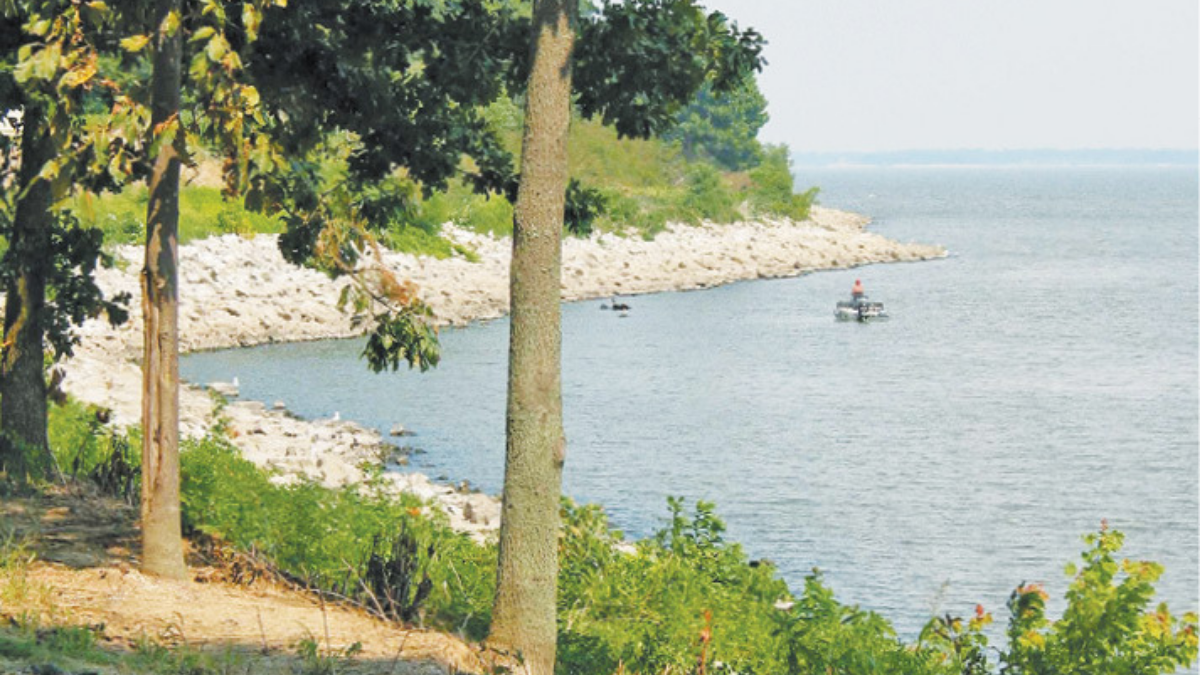 A muddy Goshen Trail ford across the Kaskaskia River ultimately led to the forward-thinking city of Carlyle, population 3,189, about 33 miles east of Scott AFB and 50 miles from St. Louis in Clinton County. Around 1812 the first settler, John Hill, built himself a block house along the trail close to the ford and started a ferry service, and by 1837 enough people had joined him to make up a village. In 1859, the General Dean Suspension Bridge spanning the river went into service and carried traffic for the next 70 years, the only such bridge in Illinois and now a historic site.
A dam across the Kaskaskia northeast of town formed Carlyle Lake, the biggest man-made lake in the state and a recreational mother lode. The area supports hunting (waterfowl, white-tailed deer, rabbits, turkeys, squirrels, quail and doves); bird-watching; fishing (32 species of freshwater fish including largemouth bass and channel and flathead catfish); 18 holes of championship golf at the Governor's Run Golf Course; four beaches; camping; boating and sailing; biking and hiking; and recreation areas. The lake draws more than 2.5 million visitors a year.
Carlisle works with the U.S. Army Corps of Engineers to maintain more than 20 miles of trails looping through the city and to the lake. In addition, the city supports sports and camps for kids, a fish hatchery and five city parks that include a pool, baseball diamonds, tennis courts, a dog park, a disc golf course, a fishing pond and fully equipped playgrounds.
Each year in November, Carlyle City Park glitters with thousands of lights to celebrate Christmas in Carlyle, followed in early December by the Christmas parade and fireworks. Among other festivals and events are July's Great Kaskaskia Duck River Race, benefitting the Healthcare Foundation; the Fourth of July Dam Jam, a day of live music, sand castle competitions and fireworks; February's Polar Plunge to benefit the Special Olympics; and the IHSA Bass Tournament for students in May.
East-west U.S. Route 50 and north-south state Route 127 intersect in the heart of the city, and Carlyle has easy access to three interstates: Interstate 70 north of the city, Interstate 64 south of the city and Interstate 57 east of the city.
Housing is plentiful and affordable, crime is low and children can attend Carlyle Community Unit School District No. 1's public schools.
Go to www.carlylelake.com or call 618-594-2468 for more information.
Caseyville
Near St. Louis and less than 20 miles from Scott AFB is the village that's "close to it all." With a population of about 4,000, the Village of Caseyville offers the tranquility of a small town yet draws on the economic and social activity surrounding St. Louis and the Mississippi River.
Once little more than an outpost, Caseyville is now a growing community. The town first gained fame during the Civil War as the base for the 22nd Infantry Illinois Volunteers. Mustered into U.S. service in 1861, they would later fall under the direct command of Gen. Ulysses S. Grant himself during reconnaissance in Kentucky.
Caseyville today is a pleasant suburban community. The village has reasonable housing costs and low crime rates. Public schooling falls under Collinsville Community Unit School District No. 10. The public library offers a large collection of books, e-books, internet and computer access, and other community resources.
For more information, go to the village's website at www.caseyville.org or call 618-344-1233.
Collinsville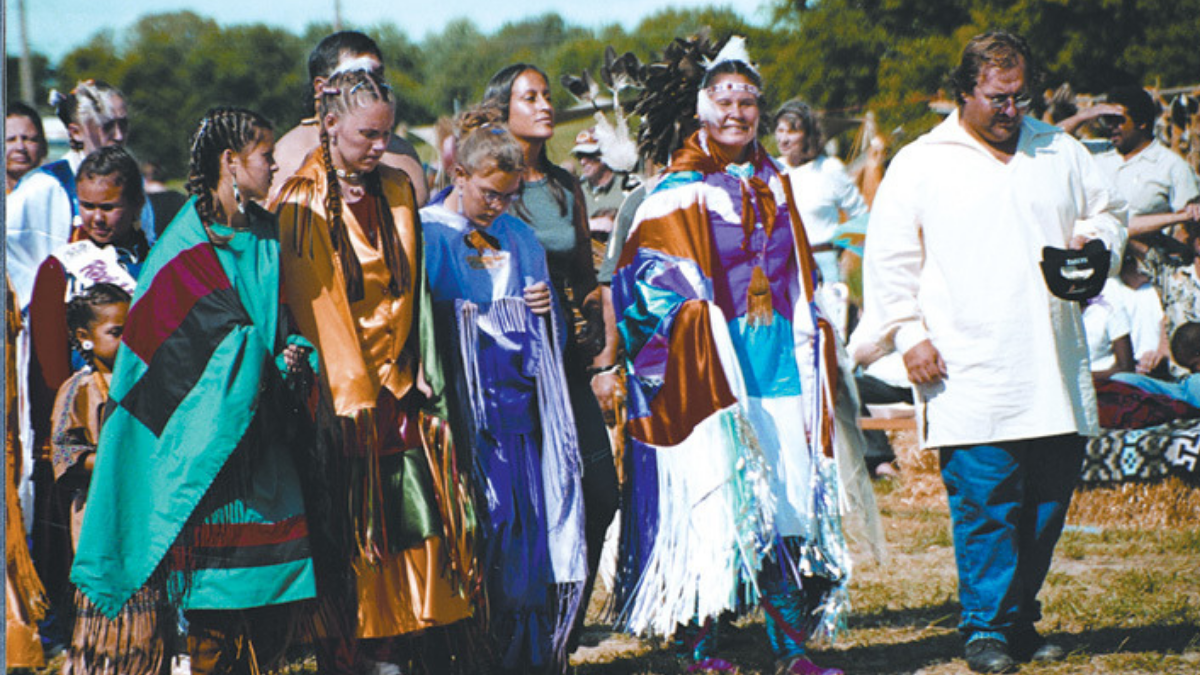 Collinsville's motto, "Wide-open spaces, close to city places," sums up the hospitality district of southern Illinois, just minutes from downtown St. Louis' activities and attractions. Its major chain hotels range from economy to luxury, and its restaurants' menus go from down-home family style to gourmet fare. All support services and conveniences for conventions or tourists are available in the safety and comfort of a hometown environment.
The Cahokia Mounds State Historic Site, which is on the World Heritage List, is the city's best-known attraction, along with Fairmount Park Racetrack and its horse racing, and Gateway Center, a premier convention center. Perhaps the city's most treasured attraction is the "world's largest catsup bottle" (aka the Brooks Catsup water tower), standing sentry over the crumbling Brooks Catsup bottling plant. The water tower was built in 1949 and was lovingly restored in 1995.
Collinsville is also known as the horseradish capital of the world. Two-thirds of the world's horseradish is grown here in the American Bottoms, and an international horseradish festival is held in early June. Additionally, the annual Italian Fest in September attracts thousands of people who share a fondness for Italian food, entertainment, grape stomps, bocce ball tournaments, parades and street dancers.
The population of nearly 25,000 is 10 miles from downtown St. Louis. Interstates 64, 55, 70 and 255 frame the former coal-mining town, which has become a quiet haven for many who work in St. Louis. Housing is plentiful and affordable, and lots tend to be large.
The city is home to Collinsville Community Unit School District No. 10. Area students and residents are served by a local library with programming for children and adults and next door's historic Blum House, a Queen Anne-style Victorian home that can be rented for meetings and special occasions.
Go to www.discovercollinsville.com, the Collinsville Chamber of Commerce website, for more information, or contact the chamber at 618-344-2884. The City of Collinsville's website is www.collinsvilleil.org.
Columbia
Columbia is one of the St. Louis area's fastest-growing suburbs. Located about 10 minutes away by car, southeast and across the Mississippi River from downtown St. Louis, the community is adjacent to Interstate 255, circled by Interstate 270 and about 25 miles from Scott AFB.
The area has a rich history. In the mid-1600s, the French landed there as the first white settlers, followed by the British, who controlled the territory through most of the 18th century until American revolutionaries drove them out. The original town — starting with Fort Whiteside and Fort Piggott — was built by a handful of American settlers on high bluffs overlooking the Mississippi River.
Today, Columbia is home to approximately 10,000 people, many of them descendants of hard-working German immigrants who came looking for employment in the 1840s. These days the service industries and construction are foundations of the local economy, though many people commute to St. Louis via the Jefferson Barracks Bridge or Metro Transit system.
Recreational facilities abound, including a park system with basketball courts, an inline skating rink, walking trails, tennis courts, and baseball, softball, soccer and football fields. The area is a haven for golf fans, with courses offering various levels of challenge right inside town and other southwestern Illinois courses within a short drive. The Columbia Bath and Tennis Club, a major hub for membership recreation, offers a full-sized swimming pool and organized activities on its beautiful campus. There are leagues around town for bowling, volleyball, softball and golf as well. Columbia is also a place for horseshoe tournaments and a starting point for cyclists riding down the famous Bluff Road scenic river route. Miles of river bottoms await along this Illinois institution.
Young residents of Columbia generally attend school within Columbia Community Unit School District No. 4. An abundance of community activities helps children and families stay involved both in and out of school. Instructional classes and leagues are available for all ages in such sports as softball, baseball, soccer, football, bowling, dance, swimming and gymnastics. The public library offers a variety of resources and programs for all ages.
Visit the city website at www.columbiaillinois.com to learn more or visit the Columbia Chamber of Commerce website www.columbiailchamber.com.
East St. Louis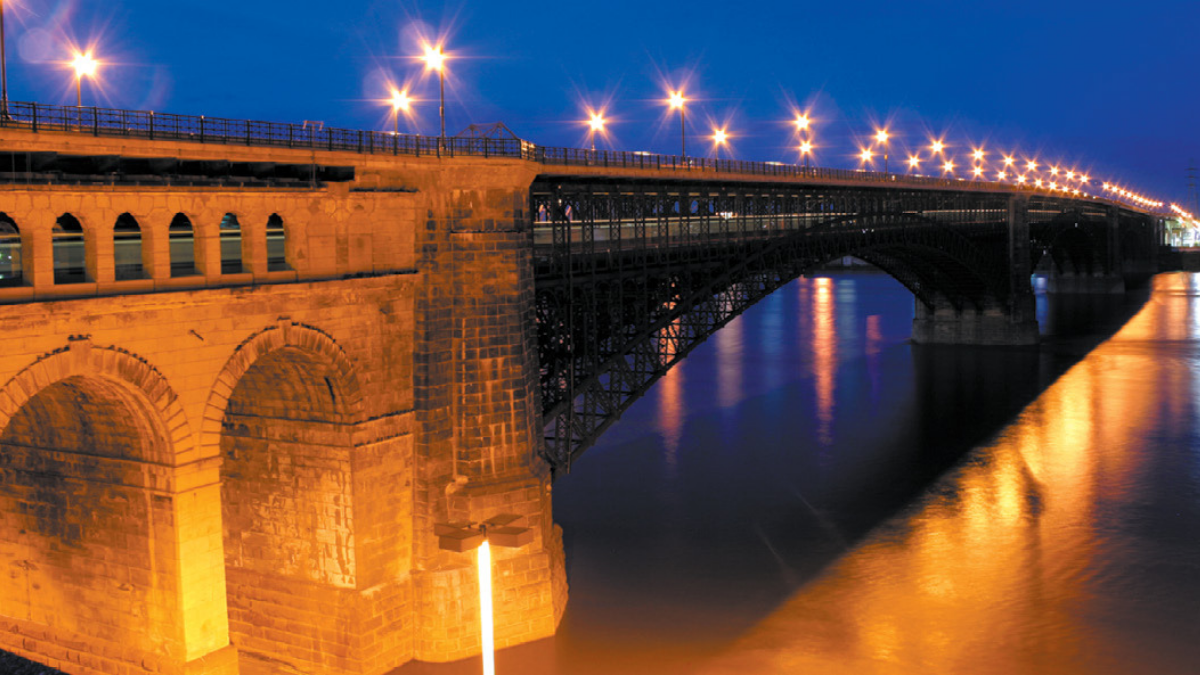 East St. Louis, on the Illinois side of the Mississippi River in St. Clair County, has a population of nearly 27,000. It sits just
15 miles west of Scott AFB and 2.5 miles from downtown St. Louis. The first bridge to span the Mississippi River, a combined road and railway bridge that opened in 1874, is still in use today to travel from East St. Louis to metropolitan St. Louis; at its completion the Eads Bridge was the longest arch bridge on Earth, and one of its believers led an elephant across it the year it opened to reassure a dubious public. Another bridge linking the two cities, the Stan Musial Veterans Memorial Bridge, opened in February 2014.
Four interstates are within easy reach: interstates 70, 64, 55 and 255. The city also is part of Metro Transit, the Greater St. Louis area transit system, which connects East St. Louis to St. Louis Lambert Airport, Scott AFB and other local communities.
East St. Louis, which sprang up on river lowlands ringed by bluffs, developed as an industrial and transportation center thanks to its river frontage, a network of railways and ample warehouse space. More recently there has been an increase in commercial and housing activity. In 1993, Arch Paddle Inc. launched the biggest riverboat casino in America, the Casino Queen, which sails from East St. Louis. The $30 million enterprise has been a huge economic boon to the city; in addition to providing hundreds of jobs, it generates substantial tax revenues.
East St. Louis is also home to the Gateway Geyser. At 630 feet, it is the tallest fountain in the nation. The geyser mirrors the St. Louis' Gateway Arch and its glittering stainless steel across the river at the Jefferson National Expansion Memorial.
Public schools come under East St. Louis School District No. 189. For higher education, Southwestern Illinois College has one of its largest satellite campuses at the East St. Louis Community College Center, where it offers classes to students of various ages and backgrounds.
For more information about the City of East St. Louis, visit www.cesl.us.
Fairview Heights
Appropriately called the "Crossroads of Prosperity," the community of Fairview Heights was incorporated in 1969 and has gone from a quiet area surrounded by farms and coal mines to the retail shopping hub of the Metro East region. Only eight minutes from Scott AFB, Fairview Heights had grown to nearly 17,000 residents. East-west Interstate 64 conjoined with U.S. Route 50 passes through town, and the MetroLink light rail service carries passengers between Fairview Heights and St. Louis to the west.
Shopping drives the economy. Fairview Heights is home to St. Clair Square, a shopping mall with 140 stores that has stimulated additional growth in all directions, including the Crossroads Centre, Fairview Heights Plaza, Marketplace Shopping Center, Winchester Plaza, restaurants and more. The city has more than 3 million square feet of retail space. The Fairview Heights Economic Development Department maintains an up-to-date community profile, an inventory of available buildings and sites, and business assistance programs that lay out financial incentives for businesses seeking to locate, relocate or expand in the city.
Fairview Heights has become a haven for tourists with restaurants and hotels that provide convenient, quick access to downtown St. Louis and numerous other attractions throughout the area. Fairview Heights provides much for its out-of-town visitors who come to shop, eat or stay overnight, but it also offers its residents a full range of services intended to make it an ideal place to live.
Parks include Moody Park (aka Longacre Park), which features playgrounds, baseball and softball diamonds, a walking and jogging trail, a volleyball court and picnic pavilions. The city's 95-acre Pleasant Ridge Park is home to the two-story Kinsella log cabin, a structure built around 1854 by the Kinsella family, and other smaller parks are scattered throughout residential neighborhoods.
Students attend Grant CCSD No. 110 and Pontiac-William Holliday School District No. 105.
Go to the City of Fairview Heights website at www.cofh.org for more information, or tap into the resources of the Metro-East Regional Chamber of Commerce (for both Fairview Heights and Swansea) at www.metroeastchamber.org.
Highland
Dynamic Highland has 9,830 residents just 30 miles east of metropolitan St. Louis and a little over 24 miles from Scott AFB. Interstate 70 to the north is within easy reach, as are state routes 160 and 143 and U.S. Route 40. Highland is surrounded by farmland and has strong agriculture roots, but the community settled by Swiss and Germans in the early 1800s also has a long history of being a progressive municipality, successfully blending business and industry with a small-town atmosphere.
Highland's quality of life stems from people filled with community spirit and pride. Visitors can't help but notice the well-maintained parks, streets, lake, homes and yards. Parks and playgrounds range from Kaeser Park, a historical stagecoach stop, to Silver Lake, which offers boating, fishing, waterfowl hunting, archery, pavilions, a playground, sand volleyball, nature and walking trails, and a climbing wall. With numerous annual festivals and fairs, among them Peanut Butter & Jam summertime festivals, the Street Art Festival, the Madison County Fair, band concerts, art events and community theater from Hard Road Theatre Productions, there is always something new to experience.
Students are served by Highland Community Unit School District No. 5. The Louis Latzer Public Library has operated out of its handsome stone neoclassical building since 1929, and provides students and residents alike with a substantial collection and special programs.
The city has quality services and infrastructure at reasonable rates, including municipally owned and operated fiber broadband internet, telephone and data services. The balanced economy includes clean manufacturing, agriculture, health care, service industries and retail. The inventor of PET Evaporated Milk was from Highland, and the Wicks Organ Co., founded more than a century ago by three brothers in the back of a jewelry and watch-making store, is still going strong.
To learn more, visit the city's website at www.highlandil.gov or the Highland Chamber of Commerce's site at www.highlandillinois.com.
Lebanon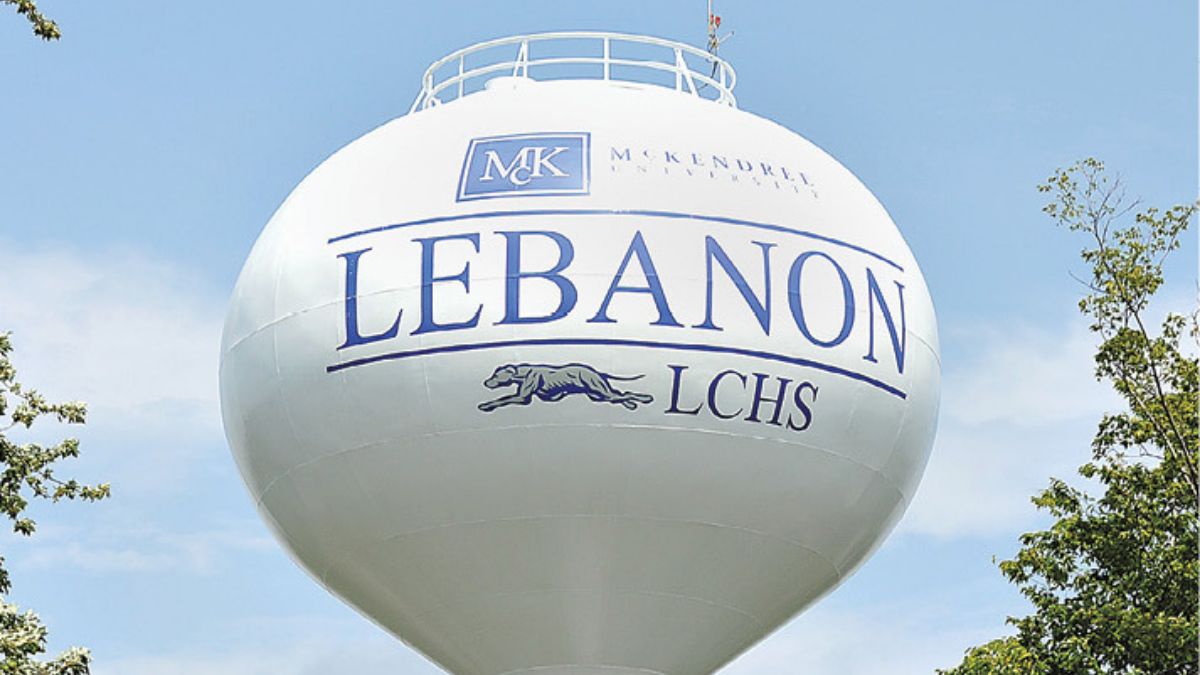 Many military and civilian residents of Lebanon, a small, pleasant college town 7 miles northeast of Scott AFB, are employed at the base. Settled in 1814, this town of almost 4,500 is noted for its old, established homes, many dating from the 1800s, as noted by the St. Clair County Historical Society. One of the oldest surviving structures is the Mermaid House Inn, built in 1830, which British author Charles Dickens visited and praised in 1842. A large portion of the city, including the entire Main Street, has been designated a historic district and was placed on the National Register of Historic Places in 1978. Many of the city's antique and specialty shops and restaurants reflect its mid-Victorian architecture and support an unhurried living and shopping atmosphere. Downtown St. Louis is only 30 minutes away via Interstate 64 or Interstate 70.
Lebanon is the site of McKendree University, the first college in Illinois, founded in 1828. The private four-year liberal arts Methodist college offers undergraduate and graduate degrees in numerous areas of study and an average class size of only 14. Historic buildings dating to the mid-1800s dot the campus alongside newer, state-of-the-art buildings that include the $5 million Piper Academic Center and the $10 million Hettenhausen Center for the Arts.
McKendree University's former coach, Harry Statham, a 1960 alumnus, was named the "most winningest active basketball coach" with more than 1,000 victories. Statham also claimed the American Midwest Conference President's Cup for 11 consecutive years and was inducted into the St. Louis Sports Hall of Fame in 2014. During his career, Statham was named AMC Coach of the Year eight times. Lebanon is also the hometown of Craig Virgin, world cross-country champion in 1980 to 1981.
Recreational facilities in Lebanon include Horner Park and its lake with fishing, tennis and basketball courts, baseball fields and a walking path. The Looking Glass Playhouse community theater includes many members from Scott.
Lebanon Community Unit School District No. 9 serves students in the area. The town's public library has thousands of books, magazines, newspapers, periodicals, high-speed internet, free Wi-Fi, public-access computers, homework help, a Books to Go service for homebound adults and other resources.
To learn more, go to the City of Lebanon website at www.lebanonil.org/city or call 618-537-4976. The Lebanon Chamber of Commerce, www.lebanonil.us, can be reached at 618-537-8420.
Mascoutah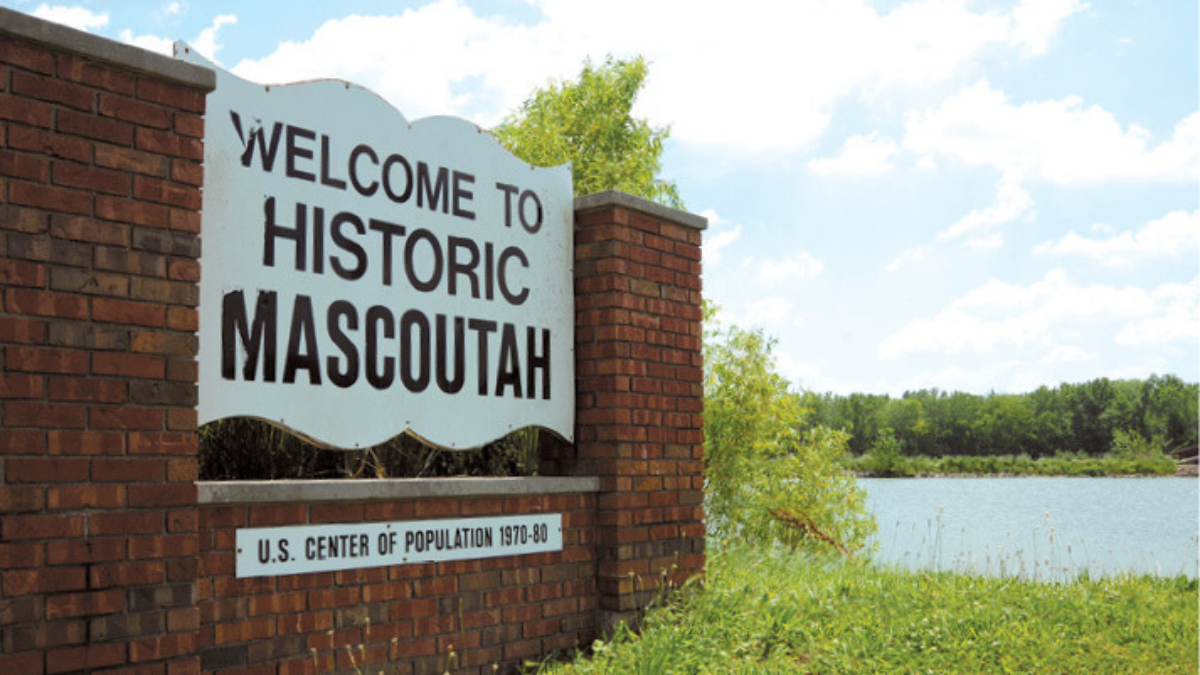 Mascoutah, a community of approximately 8,000 residents, is 4 miles southeast of Scott AFB. North-south state Route 4 passes through Mascoutah and links the city to Interstate 64 to the north and state Route 177 to the south. The community is served by MidAmerica St. Louis Airport, Mascoutah's public use airport, which is on the grounds of Scott AFB. The airport provides limited service to Las Vegas, Arizona, Florida and South Carolina. Travelers can also use nearby St. Louis Lambert International Airport.
The first settlers named their town "Mascoutah" after the Mascouten Indians after being informed by the postal service that another Illinois town had beaten them to "Mechanicsburg," their first choice.
The city actively seeks new businesses that create jobs while creating a strong, balanced economy with retail, logistics, advanced and aerospace manufacturing, and export-based industries. The city's chamber of commerce is a hands-on group working to improve the community, in addition to more traditional chamber activities. For years it operated the bowling alley and used the profits to build a municipal swimming pool, buy and pave downtown parking lots, help bring doctors to the community, beautify downtown and even maintain the Santa hut; its involvements continue.
Mascoutah Community Unit School District No. 19's mixture of rural, suburban and military communities provides a rich and diverse educational experience. The public library provides learning resources for area students and adults.
The community has three parks and a civic center. The largest park, Scheve Park, has a swimming pool, a dog park, a skate park, a playground, sports fields, horseshoe pits, a walking trail, disc golf, and a restored railroad caboose and dining car. The Leu Civic Center, a United Way agency, hosts a variety of recreational, cultural, social and civic programs. Annual events in Mascoutah include the annual Homecoming Und Augustfest, one of the largest summer community events in southern Illinois. The three-day celebration in Scheve Park features a carnival, 4-H events, a parade, a tractor pull and lots of food.
For more information, visit the City of Mascoutah website, www.mascoutah.org, or call 618-566-2964. Chamber of Commerce information can be accessed at www.mascoutahchamber.com or by calling 618-566-7355.
Millstadt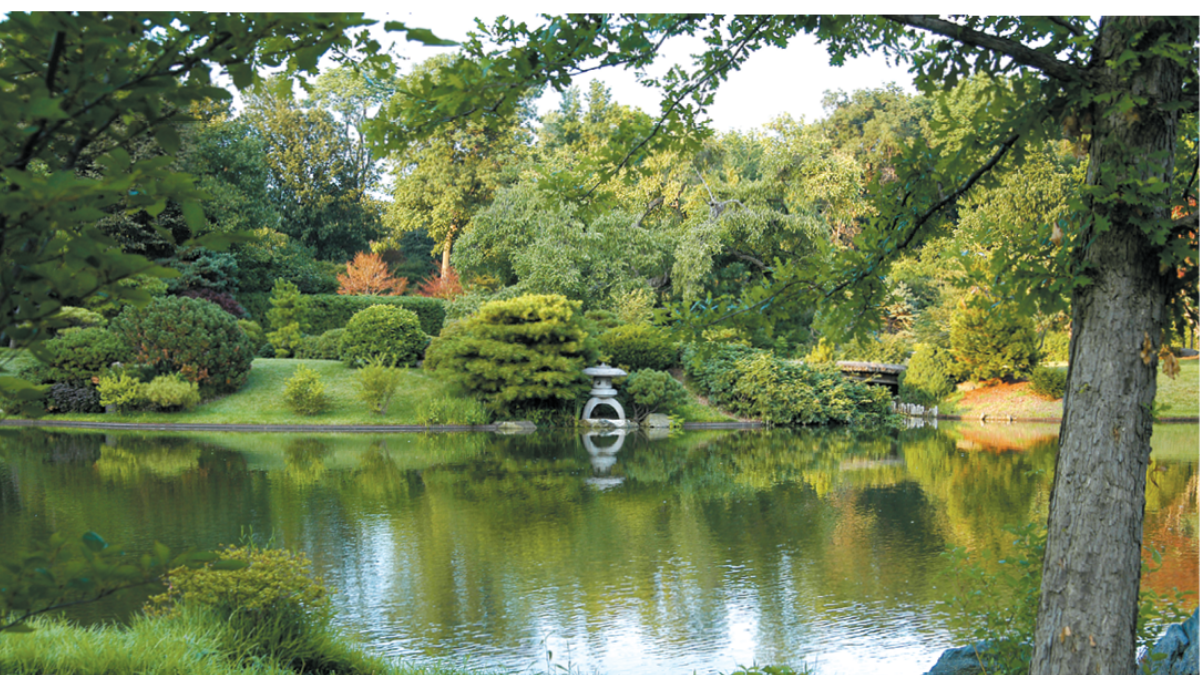 Millstadt, with a population of just less than 4,000, was laid out in 1836 and incorporated in 1875 in southwestern St. Clair County. Many of the original settlers were from Germany, and the village continues to build on this heritage by preserving historic buildings, its sister city program with Gross-Bieberau, Germany, and efforts to create a unique, charming St. Clair County community.
Numerous Millstadt residents are direct descendants of the original early settlers and can share stories of long ago. Much of the character of the village comes from this heritage, including many of the well-preserved, 19th-century brick buildings. The 1931 "Tin Man" water tower with its hemispherical bottom and conical roof with a ball finial now has been replaced by a newer, larger water tower but is one of the few surviving in Illinois, and the Friends of the Old Millstadt Water Tower have organized to save it. The village's heritage and relationship with its sister city in Germany is also reflected in community events like Wiehnachtsfest, a Christmas festival with German food, dancing, music, holiday crafts and a parade.
Two parks and a nature trail offer recreational opportunities for young and old. City Park has a children's play area with a rocket slide, pavilions, the village pool, horseshoe pits, a grandstand and two ball fields, and an entrance to the Pine Street Nature Trail. The nature trail's paved pathway is mostly shady, and its wood-chip path mixes shade and sun. Elm Street Park has a combined softball and soccer field, a basketball court, a children's play area, a pavilion and picnic tables.
Students in the village are served by Millstadt Community Consolidated School District No. 160. The local library serves students and adults with internet service, special reading programs and other educational resources.
The village's location 14.5 miles from Scott AFB at the intersection of state routes 158 and 163 fosters both business and family development. Millstadt is just 15 minutes from the Jefferson Barracks Bridge across the Mississippi River and 25 minutes from the Arch, and recent business expansions, retail developments and new housing opportunities are providing new amenities.
To learn more, visit the city's website at www.villageofmillstadt.org or call 618-476-1514. Visit the chamber of commerce's website at www.millstadtchamber.org.
New Baden
New Baden, a village of approximately 3,300 residents that straddles St. Clair and Clinton counties, is 11 miles east of Scott AFB on state Route 161. With Interstate 64 at its doorstep, it's about 30 minutes from downtown St. Louis. An increasing number of military families are taking up residence in New Baden, drawn by its excellent schools, safe neighborhoods and affordable housing.
In 1855, German immigrants founded the prairie town and it prospered until 6:15 p.m. on May 27, 1896, when a tornado ripped through more than half its 60 buildings, damaged others and killed 16 people. Residents of surrounding villages fought their way over debris-clogged roads to their stricken neighbors and spent that night searching and caring for the injured. By 1913, the determined community had rebuilt itself with sturdy brick into a lively mercantile center.
Today, the village is home to a civic center, a library and a park. The 41-acre community park has a swimming pool, tennis courts, ball diamonds, a soccer field, a hockey rink, a skate park, a paved walking path and picnic facilities and is the site of the annual June Jamboree and fall's chili cook-off. Students attend schools in Wesclin Community Unit School District No. 3.
To learn more, go to the New Baden city website at www.newbadenil.com or call 618-588-3813.
O'Fallon
O'Fallon, right next door to Scott AFB on Interstate 64, is just 15 minutes from downtown St. Louis and 5 minutes from MidAmerica St. Louis Airport. MetroLink light rail links the city to downtown St. Louis, St. Louis Lambert International Airport and Scott AFB. With 29,000 people and counting, O'Fallon is one of the fastest-growing communities in southern Illinois and the St. Louis metropolitan area.
Col. John O'Fallon, a businessman, philanthropist, military officer, railroad magnate, nephew of explorer William Clark of Lewis and Clark fame and, at the time, the richest man in St. Louis, gave his name to the city at its founding in 1854.
The Arbor Day Foundation has recognized O'Fallon as a "Tree City USA" for 20 consecutive years. Several charming parks are located within the city, highlighted by the 200-acre Family Sports Park with synthetic turf and premium grass soccer fields, baseball fields, a splash pad, pavilions, concessions and a 2.1-mile walking trail. The parks and recreation department offers youth and adult sports programs throughout the year, along with arts and crafts classes, fitness classes, dance instruction and more.
Students attend schools in O'Fallon districts 90, 104 and 203. The public library support students and adults with a variety of educational resources and programs.
To learn more, go to the city website at www.ofallon.org or call 618-624-4500. Visit the O'Fallon-Shiloh Chamber of Commerce website at www.ofallonchamber.com or call 618-632-3377.
Shiloh
In 1807, what is now Shiloh had no inhabitants but did have a name — "Three Springs" — from three gushing freshwater springs at the foot of a hill where church camp meetings were held. The first home was built there 38 years later, in 1845, and the name "Shiloh" appeared when the area was laid out and recorded in 1845. Farmers and miners, mostly Germans, moved in and prospered and in 1905 organized into a village. They believed in education: Shiloh had the first one-room schoolhouse in St. Clair County.
Shiloh, population 13,090, has the closest residential neighborhood to Scott AFB, with many homes less than a mile from the main gate. The village is about 16 miles east of St. Louis, and Interstate 64 runs along the northern edge of town. MidAmerica St. Louis Airport is minutes to the east, and it takes less than a half-hour to get to St. Louis Lambert International Airport. Bus and light rail service link residents to St. Louis and the rest of the Metro East region. Belleville lies just to the southwest, and O'Fallon to the north.
The village landmark, Shiloh's red and white water tower, is 145 feet tall. Situated on one of the highest points in St. Clair County, the tower can be seen for miles.
For recreation and get-togethers, there's Shiloh Park with its pavilions and 9/11 memorial, Three Springs Park and its walking trail, the senior center and a community hall. The landmark 1830s Engelmann Farm, one of the oldest intact farmsteads in Illinois, has two historic homes, farm fields, woods and a family cemetery. The farm has been turned into a park.
Children attend Shiloh Village School District No. 85.
To learn more, visit the city website at www.shilohil.org or call 618-632-1022. Visit the O'Fallon-Shiloh Chamber of Commerce website at www.ofallonchamber.com or call 618-632-3377.
Swansea
The Village of Swansea, in what was becoming a major agricultural resource for the nation, really started thriving in the late 1800s as the site of the manufacturer of that time's most efficient grain drills, which greatly reduced waste and increased crop yields by planting seeds uniformly. This bustling industry drew in a population that included farmers, industrial workers and businessmen.
Swansea grew rapidly as coal mines were constructed underground and brickyards built. Even as workers poured in and began to build homes in the area, the community remained just an adjunct to Belleville for years without its own government. Then in 1886, a handful of residents circulated a petition to form their own town and gave it the name of Swansea. An independent community formed, and by Dec. 20, a formal municipality was established. Since that day, Swansea has consistently been one of the fastest-growing communities within the Metro East area and today has a population of approximately 13,500.
Swansea serves as a bridge between southwestern Illinois communities such as Belleville and St. Louis, enjoying the benefits of a metropolis while maintaining a small-town atmosphere. Scott AFB is just minutes away, and St. Louis is only a 15- to 20-minute drive away.
The village's parks and recreation department facilities include a dog park, playgrounds, picnic pavilions, community centers and more. Students attend Wolf Branch and High Mount school districts.
To learn more, visit the Village of Swansea website at www.swanseail.org or call 618-234-0044. Visit the Metro-East Regional Chamber of Commerce at www.metroeastchamber.org or call 618-233-3938.
Troy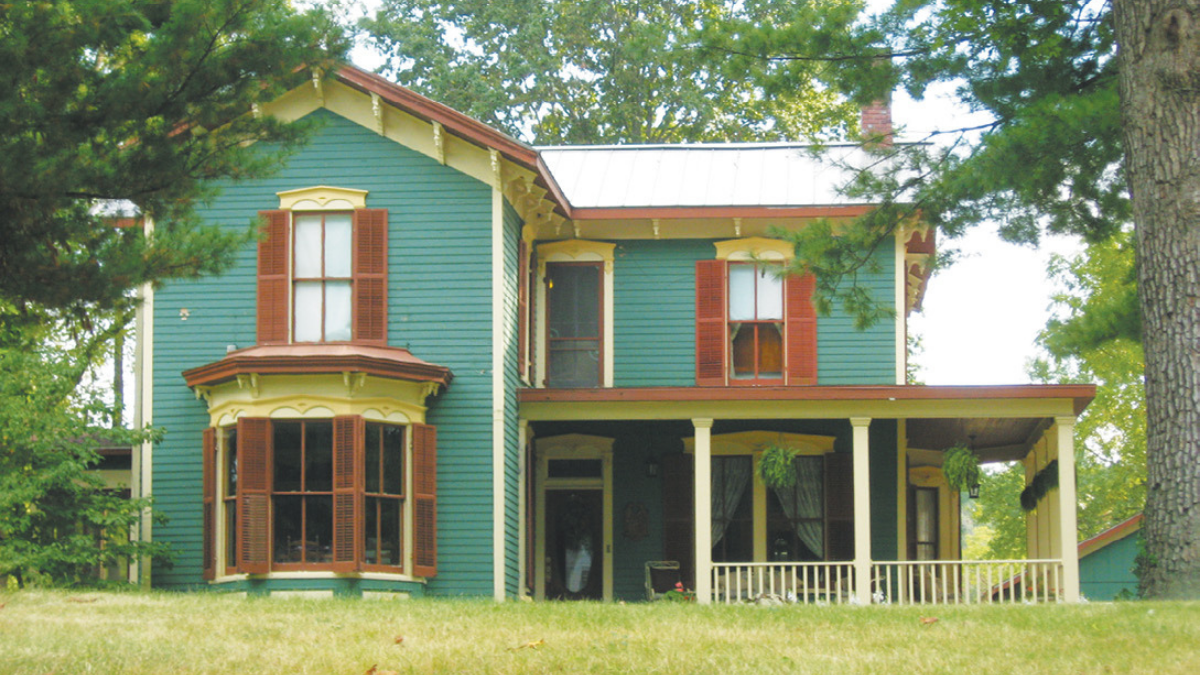 Troy is one of the oldest communities in Madison County, being entered in the U.S. Land Office in 1814 and laid out in 1819.
Its fortuitous location turned out to be in the path of America's transportation corridors, and it began to thrive in the second half of the 19th century with the arrival of a stagecoach route that came only to be replaced by the St. Louis and Vandalia Railroad. However, Troy's biggest growth was between 1970 and 1980, thanks to what was then the new interstate highway system. Troy is at the crossroads of two interstates, north-south Interstate 55 and east-west I-70, and has access to I-270 and U.S. routes 40 and 162.
Today, Troy's population of about 10,000 enjoys its small-town atmosphere but is only 20 minutes away from big-city
attractions — professional sports, theaters, museums and fine restaurants. The community is 12 miles north of the main gate of Scott AFB, and the commute is a pleasant one.
Triad Community Unit School District No. 2 serves area students. The public library's collection of more than 40,000 items and educational programs serve students and adults alike.
Tri-Township Park has a lake, walking trails, an activity center, a skate park, a disc golf course, a petting zoo, playgrounds, and basketball, tennis and volleyball courts. The park hosts a variety of sports programs and annual community events.
To learn more, visit the Troy website at www.troyil.us or call 618-667-9924. Visit the Troy/Maryville/St. Jacob/Marine Chamber of Commerce at www.troymaryvillecoc.com or call 618-667-8769.
Village of Maryville
Founded in 1902 on rich seams of coal, the Village of Maryville, population 7,900, is one of the fastest-growing areas of the Metro East area of Illinois. Its central location allows for easy access anywhere in the region. Downtown St. Louis is 12 minutes away, and St. Louis Lambert International Airport can be reached in less than a half-hour. The town is bordered by Interstate 55/70 in the south and by I-270 in the north.
Fishing, shooting and archery ranges, a winery and specialty restaurants provide something for everyone in Maryville. City parks feature playgrounds, game fields, picnic facilities, trails and more.
Students attend schools in Collinsville Community Unit School District No. 10. The community library offers story hours, reading programs, a teen book club, adult reading groups, and numerous activities and presentations.
To learn more, visit the Village of Maryville website at www.vil.maryville.il.us or call 618-345-7028. Visit the Troy/Maryville/St. Jacob/Marine Chamber of Commerce at www.troymaryvillecoc.com or call 618-667-8769.
Waterloo
Waterloo is a prosperous community known for its friendly demeanor and historic German ancestry. Located 30 minutes from St. Louis, Waterloo provides approximately 10,000 residents with the convenience of a city while maintaining the comforts and charm of a small town. Reputable school systems (public and parochial), superb recreational facilities, year-round activities and a low crime rate make Waterloo an attractive city for people of all ages.
The City of Waterloo dates back to the 1800s, when the town charter was officially granted after an influx of German settlers made Waterloo their home. Today, in the heart of downtown and in the heart of the residents, that German heritage is still prevalent. To celebrate its heritage and ongoing relationship with its German sister city, a much-anticipated annual parade and festival, called Porta Westfalica, is held for all to enjoy.
History is alive in Waterloo with the operation of three museums. Bellefontaine House is owned and operated by the Monroe County Historical Society and is the second American settlement in the Northwest Territory and first in Illinois. The Kaskaskia Trail continues here today. Peterstown House dates back to the early 1800s and originally was used as a general store, tavern and inn for stagecoach travelers on the Kaskaskia-Cahokia Trail. The Peterstown Heritage Society operates a museum in the house. Waterloo's newest museum is the History Museum of Monroe County, anchored by items gifted by Col. Edd and Violet Kueker. The museum provides changing displays and exhibits that provide awesome journeys through history and presentations covering a wide array of historical topics throughout the year.
Waterloo prides itself on being a community of tradition and progress. While it strives to preserve its historical heritage, Waterloo is a place that embraces new ideas while providing a safe and welcoming atmosphere where people can live, work and raise a family.
The city is committed to providing quality services and an unrivaled quality of life for residents. The mayor and aldermen work cooperatively with city administration, local organizations and residents to set goals and ensure the best service possible is being delivered to citizens. The people of Waterloo, the business community and the city government are shining examples of what can be accomplished with perseverance and a collaborative spirit. Waterloo offers amenities such as state-of-the-art medical buildings, outstanding schools, several new assisted living and nursing facilities, numerous beautiful parks, a winery and microbreweries, unique shopping and restaurants in its historic downtown area and many community events that residents look forward to annually. In 2018, the City of Waterloo won the "Best Event/Festival" award at the Illinois Governor's Conference on Travel and Tourism for the "Solarbration," a viewing party held in 2017 for the great solar eclipse.
Waterloo has also been honored with nine Governor's Hometown Awards, a second place Keep America Beautiful Award and two Conservancy Awards, has been designated as "Playful City" and was designated as a "Purple Heart City" in 2016. In 2018, the City of Waterloo was ranked No. 4 Safest City in Illinois and No. 28 in the country.
The City of Waterloo is available to you online at www.waterloo.il.us and you can follow the city on its Facebook page at www.facebook.com/waterlooil.