Services: A-E

AIR PASSENGER TRAVEL
The air passenger terminal provides all information for Space-Available travel. Customers may obtain recorded flight information by calling 618-256-1854. For questions about Space-Available travel, call 618-256-3017. Hours are 7 a.m. to 4:30 p.m. daily.
WingGate Travel provides customer information and tickets for government official travel only. Customer service hours are 7:30 a.m. to 4 p.m. Monday through Friday, and ticketing hours are 7:30 a.m. to 3:30 p.m. It is closed all federal government holidays. WingGate Travel can be reached at 618-256-5397 or scott@winggatetravel.com.
The TMO passenger travel section takes care of all permanent change of station and international temporary duty flight arrangements. Ticketing hours are 7:30 a.m. to 4:30 p.m. Monday through Friday (except federal holidays). The TMO passenger travel section can be reached at 618-256-5785. The base passenger terminal facility is in Building P-8 on the corner of Heritage Drive and Hangar Road.
AIRMAN & FAMILY READINESS CENTER
The Airman & Family Readiness Center is a service organization for service members and their families, Guard and Reserve members, retirees and DOD employees. The A&FRC assists individuals and families with adapting to the changes and demands of military life. The focus is on readiness in every service area to include relocation, military child education, support to families with special needs, transition, spouse employment, personal and family readiness, personal and work life, personal financial readiness, Air Force Aid assistance and casualty affairs.
Educational workshops and seminars are offered for many service areas. Relocation assistance service provides information about Scott AFB, the local area and bases all around the world. Newly arrived personnel are required to attend the Newcomers Orientation (one-stop inprocessing) held at the A&FRC. Spouses are encouraged to attend Heart Link, which is designed to acclimate spouses to the base and community. Information about schooling options and assistance with meeting special services needs for school-aged children is available by contacting the school liaison officer at 618-256-9595. Additional support is available to families with special needs through the Exceptional Family Member Program — Family Support. EFMP-FS includes support, education, information and referral to nonmedical community and on-base resources. The EFMP-FS coordinators can be reached at 618-256-8668.
Transition assistance services provide services and benefits to equip separating and retiring military and civilian personnel and their families with the skills and knowledge for re-entry into the private sector. The Discovery Center offers services and resources to assist with career development, job searches and local job market information. Spouse employment information and announcements, resume and skill development, and career exploration tools are available to help spouses conduct successful job searches.
Scott boasts an active unit-based Key Spouse network of spouses trained and ready to meet the needs of families during all types of mission-related family separations.
Personal financial readiness services offer information, education and personal financial counseling.
Casualty assistance services assist retiring Air Force members with Survivor Benefit Plan information. Assistance is also provided to active duty, retirees and dependents on any benefits in the event of the loss of a loved one.
LOAN LOCKER
Items Available
The Loan Locker offers inbound and outbound personnel a temporary loan of household items before the arrival or after the pickup of their household goods. The Loan Locker has the following items available for loan: mats for sleeping, folding tables and chairs, dish packs, cookware sets, coffee makers, irons and ironing boards, and vacuum cleaners.
How to Borrow
Stop by the Airman & Family Readiness Center, Building 1650, with a copy of your orders. The Loan Locker is in the Airman & Family Readiness Center. The Loan Locker is open 7:30 a.m. to 3:30 p.m. Monday through Friday. Items are available to loan for up to 30 days. Extensions are available on a space-available basis. For more information, call DSN 312-576-8668 or 618-256-8668.
The A&FRC is in Building 1650, 404 W. Martin St. Hours are 7 a.m. to 4 p.m. Monday through Friday. For more information, call 618-256-8668 or email aafrc@us.af.mil.
AMERICAN RED CROSS
The American Red Cross is a trusted, global movement of people who provide training, assistance and relief and help others avoid and cope with disasters and other emergencies. Service to military families is an integral part of the Red Cross mission. Services at Scott AFB include 24-hour emergency communications between military members and their families separated by distance. Additionally, training is available through disaster education classes and health and safety courses including adult, infant and child CPR, first aid, lifeguarding, water safety, baby-sitting and automatic external defibrillators.
Volunteers play a key role in delivering Red Cross services. As a result, the scope of volunteer opportunities at Red Cross is almost endless. Volunteers may use job skills they already have or learn something completely new. Volunteers can be found throughout the base working in the main office, at the 375th Medical Group, at the swimming pool, instructing courses and at monthly blood drives. Throughout the St. Louis Area Chapter, base personnel have the opportunity to serve the Red Cross throughout the St. Louis metro area. Additionally, the American Red Cross offers a summer youth program for teens and a free dental assistant training program.
The American Red Cross is in Building 21 at 411 POW/MIA St. Office hours are 8:30 a.m. to 4:30 p.m. Monday through Friday. For daytime and after-hours emergencies, call 618-256-1855 and use option 1. For routine Red Cross business, call 618-256-1855 and use option 2.
ARTS AND CRAFTS CENTER
The Arts and Crafts Center, in Building 1989 on Ward Drive, features a frame shop, an awards shop, a self-help auto repair facility and a 24-hour, four-bay car wash. The awards shop can provide you with an appropriate plaque or gift idea for awards ceremonies, retirements or special occasions. The custom frame shop offers a large selection of framing and matting and has a do-it-yourself area for customers that have taken the framing class. The auto hobby shop offers flat stalls, lifts, a paint booth, a welding room and various services such as air conditioning, radiator and transmission flushes, and wheel alignments. Its highly trained staff is available to offer advice on many repair problems. The car wash is open 24 hours a day and features an automatic, touchless wash system along with three wand bays with foaming brushes and vacuums. The car wash is directly behind the Arts and Crafts Center. The Arts and Crafts Center also provides a variety of instructional classes such as dance, painting, framing, pottery, auto maintenance, sewing, soap making, guitar and cooking classes. The center also offers art classes for children ages 2-18 and group classes for friends, families and squadron events. Class schedules and registration are available online at www.375fss.com and at the Facebook page for the Scott Arts and Crafts Center. For more information, call 618-256-4230.
CARDINAL CREEK GOLF COURSE
This par-72, 18-hole course, on the east end of the flight line, features beautifully landscaped lawns, well-maintained fairways, practice putting and chipping greens, and a driving range. Golf clubs, lockers and electric carts are among the variety of items available for rent. The pro shop is well-stocked with quality apparel and an extensive line of golfing equipment. Minor club repair, to include regripping and custom fitting, is also offered.
The Cafe and Lounge is open year-round and offers cafeteria-style breakfast and lunch. The main dining area and upstairs meeting room, with adjoining deck, are available for catered functions. PGA of America certified instructors are available for individual lessons and golf clinics to include the junior golf and Get Golf Ready programs. Golfing events, holiday tournaments, intramural golf leagues and various organizational golf outings make Cardinal Creek a busy place.
The course is at 1192 Golf Course Road, Building 1192. The pro shop is open 7 a.m. to 7 p.m. Reserve your tee time at www.375fss.com. For more information, call 618-744-1400.
CHAPEL SERVICES
Chapel 1 is in Building 1620 on Ward Drive. It has a 500-seat sanctuary and houses the office of the wing chaplain, superintendent chapel operations, deputy wing chaplain, chaplains, religious affairs airmen, a civilian Roman Catholic priest and support personnel. The Chaplain Corps establishes and implements religious ministries pursuant to the First Amendment to the Constitution and provides pastoral care, unit visitation, confidential counseling, worship services and religious education to all U.S. Transportation Command, Air Mobility Command, 18th Air Force, 375th Air Mobility Wing and other tenant units' military and civilian personnel and families assigned to Scott AFB.
CHILD DEVELOPMENT PROGRAM
Scott's Child Development Program offers weekly and hourly care for children ages 6 weeks to school age in either of the two centers. The program is accredited by the National Association for the Education of Young Children and is certified by the Department of Defense. These organizations verify that children enrolled in these programs are receiving quality child care at reasonable rates with nutritious meals and developmentally appropriate activities.
Scott child development centers are in buildings 1805 and 1807. For more information on center-based care, please call 618-256-2375/2669.
Scott also has an extensive Family Child Care Program that provides care options for families desiring a home environment. Additionally, FCC homes are a great option for evening, weekend or overnight care. Each FCC home provider is trained by FCC coordinators prior to providing care. All FCC homes are licensed and affiliated and must meet all standards established by the Air Force. The FCC main office is in Building 386. For more information on the FCC program, please call 618-256-8156/8047.
CIVIL AIR PATROL
The Scott Composite Squadron is Scott AFB's chapter of the Civil Air Patrol. It promotes and participates in the three congressionally charged mission areas: emergency services, cadet programs and aerospace education. As a composite squadron, it hosts a robust cadet program for youth 12 to 18 years of age as well as a senior member program for adults.
The squadron meets weekly on Tuesday evenings from 6:30 to 9 p.m., except on federal holidays. It is at 502 Ward Drive, Building 1930. To learn more, please visit squadron staff during a weekly meeting or call 618-256-3922.
Civil Air Patrol, the longtime all-volunteer U.S. Air Force auxiliary, is the newest member of the Air Force's total force, which consists of regular Air Force, Air National Guard, Air Force Reserve, and Air Force retired military and civilian employees. CAP, in its total force role, operates a fleet of 550 aircraft and performs about 90 percent of continental U.S. inland search and rescue missions as tasked by the Air Force Rescue Coordination Center and is credited by the AFRCC with saving an average of 78 lives annually. CAP's 56,000 members nationwide also perform homeland security, disaster relief and drug interdiction missions at the request of federal, state and local agencies. Its members additionally play a leading role in aerospace education and serve as mentors to more than 24,000 young people currently participating in the CAP cadet program. Performing missions for America for the past 75 years, CAP received the Congressional Gold Medal in 2014 in honor of the heroic efforts of its World War II veterans. CAP also participates in Wreaths Across America, an initiative to remember, honor and teach about the sacrifices of U.S. military veterans. Visit www.gocivilairpatrol.com for more
information.
COMMISSARY
The 51,374-square-foot commissary offers five self-checkout registers and a wide variety of specialty and popular foods including sushi. The meat and produce departments are spacious and modern. Hot food and rotisserie chickens are specialties in the delicatessen. The fresh bakery opens at 7 a.m. and features breakfast sandwiches as well as fresh baked goodies. The commissary also serves lunch at the deli (hot soups, ready or specialty sandwiches and other lunchtime buys). The self-checkouts and two express lanes accommodate military personnel in uniform; they have priority 11 a.m. to 1 p.m. and 4 to 6 p.m. Monday through Friday. Promotional items are continuously displayed with special theme sales biweekly.
The commissary ranks No. 1 for non-pay benefits with military patrons and still offers overall savings of more than 32 percent compared with retail stores. The Scott AFB commissary is at 203 W. Winters St., Building 1980. Customer service can be reached at 618-212-3898. For more information, go to www.commissaries.com.
COMMON GROUNDS
This cafe formerly known as the Student Union Cafe is attached to the Education & Training Center and is designed to support students, faculty and the base community with a full-scale cafe featuring Starbucks coffee, salads, wraps, pastries and more.
DINING FACILITY
The Nightingale Inn Dining Facility is in Building 1800 and serves breakfast, lunch and dinner Monday through Friday. Brunch and supper are served on weekends and holidays. Tasty, nutritious food is served to all enlisted personnel and those on temporary duty status to Scott AFB. Permanent party officers are not authorized to use the facility. Retirees are authorized to use the dining facility for dine-in only during retiree day, Thanksgiving and Christmas.
The Flight Kitchen provides flight meals for those departing Scott AFB. Orders can be placed at the passenger terminal when checking in. Ground meals are available for those unable to attend meals at the dining facility due to mission requirements.
Additionally, the Grab 'N Go serves quality, nutritious meals to authorized customers on the go from 6 to 8 p.m. daily. A separate entrance is on the north side of the building. For more information, call 618-256-2909.
EDUCATION AND TRAINING CENTER
The Scott AFB Education and Training Center offers a wide range of installation-level education and training programs and services, including voluntary education, on-the-job training, formal military training, civilian training, professional military education, ancillary training, educational testing and military testing.
The Education Office provides educational opportunities to enhance the professional and personal development of all Airmen. Professional guidance counseling and academic advising services are available in group and individual formats. Six academic institutions offer 20 degree completion programs within the E&TC, including Southwestern Illinois College, McKendree University, Park University, Southern Illinois University Carbondale, Webster University and Maryville University St. Louis. Programs are offered at the associate, baccalaureate and graduate levels, including courses to fulfill Community College of the Air Force degree requirements. Tuition assistance is provided for eligible Airmen.
The education services test examiner administers a diverse range of military-specific exams: AFRAT, CDC, DLAB, DLPT, JST and PME, as well as FAA exams and typing tests. The SWIC National Test Center administers computer-based, college-level credit exams (CLEP and DSST), as well as college and university distance learning exams, through an on-site test center.
The Military Testing Office provides for scheduling and administration of the base-level Weighted Airman Promotions System and other military-specific examination programs (AFCT, AFOQT, EDPT, EPQT, TBAS and TAPAS).
The Base Training Office manages the mandatory OJT, formal military training, civilian training, in-residence PME and ancillary training programs, including identification, monitoring and tracking of basewide requirements.
All education, training, testing and college offices are in Building 1650. For more information, call education (618-256-3327), training (618-256-6874), education services testing (618-256-3327), military testing (618-256-5290) or the SWIC on-base National Test Center (618-641-6677) representatives.
EMPLOYMENT INFORMATION
Whether you are a current Air Force employee or an external applicant, job seekers interested in civilian employment with the United States government at Scott AFB can visit the USA Jobs website at www.usajobs.gov to find information on current job vacancies and application procedures for positions throughout the federal government. Managed by the Office of Personnel Management, USA Jobs is the primary and most comprehensive way to search for civil service career opportunities at Scott AFB.
In addition to the USA Jobs website, information on other unique Department of the Air Force employment opportunities may be found at the following websites:
All Department of the Air Force recruitment is completed through the Air Force Personnel Center at Randolph AFB, Texas.
Employees of nonappropriated fund activities are hired through the NAF human resource office in Building P-10, Room C-100. The office is open 8 a.m. to 3 p.m. Monday through Friday. For more information on how to apply, visit www.375fss.com or www.NAFjobs.org, stop by the human resources office or call 618-256-3831.
Other sources of information include the job service offices of the Illinois State Employment Service and various private employment agencies listed in the yellow pages of the telephone directory. Volunteer positions are available through the American Red Cross, officers' and enlisted spouses' clubs, Family Services and the Airman & Family Readiness Center.
THE EXCHANGE
The Army and Air Force Exchange Service at Scott AFB is staffed by more than 300 highly motivated people, many of whom are family members of service members.
The exchange complex is a 119,811-square-foot facility next to the commissary. Hours are 9 a.m. to 8 p.m. Monday through Saturday and 10 a.m. to 6 p.m. Sunday. The exchange hosts a full food court including Domino's Pizza, Taco Bell and Charleys.
The complex provides specialty shops operated by several vendors including roving concessions, a coffee shop, alterations and dry cleaning, an optical shop, barber and beauty shops, a florist and a nail salon.
The exchange shoppette offers ready-to-eat food and beverages, fuel pumps, movie rental, the Firestone Auto Care Center, Snack Avenue and a Class Six store. The shoppette is at West Birchard Street and Ward Drive. Additionally, the exchange operates a Burger King at West Birchard Street and Martin Street.
The Global Reach Grill, in the Air Mobility Command Headquarters, offers breakfast and lunch and includes menu items from Anthony's Pizza and American Eatery. An American Eatery food concept is in the Air Force Network Integration Center.
The exchange also provides oversight for Joe's Asian Cuisine, which provides Chinese and Filipino cuisine, in the Defense Information Technology Contracting Organization building. Pickup and delivery is available.
A military ID card is not required to purchase single-serving food items at the shoppette or at any exchange food facility.
For more information on the Scott AFB exchange, call the exchange general manager's office at 618-744-0700.
The AAFES is a joint command and is directed by a board of directors, which is responsible to the secretaries of the Army and the Air Force through the service chiefs of staff. The exchange's mission is to provide authorized patrons with merchandise and services as well as to generate nonappropriated fund earnings as a supplemental source of funding for military Morale, Welfare and Recreation programs.
Services: F-R

FITNESS CENTERS
The Fitness Center, in Building P-6, and the James Sports Center, in Building 1987, offer Team Scott a variety of fitness equipment and programs to maintain and meet fitness goals.
The Fitness Center boasts a variety of training equipment including free weights, weight machines and cardiovascular exercise equipment, including several models of stationary cycles, stair-climbers, treadmills and more.
If working out on equipment is not your style, try an aerobics class or walk or jog the three-lane indoor track. After exercising, relax in the coed sauna. Locker rooms are complete with showers and daily use lockers.
The Fitness Center also offers ongoing programs to include special events and runs. Additionally, there is a 6.5-mile jogging path that starts at the Fitness Center and goes around the flight line. For more information about the Fitness Center, call 618-256-1218.
The James Sports Center provides intramural and recreational sports for men and women. The facility includes a track with new turf that can be used all year round, a basketball and volleyball court, racquetball courts, cardiovascular equipment, and a full line of Hammer Strength training machines and free weights equipment.
The James Sports Center boasts a family cardio room with an indoor playground for parents of children ages 6 weeks to 12, men's and women's locker rooms, and a coed sauna. Additionally, softball diamonds and tennis courts are available for use outside the complex. For more information about the James Sports Center, call 618-256-4524.
INFORMATION, TICKETS AND TOURS
Information, Tickets and Tours, in Building 1650, offers vacation theme park tickets, including Disney World, Disneyland, Universal Studios and SeaWorld tickets, at a surprisingly large discount, as well as tickets to local attractions, including Six Flags, the City Museum, Marcus Wehrenberg Theaters, Raging Rivers, Holiday World, Silver Dollar City and White Water.
ITT participates in the Military Ticket Voucher Program to extend savings for a wide array of hotels, attractions and shows in the Branson, Missouri, area and throughout the U.S.
Other event tickets are available for Fox Theatre (Broadway series and off-Broadway series only), NASCAR, Blues hockey games and family events at the Scott Trade Center.
Are you ready for a break? Stop by and get your tickets to fun. For more information, visit www.375fss.com, stop by or call 618-256-5919.
LIBRARY
The base library's mission is to meet the educational and quality of life requirements of the base community.
With a collection of 30,000 titles, the library's friendly staff can assist with information needs from reference questions to the selection of current best-sellers. Additionally, the library has collections of audiobooks on CD and MP3, Playaways, DVDs and music CDs. Also accessible are periodicals and newspapers, including popular business and professional materials.
The library's integrated library system allows patrons to search the collection by author, title or subject in the online catalog. This system provides access to the collections of other libraries, and the library can borrow titles from these libraries for its patrons.
The library supports the Professional Military Reading Program, professional military educational curriculums and college classes offered on base. Instructional and recreational programming for adults is also available.
The children's room houses more than 7,000 books and movies. Stop by and watch the train as it travels overhead. Programming for children includes preschool story times, a summer reading program, family story events and after-school activities.
In the computer lab, personal computers are provided for internet access, Microsoft Office programs and research databases access. Other services include free faxing, free printing, a scanner, a photocopier and Wi-Fi.
The library is in Building 1940. For more information, call 618-256-5100.
MAIL
The Postal Service Center and U.S. Postal Service are in Building 1650.
The PSC is open 11 a.m. to 5 p.m. Monday through Friday and noon to 2 p.m. Saturday. The center provides services to all military members living in the base dormitories and on TDY and new arrivals in temporary housing status who have no other means of receiving personal mail. For more information, call 618-256-2956 or email scott.psc.address.request@us.af.mil.
A branch office of the Belleville USPS provides postal services for military and civilians, including box rentals, money orders, stamps and delivery of personal mail to base housing residents. The post office is open 9 a.m. to 4 p.m. Monday through Friday and 9 a.m. to noon Saturday. For more information, call 618-256-5942.
Regardless of rank or housing assignment, all incoming personnel are requested to inprocess through the PSC to ensure any mail that has been held there is received.
OUTDOOR RECREATION
Outdoor Recreation, in Building 3176 on East Drive, offers a wide variety of recreational services and programs for leisure time enjoyment.
ODR's exciting year-round adventure program offers family fun for all ages and includes caving, whitewater rafting, backpacking, rock climbing, hiking, camping and more. Unique local excursions such as bald eagle watching, scuba diving, sky diving, sleeping overnight in aquariums, skiing and snowboarding or extended weekend trips for whitewater rafting trips are also available. Don't miss out on multibase trips with other Outdoor Recreations!
The equipment rental program includes everything from camping, sports, garden and party equipment to boats, lawn equipment, campers, trailers and Santa suits. Those holding government identification cards are eligible to rent these items. A fee is charged for all rented equipment.
ODR also offers an aquatics program that includes a swimming pool, pool parties, swim lessons for all ages and the Scott Sharks swim team where children can make new friends just by joining.
ODR hosts a variety of events throughout the year including an open house, movie nights and more.
RV storage, picnic pavilion rentals, the POV resale lot, FamCamp, and base fishing permits for Scott and Cardinal lakes are also available. For more information, visit www.375fss.com or call 618-256-2067.
RETIREE ACTIVITIES
The Retiree Activities Office serves as a liaison between base functions and serves nearly 77,600 military retirees of all services in the four-state area surrounding Scott AFB. Volunteers provide information on current Air Force and Scott events and developments, and help retirees find the offices and facilities to answer their questions and respond to their needs. And each fall, the 375th Air Mobility Wing commander hosts a retiree appreciation day.
The office is in Building P-10, Room A-207. The office is open 9 a.m. to 3 p.m. Monday through Friday, except for federal holidays. For more information, call 618-256-5092 or visit www.raolibrary.org.
Services: S-Z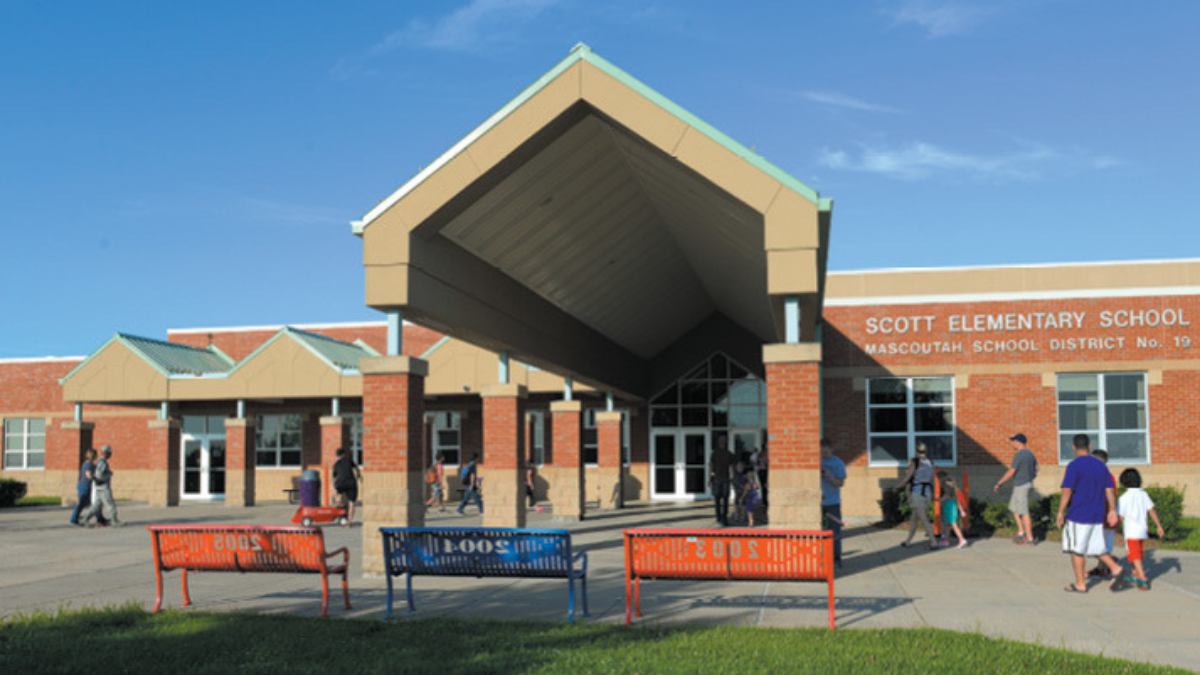 SCHOOLS
There are many public and private schools in the area serving federally connected children of Scott personnel. Children of sponsors who live on base attend Mascoutah District 19 schools. Both on and off base, your child's school will be determined by where you live. Information about area schools is available through the Scott AFB website by selecting the "Newcomers" tab at the top of the page.
There are many unique issues for federally connected students transitioning to new schools. To make an informed decision, choose a home within the boundaries of a school district that will support your child's academic and psychosocial emotional needs. Once you have secured a place to live, visit the home page of your school to find out starting dates, events, vacations and more. Be aware of two military-specific school code allowances:
If you live in temporary quarters and have proof that you will live in a particular school district within 60 days, your child may attend school in that school district without having to pay out-of-district tuition. If you live off base and must move on base due to military orders, your child may continue to go to school in your original school district for the duration of those orders. For more information, contact the Scott school liaison officer at 618-256-9595.
SCOTT CLUB
The Scott Club provides a place for Team Scott to unwind while enjoying great food and entertainment for breakfast, lunch, dinner or special events. The Scott Club offers several venues for hosting special functions such as office or squadron parties, retirements, conferences and even wedding receptions; all may be scheduled through its professional catering department.
The club features the Heritage Lounge, Twinning Room, Cpl. Scott Room, a large ballroom, Student Union Cafe and the flagship restaurant, Zeppelins. Every month it offers "First Friday," a social time that includes free food for club members.
Its famous brunch is served 10 a.m. to 1 p.m. Sunday (with special brunches served on Easter, Mother's and Father's day, Thanksgiving and Christmas). Tasty specialty dinners are also served every month, each with its own theme and specially designed menu.
Zeppelins offers casual dining in a modern, contemporary ambience with a fresh, healthy menu that fits all lifestyles and budgets. Along with great food and discounted prices for members, it offers fight and game nights, Football Frenzy, live music and weekly club card drawings.
Log on to www.375fss.com for more information on the Scott Club. The Scott Club is just inside the Shiloh Gate, in Building 1560. Call 618-256-5501 for more information, reservations and arrangements.
SCOTT CREDIT UNION
Scott Credit Union is a not-for-profit, full-service financial institution owned and operated by its members. Services offered include but are not limited to: savings and checking accounts; individual retirement accounts; share certificates; money market accounts; vehicle and signature loans; mortgages and home equity loans; credit cards; and free online and mobile banking, including mobile check deposit and bill pay.
Members can use the Member Service Center by calling 618-345-1000 or 800-888-4728. Members may also receive service via email by emailing memberservice@scu.org.
Scott Credit Union is open to anyone living or working in (or with immediate family members living or working in) Madison, St. Clair, Monroe, Randolph, Perry, Franklin, Jefferson, Washington, Clinton, Marion and Bond counties in Illinois and anyone who lives or works in St. Louis County, Missouri. It is also open to anyone who is active or retired military of Scott AFB, including Reserve components and civilian employees or retired civilian employees of the U.S. government.
Scott Credit Union has 15 area locations: Scott AFB, Belleville (two locations), Caseyville, Collinsville, Edwardsville (two locations), Fairview Heights, Highland, Mascoutah, Millstadt, O'Fallon, Troy, Waterloo and Wood River.
For details on opening accounts at Scott Credit Union, and for ATM locations at Scott AFB, visit www.scu.org, call 800-888-4728, or stop by any of the credit union's branches.
SCOTT LAKE
The Scott Lake recreation area includes pavilions, tables and barbecue grills and offers ample opportunities for fishing, hiking, biking and other outdoor activities. The lake is stocked with perch, catfish, crappie and bluegill. Canoes and kayaks are available for rent during the summer months through Outdoor Recreation's equipment rentals. Scott Lake recreation area hours are from dawn to dusk.
This beautiful man-made lake is popular with base residents and FamCamp visitors. To make reservations for FamCamp, call Outdoor Recreation at 618-256-2067 or come in person.
To make reservations for pavilions, visit www.375fss.com/IO/ODR/Pavilion-Registration.php and once you've made your reservation online, contact ODR five days prior before your scheduled date to make a payment to finalize it.
SCOTT SPOUSES' CLUB
The Scott Spouses' Club is open to spouses of enlisted and officer members (active duty, Reserve or Guard), current or retired, and government civilians. SSC members serve on advisory boards for the base exchange, commissary, Red Cross, Scott Club and medical center. Members also donate their time and talents to the Red Cross, the Airman & Family Readiness Center, Family Services, the Thrift Shop and Airman's Attic. The SSC also supports members with various social activities. Their main purpose is to raise money to give back to the base and community and fund their scholarship program for military dependents. For more information, please visit www.scottspouseclub.com.
STARS AND STRIKES BOWLING CENTER
The Stars and Strikes Bowling Center, in Building 1934, features 24 lanes, automatic scoring and pin spotter systems, a pro shop equipped to care for all bowling needs, and great birthday and group event packages. Individual and group lessons are available.
Open bowling, organized leagues, tournaments and youth leagues make the center entertaining for the entire family. The American Bowling Congress sanctions both the leagues and lanes.
The Bowling Center Grille provides fast, quality sandwiches, salads, soups, hamburgers and other delicious items for sit-down dining or phone-in and takeout orders. For more information, call 618-256-4054.
SWIMMING POOL
The base pool is operated by Outdoor Recreation and is open between Memorial and Labor Day for all Scott personnel, retirees, family members and guests. Swim lessons and pool parties are held during the pool season. The fitness pool offers a rock climbing wall, a two flume waterslide and a baby pool with a small duck slide. Adult lap swimming is offered 6 to 7 a.m. Monday through Friday for customers 18 years and older except on holidays.
For more information, visit www.375fss.com or call 618-256-2067. Sign-ups for pool-related activities including pool parties, swim lessons, and the swim team begin in May.
THRIFT SHOP
A wide range of low-cost items, including clothing, furniture, recreational equipment and toys are available through the Thrift Shop in Building 700. These items are sold on consignment from service members, retired members and their families.
Operated by the Consignor Thrift Shop Committee, shop volunteers come from the officers' and enlisted spouses' clubs and retired members. All proceeds go to worthy activities both on and off base through the welfare committees of these clubs.
Consignment hours are 10 a.m. to noon Tuesday, Thursday, Friday, and the first and third Saturday of each month. Military in uniform can consign 10 a.m. to 12:30 p.m. Tuesday, Thursday and Friday and 10 a.m. to noon Saturday. Sales hours are 10 a.m. to 2 p.m. Tuesday through Friday and the first and third Saturday. The shop is closed on federal holidays. For more information, call 618-744-9441.
VETERINARY CLINIC
The veterinary clinic, in Building 856 on South Drive, provides limited health care for Scott family pets. Although the clinic is not able to treat family pets in need of emergency care, the outpatient services include vaccinations against rabies, distemper, and other viral diseases affecting cats and dogs. Spays and neuters, X-rays, minor surgical procedures and dentals are performed in the clinic on a space-available basis. Assistance for overseas pet travel requirements is available. Local county licensing paperwork can also be obtained.
Clinic personnel can perform diagnostic testing, provide treatment for external and internal parasites, conduct annual wellness exams or examine and treat ill patients. Deworming, health certificates and consultations are also available.
The clinic carries a limited supply of over-the-counter pet care products including shampoos, vitamins, supplements and dental supplies. They also carry prescription flea, tick and heartworm preventatives. The clinic charges a reduced fee for services offered and products that are purchased.
All animals are seen by appointment only. For more information or to make an appointment, call 618-256-3989/5452. The clinic can also be found on Facebook at www.facebook.com/ScottVetClinic.
YOUTH PROGRAMS
The Youth Center is in Building 4780 at 4691 Patriots Drive, across from Scott Elementary, and offers a broad range of activities, both directed and self-directed, for ages 5 to 18.
The center provides for a wide variety of interests, including ballet, tap, gymnastics, piano lessons, sports and fitness, open recreation and many special events. The sports program includes T-ball, baseball, softball, soccer, basketball and gym hockey. Clinics and classes are held for volunteer coaches and officials. Special activities include dances, children's theater, night hoops, Teen "Snacks & Splats" (visual arts class) and many others. Open recreation is available for youth and teens Monday through Friday.
Weekly interest camps are held in the summer as well as a preteen summer camp. There are trips, breakfast with Santa, a royal ball and Teen Top Chef. Activities in the five core areas are for youth ages 9-18.
Child care for children ages 5 to 12 is provided through a summer fun program and before- and after-school program on a pay-by-the-week basis. For more information, call 618-256-5139.