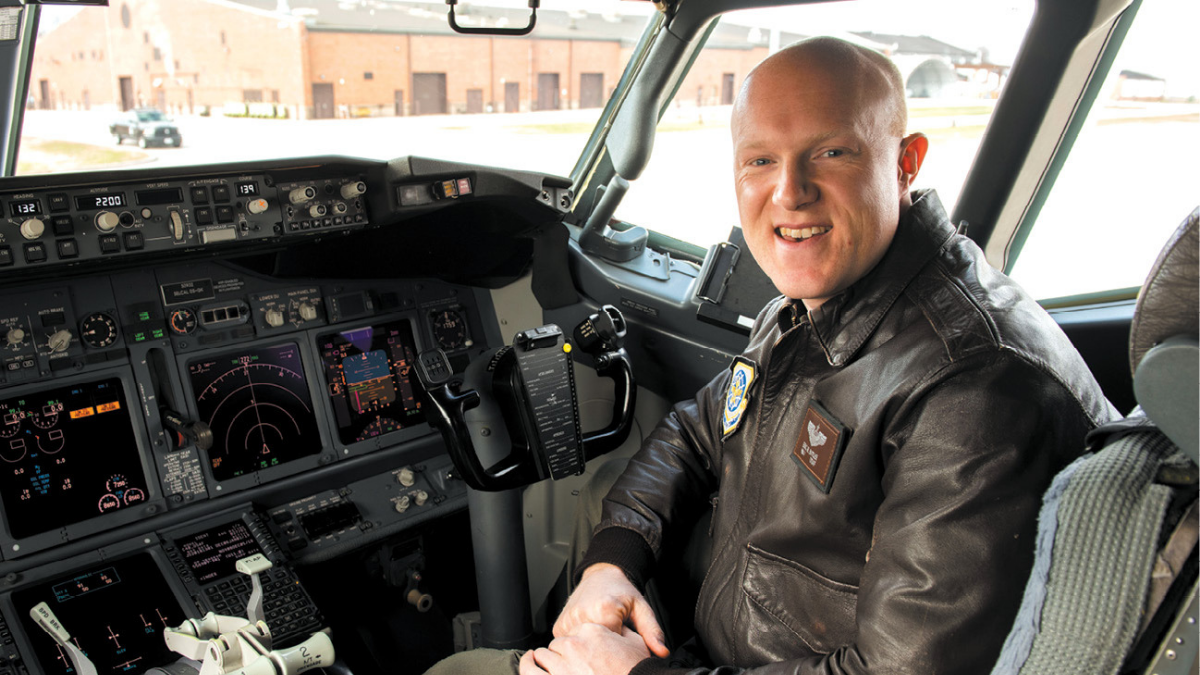 The 375th Operations Group is comprised of an aeromedical evacuation squadron, three airlift squadrons, an operations support squadron and an air refueling squadron. In addition, there are also two detachments that make up the operations group: a combat flight inspection unit and the aeromedical evacuation formal training unit.
The 375th Operations Group operates aeromedical evacuation systems using seven air mobility platforms for worldwide patient movement. The group conducts combat flight inspection of civilian and military airspace jointly with the Federal Aviation Administration, as well as senior leader and distinguished visitor airlift missions utilizing 12 C-21As and four Air Force Reserve C-40C aircraft. The group also conducts air refueling missions utilizing nine Illinois Air National Guard KC-135R aircraft. The 375th Operations Group is home to the only C-21A formal training unit, as well as the only aeromedical evacuation formal training unit in the United States Air Force.
The 375th Aeromedical Evacuation Squadron provides rapid response aeromedical evacuation capability for any contingency. The unit trains, mobilizes and deploys nearly 150 members to support a theater aeromedical evacuation system conducting aeromedical evacuation missions aboard C-21A, C-17A, C-130H/J and KC-135R aircraft for normal operations and missions aboard C-5B/C, KC-10A and Civil Reserve Air Fleet aircraft in contingency situations. The 375th AES provides command and control over the 775th Expeditionary Aeromedical Evacuation Flight executing CONUS patient redistribution of our nation's wounded warriors. The 775th EAEF is comprised of a command element located at Scott and strategically positioned detachments at Joint Base Andrews, Maryland; Kelley Field, San Antonio, Texas; and Travis AFB, California.
The 375th Operations Group, Det. 4 is the aeromedical evacuation formal training unit, which combines operational flight and medical training. The formal training unit functions as an administrative and training facility, providing a vigorous and flexible continuum of standardized training and education to total force flight nurses and aeromedical evacuation technicians, thus ensuring the application of a safe, operational and clinical patient care environment across the spectrum of aeromedical evacuation flight operations in support of U.S. national interests.
The 375th Operations Support Squadron is the wing's executive agent for all local base operations. The 375 OSS is globally engaged, providing world-class weather services, air traffic control, joint-use airfield management, transient aircraft support, survival and aerospace ground equipment maintenance, life support, aircrew and aeromedical aircrew training and scheduling, flight records management and command staff support to meet national objectives.
The 457th and 458th airlift squadrons collectively operate 12 C-21A aircraft out of two geographically separated locations: Scott AFB, Illinois, and Joint Base Andrews, Maryland. They provide first-class operational support airlift and aeromedical evacuation with time-, place- and mission-sensitive requirements both at home and while deployed in steadfast support of our expeditionary Air Force.
The 54th Airlift Squadron, under the 375th AMW and 932nd Airlift Wing, partners with the 73rd Airlift Squadron as the only active associate executive airlift squadron under the total force integration model. The squadron operates four specially configured C-40C aircraft as directed by Headquarters U.S. Air Force to transport members of the presidential Cabinet and Congress, foreign heads of state, and other dignitaries executing global missions vital to U.S. national security.
The 906th Air Refueling Squadron is an active association squadron with the Illinois Air National Guard's 126th Air Refueling Wing. While the 126th has operational direction and control of mission assets, the 375th Operations Group is administratively responsible for the 906th's personnel. Airmen from the 906th and 126th work side by side, flying and maintaining the Air Guard's fleet of aircraft to accomplish the wing's mission to include contingency deployments.
The 375th Operations Group, Det. 1 is at Will Rogers Airport in Oklahoma City, assumed from the Air Force Flight Standards Agency on Oct. 1, 2010. Det. 1 is a 24-member unit that flies a Federal Aviation Administration fleet of Challenger aircraft and certifies and validates navigation equipment and instrument procedures in CONUS and combat airspace around the world.