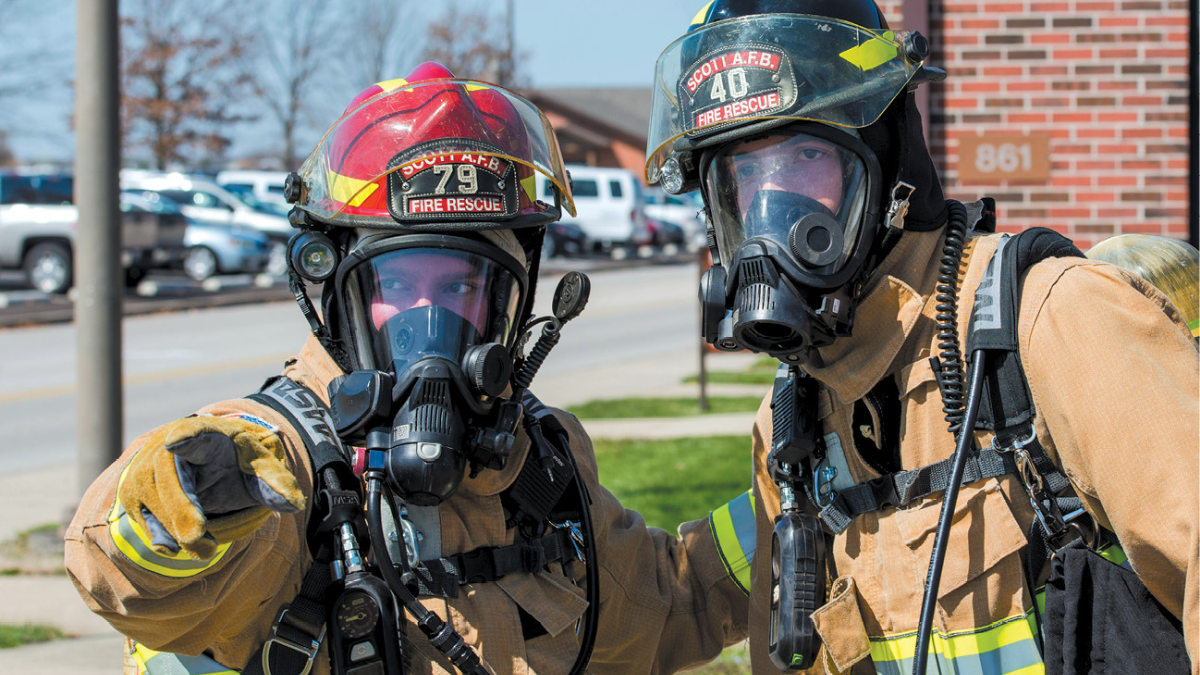 The 375th Mission Support Group provides base-level support to all organizations assigned to Scott. The units that belong to the group provide a variety of services to the base community. The group is composed of five squadrons.
The 375th Civil Engineer Squadron is responsible for operating, maintaining, and repairing all base facilities and utilities worth an estimated $4.6 billion. The squadron's diverse mission includes cradle-to-grave management of all contract construction projects; community planning; fire and emergency services; accompanied and unaccompanied housing management; natural, capital and asset management; asset optimization; emergency management; and explosive ordnance disposal. Through the Prime Base Engineer Emergency Force Team, the squadron deploys anytime, anywhere in support of Air Force contingency operations worldwide.
The 375th Force Support Squadron provides quality-of-life services to the men and women of Scott and their families, plus the local community and surrounding seven-state region. The squadron also provides personnel, manpower, education, training, family support and enlisted professional enhancement to the military, civilian and family members assigned to Scott during peacetime and contingency operations. The squadron organizes and executes the entire personnel portion of the deployment machine — training, processing, deployment and redeployment — resulting in a well-trained, rapid-response, war-ready force that keeps boots on the ground in theater and our homeland secure. In addition, the squadron maintains the highest level of readiness for global deployment and in-theater mission support through Prime Readiness in Base Service teams.
The 375th Logistics Readiness Squadron provides support to all entities on base, from the host wing to its mission partners, with a wide variety of logistics services. These services include: vehicle operations and maintenance; materiel management such as equipment accountability, war readiness and stock control; personal property and freight movement; passenger travel for commercial and AMC Patriot Express requirements; and aerial port (military airlift) passenger, cargo and fleet services. The squadron also provides fuels support for both government-owned vehicles and aircraft for all Scott and base visitors, as well as munitions support to maintain accountability for all operational, training and mobility requirements. In addition, the squadron serves as the wing's focal point for contingency planning, deployment and execution.
The 375th Contracting Squadron's primary mission is to provide fully trained contingency contracting officers to support deployed commanders. The squadron accomplishes this by purchasing and managing basewide operational contracts totaling more than $106 million annually for USTC Air Mobility Command, the 375th Air Mobility Wing and other assigned tenant organizations. In addition, the 375th Contracting Squadron manages the $25 million government purchase card program, providing support and training to roughly 700 cardholders and almost 300-plus billing officials. The squadron serves as a key business adviser to the wing commander and creatively uses best-value tools to tailor acquisition solutions and innovatively, yet practically, help the base customers accomplish their wide range of missions.
The 375th Security Forces Squadron is responsible for the safety and security of Scott AFB. The squadron provides security and law enforcement services to the Scott community while meeting worldwide mobility requirements. Their motto is "defensor fortis," which means "defenders of the force." The unit also provides combat arms and expeditionary combat skills training to Team Scott as well as biometric registration of base personnel, visitor control, police services, resource protection, confinement, investigations and military working dog support to other federal law enforcement agencies. With a continuous mobility commitment, 375th Security Forces members represent the 375th Air Mobility Wing around the world.