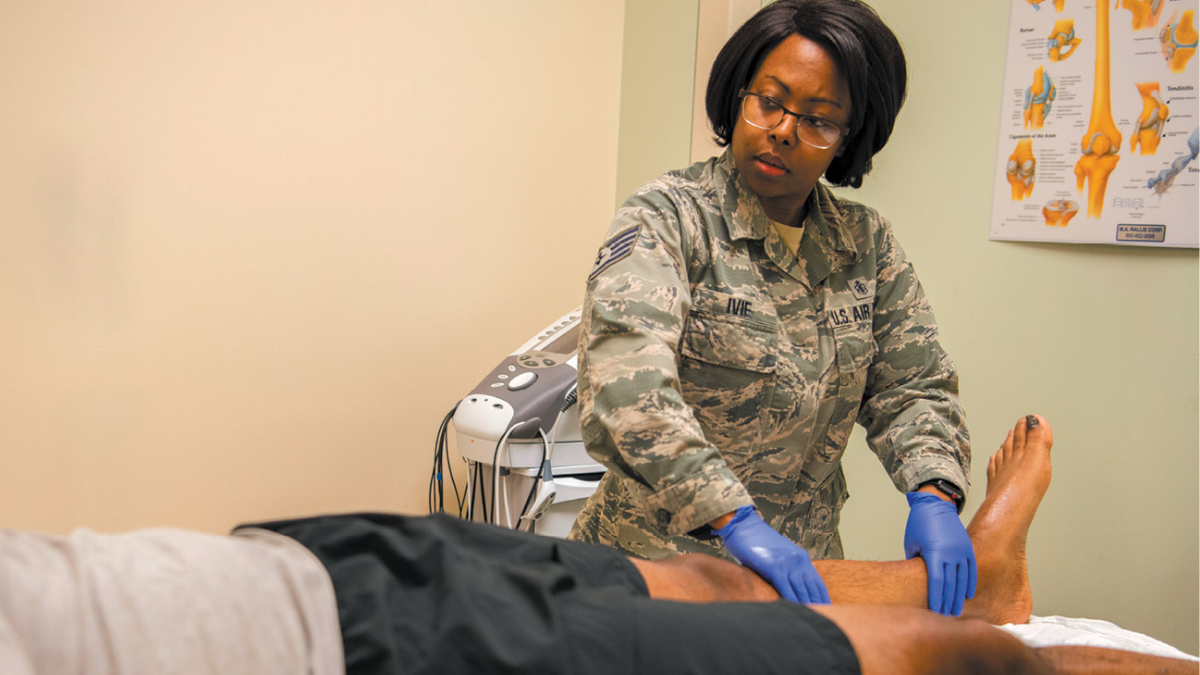 The 375th Medical Group enables Team Scott mission execution by providing mission-ready medics and capabilities, and develops healthy Airmen and families while fostering base and community partnerships. The 375th MDG provides health services for approximately 23,000 beneficiaries and sustains the readiness skills of more than 350 active-duty personnel. The staff is responsible for an advanced education in general dentistry program, a unique military-civilian combined family medicine residency, as well as two enlisted training programs in medical laboratory and diagnostic ultrasound disciplines. The unit's Medical Equipment Repair Center sustains 38 DOD sites over an 11-state region. The 375th MDG is accredited by the Joint Commission, American Dental Association, and College of American Pathologists and has affiliations with the American Hospital Association and American Medical Association. The medical treatment facility has approximately 88,000 patient visits per year.
The group is comprised of four squadrons.
The 375th Aerospace Medicine Squadron enables rapid global mobility through disease prevention, medical intervention, occupational and environmental health programs, and preparation for medical contingencies. A staff of approximately 65 health care professionals organized into five flights provides flight medicine services to nearly 1,500 rated personnel and their families, preventive integrated health care through public health, bioenvironmental engineering, optometry and health promotion activities.
The 375th Medical Support Squadron supports rapid global mobility by executing the medical logistics, information systems, readiness, resource management, TRICARE, radiology, pharmacy and diagnostic laboratory missions in support of 60,000 beneficiaries and two Phase II training programs. The squadron delivers $5.2 million in TRICARE network services, 353,000 prescriptions and 282,000 lab tests annually. The 216 personnel manage a $34 million budget, $29 million equipment account, $33 million WRM account and an eight-building, 300,000-square-foot medical campus. The squadron supports three flying wings, the 18th Air Force, the United States Transportation Command, 139 geographically separated units, and 31 mission partners and has a regional role providing radiology picture archiving, teleradiology, medical equipment repair and wounded warrior support far beyond Scott AFB.
The 375th Medical Operations Squadron provides comprehensive primary care and limited referral and space-available subspecialty care to TRICARE-enrolled patients at the medical group. The squadron also has responsibility for the Family Medicine Training Program, which is a joint civilian-military residency program sponsored by the Saint Louis University School of Medicine Family Practice Program. The squadron is comprised of six flights: the Scott Family Health Clinic, the Belleville Family Medicine Clinic, medical specialties services, mental health, physical therapy and chiropractic, and obstetrics and gynecology. They have a combined strength of nearly 250 assigned personnel. Available services include: allergy, dermatology, family advocacy, immunizations, mental health, pediatrics, family health, women's health, internal medicine and ADAPT counseling.
The 375th Dental Squadron provides a full range of dental services for active-duty military members including general dentistry, endodontics, oral and maxillofacial surgery, orthodontics, periodontics and prosthodontics. The squadron with a combined strength of nearly 70 assigned personnel supports an advanced education in general dentistry residency program. Families of active-duty military are highly encouraged to enroll in the TRICARE Dental Program to obtain dental care from civilian dentists, as space-available dependent care is extremely limited. Likewise, dental care for retired military and their family members is very limited and only available on a space-available basis.