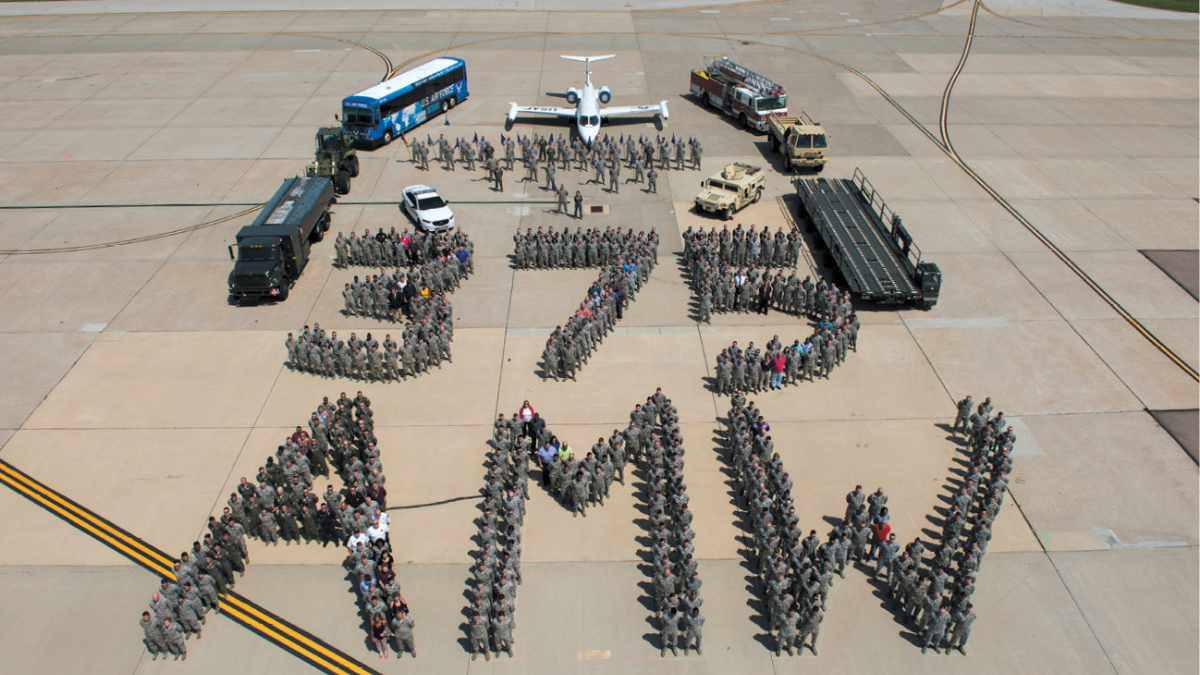 COMMAND AND CONTROL
The Scott Command Post serves as the nerve center from which the 375th Air Mobility Wing commander monitors and manages the readiness and response of the wing, coordinates the use of personnel and resources, and controls wing operations. The Command Post is co-located and consolidated with 932nd Airlift Wing (Reserve) personnel, operating 24 hours daily. It provides direct command and control support for the 932nd and 375th's distinguished visitor airlift missions and is the centralized agency through which the 618th Air Operations Center (Tanker Airlift Control Center) manages Air Mobility Command missions transiting Scott AFB. The Scott Command Post is a wing staff agency and is the wing commander's representative responsible for emergency actions, operational reporting and mission monitoring. It is also responsible for reports to the chairman of the Joint Chiefs of Staff assessing the wing's mission readiness.
INSPECTOR GENERAL
The 375th AMW Inspector General Office provides two important functions in support of AMC's showcase wing's mission to enable rapid global mobility: inspections and complaints resolution, which includes fraud, waste and abuse.
Inspections
A function of the 375th AMW inspector general's mission is to develop the wing inspection plan and risk-based sampling strategy based on the wing commander's guidance enabling a reliable assessment of the wing. The wing inspector general is responsible for the overall management and administration of the wing Commander's Inspection Program, planning and executing the Wing Inspection Program, validating and verifying the wing self-assessment program, and independently assessing the performance of organizations at and below wing level. The Commander's Inspection Program intent is to give the wing commander, subordinate commanders and wing Airmen the right information at the right time to assess risk, identify areas of improvement, determine root cause and precisely focus limited resources, in alignment with the commander's priorities and timeline. The Commander's Inspection Program is comprised of two key components: the Self-Assessment Program and the Wing Inspection Program executed under the authority of the wing inspector general to validate and verify that commander self-assessments are accurate and timely, and independently assess the effectiveness of subordinate units and programs. These components provide critical data to leadership about the adequacy of policy, training, manpower, funds, equipment and facilities.
Complaints Resolution
A function of the 375th AMW inspector general's mission is to ensure the existence of responsive complaints resolution and fraud, waste and abuse programs. The inspector general ensures the best interests of the Air Force are addressed through objective fact-finding, which enhances the discipline, readiness and warfighting capability of the entire wing. Any military or civilian member may file an inspector general complaint. The inspector general also accepts complaints from dependents or relatives of active-duty members, retirees and their dependents. As a complainant, you may contact an inspector general at any level without notifying your chain of command without retaliation or fear of reprisal. No one can prohibit your access to the inspector general. However, experience has demonstrated that, in most instances, commanders and supervisors are in the best position to evaluate and resolve complaints. For this reason, you are encouraged to discuss your issue with your supervisor or commander before seeking assistance from the inspector general. If you are unsure as to which base agency is best suited to field your complaint, the inspector general can help guide you to the appropriate resource.
JUDGE ADVOCATE
The 375th AMW Office of the Staff Judge Advocate (Building P-3, Suite 210) performs four essential functions in support of mission accomplishment: administration of military justice, operational law, protection of Air Force resources and freedom of action, and mission-related legal assistance.
Military Justice
As stewards of the military justice system, the base legal office assists commanders in maintaining good order and discipline within their units. Military justice attorneys and paralegals accomplish this by providing legal advice to commanders and first sergeants on all disciplinary matters, enabling commanders to make timely, well-reasoned and fair disciplinary decisions. The Military Justice Division is responsible for processing all courts-martial, nonjudicial punishment actions under Article 15, UCMJ, and adverse administrative personnel actions.
Operational Law
Scott AFB's air mobility mission and its unique aeromedical evacuation mission demand that air crews and medical personnel are well-versed in their rights, protections and responsibilities under international law. The attorneys and paralegals of the operational law division not only provide this training, but also brief commanders and personnel on the law of armed conflict and any applicable rules of engagement.
Protecting Air Force Resources and Freedom of Action
To ensure that the interests of the Air Force are protected, the legal office provides a full spectrum of civil law advice to commanders and wing staff agency chiefs to better enable them to accomplish the mission. From providing advice on procurement and environmental law and labor law issues, to defending the Air Force against tort claims and other lawsuits, the legal office fights hard to enable commanders to focus on mission accomplishment without the distraction of threats of adverse legal or fiscal consequences.
Legal Assistance
The Office of the Staff Judge Advocate offers free professional legal advice on a wide range of personal civil matters to active-duty members, retirees, authorized dependents, mobilized Air National Guard and Air Force Reserve members, and civilians deploying to or in a theater of operations. Assistance to Reserve and Guard members is limited to those on Title 10 status or in need of mobilization and deployment-related legal assistance. Assistance to civilians deploying is limited to wills and necessary powers of attorney. Office staff can also assist military members with filing household goods claims with the Air Force Claims Service Center.
WING CHAPLAIN
The wing chaplain's office functions as part of the wing commander's staff. The office is comprised of chaplains, religious affairs Airmen and service contractors who provide for the free exercise of religion. The chapel team provides worship services, religious education, confidential counseling, work center visitation, various programs and retreats. Chaplains also participate in numerous ceremonies such as changes of command, retirements, promotions and commander's calls.
Under the guidance of the Archdiocese for the Military Services, the Scott AFB Chapel has a vibrant Roman Catholic program centered on the sacramental life of the church offering baptism, first communion, confirmation and marriage. It offers two Sunday Masses and daily Masses that are complemented by a strong religious education program with focus on confirmation, first communion and rite of Christian initiation of adults for those wishing to explore the Catholic faith.
The Protestant community of the Scott AFB Chapel hosts two worship services: a traditional service and a gospel service. Additionally, it offers a Protestant family night religious education program for the entire family to learn and grow in faith. Protestant family night is held Wednesday with classes for couples, women, men, teens and children of all ages.
The chapel team also facilitates the needs of other religious groups through distinctive religious group leaders and non-chaplain lay leaders and referrals to local clergy and religious leaders.
PUBLIC AFFAIRS
The mission of the 375th AMW public affairs office is to provide trusted counsel to leaders; build, maintain and strengthen Airmen morale and readiness; enhance public trust and support; achieve global influence and deterrence; and provide photo, video and graphics multimedia support to the 375th AMW, its tenant units and official organizations. The office achieves these goals through three primary channels: internal information, community relations and media relations programs.
Internal information programs are the primary means used by Air Force leaders to communicate with Airmen and their families, plus retirees, civilians and contract employees. Internal programs include the Command Post newspaper; Scott's public website, www.scott.af.mil; Scott AFB and 375th AMW Commander's Facebook, Twitter and Instagram content; the base guide, maps, biographies, fact sheets, bulletin and marquee; and the action line.
Community relations programs enable the commander to enhance Airmen morale and readiness and build public trust and support. Community relations programs include base tours, orientation flights, open houses and air shows, civic leader tours, the speakers bureau program and more.
The media relations program is the link between the base and the Air Force to the local community and informs global audiences about air, space and cyberspace capabilities.
PROTOCOL
Protocol provides first-class hospitality services, enabling the 375th AMW to be an outstanding host to all distinguished visitors to Scott AFB, to include Headquarters Air Mobility Command; Headquarters United States Transportation Command; Surface Deployment and Distribution Command; 18th Air Force; 27 additional mission partners; and 30-plus flag officers. Protocol also formulates and executes detailed plans for commander-hosted official functions and advises wing staff and subordinate and tenant units on all protocol-related matters, policy and procedures through expert protocol knowledge, skill and showcase service, further enhancing Air Mobility Command's "showcase wing."
SAFETY
The 375th AMW safety office leads program management and oversight for occupational, weapons and flight safety disciplines for Scott AFB, its associate partners and multiple geographically separated units. Safety's primary mission is to lead in mishap prevention through persistent comprehensive safety education, program assessment, and mishap investigation and reporting, and by promoting risk management principles. The office manages hazard identification and abatement programs with the goal to eliminate unnecessary risks in the workplace, thereby creating a safe and healthy working environment for all personnel at Scott AFB. By working closely with designated safety representatives at each unit on the installation, the office's efforts prevent loss of life and loss of valuable mission resources and ensure the highest level of mission readiness for the Department of Defense.
HISTORIAN
The 375th AMW history office supports the wing commander and the wing by serving as the corporate memory of the wing and providing historically relevant information to aid in decision-making. The historian promotes esprit de corps, professional military education, and awareness of Air Force heritage through writing special studies and conducting research to answer historical inquiries. The historian objectively records wing history and deploys to record contingency operations history in order to preserve an official record of Air Force mission accomplishment. Histories and source documents are maintained at the Air Force Historical Research Agency at Maxwell AFB, Alabama. Copies of wing histories, along with additional historical documents, are maintained in the wing's historical repository. Additionally, the historian is the wing's focal point for organizational lineage, honors, heraldry, unit emblems and organizational flags.
COMPTROLLER
The 375th Comptroller Squadron provides financial services and support for the wing and its 31 tenant units. The squadron has two major flights, the Financial Operations Flight and Financial Analysis Flight, which contribute to Scott's "showcase wing" by performing their own unique fiscal missions. The Financial Operations Flight provides superior customer service and support to more than 16,000 wing, associate partner, retiree and transient personnel for pay and allowances, PCS and TDY travel, and civilian pay. The Financial Analysis Flight certifies availability of funds for all purchase requests and funding documents. The Financial Analysis Flight also formulates and executes the 375th AMW budget to best meet the wing's overall requirements. The Financial Analysis Flight serves as the audit focal point for the wing and conducts the annual economic impact analysis and other financial analyses to support the wing. Through innovation, communication and excellence, the 375th Comptroller Squadron manages numerous financial systems and processes to better meet the needs of Team Scott.
EQUAL OPPORTUNITY
The 375th AMW equal opportunity office is responsible for processing discrimination complaints for active-duty members, their family members, retirees, and current or former federal civilian employees, as well as applicants for civilian employment. Discrimination complaints are those which allege discrimination based on race, color, gender, sex, religion, national origin and sexual harassment. Additionally, for federal civilians only, there are protected categories of age, mental and physical disability, and retaliation for participation in previous EO-protected activity. The office serves as the primary adviser for equal opportunity matters to commanders at all levels, conducts climate assessments, and provides education and briefings as required.
PLANS AND PROGRAMS
The 375th AMW plans and programs office provides senior leaders with processes and programs for fulfilling peacetime, contingency and wartime missions. The staff manages and monitors all wing plans, including higher headquarters plans, locally developed and directed supplements to higher headquarter plans, and plans based on local requirements. They provide guidance to base agencies and host services for international treaty inspection teams by ensuring compliance with treaty protocols and ensuring minimum impact from impending arms control treaties through effective management of the Treaty Compliance Program. Additionally, they manage and execute the installation operations security program. They also manage the Crisis Action Team for the wing commander during exercises and contingency and emergency operations.
SEXUAL ASSAULT PREVENTION AND RESPONSE OFFICE
The sexual assault prevention and response office serves as the single point of accountability for Department of Defense sexual assault policy and provides access and support 24/7 through the SARC helpline: 618-256-SARC (7272). The Department of Defense does not tolerate sexual assault and has implemented a comprehensive policy that reinforces a culture of prevention, response and accountability to ensure the safety, dignity and well-being of all members of the armed forces. Scott leaders at all levels — military and civilian — are committed to maintaining a workplace environment that rejects sexual assault and attitudes that promote such behaviors. The Scott SAPR office offers guidance and support for victims of sexual assault, unit commanders, first responders and those who wish to prevent or respond to sexual assault crimes. Newcomers to Scott will receive a SAPR briefing that addresses confidentiality, reporting procedures and other elements of the DOD's sexual assault policy.
AIR FORCE CONTINUOUS PROCESS IMPROVEMENT (CPI)
The 375th AMW's manpower office implements the Air Force's Continuous Process Improvement Program for the wing. CPI provides a standard approach to continuously improve all processes that are employed by the Air Force to deliver the required effects while saving resources and eliminating waste. To develop an Air Force-tailored model of continuous process improvement to fit all Airmen, CPI uses an eight-step problem-solving model as well as components of Lean, Six Sigma, Theory of Constraints and Business Process Reengineering. The CPI program focuses on developing a mindset and ability to "see and eliminate" non-value-added work through education and practice. The office also develops a culture that promotes the elimination of waste, sharing of best practices, and reduction of cycle times across all products and services, as well as involvement of all Airmen in the relentless pursuit of excellence. You can find more information on the wing's CPI program by calling the manpower office at 618-256-6839/4611.