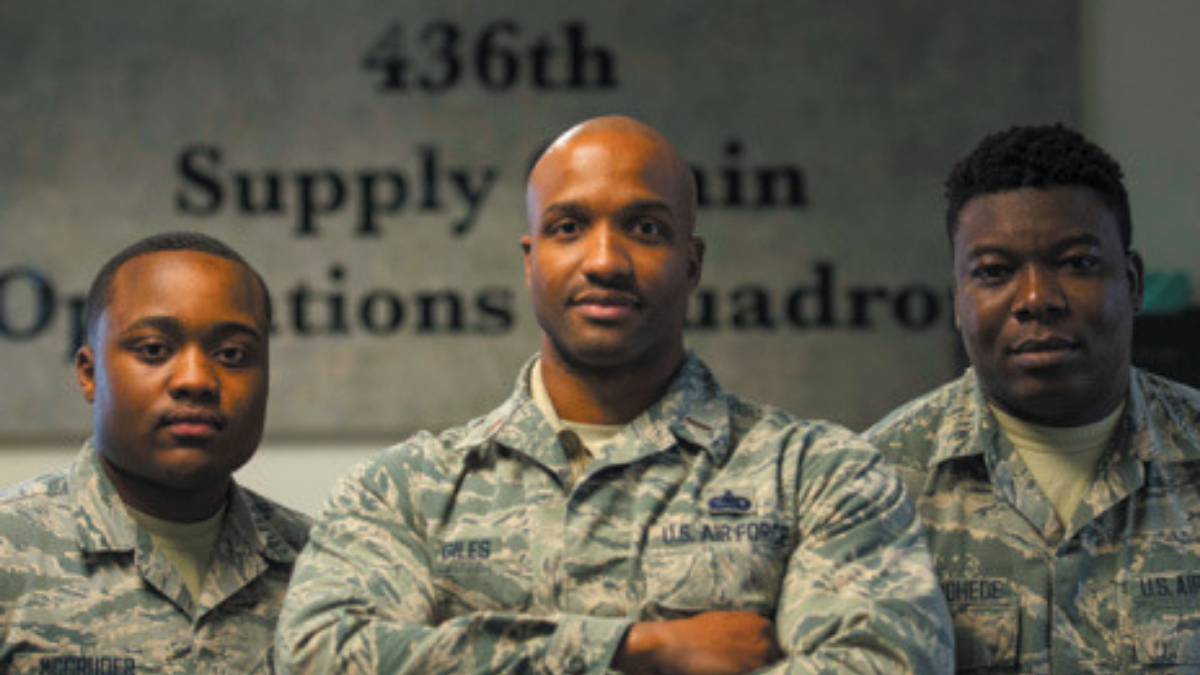 It's been more than 100 years in the making, and in 2017 Scott Air Force Base celebrated its centennial year.
What began as a small airfield with just a few hundred aviation enthusiasts has today grown into a joint-service, multiplatform transportation hub for the Department of Defense with a 13,000-person workforce who ensure rapid global mobility for the nation.
It all started during World War I as then-Secretary of War Newton Baker advocated for ways to expand the role of aviation. Business and political leaders on both sides of the Mississippi River wanted the Midwest to be chosen as a site for one of the new "flying fields." Aerial expert Albert Bond Lambert joined the St. Louis Chamber of Commerce and directors of the Greater Belleville Board of Trade to negotiate a lease agreement for 624 acres of land.
CONSTRUCTION BEGINS
After inspecting several sites, the U.S. War Department agreed to the lease June 14, 1917. Congress appropriated $10 million for its construction, and 2,000 laborers and carpenters were immediately put to work. The government gave the Unit Construction Company 60 days to erect approximately 60 buildings, lay a mile-long railroad spur and level off an airfield with a 1,600-foot landing circle. Construction was underway when the government announced it would name the new field after Cpl. Frank Scott, the first enlisted service member killed in an aviation crash.
BASE NAMESAKE
Frank Scott enlisted in the Field Artillery at the age of 24, but an illness in July 1911 led to his reassignment to the Signal Corps Aviation School at College Park, Maryland, where he served as a mechanic for one of the Wright Type B biplanes.
Interested in flying, Scott asked Lt. Lewis Rockwell to take him along on a flight. Rockwell first made a solo run over College Park. Confident everything was in good order, he landed and brought Scott on board. After reaching 150 feet, the pilot leveled off. As he brought the plane in for landing, the craft developed engine trouble and crashed. Scott was killed instantly, and Rockwell died later that evening.
The decision to name the aviation site at Belleville after Scott is a lasting tribute to those who lost their lives during the early years of military aviation.
EARLY FLYING OPS
Construction was completed in August, and the first flight from Scott Field occurred Sept. 2, 1917. Because of the dangers of flying at the time, Scott officers made two air ambulances by modifying Jenny aircraft to carry patients, and on Aug. 24, 1918, Scott's air ambulance transported its first patient after an aviator broke his leg.
Scott Field's future became uncertain after the end World War I as many airfields were closed down, but good news came early in 1919 when the War Department announced it would purchase Scott Field.
A new mission came in 1921, when Scott Field was selected to become a lighter-than-air station. Many new facilities were built to accommodate its new balloon and airship mission — the most notable being the airship hangar, which was the second largest in the world at that time. Its checkered roof and massive size would have been the most noticeable object by far among the flat patches of farmland. Even two years after Scott had transitioned away from lighter-than-air operations, the airship hangar still stood in 1939 for all to see.
Standing within this airship hangar must have been a sight, as former Illinois Sen. Alan J. Dixon described during a boyhood school trip to Scott Field, "In 1939, I stood in the huge main hangar at Scott and felt overwhelmed by the enormity of the blimp that it housed."
The Army Balloon and Airship School from Brooks Field, Texas, moved to Scott and studied ways to expand the capabilities of being aloft in an airship or an observation balloon. Enormous airships, or dirigibles, left people in awe while large balloons meant for aerial photography, meteorology and altitude experiments dotted the skies. However by 1939, the chief of the Army Air Corps decided to stop all lighter-than-air activities. Instead, Scott was chosen to become the new home of General Headquarters Air Force, and with that came construction that more than doubled the size of Scott Field and added nearly 100 colonial-style buildings, which still stand today.
A RADIO COMMUNICATIONS ERA
The onset of World War II prevented Scott from becoming the Air Force headquarters, and instead Scott became a communications training hub for the Army Air Forces. During the war, Scott's Radio School produced, as its slogan professed, "the best damned radio operators in the world" and they were known for being the "eyes and ears of the Army." In total, the Radio Communications School at Scott graduated 150,000 students.
One of those students was then-Staff Sgt. Ray Vold, who came to Scott AFB in December 1951 for his eight-month technical training for airborne radio communications.
"The foundation I think really began here. I learned how to study and acquire knowledge. I came here as a 19-year-old farm kid, without a lot of experience, so this was my start in life," Vold said. "My best memory was really going to radio school; I enjoyed it a lot. I got to love this place, ate a lot of food, and I went to many Cardinals and St. Louis Browns ball games."
Scott alumnus Hal Prather also came to Scott in February 1952 for a different job: radio mechanics school. He learned the basics of electronics and radio repair in the wooden schoolhouses of Scott AFB. For Prather, who had grown up during the Great Depression, joining the service was a launching point. He had never been more than 200 miles from home, but he had his sights set on doing something that would permit discovery.
"I have good memories of my enlistment. I learned the basics of electronics and radio, and it gave me my first profession, which was electrical engineering," said Prather.
By the time Vold and Prather attended school, Scott Field had become Scott Air Force Base as the U.S. Air Force became a separate service on Sept. 17, 1947. The mission began shifting from technical training to air transport and aeromedical evacuation, and by 1959, the last remaining classes at Scott signaled the end of the Communications School, but not the end of the communications and cyberspace mission sets, as those missions continue today.
During the '60s, several communications and then network-specific headquarters came to base such as the Defense Information Systems Agency and the Air Force Communications Command, now known as the Air Force Network Integration Center. With emerging new technology, the need for cyber warfighters has become evermore necessary to defend against malicious cyber intrusions and to keep Air Force platforms secure. Today one will see five communications groups that call Scott home, as well as the Air Force Space Command's Cyberspace Support Squadron and 688th Cyberspace Operations Group.
AEROMEDICAL EVACUATION MISSION FOCUS
By 1957, the Military Airlift Transport Service, the predecessor to Air Mobility Command, took up permanent residence at Scott and oversaw all aspects of global mobility in the aeromedical evacuation, aerial refueling and senior leader transport missions.
By 1964, Scott became responsible for all aeromedical transportation within the United States, and by 1975, the base was responsible for worldwide patient movement via the Patient Airlift Center. The PAC had earlier coordinated 61 aeromedical missions to bring 357 former POWs back to the U.S. During this time, the 375th Aeromedical Airlift Wing activated, and soon added a fleet of C-9A Nightingales dedicated for the worldwide aeromedical evacuation system.
Also during this time, retired Col. Regina Aune, who would later serve on the AMC surgeon general staff at Scott, was a young lieutenant nurse attending to children on an Operation Babylift mission after the Vietnam War. American caregivers had been paired with South Vietnamese orphans, most fathered by Americans, to evacuate them to the Philippines then to San Diego, where President Gerald Ford was ready to welcome them to the United Sates.
On one of the missions, the C-5 carrying 250 orphans exploded after takeoff. Aune was thrown the entire length of the upper deck as the crippled aircraft skidded a quarter mile in a rice paddy, became airborne approximately a half-mile, then crashed into an irrigation ditch where it was torn into four pieces.
Nevertheless, she helped carry 80 babies to rescue helicopters at the muddy crash site until she was unable to continue. It was later discovered she helped save these babies with a broken foot, a broken leg, a broken vertebra and numerous other injuries.
Aune became the first woman to be awarded the Cheney Award, which was established in 1927 to recognize an airman for an act of valor, extreme fortitude or self-sacrifice in a humanitarian interest, performed in connection with aircraft, but not necessarily of a military nature.
Today the 375th is home to one of four active-duty aeromedical evacuation squadrons in the Air Force, and is also responsible for training all Air Force aeromedical evacuation crews at its geographically separated unit — the 375th Operations Group, Det. 4 — at Wright-Patterson AFB, Ohio. Det. 4 standardizes qualification training for all reserve, guard, and active-duty flight nurses and aeromedical evacuation technicians.
"The big difference between us and medics at a hospital is that most of our care happens at 40,000 feet in the air using specialized equipment," said Capt. Joshua Williams, 375th Operations Group, Det. 4, flight examiner. "We are capable of providing any level of care from medical-surgical level to step down ICU care in the air." The wing's motto, "help from above," traces back to this aeromedical evacuation lineage.
Because of advances in both medical techniques and the Air Force's quick response capabilities, wounded service members have "an incredible 98 percent survival rate" if they reach a hospital quickly and are returned to the U.S. in three days or less. This is an increase from the Dessert Storm survivability rate, which was 75 percent, taking an average of 10 days to return. In Vietnam, the survivability rate was 75 percent, taking an average of 45 days.
OPERATIONAL SUPPORT AIRLIFT
In 1978, the 375th gained another mission: Operational Support Airlift. Scott had received its first T-39A Sabreliner in 1962 and had since been managing a dispersed continental fleet of 104 Sabreliners flying a combined 92,000 hours per year. Even though the T-39As were phased out in 1984, the operational support airlift mission continued with the arrival of C-21A Learjets. The 375th continues flying this mission today, as well as hosting the only formal training unit for the aircraft.
As the 375th reorganized during the '90s, it transitioned to an airlift wing and in 2009 became an air mobility wing in conjunction with a new "active associate" mission with the Illinois Air National Guard's KC-135 refueling mission.
The 126th Air Refueling Wing relocated from Chicago to Scott AFB as part of the Air Force's efforts to streamline and enhance resources. The "total force association" concept combines active-duty aircrew members who are administratively assigned to the 375th but operationally aligned and fly under the direction of the 126th. The wing also enjoys a TFA partnership with the Air Force Reserve's 932nd Airlift Wing to partner in flying the C-40 aircraft for senior leader airlift missions for the DOD. Scott AFB serves as one of six locations in AMC and one of 10 throughout the Air Force where TFA efforts unfolded.
SCOTT GROWTH AND MISSION PARTNERS
The 1990s also saw tremendous growth with expanding missions on the base. In 1992, Military Airlift Command inactivated and its personnel and assets were combined with others to form Air Mobility Command. Then in October 2016, the legacies of MAC and AMC were aligned, making AMC the oldest major command in the Air Force, tracing its history to the establishment of the Air Corps Ferrying Command in 1941.
In early 1991, a joint use agreement with the FAA resulted in the opening of the Mid-America Airport, which enhanced the ramp space for Scott AFB's home station and transient aircraft. In 1991, the 375th AAW became the 375th Airlift Wing and, in 1992, the Military Airlift Command inactivated and its personnel and assets were combined with others to form Air Mobility Command, headquartered at Scott. In that same year, the Tanker Airlift Control Center began operations at Scott and optimized air refueling and the way military cargo and passengers reached their destination. In 1998, the Mid-America Airport moved to Scott as did the 126th Air Refueling Wing in 1999.
In 2003, a newly activated 18th Air Force stood up to speed AMC's support for contingencies and humanitarian missions. That same year the C-9 aircraft was retired and all mobility aircraft were fitted to serve the aeromedical evacuation missions as needed.
Into the 2000s, AMC went through a major reorganization to establish its warfighting headquarters. AMC's 15th and 21st Air Forces became expeditionary mobility task forces in 2003. They, along with all AMC's wings and independent groups, realigned to a newly activated 18th Air Force on Scott AFB. The new ready mobility operations capability would speed support for contingencies and humanitarian missions. The retirement of the C-9A Nightingale and the reduction of the C-21A fleet led to a flying mission restructuring that today has Scott using a diverse mix of assigned and nonassigned aircraft to support aeromedical airlift, operational support airlift and air refueling missions.
While all these changes occurred, Scott AFB continued to play a crucial role in military operations and worldwide events. Following the terrorist attacks on Sept. 11, 2001, the TACC ensured military planes stayed in the air by means of air refueling and that search and rescue crews arrived safely in New York and Washington, D.C. From Sept. 18, 2001, to December 2015, AMC aircraft, including those from the 375th, completed more than 138,624 sorties and transported 2,779,261 passengers and 1,484,469 tons of cargo in Operation Enduring Freedom and AMC tankers offloaded 523,981,520 pounds of fuel to 32,531 receiving aircraft in Operation Noble Eagle.
On Aug. 30, 2005, a team from the 375th Aeromedical Evacuation Squadron deployed to Kessler AFB, Mississippi, and airlifted victims from areas devastated by Hurricane Katrina. A few days later on Sept. 6, more than 200 375th members supported Joint Task Force Katrina. Medical group personnel set up a medical evacuation center at the Louis Armstrong International Airport in New Orleans while civil engineer members helped with cleanup, restoration of utilities and establishment of a tent city for the
82nd Airborne Division.
The 906th Air Refueling Squadron moved (without personnel and equipment) from the 319th Operations Group, Grand Forks AFB, North Dakota, to the 375th Operations Group, Scott AFB. The 906th became an active associate unit flying the KC-135R Stratotanker aircraft of the 126th Air Refueling Wing, Illinois Air National Guard. In conjunction with the 906th's realignment, the 375th Airlift Wing was redesignated as the 375th Air Mobility Wing.
The former Chief Master Sergeant of the Air Force James Cody was also previously the 18th Air Force command chief at Scott AFB from 2008 to 2010.
Cody reflected on his time at Scott, and said, "I had the privilege to live and work at Scott AFB for more than two years. I know firsthand what Team Scott accomplishes every day to answer our nation's call. Our enlisted force is well represented by the base's namesake, Cpl. Frank Scott. Naming the base in his honor is a lasting tribute to all who have lost their lives in the early years of military aviation, which required guts and an uncommon bravery."
In recognition of Scott AFB's century of service, Cody said, "Our Airmen today display the same dedication, courage and uncommon bravery."
CONTINUED COMMUNITY SUPPORT
Since the very beginning, the surrounding communities have played an important role in the success of Scott AFB, and community relations remain strong 100 years later. Scott AFB is the largest employer in southern Illinois and the fourth-largest employer in the St. Louis Metropolitan Area. Every year, the base injects more than $3.5 billion dollars into the local economy and positively impacts more than 13 counties in the surrounding areas.
Today, Team Scott remains deeply connected to the surrounding communities and works hand-in-hand with local government and civilian organizations on a daily basis. From security forces and firefighters responding to crisis outside the gates when requested during times of mutual aid to medical residents saving lives in the local hospitals, to servicemen and women volunteering across the region, Scott personnel are passionate about making a positive difference and continuing to grow community partnerships.
The men and women serving in the 375th Air Mobility Wing are grateful to the surrounding communities, for they could not successfully accomplish the past century-worth of missions without their tremendous support.