Our Military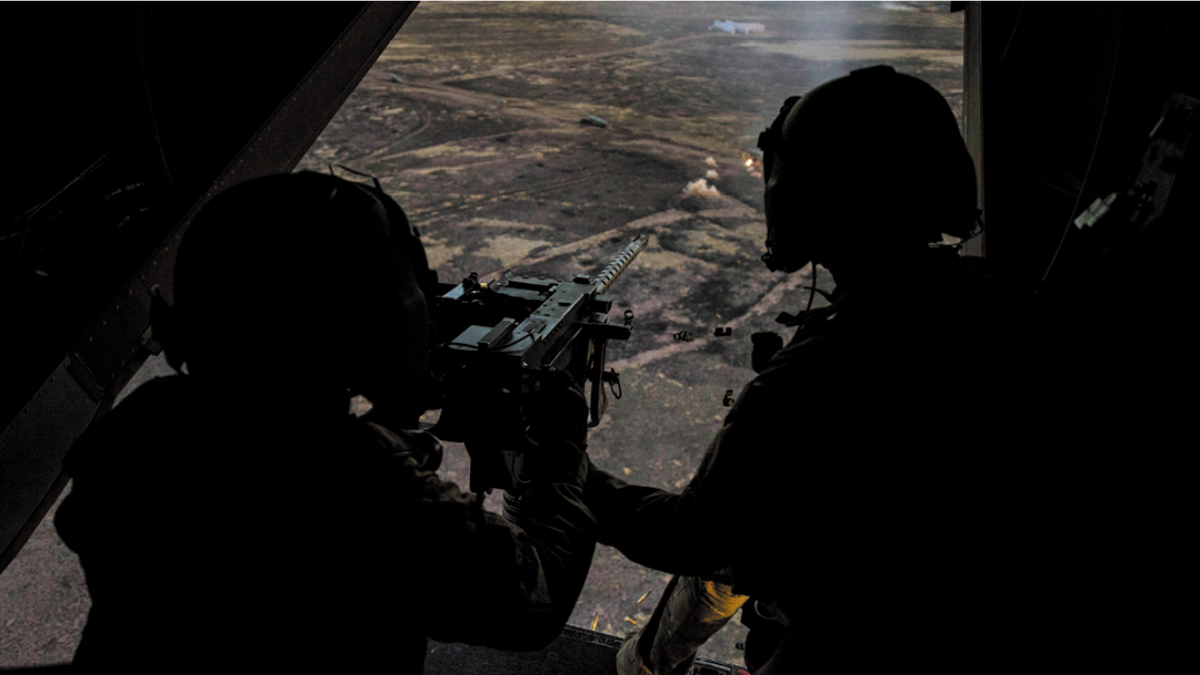 in Curry and Roosevelt Counties
On the high plains of eastern New Mexico near the Texas Panhandle lies Cannon Air Force Base, 8 miles west of Clovis, 80 miles south of Tucumcari and 90 miles northeast of Roswell, all in New Mexico, and 100 miles west of Lubbock, Texas.
Cannon AFB is home to Air Force Special Operations Command's 27th Special Operations Wing. The wing is one of four Air Force active-duty special operations wings within AFSOC and is a pivotal component of AFSOC's ability to provide and conduct special operations missions. It carries these out with a variety of aircraft, including the MC-130J Commando II, CV-22 Osprey, MQ-9 Reaper, AC-130W Stinger II and U-28A.
The base sits on 3,789 acres of land. Its Melrose Air Force Range training area, approximately 25 miles west of the base, is used for air-to-ground, small arms and electronic combat training and comprises about 70,000 land acres and 2,500 square miles
of airspace.
Population
The workforce at Cannon AFB is made up of approximately 5,350 military and civilian personnel — 4,665 active duty and 457 civilian — plus 3,524 family members and 5,973 retirees who live in the area.
Economic Impact
Cannon Air Force Base's total impact on the local economy in fiscal year 2017 totaled approximately $711.6 million, the Clovis Industrial Development Corporation calculated. It is the largest employer in Curry County and created 1,751 indirect jobs valued at $80.4 million in 2017.
History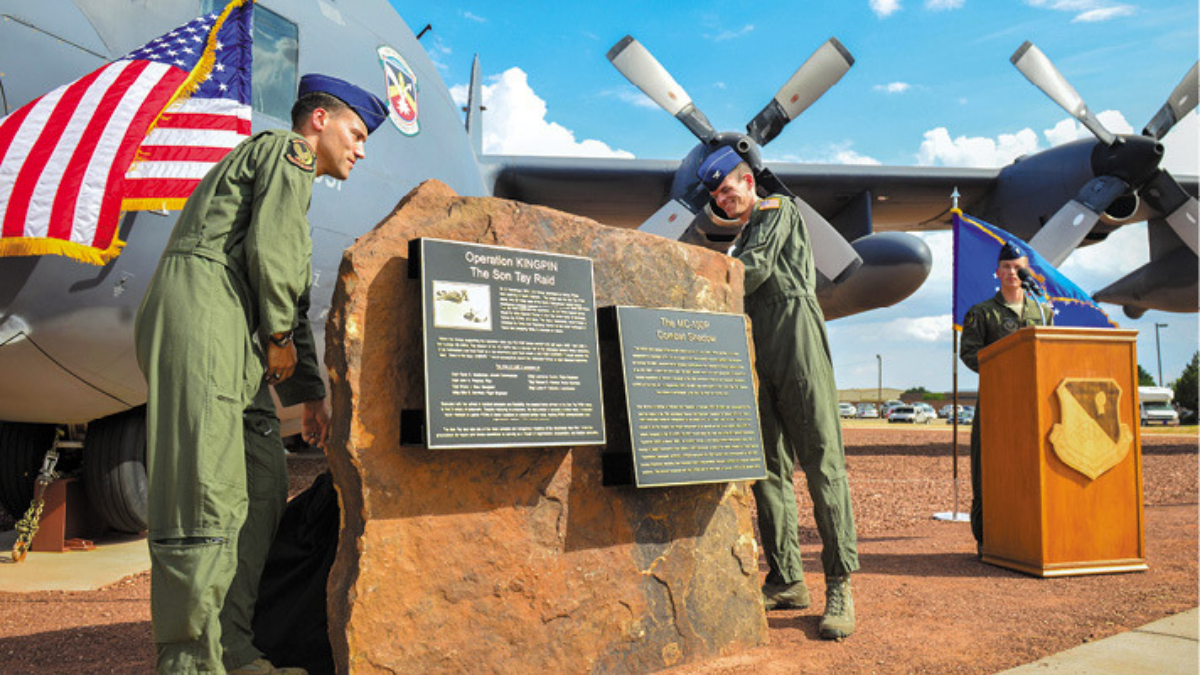 Cannon Air Force Base traces its roots back to the late 1920s when Portair Field, a civilian passenger facility, was built on the site. Portair Field, renamed Clovis Municipal Airport in the 1930s, was a terminal for early commercial transcontinental journeying, flying passengers in the Ford Trimotor "Tin Goose" by day and using Pullman-car trains for nighttime travel.
The war years saw the introduction of heavy bomber training to the Llano Estacado, a Spanish term for Staked Plain, referring to a region in the Southwest United States that includes parts of eastern New Mexico and northwest Texas. In September 1942, Clovis Municipal Airport became Clovis Army Air Field.
Flying operations nearly ended with postwar demobilization, aside from the rare refueling of transient aircraft. Clovis Army Air Field had "closed its doors" by May 28, 1947, as the base went on the inactive list, though it remained in the hands of Air Training Command until late July 1951, when it was obtained by Tactical Air Command. At that time, an Air National Guard unit, the 140th Fighter-Bomber Wing, was activated, mobilized to active duty and stationed there.
Cannon Air Force Base was named in honor of the former commander of the Tactical Air Command, Gen. John K. Cannon, on June 8, 1957. On Feb. 18, 1959, the base entered into a relationship with the 27th Fighter Wing that continues to this day, albeit with the new mission of special operations. When the base transitioned from Air Combat Command to Air Force Special Operations Command on Oct. 1, 2007, the 27th Fighter Wing was redesignated the 27th Special Operations Wing.
The unit has a long and distinguished history. Its legacy began at Barksdale Field, Louisiana, on Feb. 1, 1940, as the 27th Bombardment Group (Light). Elements of this group were in the Philippines when the Japanese invaded the islands in December 1941. The group aided in the fight against the invading force, but the Japanese eventually overran the country. Many members of the 27th Bombardment Group were taken as prisoners of war and forced to participate in 1942's Bataan Death March.
Since 1940, the 27th designation has been assigned to several group and wings at a number of locations. In August 1947, the 27th was organized as a fighter wing at Kearney Airfield, Nebraska. In February 1959, after nearly 10 years at Bergstrom Air Force Base, Texas, to preserve the 27th's heritage, the designation was transferred to Cannon AFB. The designation 27th Tactical Fighter Wing replaced that of the 312th Fighter Bomber Wing, which had been at Clovis (later Cannon) AFB since Oct. 1, 1954, and did not have a significant lineage.
Organizations

27TH SPECIAL OPERATIONS WING
The 27th Special Operations Wing is one of four Air Force active-duty special operations wings within Air Force Special Operations Command.
The primary mission of the 27th SOW is to execute specialized airpower from a premier installation.
The wing's core missions include close air support; agile combat support; information operations; precision strike, forward presence and engagement; intelligence, surveillance and reconnaissance operations; and specialized mobility.
The 27th SOW is a pivotal component of AFSOC's ability to provide and conduct special operations missions ranging from precision application of firepower to infiltration, exfiltration, resupply and refueling of special operations forces. In addition, the 27th SOW brings distinctive intelligence capabilities to the fight, including ISR, predictive analysis and targeting expertise to joint special operations forces and combat search-and-rescue operations.
The wing is composed of four groups and various staff agencies. The 27th Special Operations Group provides operational support to flying operations and directs the deployment, employment, training and planning for squadrons that operate the AC-130W, MC-130J, CV-22, U-28A and MQ-9. The mission support group provides combat support and base sustainment services as well as recreational activities for the base populace. The maintenance group is responsible for flight line and back shop maintenance of base aircraft, as well as contract oversight of civilian maintenance on three nonstandard aviation program aircraft types. The medical group ensures a healthy, fit and deployable active-duty force and provides medical care to area beneficiaries. Wing staff agencies supply command management and numerous services to base personnel. Staff agencies include the Comptroller Squadron, Public Affairs, the Inspector General, Wing Safety, the base historian, the chapel and more.
Arrival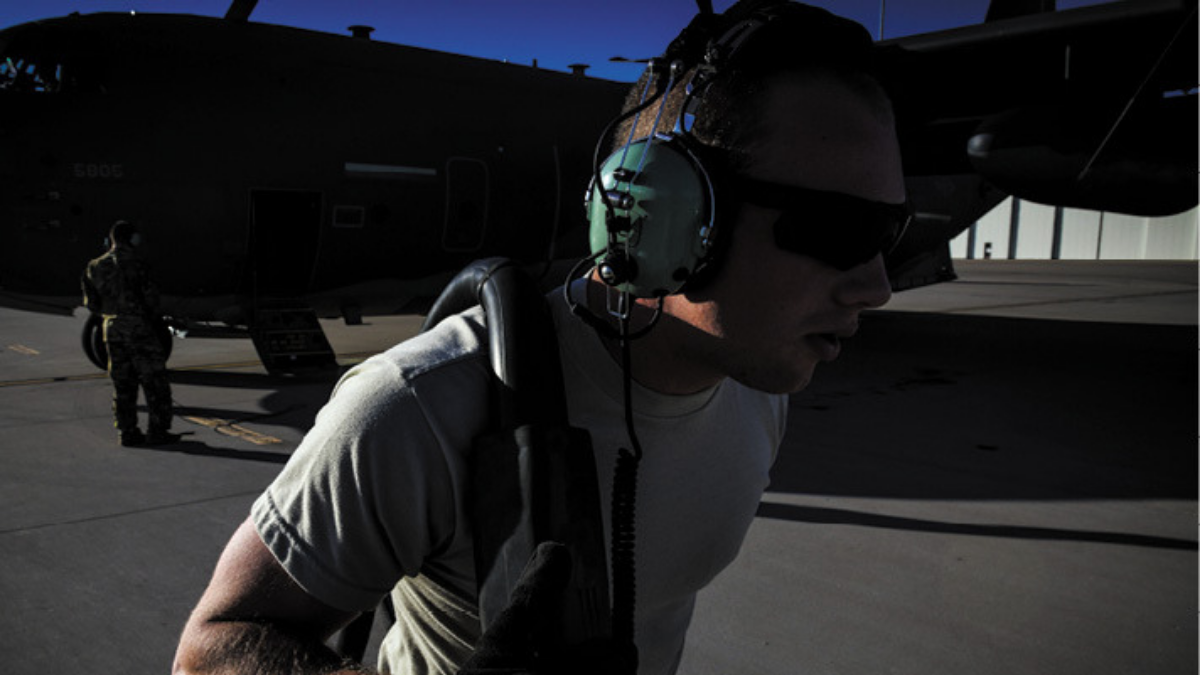 See the Getting To & Around Curry and Roosevelt counties chapter section for information about local airports, train service and public transportation. The closest commercial flights land at Amarillo and Lubbock, Texas; both cities are about 100 miles from the base.
SPONSORSHIP
Contact your sponsor and with your estimated arrival time and flight information, if applicable, prior to your arrival at Cannon AFB.
Sponsorship is vital to the relocation process. Don't PCS without talking with your sponsor before departing for the base. Your sponsor will answer any questions you have about Cannon AFB and the local area, make lodging/dorm arrangements and meet you upon arrival. You can count on your sponsor to help you and your family until you are settled into your new community.
If you have not been in touch with a sponsor and your departure is nearing, contact your gaining unit or call the Airman & Family Readiness Center at 575-784-4228.
DRIVING DIRECTIONS
Cellphone use by the driver of a moving motor vehicle is prohibited on all Department of Defense installations, unless the cellphone is used with a hands-free device.
The Cannon AFB main gate is just off U.S. Highway 60/84. People arriving on U.S. Highway 70 (from the south) should take State Highway 467 to the Portales gate. Both gates are open 24/7.
From Albuquerque, New Mexico
Take Interstate 40 east approximately 116 miles to Santa Rosa. At Santa Rosa, exit to Highway 84 south 48 miles to Fort Sumner, then go east about 58 miles to Cannon AFB.
From Amarillo, Texas
Take Interstate 40 to Interstate 27 south toward Lubbock; turn west on Highway 60 at Canyon, Texas. Stay on Highway 60 to Texico, New Mexico, where you'll pick up Highway 84 west to Clovis (approximately 7 miles). Cannon AFB is approximately 7 miles west of Clovis, still on Highway 60/84.
From Lubbock, Texas
Take Highway 84 west (passing through Littlefield, Muleshoe and Farwell, Texas) to Clovis, New Mexico, and Cannon AFB.
CHECK-IN PROCEDURES
Unit information and inprocessing instructions will be provided by your sponsor. If you have not received sponsor information within 45 days of your PCS, please contact the INTRO manager at your current base.
Report to your gaining unit's administrative section upon arrival. If you arrive after duty hours, report to the Caprock Inn lodging office. Your unit will set up your inprocessing appointments. After you report to your unit you may request permissive TDY for house hunting.
Newcomers are required to attend the Commando Newcomer's Orientation, which is held twice a month at the Landing Zone. An information fair with valuable information about the local area follows the orientation. Spouses are welcome and encouraged to attend.
First Term Airmen Center
Bldg. 1225 575-784-2499
The First Term Airmen Center program is designed for first-time, first-base airmen, providing a streamlined process for base inprocessing and an organized transition for these airmen from a controlled training (basic, technical) environment to one of self-efficiency as an Air Force member. The FTAC sets up airmen for success, welcoming them to Cannon AFB and providing a setting where they can network and learn what resources are available.
TEMPORARY LODGING
Caprock Inn
401 S. Eagle Claw Blvd. 575-784-2918
www.cannonforce.com/caprock-inn
The Caprock Inn provides safe, comfortable and clean accommodations for active-duty military members and their families who are being assigned to Cannon AFB.
Lodging consists of guest rooms, with temporary lodging facility accommodations, visiting quarters and distinguished visitor quarters. Pet-friendly units are available. Amenities include internet access, cable television, microwaves, refrigerators and coffee makers. Housekeeping and laundry facilities are also available.
Check the website for current room rates.
Getting Settled

HEALTH CARE
27th Special Operations Medical Group
208 W. D.L. Ingram Blvd.
Appointments 575-784-2778
www.airforcemedicine.af.mil/MTF/Cannon
The 27th Special Operations Medical Group serves Cannon AFB and beneficiaries in the surrounding area. Its mission is to prepare and present medically ready Air Force special operations forces and to conduct global special operations medicine. To that end, the group provides a wealth of medical services, including dentistry, family health, flight medicine, immunizations, lab testing, mental health care, optometry, pediatrics, pharmacy, physical therapy, radiology, women's health and more.
Routine dental care is available to active-duty military only. Family members of active-duty personnel are encouraged to use the TRICARE Dental Program. For more information about the TRICARE Dental Program, call 855-638-8371 or visit www.tricare.mil/CoveredServices/Dental/TDP.
TRICARE
TRICARE is the health care program for active-duty and retired service members, their families and survivors. TRICARE provides health plans, prescriptions, dental plans and other special health programs to its beneficiaries. TRICARE's mission is to enhance the Department of Defense and the nation's security by providing health support for the full range of military operations and sustaining the health of all those entrusted to their care.
TRICARE offers a range of health care plans. TRICARE Prime is the mandatory health care option for active-duty service members. Family members of active-duty service members, retired service members and their families may also use this option. If you use TRICARE Prime, you are assigned a primary care manager at a military or network provider who delivers most of your care. If you need care your PCM cannot provide, you are referred to a specialist. Active-duty service members and their families pay nothing out of pocket for this option; however, there is less freedom to choose your provider. On Jan. 1, 2018, TRICARE Standard and Extra were combined into a new plan, TRICARE Select. Select is a standardized fee-for-service plan available to family members of active-duty service members, retired service members and their families. After you enroll in TRICARE Select, you may schedule an appointment with any TRICARE-authorized provider. Referrals are not required, but you may need prior authorization from your regional contractor for some services. You will pay a copay or cost share based on the type of care and provider you see. Costs for Select vary, but you will pay an annual deductible as well as a percentage of covered services. Non-network providers may charge up to 15 percent more than the TRICARE allowable charge; you are responsible for these extra charges. TRICARE also offers plans for remote and overseas locations, reserve military members, young adults who are no longer covered under regular TRICARE coverage and other scenarios.
TRICARE coverage is completely portable, so it moves with you when you relocate. Follow these simple steps to ensure you have no break in coverage when you move:
Do not cancel your TRICARE Prime enrollment option before you move.
Update your personal information in DEERS immediately when you arrive at your new location.
Select a new primary care manager.
If you are already using TRICARE Select, moving is easy. When you arrive at your new location, update your personal information in DEERS. Then find TRICARE-authorized providers in your new area. Remember, you may have a new regional contractor and claims filing address.
TRICARE's online tools can help you find and compare plans that you are qualified to use. Beginning in 2019, however, TRICARE will allow you to switch between plans only if you have a "qualifying life event" such as the birth of a baby or a move. For a complete description of the types of coverage programs and regions, visit www.tricare.mil. For more information about recent changes to TRICARE, visit https://tricare.mil/changes.
HOUSING
Housing Management Office
401 James Boatwright
(Chavez Housing Area) 575-904-5463
www.housing.af.mil/Units/Cannon
The Cannon AFB Housing Management Office is ready to support you in your transition to your new home and community. Use the resources provided here to become familiar with available housing options and support services. When you arrive at Cannon AFB, visit the HMO for invaluable information, counseling and guidance before signing a lease or sales contract for housing.
Unaccompanied Housing
Bldg. 1285 575-784-2907
www.housing.af.mil/Units/Cannon
Unaccompanied housing is provided for unaccompanied airmen in ranks E-1 to E-3 and E-4 with less than three years of service. Each Airman is provided a private sleeping room, furnishings, bed linens and supplies required for comfortable living.
Unaccompanied airmen in the rank of E-4 with more than three years of service will move into housing in the local community.
Cannon Family Homes
401 James F. Boatwright Blvd. (99) 575-784-7141
www.CannonFamilyHomes.com
Cannon Family Homes offers move in ready two-, three- and four-bedroom homes in both single-family and townhome styles. Located at Cannon Air Force Base in New Mexico, residents enjoy a secure and comfortable hometown environment with the convenience of 24-hour maintenance, lawn care services and community events.
Homes offer exceptional features to include fully-equipped kitchens, patios/porches, fenced-in yards and a garage with driveway. Currently, all average utility costs, with the exception of telephone and cable television services, are included in the monthly rent. Community amenities include a fitness room, tennis courts, baseball field, volleyball court and a soccer field. The Neighborhood Center has a splash park. There are also basketball courts and playgrounds throughout the neighborhoods.
Cannon Family Homes is a privatized housing community managed and maintained by Balfour Beatty Communities. Information about housing services can be obtained by contacting the Community Office at (99) 575-784-7141 or online at www.CannonFamilyHomes.com.
MAIL
Post Office
101 W. Eureka Ave. 575-784-2410
Cannon AFB postal needs are handled by the Main Base Office. Services are available to all military personnel, civilian employees and their families. Be sure to address your mail to General Delivery when you first arrive, using your full name and rank as well as the Postal Service Center address. Otherwise there is a risk of having your mail misrouted. All mail is held for 10 days, but do not expect the mail to be forwarded for more than 12 months.
To receive mail for general delivery, use the following address:
Your Name
General Delivery
PSC Box 9999
Cannon AFB, NM 88103
PETS
Veterinary Services
Pets must be current on all shots, but Cannon AFB has no veterinary clinic or kennels on base. Check the internet for veterinary services or kennels in the area.
RELIGIOUS GUIDANCE
Cannon Community Chapel
104 W. Albright Ave. 575-784-2507
www.fb.com/cannonchapel
The Cannon Community Chapel provides worship services, Bible studies, religious education and other religious services. Call the chapel or visit its website for information on upcoming events and classes.
VEHICLE REGISTRATION
Vehicles do not have to be registered with Cannon AFB, but all privately owned vehicles on base must be insured and have current license plates. New Mexico state traffic laws apply on base; see the Getting To & Around Curry and Roosevelt counties section for more information. All vehicles entering or leaving base are subject to search.
Serving You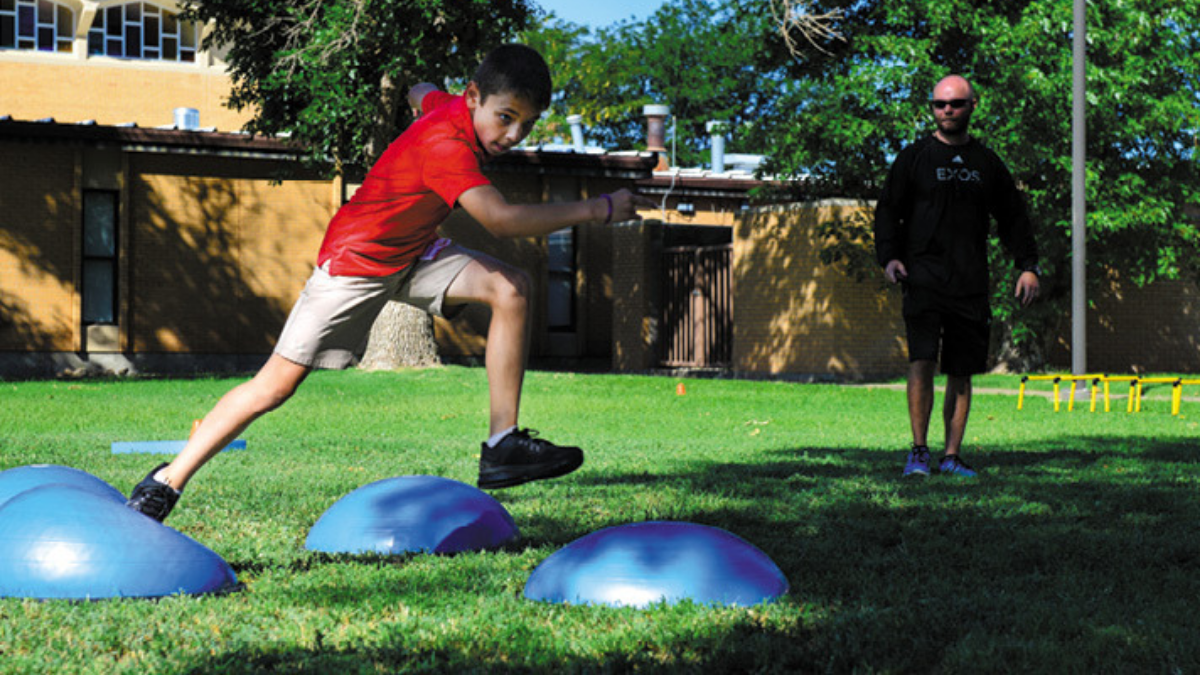 DINING
For hours, menus and special event information, visit www.cannonforce.com and click on selections under the "Food" tab.
Cannon Lanes Snack Bar
105 Albright Ave. 575-784-2280
Chip Shot Dining Room
(at Whispering Winds Golf Course)
105 Olds Drive 575-784-2312
Landing Zone
211 Levitow Ave. 575-784-2804
Pecos Trail Dining Facility
203 Air Commando Way 575-784-2420
Tailgate Sports Lounge
(at Drop Zone)
108 Cunningham Ave. 575-784-2448
EDUCATION
Education Office
110 Alison Ave. 575-784-4184
www.cannonforce.com/education-center
The Education Office provides educational opportunities and counseling services to Air Force members assigned to Cannon AFB. For information about Volunteer Education opportunities, call or visit the Education Office.
FAMILY SUPPORT
Airman & Family Readiness Center
110 Alison Ave., Suite 2036 575-784-4228
https://www.cannonforce.com/a-frc
The Airman & Family Readiness Center, a one-stop information and referral center, is the cornerstone of the Cannon family support system, helping airmen and their families enhance their readiness and quality of life.
Programs include Information & Referral, Personal Financial Management, Family Readiness, Relocation Assistance, Air Force Aid Society, Exceptional Family Member, Loan Locker, Child Care for PCS and more.
The center serves active-duty military members from all services, Guard and Reserve members, retired military members and Department of Defense civilians and their family members. All services are free.
Child Development Center
Cannon CDC
335 D.L. Ingram Ave. 575-784-2704
Chavez CDC
101 James F. Boatwright Ave. 575-784-6259
www.cannonforce.com/cdc
The child development centers offer weekly care for children from 6 weeks to 5 years old, and hourly care is available by reservation on a space-available basis. The centers provide a safe, nurturing environment that promotes the social, cognitive, language and physical development of youngsters. The centers are accredited by the National Association for the Education of Young Children.
Children of active-duty military personnel, DOD civilian personnel, Reservists on active duty and DOD contractors are eligible. Fees are based on total family income. Registration requires a completed DD Form 2606, immunization records, leave and earnings statements, and emergency contact information.
Exceptional Family Member Program
110 Alison Ave., Suite 2036 575-784-4228
This program provides special-needs families with information and referral services.
Family Child Care
(inside Cannon CDC)
335 D.L. Ingram Ave. 575-784-6258
www.cannonforce.com/fcc
Family Child Care provides an alternative to child development center care for families needing evening care, weekend care, care for infants and school-age children and children with special needs, and care during swing and midnight shifts.
The program also offers an opportunity for spouses to contribute to the family income while caring for their own children.
FCC providers are well-trained, they and their family members undergo a thorough background check and their homes are inspected for fire safety, health, safety and other requirements. In addition, their homes are monitored on a regular basis (at least monthly) by the program staff.
School Liaison
110 Alison Ave., Suite 2036 575-784-1528
The School Liaison Office is the connection between Cannon AFB families and private and public schools. The office provides support to service members during all stages of transition and deployment to ensure children receive every possible opportunity for quality education.
Youth Programs
102 S. Eagle Claw Blvd. 575-784-2747
www.cannonforce.com/youth-center
Youth Programs offers a range of developmentally appropriate activities for youth from 9 to 18 years old, such as nationally accredited school-age programs and open recreation programs. Youth Programs also provides opportunities for involvement with Torch Club, Youth Leadership Council, Theater Arts Club and 4-H programs, among many others, and with community service.
Hours vary for each program; see the website for up-to-date information.
FINANCIAL SERVICES
Cannon Federal Credit Union
102 Air Commando Way 800-280-2328
www.cannonfcu.org
Military Finance Office
110 E. Sextant Ave., Suite 1119......575-784-4161
Bldg. 600 575-784-1161/2647
Washington Federal
71 S. D.L. Ingram 575-784-3351
www.washingtonfederal.com
LEGAL SERVICES
Legal Office
101 S. Air Commando Way 575-784-2211
The Cannon Law Center provides legal advice and support to the wing commander and all base organizations regarding military justice, adverse actions, ethics, civil law, labor law and contract law.
Legal worksheets can be filled out in advance to expedite some legal services. For legal worksheets and additional legal information, visit https://aflegalassistance.law.af.mil.
LIBRARY
107 W. Albright Ave. 575-784-2786
www.cannonlibrary.org
The Cannon Library provides library services to meet the needs of the mission for education and recreation information.
RECREATION
For detailed information about the recreational programs at Cannon AFB, visit the 27th Special Operations Force Support Squadron online at www.cannonforce.com.
DZ Aquatic Center
108 Cunningham Ave. 575-784-2910
www.cannonforce.com/pool
The DZ Aquatic Center offers open swimming, lap swimming, swim lessons and fitness classes. Younger swimmers will enjoy the baby pool area; older children and adults will love the waterslide. A snack bar, picnic tables and lounge chairs are also available. The pool season is May through August; check the website for hours.
Auto Skills Center
317 N. Chindit Blvd. 575-784-2170
www.cannonforce.com/auto-skills
The Auto Skills Center has 10 bays, six lifts and all the tools you need for do-it-yourself automotive projects. A welding bay and motorcycle repair bay are also available. If you're interested in selling a car, visit the Auto Skills Center for more information on the for-sale car lot.
Bowling Center
105 Albright Ave. 575-784-2280
www.cannonforce.com/cannon-lanes
Strike up some family fun at Cannon Lanes, which has a pro shop and a snack bar. Visit Cannon Lanes' website for special events.
Community Center/Drop Zone
108 Cunningham Ave. 575-784-6381
www.cannonforce.com/community-center
The center has a computer/video game room, "home" theater, recording studio, table sports and a multipurpose room. You can learn a new craft, take dance and music lessons, play your favorite game or just hang out with friends.
Throughout the year the center holds community events, including talent shows, holiday events and much more. The center's staff also manages the base theater. Visit the center's website for the theater's movie schedule and information on upcoming events.
Fitness & Sports Center
400 Air Commando Way 575-784-2466
www.cannonforce.com/fitness
The center features a selectorized equipment room, a free-weight room, racquetball courts, a basketball court, a family room, locker rooms with saunas, a cardio room, a Combat Fit Pad, softball fields and a track. Fitness classes, intramural sports and personal trainers are also available.
Golf Course
105 Olds Drive 575-784-2800
www.cannonforce.com/whispering-winds
The 18-hole Whispering Winds Golf Course can be enjoyed nearly year-round in the New Mexico climate. The Chip Shot Dining Room, a pro shop and lessons are available.
Outdoor Recreation
106 W St. 575-784-2773
www.cannonforce.com/outdoor-rec
Outdoor Recreation has equipment rentals, family camping, RV storage, a skeet and trap range and the outdoor adventure program. Training and trips are planned for camping, hiking, sightseeing, skiing, mountain biking and more.
SHOPPING
Cannon Commissary
Bldg. 77A 575-784-4330
www.commissaries.com
Save an average of 30 percent of your hard-earned dollars when shopping for groceries at the Cannon Commissary. In-store amenities and specialties include an ATM, a deli, a bakery, fresh sandwiches to go, party cakes, sushi and plants.
Cannon Exchange
The Cannon AFB Exchange wants to be your first choice for shopping. It offers a price-match program that guarantees the lowest prices in town. Hours for services outside of the Main Exchange vary so call or visit the website for detailed information.
Main Exchange
Bldg. 77B 575-784-3700
Military Clothing Store 575-784-6630
Exchange Restaurants
Domino's Pizza 575-784-3033
Starbucks 575-784-8069
Subway 575-784-5778
Concessions
Barbershop 575-784-9986
Beauty Shop 575-784-3451
GNC 575-784-7182
Optical Shop 575-784-7104
U.S. Patriot Tactical 575-218-7105
Other Facilities
Burger King, Bldg. 1230 575-784-3878
The Cleaners, Bldg. 709 575-784-3723
Express, Bldg. 1111 575-784-3421
Express, Bldg. 4623 575-784-7192
Taco Bell, Bldg. 1111 575-784-9263