Home and Household Goods

Airman and Family Readiness Center
919-722-1123
1200 Wright Brothers Ave.
Monday through Friday 8 a.m. to 4 p.m.
The A&FRC's Loan Closet can provide common household items for families awaiting the arrival of their house­hold goods.
Housing Management Office
919-722-0362/63/64
1500 Vermont Garrison St., Building 3801
All new arrivals are required to report to the Housing Management Office during inprocessing to Seymour Johnson AFB, IAW AFI32-6007, para 1.20.5. The HMO contacts all inbound personnel 90 days prior to arriving station with a welcome package via military email. The HMO ensures all personnel and their families receive full professional housing relocation and referral services (at both the gaining and losing installations) to assist in the location and attainment of safe, quality and affordable housing. The HMO is required to provide all inbound service members with a housing briefing which includes information on Privatized Housing, Fair Housing Laws, Service Member's Civil Relief Act, referral policies and lease requirements. On base housing is managed by Corvias Military Living, if interested, the HMO provides all necessary documents in the welcome package to apply. Off base rentals are found at https://www.homes.mil, this is the only Air Force approved website for rental listings.
The HMO inspects the units listed on Homes.mil to ensure they are safe, adequate and affordable.
Dormitories
919-722-8300
Single, junior enlisted members will reside in the dorms. Renovated dorms have improved living spaces, to include semiprivate baths. The housing office also provides referral for finding homes and rental properties off base.
Travel Management Office
919-722-5458
1280 Humphrey St.
Hours
Monday through Friday 8 a.m. to 3:30 p.m.
The personal property branch of the Traffic Management Office handles shipping and receiving of household goods and unaccompanied baggage.
Seymour Johnson Family Programs and Services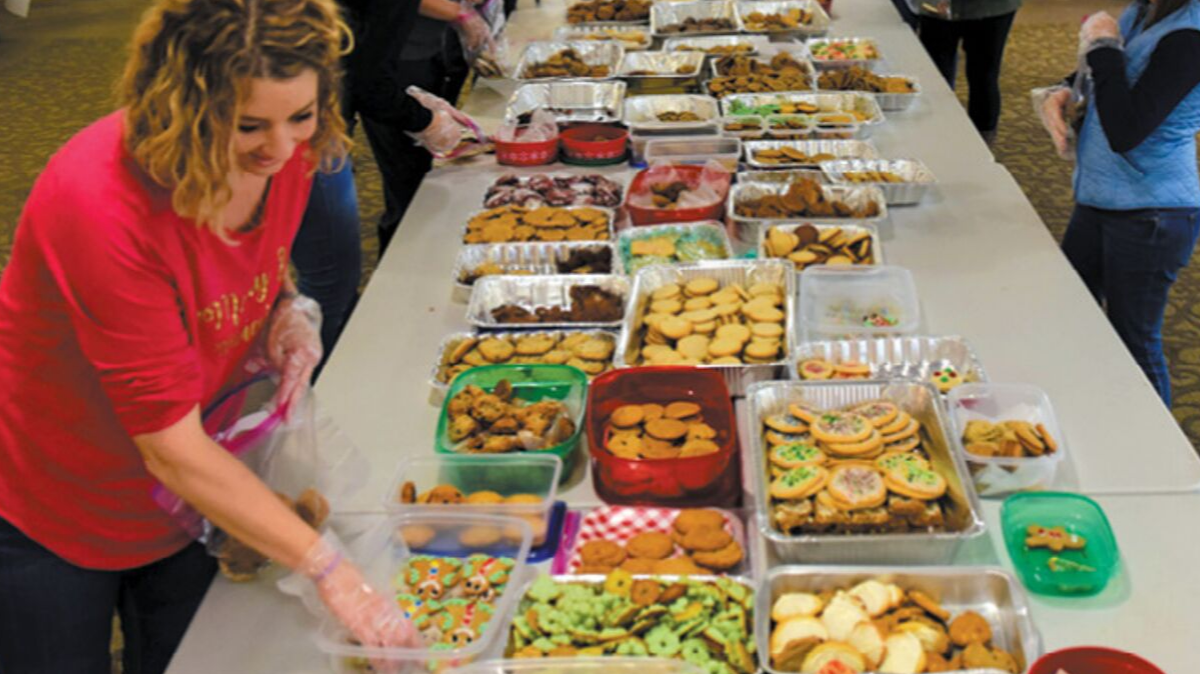 Air Force Aid Society
919-722-1123
1200 Wright Brothers Ave.
Hours
Monday through Friday 8 a.m. to 4 p.m.
The Air Force Aid Society is the official charity of the Air Force. It promotes the Air Force mission by helping members and their families in times of distress, assisting them during emergency situations and providing them with financial assistance when such help is otherwise unavailable.
Airman & Family Readiness Center
919-722-1123
1200 Wright Brothers Ave.
Hours
Monday through Friday 8 a.m. to 4 p.m.
The Airman & Family Readiness Center (A&FRC) provides individuals, families and leadership with programs and services that strengthen the community and promote self-sufficiency, mission readiness and adaptation to the Air Force way of life. A&FRC functions include information and referral; education and skill development; leadership consultation; and policy, planning and coordination — which promote personal and family readiness. Services are delivered individually, via classroom instruction, and group presentations. Programs include:
Personal & Family Readiness: Deployment processing lines, pre-deployment briefings, deployed/remote families "Hearts Apart" events, reintegration briefings, spouse reintegration sessions, etc.
Relocation Assistance: Newcomers' Orientation, ABCs of PCSing, Sponsorship Training and Packets, the Loan Closet and Airman's Attic.
Personal & Work Life: Heart Link, Couples Communication, How to Avoid Marrying a Jerk/Jerkette, Five Love
Languages/True Colors.
Transition Assistance Program (TAP): The program was revamped and is now mandatory to include pre-separation briefings, the five-day TAP Workshop and VA benefits information.
Employment Assistance: Civilian & Federal Resume and Job Search classes, Career Readiness Certificate testing, resume assistance, and the Discovery Resource Center, which has computers and fax machines for use.
Personal Financial Readiness: Classes in budgeting, credit management, investing and mandatory FTAC Financial.
Volunteer Resources: Recruit, place and recognize volunteers.
The center serves as the nucleus for the Key Spouse program, conducting Key Spouse initial training and ongoing quarterly training. The A&FRC also has responsibility for the Casualty Assistance programs. Additionally, the A&FRC provides emergency financial assistance through the Air Force Aid Society and has the School Liaison Officer/EFMP-FS, who advocates for families in the school system and those with special needs. The A&FRC is staffed by 13 full-time civilians, two active-duty members and intermittent volunteers. A Military Family Life Counselor (adult) also works in the center. Community Readiness Consultants/
Specialists (CRCs/CRSs) are assigned to units to ensure unit needs are identified and a plan developed to meet the needs of leadership and members. We serve active duty, Reserve/Guard, family members, retirees and DOD civilian employees and geographically separated units to include East Carolina University and University of North Carolina. Women, Infants and Children; Retiree Activities; and Disabled American Veterans services are housed within the A&FRC.
Airman's Attic
919-722-7181
1585 Andrews St.
Hours
Tuesday noon to 3 p.m.
Thursday 9 a.m. to 1 p.m.
1st Saturday of the month
(All Ranks) 1 to 3 p.m.
The Airman's Attic provides donated household items from furniture to clothing for members E-6 and below.
Seymour Johnson Child Care, Youth Programs and Education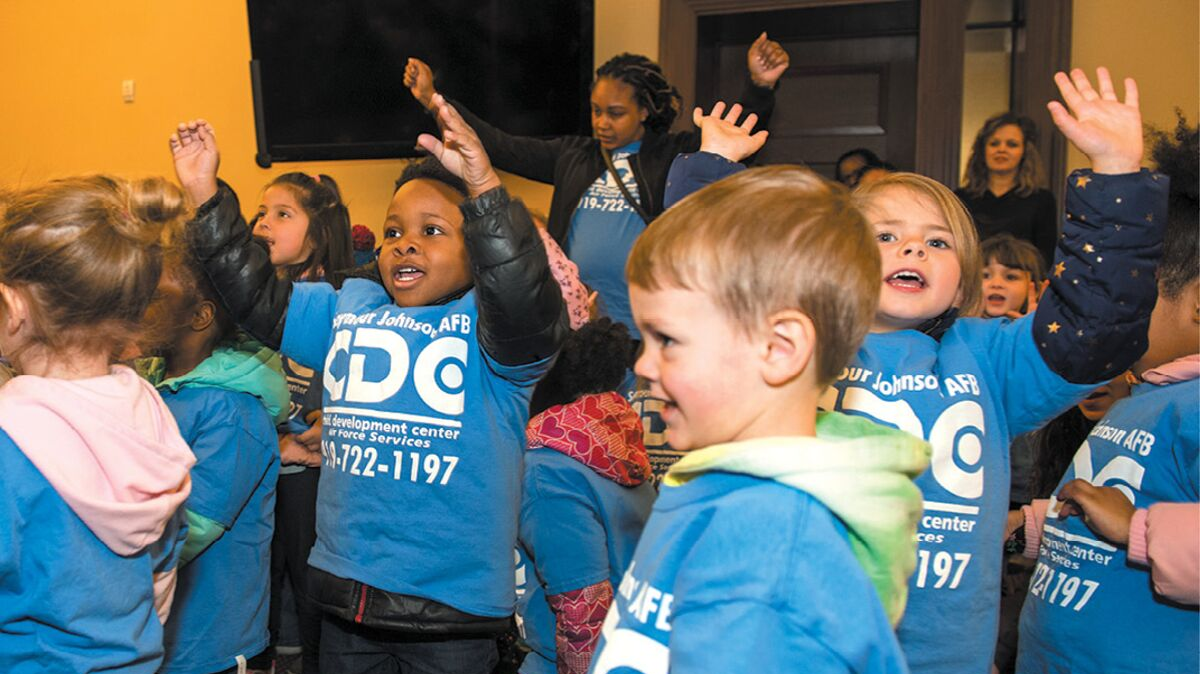 Child Development Center
919-722-1198
1030 Langley Ave.
The Child Development Center offers care for children of base members and civilians employed at Seymour Johnson. Programs include hourly and weekly care for children 6 weeks to 5 years old, with fees set by DOD based on total family income. The center also participates in the Give Parents a Break Program by offering free child care every month to parents who qualify.
The center is one of the few full-day child care centers in the local area that is accredited by the National Association for the Education of Young Children.
Family Child Care Office
919-722-7194
1200 Wright Brothers Ave.
Building 3102 (A&FRC), Room 121
The Family Child Care Office offers full-time, part-time, hourly, before and after school, shift work and permanent change of station child care, as well as expanded child care. Children of active-duty military personnel or civilians are eligible to enroll in home child care. Child care is provided to base volunteers and those who need respite care.
Military spouses providing in-home care for one or more children 2 weeks to 12 years old for more than 10 hours a week on a regular basis require a license by the mission support group commander. Care provided in unlicensed homes for more than 10 hours a week is illegal.
Parents are encouraged to make Family Child Care their first stop when seeking child care assistance. The FCC coordinator will work one-on-one with parents to find child care for their children.
Youth Programs Center
919-722-0502
1035 Langley Ave.
Administration Hours
Monday through Friday 9 a.m. to 6 p.m.
Self-directed Recreation
Monday through Thursday 2:45 to 7 p.m.
Friday 2:45 to 8 p.m.
School holidays and summer 1 to 6 p.m.
Before- and after-school program 6:30 to 8 a.m. and 2:30 to 6 p.m.
Teacher workdays/early dismissal/summer 6:30 a.m. to 6 p.m.
Federal holidays and Sundays closed
The Social Recreation aspect of Youth Programs is designed especially for youth between the ages of 9 to 18 (and still in high school). Core programming utilizes Air Force criteria, Boys and Girls Clubs of America (BGCA) and 4-H curriculums. Programs are varied to promote character development, educational and career opportunities, fitness and social recreation, health and life skills, plus the arts and creative expression.
Staff are specially trained with tools and program support to develop, plan, implement, evaluate and improve programs and maximize their ability to serve young people.
The Watkins-Das Learning Center
1520 Goodson St.
Base Education and Training: 919-722-5800
WAPS testing: Room 101
CDC/EPME testing: Room 107
Base Library: 919-722-5825
National Test Center (CLEP/DSST testing) E-mail to: NTC-SJAFB@UMO.EDU for registration and scheduling information.
On-base schools:
Central Michigan University: 919-735-8064
Embry-Riddle Aeronautical University: 919-734-9211
Fayetteville State University: 910-672-2910
University of Mount Olive: 919-299-4574
Wayne Community College: 919-739-6765
Off-Base Child Care and Education

North Carolina Division of Child Development and Early Education
919-662-4499
319 Chapanoke Road, Suite 120
Raleigh, NC 27603
www.ncchildcare.nc.gov
The North Carolina Division of Child Development and Early Education provides information and resources for families seeking child care. The division provides a searchable database for licensed child care providers and information on how to select the child care facility that best meets your needs. The division also has information on financial assistance for child care services.
North Carolina Division of Non-public Education
919-733-4276
116 W. Jones St.
Raleigh, NC 27603
www.ncdnpe.org
The Division of Non-public Education provides information on alternative school options in the state of North Carolina. The website details home schooling, boarding school and private school options and resources. The website also provides a directory of private schools by county.
Wayne County Public Schools
919-731-5900
2001 E. Royall Ave.
Goldsboro, NC 27533
www.waynecountyschools.org
Wayne County is served by the Wayne County Public Schools district. The district has more than 30 special education, elementary, intermediate and high schools to serve the student population. Military dependents comprise approximately 10 percent of the district's student population. The district addresses the specific needs of military families with a counselor dedicated to the military community. The counselor serves as a liaison to all the schools in the district, researching and implementing programs that support military students. For more information on education resources for military families in the Wayne County Public School district, visit its website at www.waynecountyschools.org and select "Services" then "Services Directory" then "Military Child Education Services."
Higher Education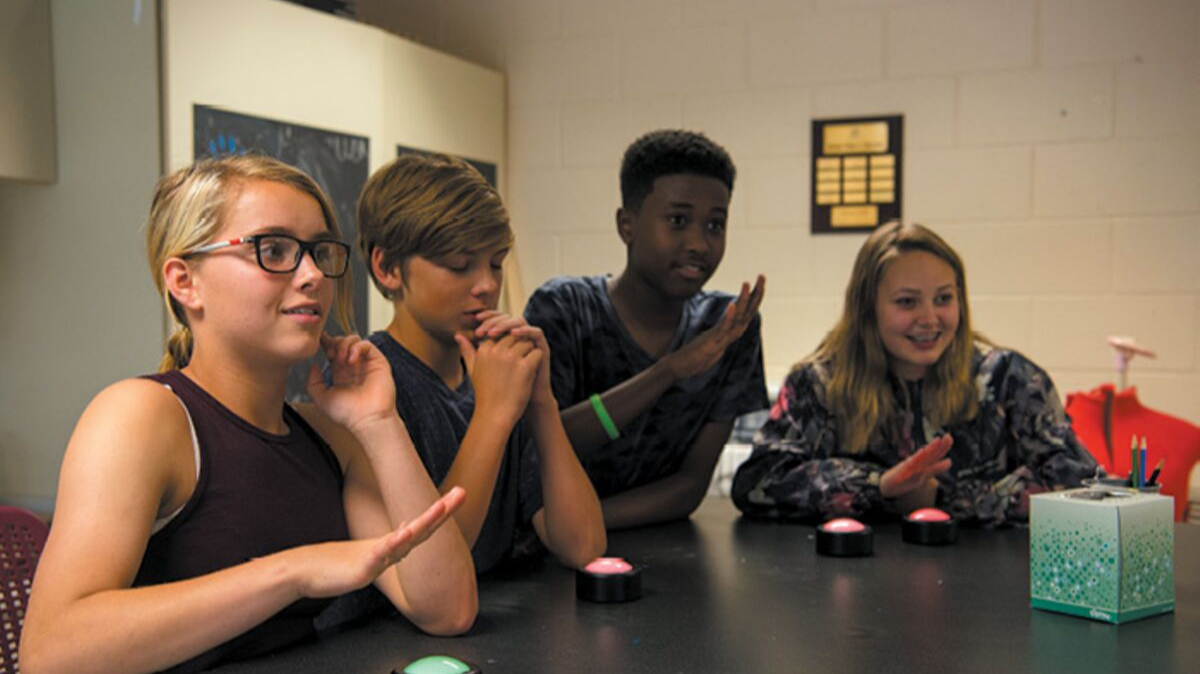 North Carolina has a variety of colleges and universities. Opportunities range from traditional four-year institutions, women's colleges, private colleges, community colleges and more.
University of Mount Olive
800-653-0854
www.umo.edu
The University of Mount Olive has a campus on Seymour Johnson Air Force Base, as well as locations in Jacksonville, New Bern, Mount Olive, Durham and Wilmington.
University of North Carolina
919-962-1000
www.northcarolina.edu
The University of North Carolina has 17 institutions statewide, with campuses in Raleigh, Elizabeth City, Fayetteville and Durham, among others.
Wayne Community College
919-735-5151
3000 Wayne Memorial Drive
Goldsboro, NC 27534
www.waynecc.edu
Wayne Community College offers more than 100 degree, diploma, certificate and continuing education programs.